What's the deal people? As we're halfway through 2017, it's that time again when we go over and evaluate the best projects of the year so far. Overall, this has been a dope half-year, with amazing releases from Run The Jewels, Kendrick Lamar, Big Boi, and Joey Bada$$ that have been highly acclaimed and that are in constant rotation. Have there been better first-half-years in Hip Hop? Without a doubt – but this is 2017, and we focus on this year's half-year efforts that deserve to be recognized for great quality. Let's get into it.
15. MC Eiht - Which Way Iz West?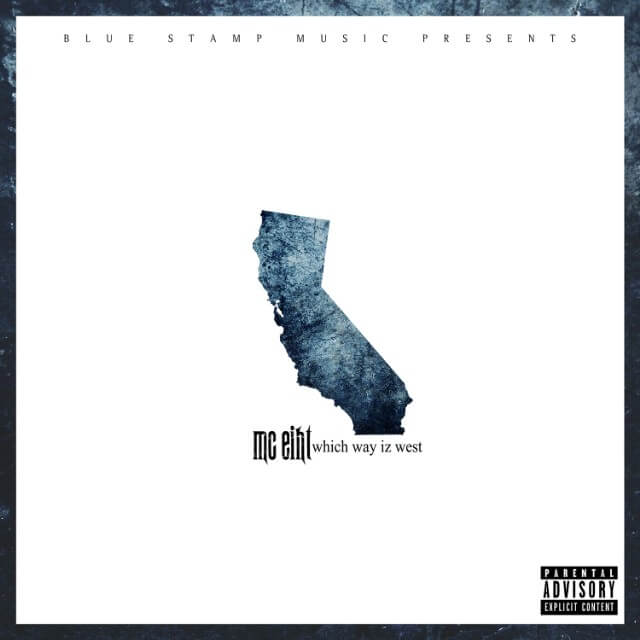 Production: DJ Premier, Brink Santana
What a dope return for the longtime Compton O.G. himself, MC Eiht. He returns to the scene with what could arguably be considered one of the best efforts of his career with Which Way Iz West.  Collaborating with the legendary Premo behind the boards on three tracks and scratches on even more tracks, Eiht sounds rejuvenated, refreshed, and ready to show these young kids what true west coast Hip Hop is about. With stellar cuts such as "My Nia'z", "4 The O.G.'z", and the reunion with Compton's Most Wanted "Last Ones Left", as well as duets with the likes of Lady Of Rage, Xzibit, and B-Real, this albums is a successful return for Compton's most wanted.
14. Drake - More Life
Production: Noah "40" Shebib, T-Minus, Boi-1nda, Vinylz, Frank Dukes, NineteenEighty5, Murda Beatz, others
After the disappointment that was Views, Drake went back to what he knew and constructed his own "playlist", More Life. It does in fact sound like a playlist and it works. There are many different styles being presented on this album, and it accomplished what it wanted to do, which was make for the missteps of Views. From the island vibes of "Madiba Riddim" to the trap stylings of "Sacrifices" and the blatant top 40 vibes of "Passion Fruit", there's something for every Drake fan on this release.
13. Prodigy - The Hegelian Dialectic
Production: KnXwledge, The Alchemist, Beat Butcher, others
The Hip Hop community is still in shock over the loss of Queens legend, and one-half of the one of the single greatest Hip Hop duos of all-time Mobb Deep, Prodigy. Earlier in the year, P released what has to be considered his most conscious and informative album within his discography, The Hegelian Dialectic.
The album is a ton more spiritual and philosophical than we're used to from "Bandana P", as evidenced with tracks like "No Religion", the anti-political "Tyranny", and "Spiritual War", while climaxing with the INCREDIBLE Alchemist-crafted "Mystic". P had bars for days already, but with this album he showed he also had jewels to reflect on. The game lost one of the best to ever do it, but it's albums like this one that will continue to keep his legacy alive.
12. J.I.D. - The Never Story
Production: J. Cole, Christo, Childish Major, others
Out of Atlanta comes one of the A's brightest, and most sincerely talented, new stars, J.I.D. Signed to J. Cole's Dreamville's imprint, he delivered a more than decent debut offering with The Never Story. Far and away from the mumble movement that's widely associated with Atlanta nowadays, this young emcee has the songwriting and star appeal the likes of which could truly propel him as the biggest star of his label that's not named Cole. Cuts like "Hoodbooger", "Lauder" and "Somebody" are excellent cuts that will let people pay more attention to this star in the making.
11. Quelle Chris - Being You Is Great, I Wish I Could Be You More Often
Production: artist, Chris Keys, The Alchemist, others
One of the most intriguing and somewhat eccentric artists from Detroit's underground is Quelle Chris.  Following up his 2015 offering Innocent Country, this album delves into self-examination with oddball, blunted humor and occasional heaviness. Arguably his most cohesive album to date, Chris makes it a point to show his insecurities, and his ability to celebrate them throughout the album. Definitely a project to count among his best work, Quelle Chris brings a depth with this album that, even with his peculiar presentation, should be paid a lot more attention to.
10. Raekwon - The Wild
Production: Dame Grease, J.U.S.T.I.C.E. League, others
Wu-Tang's residential chef, Raekwon, has been seen as one of the most vivid storytellers in the game for over the last two decades. Widely known as the emcee that dropped one of Hip Hop's most iconic albums, Only Built 4 Cuban Linx…, he has yet to deliver an effort, besides OB4CB2, that measures up to that type of acclaim. Enter, The Wild.
This album is as close to Cuban Linx-esque material as we've heard in all of his projects. This album screams of late-nineties NYC Hip Hop, as the chef went back to the kitchen and served up some tremendous cuts such as "Marvin" and "This Is What It Comes To" for those missing that good bang-out material we know Rae is obviously more than capable of delivering.
9. Big Boi - Boomiverse
Production: Organized Noize, Mannie Fresh, DJ Dahi, DJ Khalyl, Scott Storch, TM88, others
While we wait with damn near dying breath for either an Outkast album or an Andre 3000 album, at least we have Big Boi to help us along our way – he returned in grand fashion with his third solo album, Boomiverse. Aiming to have us get back to the dance floor and turn our speakers up in grown folk fashion, Big Boi brings an assortment of funk and soul that has been greatly missed within southern Hip Hop. The veteran of over two decades shows the game that he's not a legend for no reason, as cuts like the spaced-aged funk of "Chocolate" and the buttery soulful "Mic Jack" clearly demonstrate. Arguably the best southern release thus far this year.
8. Talib Kweli & Styles P - The Seven
Production: 88 Keys, Oh No, Khrysis, Marco Polo, Nottz, Dot Da Genius, others
When word got around that NYC greats Talib Kweli and Styles P were getting together for a collaboration project, heads went nuts in anticipation. The anticipation paid off with their seven-track EP, The Seven. These two drop jewels as we would always expect them to do and they sound great together doing so. Over some knocking production and guest assistance from Common, Rapsody, Chris Rivers, and Styles' Lox-mates Jadakiss and Sheek Louch, this is an effort that hopefully will result in a full-length project one day, as these seven cuts alone are exemplary quality Hip Hop.
7. Logic - Everybody
Production: artist, 6ix, No I.D., DJ Khalyl, others
DMV rhyme-slinger Logic has been delivering fairly excellent projects since his Def Jam debut Under Pressure in 2014. His latest release, Everybody, once again is a conceptual effort that has a character named Atom being reincarnated as every single type of human being in order to pass through the gates of Heaven.
The album is a celebratory yet conflicting look at life and the various types of people that life can present. The music is very representative of his last Def Jam effort, The Incredible True Story, in which it's very layered and grand, and Logic himself is still filled with double and triple-timed rhymes with substance and value. This may very well be his project to date.
6. Oddisee - The Iceberg
Production: artist
One of Hip Hop's most underrated emcee/producers is DMV native Oddisee. Following up his incredible release of 2015, The Good Fight, and 2016's EP, Alwasta, Oddisee delivers more of the same goodness with The Iceberg. Personal and soulful, Oddisee brings forth a sense of reliability and a  down-to-earth, everyday man aura within his rhymes, touching on subjects close to him over some of the best production one can imagine. Trust me, with cuts like "Like Really", "Things", and "Want To Be", Oddisee won't get slept-on too much longer. He and his efforts lyrically and musically keep getting better and better.
5. Joey Bada$$ - All AmeriKKKan Bada$$
Production: Kirk Knight, Chuck Strangers, Statik Selektah, Like, 1-900, DJ Khalyl, others
Pro Era in the house, as it's most acclaimed artist, Joey bada$$ delivered the album of his young career with All AmeriKKKan Bada$$. Highly political and educational, Bada$$ took a fiery yet conscious route in this disturbing climate we're in politically and socially. This album is a reflection of a young man trying to rally up troops to fight back against the oppressors of today's generation. Every bit as impressive as his mixtape classics 1999 and Summer Knights, as well as his debut solo full-length B4.Da.$$, this stands as his most important.
4. Jonwayne- Album Number Two
Production: artist, DJ Babu, Dibia$e
Cali-based emcee/poet/producer Jonwayne presented one of the most intriguing and personal projects this year with Album Number Two.
Painfully deep and courageously introspective, Jonwayne delves into areas such as addiction, low self-esteem, and acceptance with such transparency that it makes it just as refreshing as it does concerning. Cuts like "Blue Green" and "These Words Are Everything" are poignant and riddled with pain, but therein also lies his messages of hope and determination to make it. The future looks bright for this artist and efforts like this mean that there has to be even more where this came from.
3. Brother Ali - All The Beauty In This Life
Production: Ant
It's been five years since we've heard anything from Brother Ali. We last heard him with his album Mourning In America, Dreaming In Color. While very dope indeed, we all wanted that Ali sound that got him his acclaim and following in the first place. He reunited with Atmosphere's Ant to present All The Beauty In This Life, and our taste buds were delightfully fulfilled. Summoning the musical and lyrical spirits of prior classics like Shadows On The Sun, The Undisputed Truth, and Us, this album is more about the positivity and beauty that life holds once one reflects and looks into their own lives, in spite of dark moments.
Cuts like the anti-pornography ode "The Bitten Apple" and the stunning "Dear Black Son" are presented with such pride and poignancy that you feel him giving you his heart through record. Very powerful and gripping throughout the majority of the album, Brother Ali presents us with an album that is greatly needed in today's times.
2. Kendrick Lamar - DAMN.
Production: Sounwave, DJ Dahi, Mike WILL Made It, Terrace Martin, The Alchemist, 9th Wonder, BADBADNOTGOOD, others
All hail King Kendrick! How do you follow-up a generational masterpiece such as To Pimp A Butterfly, as well as an equally awe-inspiring mixture of unreleased and unmixed cuts like Untitled.Unmastered? His answer comes in DAMN.
Gone are the stripped down, melodic, live instrumentation of TPAB in favor of boom-bap and 808s. Lamar managed to reinvent himself via story, as we have a young man dealing with heavy spiritual issues in a stunning display of conflict, redemption, angst, and confusion. Many wondered if he could go three-for-three in terms of brilliant major label albums and ride in line with TPAB and good kid, M.A.A.D. City. The answer is a resounding HELL YEAH! With this album, his ingenious approach to the game officially makes him the greatest emcee of this generation.
1. Run The Jewels - RTJ3
Production: El-P
Digitally released literally at the end of 2016, this album barely missed year-end awards of 2016. For 2017, it's hands down the best album of the year thus far. Killer Mike and El-P did it again. By 'it', I mean hit you in your face with some of the most brutal truth and the most inescapable production you'll ever hear. Dark, dense, political, and gritty, RTJ3 is every bit as amazing as their other efforts were, and stand as another genuine Hip Hop classic in today's times. Each cut brilliantly blends into he next and their approach to grabbing a hold of your throat and never letting go until you comprehend their agenda is practically effortless. Cuts like "2100", "Don't Get Captured", and "Down" are no longer just aiming for individual battles, they wanna win the overall war over societal and musical tyranny. This is a release you'll not soon forget.
Honorable Mentions
KRS One – The World Is Mind
Kool G Rap – Return Of The Don
Wise Intelligent – The Blue Klux Clan
Positive K & Greg Nice – Gr8t Mindz
Murs – Captain California
Tech N9ne – Dominion
Czarface – First Weapon Drawn
Roc Marciano – Rosebudd's Revenge
Vince Staples – The Big Fish Theory
Tha God Fahim – Tha Tragedy of Shogunn
David Banner – The God Box
Big Sean – I Decided
Freddie Gibbs – You Only Live 2wice
Mike WILL Made It – Ransom 2
Your Old Droog – Packs
DJ Quik & Problem – Rosecrans
Goldlink – At What Cost
Bone Thugs – New Waves
Stormzy – Gang Signs & Prayer
As you can see, there have been some rather impressive efforts so far this year, and this doesn't count insane mixtape from Westside Gunn, Conway The Machine, and especially Royce 5'9″'s most recent Bar Exam 4. Now is when we start waiting with heightened anticipation with releases from Nas, The Roots, Public Enemy, Pete Rock & CL Smooth, Schoolboy Q, Jay Rock, Redman, PRhyme, Earl Sweatshirt, Skyzoo, Evidence, the Shady debut of Westside Gunn & Conway The Machine, and Jay-Z's 4:44 project. Will this year round off as fantastic as the last few years have? We shall soon see. Until next time!