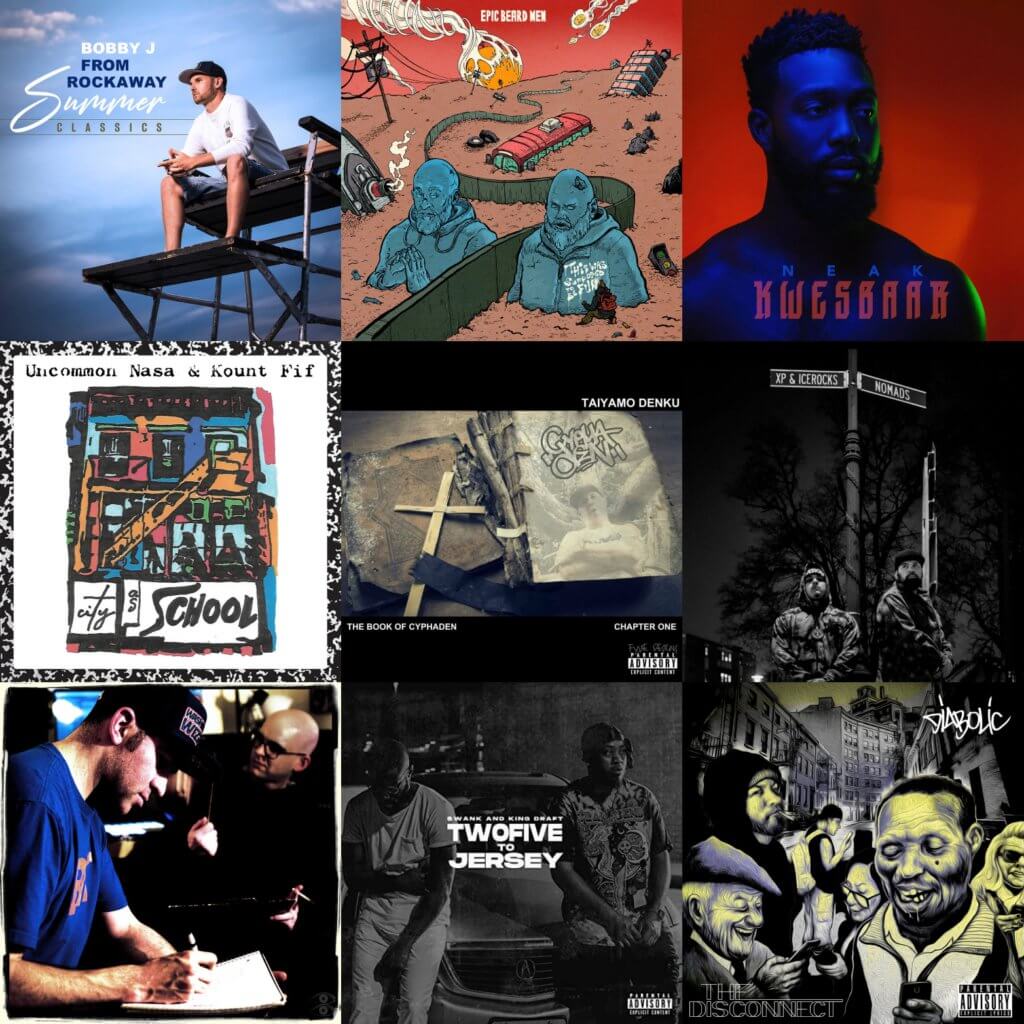 Elsewhere on this site, you can find a list with our favorite Hip Hop albums of 2019. From that list, we have lifted 9 (more) great albums that are overlooked and underappreciated even by Hip Hop fans – 9 albums you should really check out if you haven't done so yet. Are YOU familiar with (some of) the albums listed here? Are you going to give them a listen if you're not? Let us know how you like the ones you have listened to!
Bobby J From Rockaway - Summer Classics
Summer Classics is the debut album from Queens, NYC native Bobby J From Rockaway. Boasting production from Hip Hop veterans like Kwame, Statik Selektah, Sway in the Morning's DJ Wonder, and Jake One and features from lyrical heavyweights like Lil' Fame and Killah Priest, the album is not only an homage to his hometown of Rockaway Beach but also to classic Hip Hop.
The title is inspired by the "Summer Classic" basketball league that has been a staple of his community for generations. In his own words, Bobby states: "I feel like every rapper wants that one song that dominates the summertime. My goal was to make a project full of those kinds of records. Something you can play from top to bottom while driving with the top down – Summer Classics."
This is a GREAT album people, easily one of the best of the year. Summer Classics has been a long time coming and the time that went into crafting the album shows. 16 tracks, all flawlessly produced, sequenced just right and most importantly filled with lyrics worth listening to. Bobby has something to say and he possesses the pen-game and mic skills to carry an album by himself too. The guest verses Kwame, Lil' Fame, Killah Priest, and Michael Fiya drop just add a bit of extra flavor – but four guest spots on 16 tracks mean Bobby J isn't overcrowded on his own record like so many other artists are when they have a guest feature on almost every song on their albums.
Not a weak song on Summer Classics, but "The Collector" with Killah Priest, "Hook Drop", a M.O.P. anthem with Lil' Fame, "The Return", which has Bobby and unsung icon Kwame trading well-crafted bars ("Its the return of the boom-bap black hoodie sh** / Back with the back and forth, back on our bully sh**"), "On My Own", with its booming beat and echoes of Eminem, and the single "Hometown" are some of the definitive highlights.
"Does anybody make real sh** anymore?" Bobby J asks in the first lines of the opening song "Bobby J For President". The answer is yes: Bobby J From Rockaway does. Don't let the somewhat a-typical album cover art fool you – this is real Hip Hop, an album with great replay value and a must-have for anyone who likes authentic, quality Hip Hop with perfectly executed Golden Age Hip Hop vibes, without sounding dated at all. Summer Classics may just be the biggest surprise of the year and an album you need in your collection.
Epic Beard Men - This Was Supposed To Be Fun
This Was Supposed to Be Fun, the debut LP (and second official offering) from Epic Beard Men, is an indie-rap tour de force by two of the underground's finest; Sage Francis and B. Dolan. On March 29 this gem of an album was dropped with little fanfare. That's a shame because This Was Supposed To Be Fun is dope as hell and easily one of the best Hip Hop albums of the year. Fun and clever lyrics (full of references to Golden Age classics) and sonically knocking – This Was Supposed To Be Fun is a must-listen.
Neak - Kwesbaar
What do you know about Neak? Too many people are sleeping on this multi-talent from Chicago. This album was released in April of this year and it has been flying so far under almost everybody's radars it's ridiculous. Kwesbaar, which means vulnerable in South African language Afrikaans, is a gem of an album and a must-listen for anybody who appreciates intelligent, confident, well-produced music.
What to expect from Kwesbaar?  Check the description from Neak's own Bandcamp page:
"Soaked in the elements of Hip Hop, jazz, soul, funk, and driven by heavy synthesizing and collaborative instrumentation, Neak designs a musical platform allowing him to discuss his greatest insecurities, agonizing internal fears, and featuring the trials and tribulations of people through many walks of life. Employing fluent rhyme schemes on striking subjects like, "Lost Fathers," and "Gold," to crafting a tribute to soul/jazz/funk legend "Kool and The Gang" on "Dreamer's Sadness" where Neak orchestrates vintage synth leads, he plays himself. KWESBAAR pushes his musical prowess to a level beyond his past; demonstrating his love for retro production and true-to-life raps. Collaborating alongside a multitude of skillful musicians such as trumpeter Sam Trump, pianist Aminata Burton, alto sax player Caroline Davis, and rap luminaries such as GLC, Rita J., and Rashid Hadee, this album is nothing short of a masterpiece inside and out. KWESBAAR is Neak's first introduction as an all-inclusive producer using the landscape of his life as a classroom moving from his current consciousness to the next."
So now you know: stop sleeping on Neak and check Kwesbaar out – chances are that it'll turn to out to be one of your favorite albums of the year, it definitely is one of ours.
Uncommon Nasa & Kount Fif - City As School
Uncommon Nasa is a veteran emcee/producer (as well as a poet and a writer), who has been making a name for himself in the New York underground for ages now – people who know about NYC Hip Hop will know about Uncommon Nasa. He's not only known for the albums he released under his own name, but also for being an innovative producer – his left his mark on plenty of dope underground Hip Hop, including work on the boards (among other DefJux projects) for The Cold Vein, Cannibal Ox's now-classic debut album.
Uncommon Nasa has collaborated with producer Kount Fif on City As School, a project that is influenced directly by New York City, with its stories, streets and also by living in the shadow of the giant city. City As Schools is Uncommon Nasa's fifth full-length solo, and it's produced fully by Kount Fif – he has done production-work for Nas, Killah Priest, Royce the 5'9, Action Bronson and more.
As Uncommon Nasa told HHGA: 'The production on this project really fits with what I do well in so far as it's heavy drums with vintage synth and prog-rock influences over the top. "City As School" focuses on my upbringing in NYC. In recent years I've written a lot about mortality and looking forward but with this record, I really wanted to focus on life and what life can bring you. It's about respect for the footsteps that have brought you to where you are today. Most of the record takes place during my high school years and young 20's but takes a few dips and dives into current times and how those formative years built to this present."
The album features respected veterans Tek from Smif N Wessun, Sadat X, Pep Love from Hieroglyphics, Awol One, and Guilty Simpson, along with some long-time Uncommon Nasa collaborators like Karniege, Short Fuze, Duke01, Gajah and a variety of DJs. This is a great album: dope beats, scratches, and rhymes (Uncommon Nasa's style echoes billy woods' in places) – don't sleep on City As School.
Taiyamo Denku - The Book Of Cyphaden
Taiyamo Denku, a veteran emcee from Milwaukee, drops a real dope project with The Book Of Cyphaden. You might recognize his name from his many collaborations with Hip Hop heavyweights, now it looks like it's finally time for Taiyamo Denku himself to take the spotlight. The Book of CyphaDen holds 14 tracks in total, but unlike most of his previous releases, seven of the tracks are feature-free. There are still plenty of notable collabs though, including the Snoop Dogg and Rambunxious feature on "Red Lipstick", Blueprint on "Believe In Change", Afu-Ra on "Swordplay" and Tattoo on our favorite track "Surgery". Australian producer Dcypha takes care of the production (13 tracks are produced by him, one track – "End Game" – by the Beatminerz. The beats serve as a perfect backdrop for Denku's dope bars and lyrical prowess – this is a real emcee who impresses with his skill set. Check this album out if you haven't done so already, you won't regret it.
XP The Marxman & IceRocks - Nomads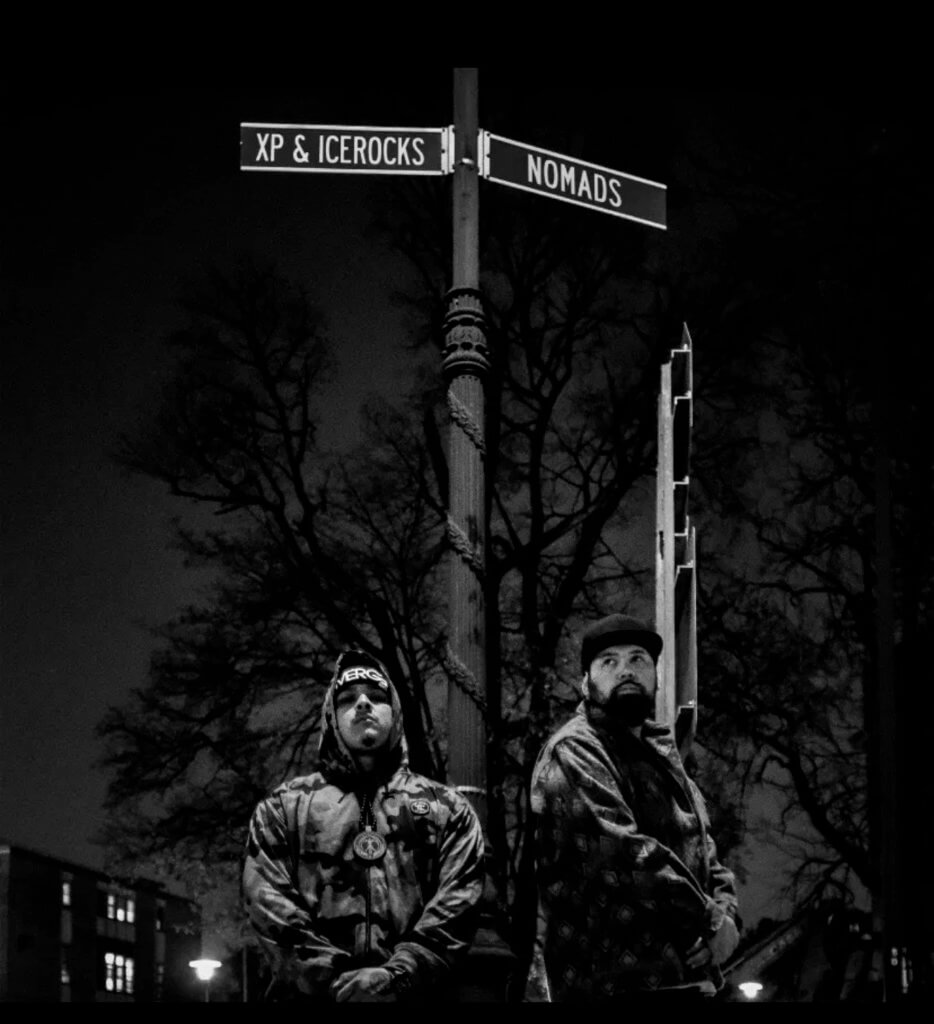 Born and raised in Los Angeles and from Mexican descent, XP The Marxman is an underground emcee you may not know yet, but that's about to change. For Nomads, XP teamed up with NYC beatsmith IceRocks, like XP The Marxman a name unknown to too many Hip Hop heads but that is sure to become a fixture in Hip Hop soon enough. For Nomads, IceRocks lays down impeccable, atmospheric boom-bap soundscapes for XP to spit his riveting bars over. With guest appearances from XP's former crew Rhyme Addicts as well as underground colleagues such as Roc Marciano, Madhattan, Hus Kingpin, DXA, Supreme Cerebral and Big Twins, Nomads is a well-rounded, cohesive, and entertaining project that boom-bap enthusiasts will want to add to their collection.
Learic & Es-K - Thought Instruments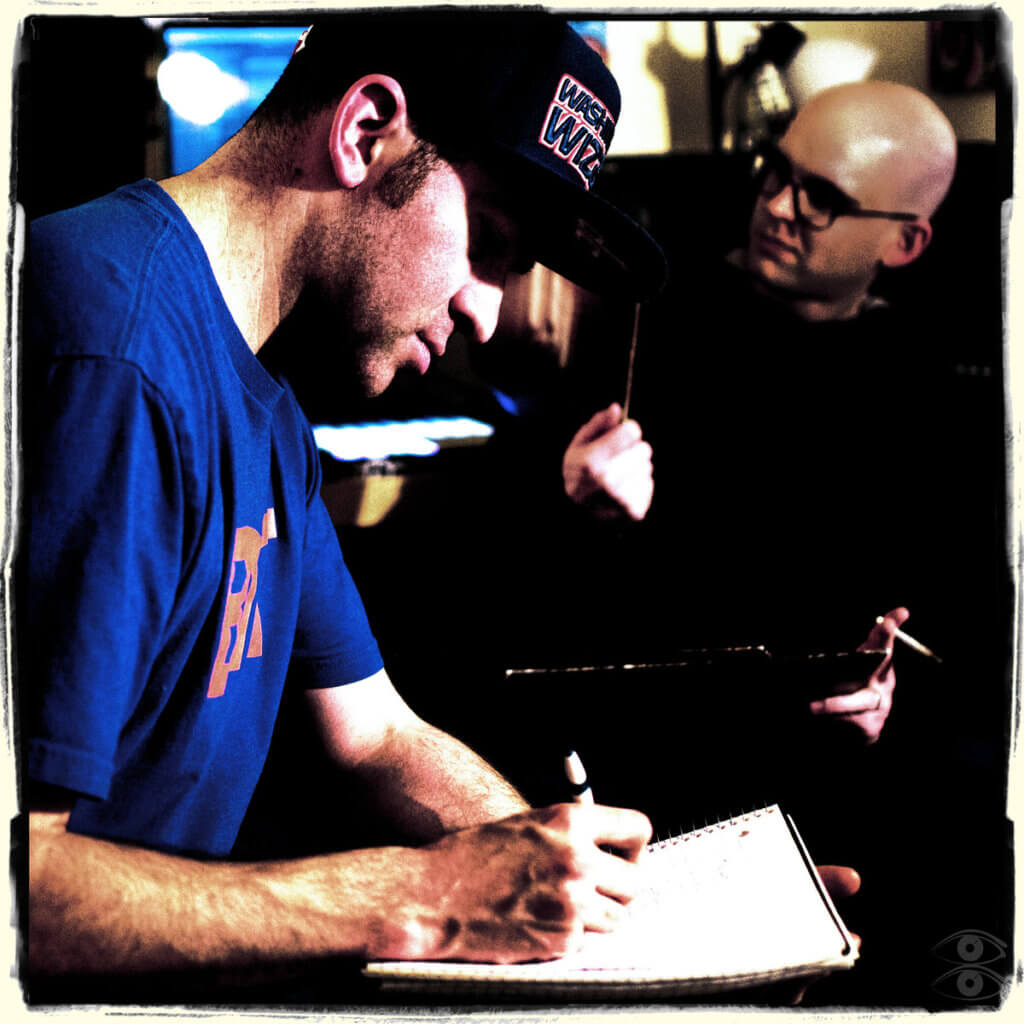 Vermont's Hip Hop scene is popping – lots of dope acts coming out the Green Mountain State of late. Thought Instruments is a dope collaboration effort of emcee Learic and producer Es-K. It's clear that a lot of time, love and attention went into the making of this album – seamless production of the 16 tracks results in an entirely cohesive album with no filler at all. Also, there's plenty of great scratch work (by DJ Kanganade), which contributes to the album's perfectly executed throwback vibe. With the sonic foundations more than solid, it's Learic's lyrics and wordplay that make this album the gem that it is – dope flows and clever content all the way through. A lot of people will sleep on Thought Instruments and that's a shame, it is without a doubt one of 2019's hidden treasures.
$wank & King Draft - TwoFive To Jersey
Released on 9th Wonder's Jamla label and completely produced by 9th Wonder, this album (released on May 31 of this year) is flying so far under everybody's radars it's shameful. Shameful for Jamla because obviously their promotional efforts are lacking, shameful for us Hip Hop fans because most of us are sleeping on this project. Of course, Rapsody's Eve is a Jamla album that received maximum exposure, but Eve was pushed by Jay-Z's Roc Nation label too. The reality is that Jamla roster holds so much talent and TwoFive To Jersey is an album that needs more attention. To add extra flavor to 9th Wonder's wonderful beats, $wank and King Draft recruited Jamla artists like Ian Kelly and Rueben Vincent to do a few guest appearances. All in all, the beats and rhymes on this joint are of the highest quality – this is pure Hip Hop and a top 50 album of the year.
Diabolic – The Disconnect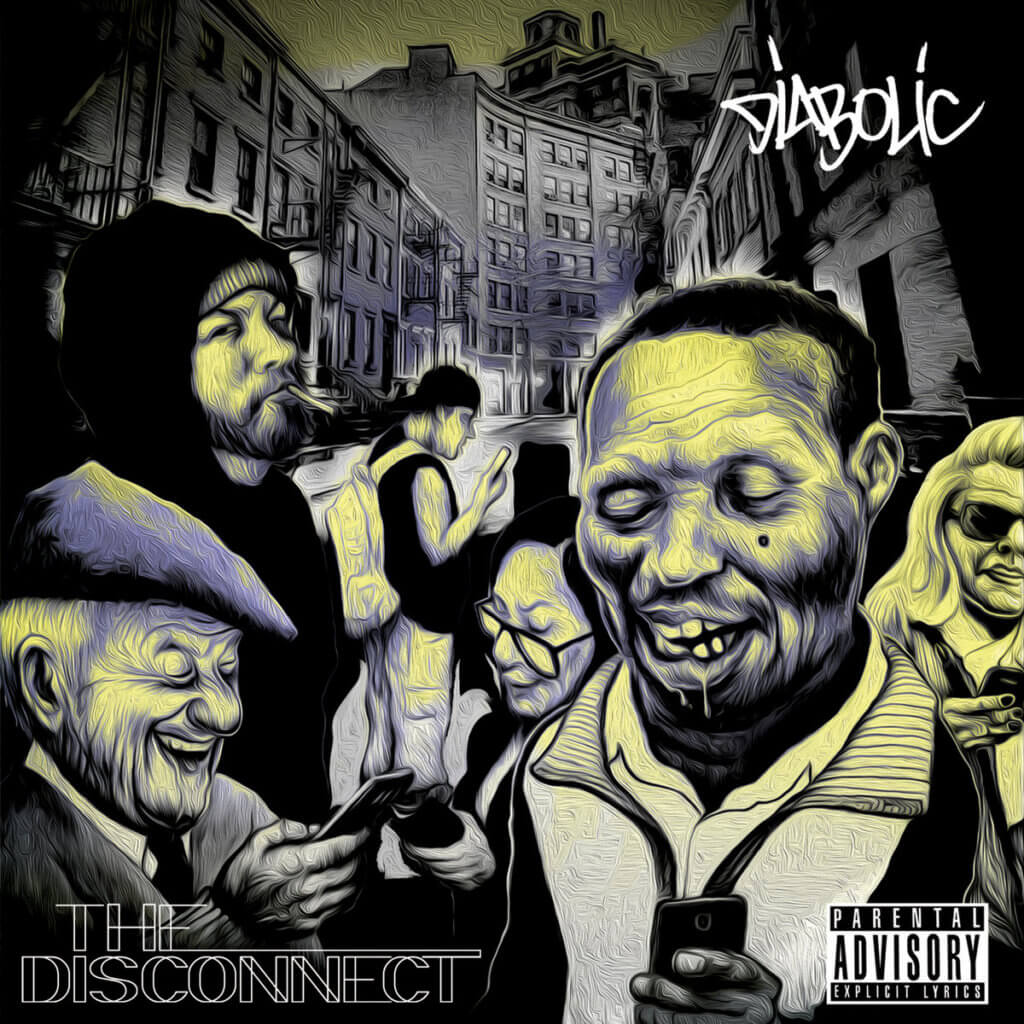 You may know Diabolic from his feature on the hidden track after Immortal Technique's song "Dance with The Devil" or from battle-rap fame. The Disconnect is his fourth full-length album and arguably his best – offering a mixture of introspective storytelling and hardcore East Coast Hip Hop with Diabolic's signature, razor-sharp lyrics over hard-hitting, gritty boom-bap beats.