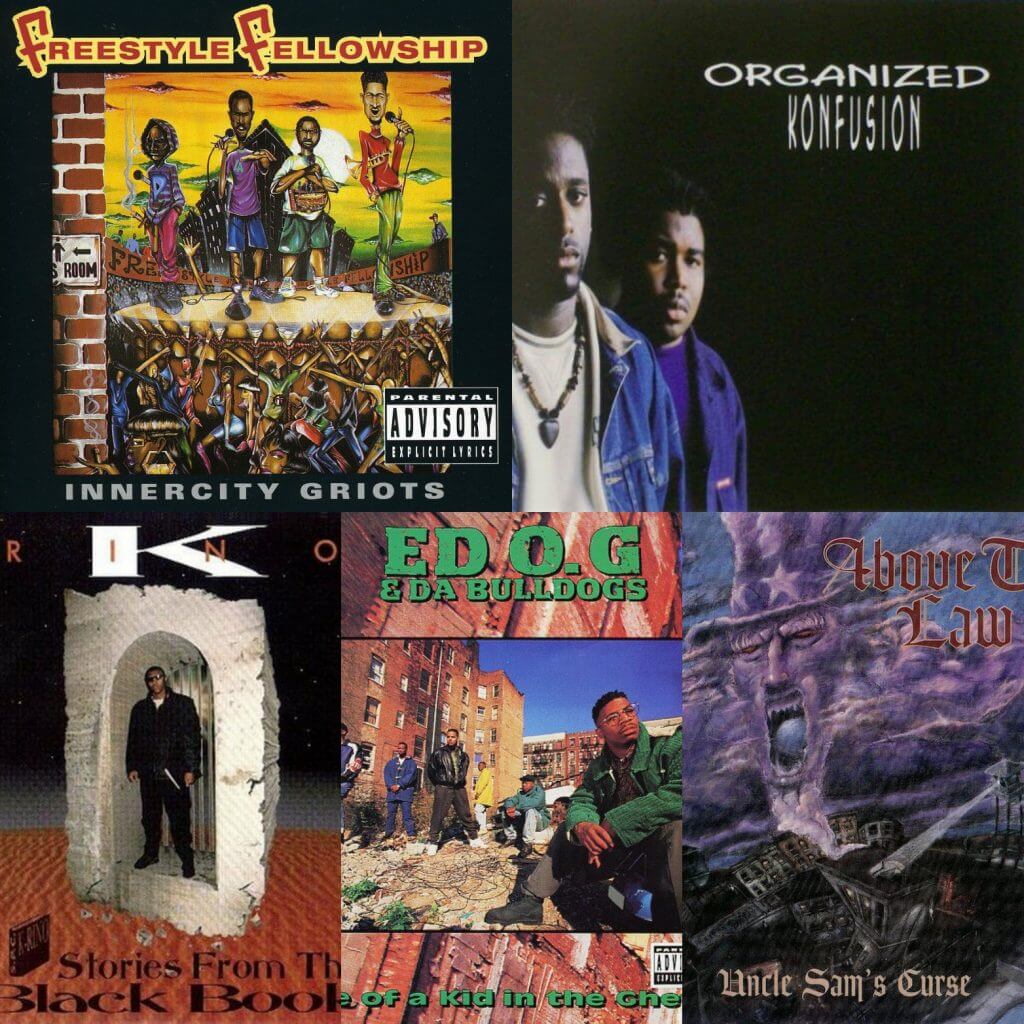 In this eight part of our ongoing 5 Classic Records You Don't Own, But Should series, we feature five more albums from the early 1990s that received plenty of critical acclaim, but that achieved not nearly the commercial success they deserved.
Out of these five, which one is YOUR favorite? Do you own them all?
Organized Konfusion - Organized Konfusion (1991)
This album has it all. Consciousness, politically juiced tracks, party anthems, story-telling – Prince Poetry and Pharoahe Monch pull off a perfect display of clever lyricism and dope wordplay. Their lyrical flows and topical themes were decidedly progressive for the era, a great prelude to later O.K. offerings and especially Pharoahe's solo work.
With politically juiced songs as "Prisoners of War", "Releasing Hypnotical Gases", and "Open Your Eyes", more personal stories and social commentaries like "Rough Side of Town" and "Roosevelt Franklin" and some straight up head nodders such as "Walk into the Sun", "Organized Konfusion", and the aptly titled "Audience Pleasers", Organized Konfusion offers superb variation. This is a forgotten cult classic that is a must-have for anyone who likes clever, layered Hip Hop.
Freestyle Fellowship - Innercity Griots (1993)
The follow-up to their dope but somewhat rough around the edges debut To Whom It May Concern. With this sophomore effort, Freestyle Fellowship deliver the goods.
The jazzy production provides the atypical backdrop for a West Coast album, but perfectly complements the lyricism – and that's what this album is all about. Conscious, humorous, clever, versatile: emcees Mikah 9, P.E.A.C.E., Self Jupiter and Aceyalone bring it all.
"Respect Due", "Everything's Everything", "Heavyweights" and "Innercity Boundaries" are just some of the highlights, but the album has no real weak spots. This highly original album is a slept-on lyrical masterpiece.
K-Rino - Stories From The Black Book (1993)
K-Rino is a (still active) Houston legend and long-time regional favorite. He dropped A LOT of albums over the years, Stories From The Black Book – his official debut – may just be his best in an all around impressive discography.
Praised for his lyrical abilities and variety in his subject matter (he was never just another gangsta rapper), K Rino delivered a slept-on masterpiece with this album.
Ed OG & Da Bulldoggs - Life Of A Kid In The Ghetto (1991)
A typical early 90s East Coast album; it sadly got lost in the shuffle with so many dope albums being released left and right at the time. This one is up there with the best, though. Excellent soulful production and thoughtful, conscious content mixed up with some straight up party stuff – Boston's Ed OG really dropped a gem with Life Of A Kid In The Ghetto.
Ed OG is still in the game, consistently dropping quality, a shame he always flew under the radar a bit. This album is his debut, a cult classic and a must-have for Hip Hop purists.
Above The Law - Uncle Sam's Curse (1994)
Above The Law's classic debut Livin' Like Hustlers will forever be their magnum opus. But this third effort is yet another excellent Above The Law album and definitely a few cuts above most of the other gangsta rap being released at the time. If Deathrow Records had not been dominating the scene at the time, there's no doubt Above The Law and this album would have been bigger.
The lyrics on Uncle Sam's Curse contain not just typical generic gangsta stories, but also sometimes politically fueled and socially conscious. Additionally, Cold 187um's production is always top level. A true West Coast G-funk innovator, he was never scared to experiment on the boards. Deep bass, whiny synthesizer sounds, smooth and funky – this is G-funk at its best.