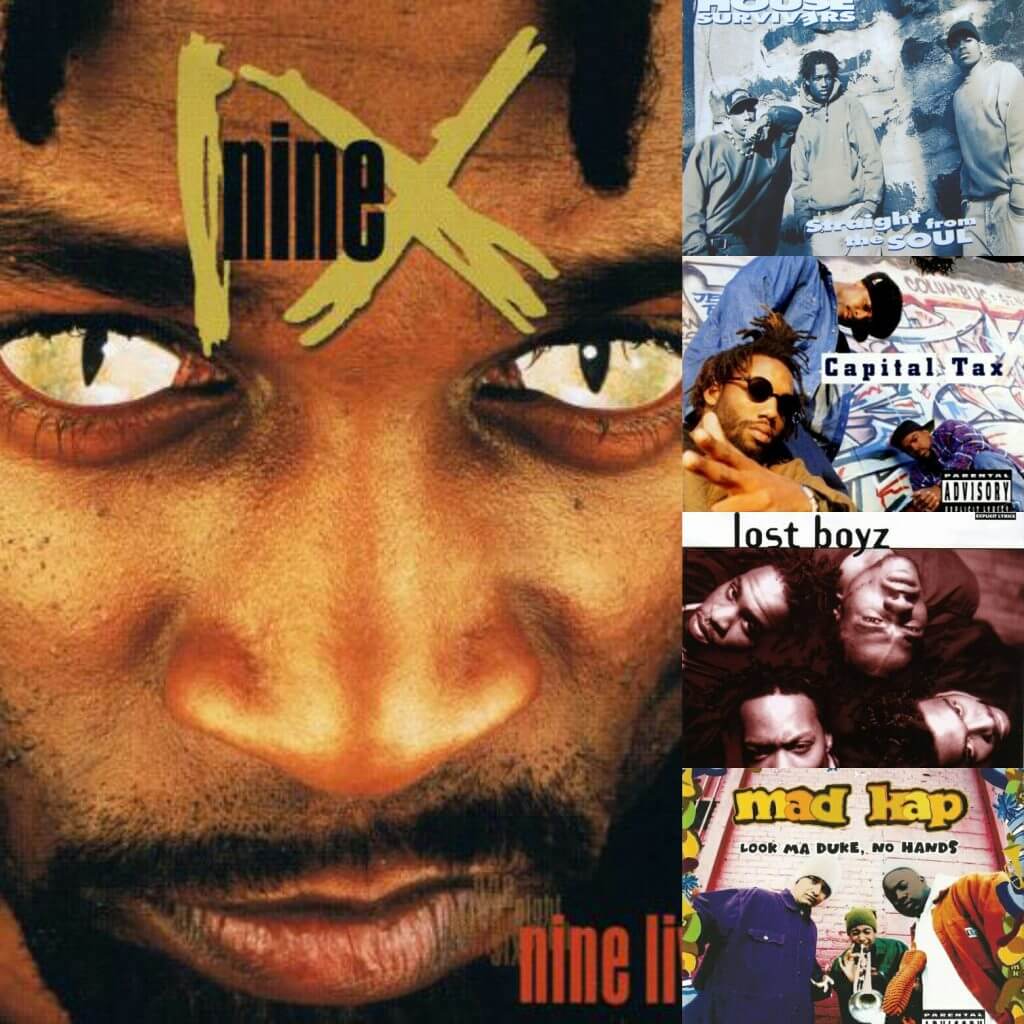 Five Golden Age Hip Hop albums that never got the props that they were due. Do you know them all?
1. Nine - Nine Livez (1995)
Bronx native Derrick Keyes dropped this debut album in 1995 and it should have catapulted him to superstardom, the voice alone separated him from the pack, sounding as it did like he gargled broken glass and gunpowder, but somehow it never happened for him. It was clearly a longtime ambition for all involved, in the sleeve notes Nine seems delighted to announce "we did it."
A large part of the reason this record is so clever is Rob Lewis and Tony Stoute's production (this is the same Rob Lewis who would go on to produce, write and arrange for artists as diverse as Mary J Blige and Herbie Hancock). There's a real musical drama and dexterity on this album – check out 'Redrum', 'Fo'eva Blunted' and 'Ova confident" if you require evidence.
Originally it was a double album, so the quality of the sound is as impressive as the tunes themselves. There's a bonkers guest appearance from an MC called Froggy Frog on tune 'Hit Em Like This', which sitting alongside Nine, is a pretty surreal song. Nine did go on to release another 2 albums, but neither bothered the top of the charts. If, however, you're a fan of classic NY Hip Hop, do yourself a favor and get a copy.
2. Rough House Survivors - Straight From The Soul (1992)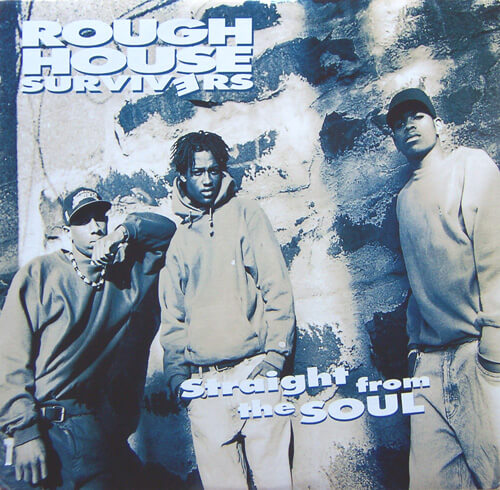 Maybe there just wasn't room for another Pete Rock and CL Smooth, or Grand Puba, but these guys deserved better. Perhaps then, with the benefit of hindsight, they shouldn't have invited both to appear on their debut and only release. Produced by Grammy nominated legend Tony Dofat, the LP is packed full of driving, jazz-inspired tunes that deftly back up the collective's rapping chops. Side 1 song '
Side 1 song 'Can You Dig It' deserved to be a smash hit, and 'So Survivors, We Can Rhyme' is a classic posse cut with lots of clever musical invention. But really you could drop a needle anywhere on this album and get your head nodding. Hats off to DJ Swinn, MCs Dread One, Kev, and Roberto, this is an outstanding addition to the Golden Age catalogue, and it's a pity there wasn't a follow-up.
3. Capital Tax – The Swoll Package (1993)
East Oakland residents Capital Tax, were a four-man crew consisting of the group's only emcee, TMD (an acronym for Total Mind Devastator), DJ Cool Al, and dancers Bozie and Scruff. TMD is said to have been the second Oakland resident ever to be put on record after Too $hort, in an earlier incarnation back in 85 he released 'All Rapped Up' with his first crew Just Us 2.
In keeping with other West coast underground acts of the time, they are a million miles away from 'gangster' rap & are all the better for it – but that also probably explains why it didn't really find an audience.
Produced by DJ Smooth G, the choice of samples is pretty standard fair (George Clinton, Ohio Players etc etc) but it still manages to sound fresh even today.  In particular check out 'Mista Wonka', 'I Can't Believe It' and 'The Masha'.
4. Lost Boyz - Legal Drug Money (1996)
Eventually living up to their name, this quartet represented South Jamaica, Queens, and consisted of lead MC Mr Cheeks, backup MC and promoter Freaky Tah, DJ Spigg Nice and Pretty Lou. Signed to Andre Harrell's Uptown Records (a crossover rap and R & B label that started in 1986, that was home to pioneers like Heavy D, Jodeci and Mary J Blige) this album got both critical and commercial success at the time.
There were 5 singles from the double album, 'Lifestyles of the Rich & Shameless' and 'Jeeps, Lex Coups, Bimaz & Benz' are probably the best remembered, but there was also 'Makes Me High', 'Renee' and 'Get Up'.
There are a variety of producers credited, including all-time giant Easy Moe Bee, who worked with Big Daddy Kane, Notorious BIG and even Miles Davis, and DJ and sneakerhead Clark Kent. The LP combines dope beats with quality flow and catchy choruses, and would win any blind, Pepsi challenge, against competitors from the same era. The group's story though, does not end well; Freaky Tah was shot in the head and died from his wounds after an altercation at a birthday party in Queens, & other members were jailed for robbery. Talk about life imitating art…
5. Mad Kap - Look Ma Duke, No Hands (1993)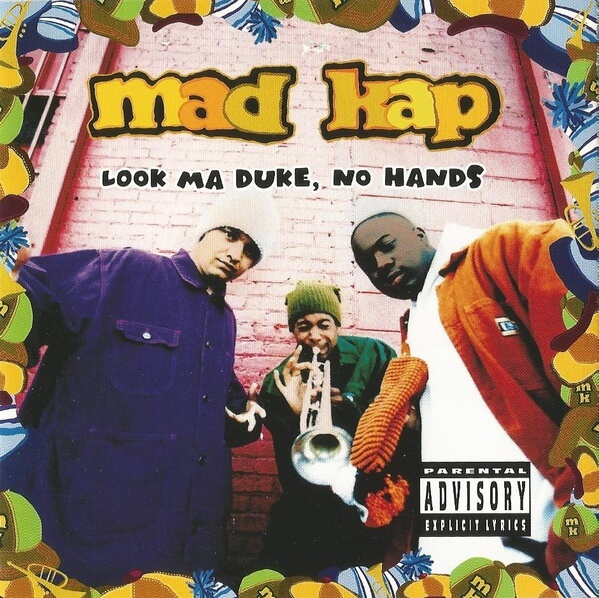 Released on Loud Records, this west coast trio consisted of Coke, Motif and Dr Soose who plays trumpet on their best known single from this release 'Da Whole Kit & Kaboodle'. Part of King Tee's Likwit Crew, which included The Alkaholics and Lootpack amongst others, this is a perfect example of that WestCoast, underground style, that did much to give LA Hip Hop credibility back on the east coast, with its superior rhyming technique and crafty tunes.
Even at the time, this was a pretty obscure album, but I loved its bozo musical style and playful design that made it stand out from the crowd.  In common with many releases of this era, there's too many skits, and you can hear the influence of Das EFX, but I'd urge you to listen to 'Check It Out' which features the mighty King Tee,  'Ph*ck What Ya Heard'  and 'Beddie-Bye'.