Legend has it that a manufacturing mix-up when disco pioneer Tom Moulton asked for a test pressing of "I'll Be Holding On" by Al Downing gave birth to the 12" record. Originally pressed on a 10" vinyl (because there were no single acetates available), Moulton was said to have thought that the cutting of the 7" version on the bigger vinyl was a waste of space, and so asked his engineer to space the cut out over the whole length of the record. With wider grooves in the same space available as an LP format, the sound was both louder and richer. Despite the fact that the first rap record was still some years away, the more stable 12" record would become the workhorse of nightlife.
These are some of the less well-known tracks that DJs would have played alongside the mega hits of the day – even playing Rakim, PE, Naughty By Nature or De La Soul (twice) on any given night, still left DJs with lots of time to fill. These are some of the best tracks you might have heard back in the day… and even if you already own them, or have heard them before, they all demand a second listen. If they're new to you, I think these are a dozen records that are the unsung heroes of the early 90s.
1. Ed O.G & The Bulldogs – I Gotta Have It (1991)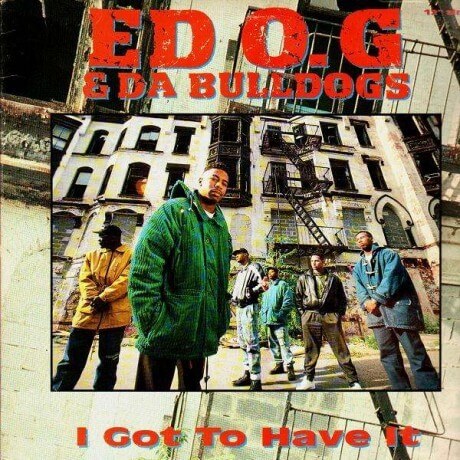 An absolute classic that samples Hamilton Bohannon's "Singing a Song for My Mother. Ed O.G was born in Roxbury, Boston and is associated with some of the Golden Age's biggest names like Pete Rock, Masta Ace and Gang Starr. Holds up well to any kind of scrutiny you care to put it under today. A brassy Meter's/Booker T type soul vibe, this was as essential tune in your Walkman on the underground.
2. Double XX Posse – Head Cracker (1992)
Almost ubiquitous instrumental background track to many a radio show shout out, this track from Jersey City residents consisting of MC Sugar Ray (writer) and Brian 'BK' Coleman (producer) does exactly what it says on the tin. It was the less successful single from their debut album Put Ya Boots On from Big Beat records and went on to reach no 15 on the Billboard hot rap singles chart.
3. Heather B – All Glocks Down (1996)
Originally a member of the BDP crew, this single "All Glocks Down", was an anti-gun violence anthem, consistent with KRS One's Stop the Violence routine at the time – ironically after he'd already dropped Criminal Minded.
Heather B's delivery is crisp and the tune's producer Kenny Parker samples The Stylistics "People Make the World Go Round" and Black Moon's "How Many Ways" to create a soulful but urgent tune. Heather is something of a pioneer for Hip Hop, as she appeared as a very assertive and sassy character in MTV's first reality experiment "The Real World" alongside writer and activist Kevin Powell.
4. Trends Of Culture – Off & On (1993)
Consisting of three MCs from Harlem – Nastee, M.O.L. and Grapevine back in the early 1990's this was a hot record in London record stores and on pirate radio stations, which still holds up 20 years later as a pounding, upbeat East coast flow. Production for this and much of their debut album was done in-house, with a desk jockey assist from Lord Finesse on the bonus remix on side 1, which not only features Finesse, buts plays out as a freestyle jam.
5. Black Madness - Igpay Atinlay (1993)
Released in 1993 on Indie label Select Records, this record has the tantalising phrase 12" MAXI Single printed on the front that was common back then for cuts with premium potential. The A-side consists of two versions of Igpay Atinlay and an absolutely incredible instrumental, simply called Bonus Beats, which sounds mint near a quarter of a century later. Coming out of Brooklyn, Audiodisiac and DJ Nastee were behind all performances and production. Production is so much better and clearer than contemporary records of the time, proper head nodding material.
6. Ten Thieves – Straight From The Slums (1995)
Released on VP Records Hip Hop subsidiary label Break A Dawn Records, like a lot of early underground golden age acts, they didn't get much further than a couple of 12-inch singles. "It Don't Matter" is probably better known, and on this cut I prefer the B-side track Black Reign, produced by Buddha Stretch, which has a haunting opening, sampling Bulgarian traditional vocals… weird at the time, but haven't heard a cleverer use of World Music till Asap Rocky's use of Assala on I Train.
7. Alphabet Soup – A Sunny Day In Harlem (1991)
I first heard A Sunny Day in Harlem mixed with the UMCs – which received radio play back on Richie Rich's Sunday night show on the newly legalised Kiss FM. Like a more rugged version of Brand Nubian this is actually an EP with 4 original songs on it. The title tune uses very clever, sample interludes throughout from Led Zeppelin and is a posse cut with Melkuan, Brother Love and Kiambu, Nubian and Deflon ripping up righteous rhymes over a fast tempo beat. The Resurrection of Gertrude on the B-side is also worth checking out.
8. Shyheim, The Rugged Child – On and On (1993)
A cautionary tale from the dark underbelly of rap. Shyheim Franklin, who is a cousin of Ghostface Killah, was only a fresh faced & crystal cut voiced 14 year old when "On & On" was a baby hit back in 1993. The single appeared on his debut album, "AKA The Rugged Child," which was released the following year. Produced by RNS, there is a DJ Premier remix on side 1, Shyheim's delivery is quick and his lyrics are pure street, the polar opposite of pop pipsqueak contemporaries Kris Kross. Unfortunately, Franklin was involved in a hit and run in 2014 and is now serving a long prison sentence.
9. Yaggfu Front - Busted Loop (1993)
Late night radio DJs – Spin 4th, D'Ranged & Damaged and Jingle Bel were a trio from North Carolina signed to Mercury. Their group name is apparently an acronym that stands for You Are Gonna Get Fucked Up (if you) Front, and this single was part of their well-received debut album Action Packed Adventure. The opening fairground blast sample lives up to their name, announcing the tunes arrival like a ghetto siren.
After that Busted Loop is a manic, fast-paced, bounce track they produced themselves. The legendary DITC producer and MC, Diamond D, appears on Slappin Suckas Silly Remix on the flipside. They bowed out of the game in the mid-nineties, but did resurface in the early 21st century with a secret tapes release.
10. Smooth Da Hustler – Hustlin (1996)
Damon Smith AKA Smooth Da Hustler is a well-respected Brooklyn MC, with a variety of writing credits on other people's work including the never released Dr Dre album Detox. This Profile release deserves another listen for the B-side cut titled Broken Language, not only because the beat and strings sample are dope, but for the interplay rapping between Smith and guest MC (and younger brother) Trigger The Gambler. Alongside Big L's Ebonics, this is one of the most impressive lyrical forays into street vocab.
11. UMC – Never Never Land (1991)
As they said so themselves "The UMC's as a group was a conscious effort on our part to represent HIP HOP in a positive light." MCs Hass G and Kool Kim sampled MJs "Got To Be there" for this upbeat, jazzy cut from their album "Fruits of Nature". Produced by themselves with some additional credits given to Chip Taylor this was considered a little frivolous at the time, when compared to other more obviously conscious material, which dropped simultaneously. But, it felt fresh then and still does now, and was part of a kind of campus rap that would eventually find other heroes in groups like Dead Presidents. If you throw it on today people all always ask who it is, as it's so infectious.
12. YZ – Return of the Holy One
YZ is a veteran MC from New Jersey, first appearing on record in 1989 as a 17-year-old.  By 92 he had signed with Livin Large/Tommy Boy/Warner Bros, and released this single, that would also appear with a remix on his album by uber-producers The Trackmasters of Notorious BIG and Will Smith fame. It's a relentless, biomechanical beat that sounds like it might have been put together by Dr Frankenstein himself, and sits nicely behind YZ's off beat delivery. The Ghetto Has Been Good to Me from the same titled album is worthy of a special mention for the haunting lyrical caveat "so far" before the chorus of The Ghetto's Been good to me. Reminiscent of Pete Rocks' anthem T.R.O.Y.