Hardly juvenilia, despite the sophomoric references to testicular size, Doggystyle finds an author in full control of his skill set, conscious of structure, never frantic and rather adept with onomatopoeia and masculine rhyme. For his age and lack of experience, his ability seemed supernatural at the time, but youthful stamina wasn't the reason for his success. Snoop understood the power of image and individuality, constructing a likable outlaw out of his tales of couple's bubble baths and streetlight shootouts. His vision was the film noir to Hip Hop's action flick, more focused on coloring in his larger-than-life personality and foggy, deliberate lyrical flow than catering to purists or the old guard.
"Laidback" is both a personal assessment and perfectly suitable, since Snoop's rhymes are far more interested in toying with sounds and the rhyming syllable than force feeding content. Bragging and provoking the opposition accounts for the bulk of his subject matter, but mundane topics are given new life through an exhilarating propensity for accents, unnatural extensions of words and prosodic stress. Take "Tha Shiznit," for example, which playfully ridicules Luke of 2 Live Crew by concluding each sentence with an affected "E" or "A" sound, noting the opponent's weakness and fallibility with each dramatic rise in tone.
His affinity for Slick Rick's wordplay and narcissism would be obvious, even without the "Lodi Dodi" cover, but Snoop's violence is more literal and far less episodic. Emotions are obvious from his intonation, noticeably most vivacious during a bout of self-glorification, but his words are most substantial when acting as conduit for verbal trickery. Despite all the distractions, he makes games of syntax seem effortless and, dare I say, elegant.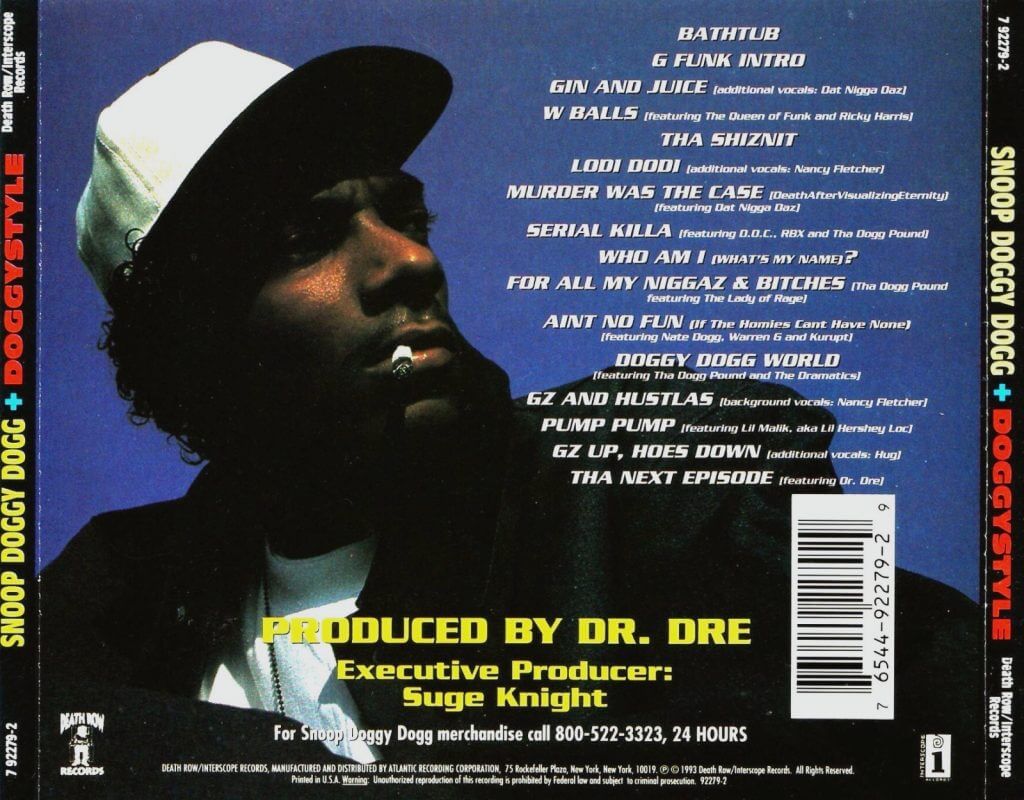 Bells and whistles are handled by Dr. Dre, who, upon first glance, seems confident enough in the sound he'd pioneered a year prior to shamelessly recycle it. Further investigation reveals an expanded palate and a slackened intensity, with the stone-faced Dre loosening his belt and letting his inner lounge act take the reins. The nostalgic atmosphere and heightened sense of whimsy work marvelously with Snoop's paced and harmonious oration, especially when spiced up with giddy sleigh bell and bleary-eyed Detroit-style soul choruses. Moments like "Ain't No Fun" even feel like a sly wink, pairing uproariously sexist pillow talk with roller-disco kitsch.
Best of all, Dre's compositions act as pedestal for Snoop's towering persona and, though most of the affair is relatively radio ready, the baleful moments are just as palatial, transforming Snoop from the role of glamorous playboy to sadistic villain, accordingly backed by vampirical organ and scaly synthesizer. "Murder Was the Case" best displays this sonic and lyrical versatility, replacing placid party vibes with chambered drum and gong, the blunt echo of struck aluminum and disembodied moans.
Snoop's pulp storytelling shines best when allowed to control the narrative and "Murder" is a drug dealer's take on the Faust legend, with Snoop himself playing a flamboyant criminal mind, hampered by a desire for wealth and an impatient, unholy benefactor. If the scope of the story and vision weren't already cinematic enough, the track was followed by an 18-minute short film, further developing the cult of personality surrounding Calvin Broadus. Yet, silver-screen aspirations and media personality were never Snoop's most endearing qualities. His ability to construct compelling poetry was what has endeared him to the public for so long and Doggystyle was the moment that Snoop Doggy Dogg's esoteric diction and imperial slackerdom became as American as apple pie.
Snoop Doggy Dogg – Doggystyle was ranked #18 on Matt Deapo's Hip Hop Top 50, a ranking of 50 of the best Hip Hop albums recorded between 1978 and 2006, based on this consideration and these rules.