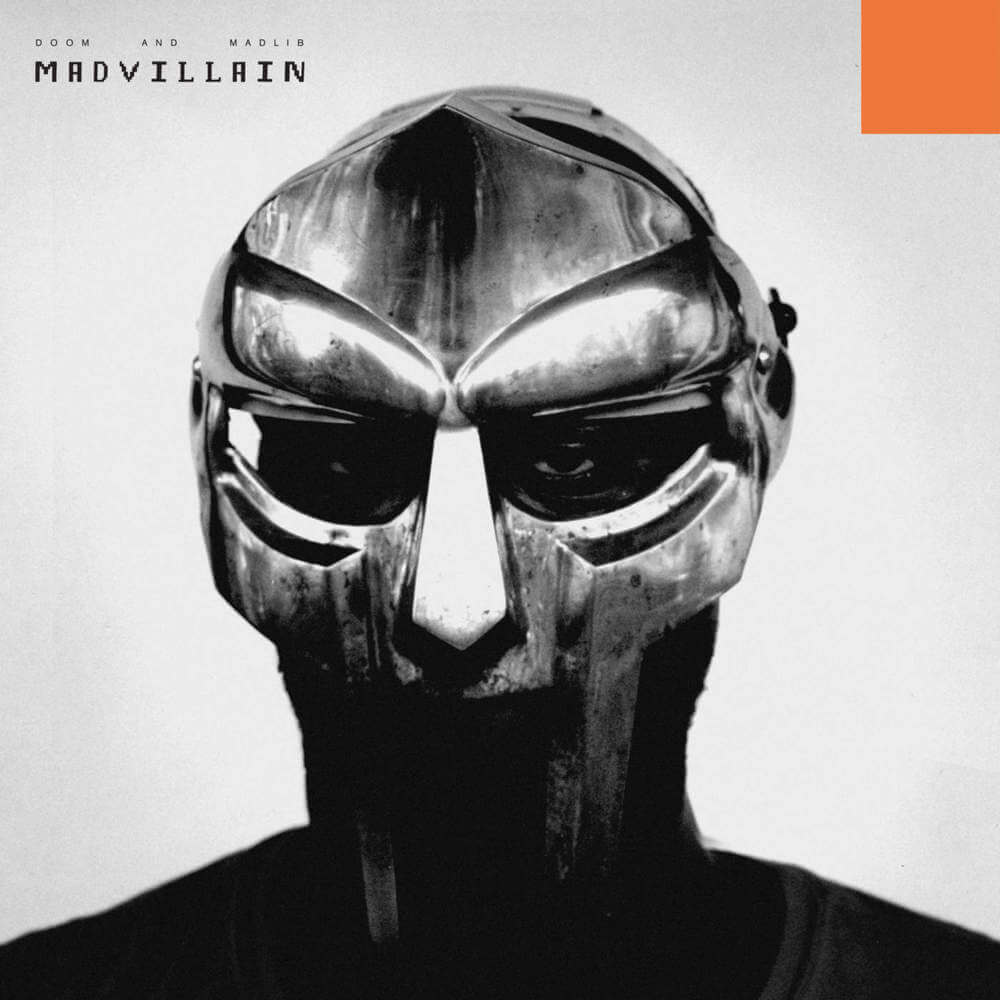 Perfectly marrying the sophisticated with the peculiar, Madvillainy is 22 disparate snapshots, completely stripped of mainstream rap's pop sensibilities and obsession with hooks and freed to be willfully obscure, off-the-cuff and hysterical. Supergroups rarely succeed, let alone eclipse previous individual achievements, but pairing Madlib's capacity for regenerating the grooviest relics of jazz past and MF Doom's impossibly sophisticated, stream-of-consciousness jabberwocky was a stroke of genius, birthing a work beyond genre, song structure and conventional wisdom.
Vocalist and cover model MF Doom rhymes with a deep, stoned growl, working his tongue and lungs to capacity, all in the name of coughing up dense, symbol-laden, lyrical poetry. His verses are pop culture at its most arcane, showcasing a man obsessed with junk food, syndicated space operas and creamy clouds of marijuana smoke. His vocal ebb and flow can be rather entrancing, which slightly distracts from the complex use of simile and double entendre, demanding repeat listens and even note taking from his ever-growing army of disciples. Verbal trickery is the name of the game on "Money Folder," where he claims to have penned the rhyme after downing a few "Heines," only to reveal moments later that he was referencing warm derrieres and not cold beers. Gambits like this occur endlessly, often multiple times in a single verse, showcasing an author capable of constructing an extremely intricate narrative and demanding enough to expect listeners to keep up with his manic pace and rapier wit.
"Curls" intends to slow Doom's roll, opening on the low tinkle of steel drum, pulled back in the mix slightly as to not overshadow muted guitar strum and gently scraped hand percussion. Doom deliberately harnesses his flow, exposing the crackle in his smoke-damaged throat, but never stumbling over a syllable or gasping for air. His uncommon gift for phrasing shines radiantly, mutating banalities about money-grubbing women into an eloquent game of near-rhyme hopscotch ("reckless nekkid girls get necklaces and pearls"). It's exhilarating to hear his verbal ingenuity, particularly when classing up well-worn cliches, ranging from the joy of financial frivolity to the perilous life of the young hustler. This supposed "coming-up" story revels in absurd exaggeration, so implausible that it appears Doom's having a laugh at his peers' expense, mocking their eternal quest for authenticity. His farcical tales of toddler battle rapping and second-grade smoke-outs are accompanied by eerie Gothic organ and intermittent electro drum kick, camping up an already cartoonish anecdote.
Madlib gives the entire LP a sense of knowing mischief, rudely throwing seemingly incongruous pieces of jazz, soul and 60's ephemera at the wall, never giving a damn if any individual piece sticks. Somehow, amid the sound and fury, wavering from speaker to speaker, is a disorienting and brilliant piece of Musique concerte, constructed from thousands of lulling, symbiotic sound puzzles. Dashes of maraca and robust bass marinate with old-world accordion, book ended by superhero clips and bizarre B-movie sound effects, all corrupted and rearranged by constant breaks in tone and shifts in focus. Familiar elements are tossed in via bubbling bong rips and funk riff strut, acting as a buoy to the listener, forever drowning in a sea of details. This sense of security is temporary, washed away in a flood of half-audible cackling and faded dub scraps.
The elements are tightly packed, never showing their patchwork or revealing a formula, orchestrated with a surgical, almost inhuman, focus. Yet, this is not de rigeur studio product, but free-form experimentation, built around two friends sharing a laugh while pugnaciously stripping away two decades of perpetually-recycled genre convention. Rarely do inside jokes brim with such versatility, personality and boundless enthusiasm.
Madvillain – Madvillainy was ranked #20 on Matt Deapo's Hip Hop Top 50, a ranking of 50 of the best Hip Hop albums recorded between 1978 and 2006, based on this consideration and these rules.