Amidst a sea of drunken Soul, disoriented scratching and mush-mouthed vocal fragments, Chris Manak has buried a thesis statement deep in his sprawling My Vinyl Weighs A Ton, correlating the Hip Hop DJ's creative process to an archaeological endeavor.
Nestled in the center of the album and a mere 24-seconds-long, "Top Illin'" takes liberties with Audio Two's seminal smash hit, distorting its drum break into a vociferous clatter and pairing it with jagged cuts of funk guitar and vocal moan. Breaking a loop down and pasting it into a new composition has been fair game since the dawn of rap music, but recycling a work that is itself a collage of previously used elements becomes "meta" exercise, revealing the producer as both artist and historian.
Dubbing himself "Peanut Butter Wolf," a name equal parts childish and sinister, Manak deals in exhuming forgotten swatches of music and placing them in a familiar context: the Hip Hop head nodder. All of the routine elements have been compiled: the cinematic strings, the jazzy organ, the sharp clap of synthesized drums. Yet, an off-kilter sense of humor and precocious enthusiasm has dragged the commonplace into the Twilight Zone. Queasy kazoos and waves of distortion pervert an otherwise danceable tune. Beats sound hollow and cavernous, as if pounded out on an empty barrel in a mossy, underground bunker. Bass lines thud along in a morphine-addled haze, dragging endlessly before getting throttled by record scratching so fast that it's reminiscent of squealing tires and active smoke alarms.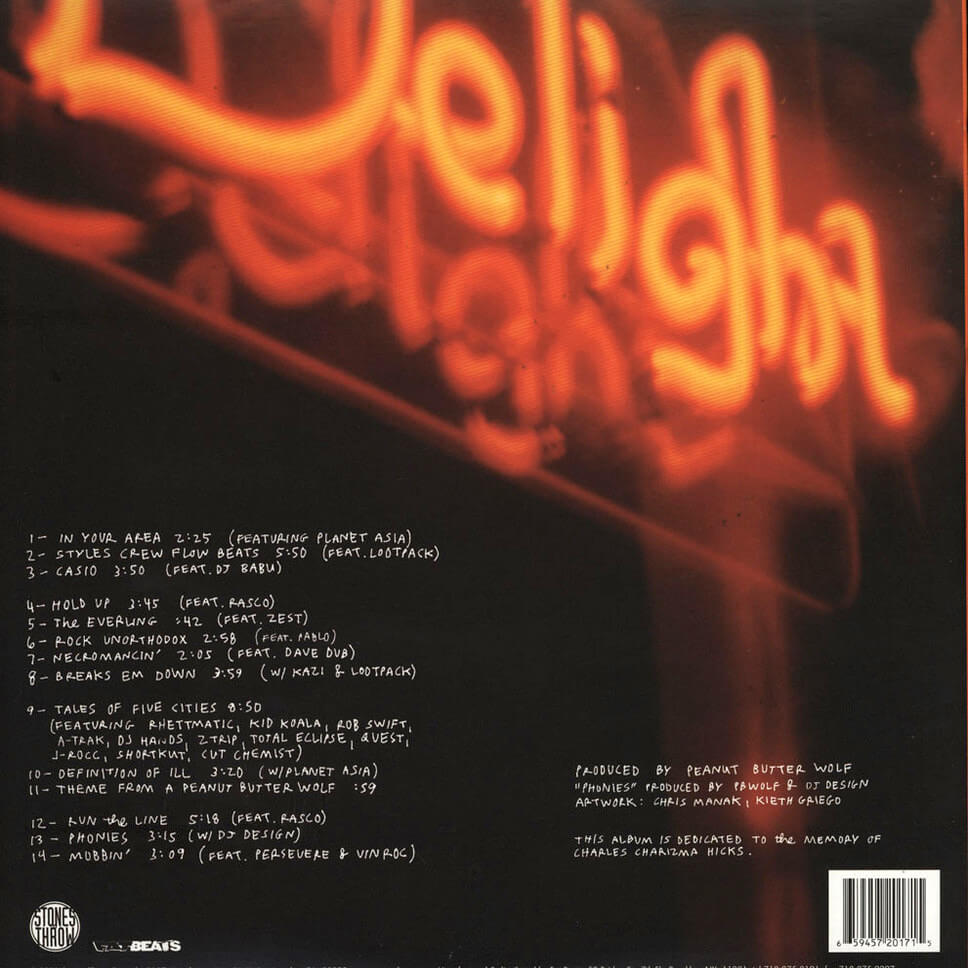 "Tale of Five Cities" is an epic length ode to turntabilism as sport. Loops of soul and funk are jarringly contorted into new shapes and milked to a snail's pace, spawning an oafish and mesmerizing warble. Coupled with the propulsive scratching and constant shifts in beat and tone, the experience is not unlike psychedelia or noise music, that is, capable of evoking physical response and mood. Wolf understands the entrancing quality of his work (and Hip Hop as a whole), drawing sonic parallels between the soothing voice of a hypnotist and the rowdy demands of a hype man.
Adjusting to the lulling, narcotic quality of the grooves can be a challenge, especially when the tone can shift from placid to menacing at a moment's notice. Peanut Butter Wolf strives for this disparity, as it expands the range of sounds he can draw from, allowing him to catalog and interpret the art world en masse.
Peanut Butter Wolf – My Vinyl Weighs A Ton was ranked #26 on Matt Deapo's Hip Hop Top 50, a ranking of 50 of the best Hip Hop albums recorded between 1978 and 2006, based on this consideration and these rules.