Don't judge a book by its cover.

Liquid Swords may be as fastidious and handsomely mounted as its Prentis Rollins' inked artwork, but confusing it for cartoonish fantasy would be a grave lapse in judgment. This is investigative journalism, as objective and stark as an obituary, completely drained of the sex, camaraderie and revelry that so many "gangster" rappers use as commercial leverage. Speaking as omniscient narrator, The Genius rarely steps in to plead his case, leaving his small-time crooks without conscience or voice of reason, abandoned to forever circle the drain of their violent and hateful lifestyles. It's thematically oppressive and hopeless, all the more depressing when held up to the so-called legitimate forms of business it parallels, making its subliminal social commentary more of an attack on free enterprise and bureaucracy than the black market.
Gary Grice, known solely as Gza to those familiar, drafts sanguine sagas as detailed and ornamental as a gourmand ruminating over the buttery notes of a Bearnaise. Passions in science, chess and samurai mythology seem too bookish for an author of true crime exposés, but Gza imbues his wordy expositions with a lived-in realism and morbidity, always burying his street warriors in a casket built of their own paranoia and superstition. Simile and metaphor are his preferred rhetorical devices, as odd and unprecedented as his influences, strung along endless lines of rhyming suffixes and "unbalanced like elephants and ants on seesaws." It's astonishing how much he can squeeze into small spaces, delicately flipping near rhymes off the tip of his tongue and turning other rappers' gimmicks and word games into achievements of "rec room era" MC wizardry. His brilliance even extends to social commentary, intended to "defraud the hoax" of religious and scholarly hypocrisy, standing defiantly against faux activism and willful ignorance.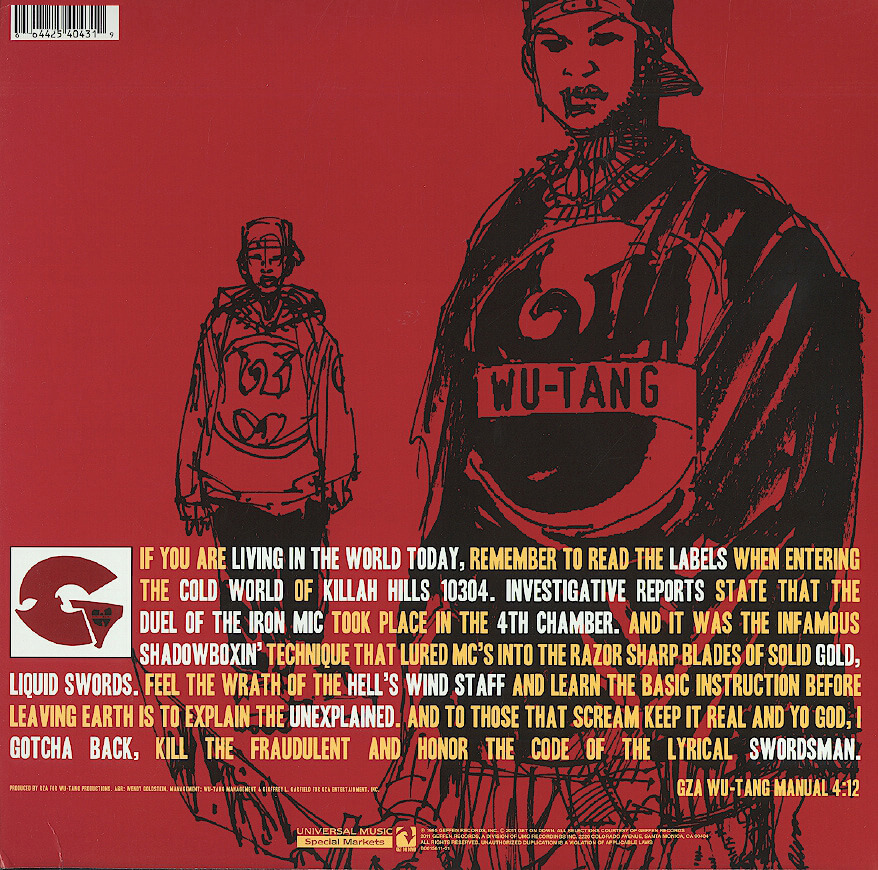 In contrast, the sound profile is more subliminal than confrontational, building off of airy atmospherics and welcome intervals of silence. Breathing room not only allows Gza's words to stand firmly in the forefront, but exposes the jagged edges of RZA's source material, comprised mainly of tormented keys and slowly bubbling bass lines, as dark and viscous as crude oil. RZA seems to carry a common thread throughout the piece (he is sole producer), repeating 4 notes in sequence, wavering from speaker-to-speaker, as if to send a signal to the attentive listener, luring them into his darkened, concrete basement. The hypnosis is broken only for nightmarish passages from Shogun Assassin, made all the more ominous because of obvious parallels to Gza's austere subject matter. Besides this penchant for cinephilia, Liquid Swords thematically breaks new ground for RZA, occupying the future worlds and technocentrism present in ambient and computer-based compositions.
"Killah Hills 10304" personifies this artificiality, made of pure steel and industrial mechanics, slumping back and forth with pounding bass purr and wrinkled VHS-tape slur. RZA rips the soul from his formula, leaving behind a sonic corpse, wrought with remote pulsations and monotonous, squeaky keys. The squelched rhythms are barely given more than a few notes, repeating endlessly, never allowed to blossom, but steadily building a claustrophobic and synthetic atmosphere. The Genius' words are tension incarnate, adding live flesh and tissue to the proceedings, painting a crimson portrait of global corruption. His exhaustive universe of characters never feels fabricated, all sneaky and corrupt, desperate enough to surgically implant a kilo of cocaine into a bum leg or hide a bomb in a bottle of champagne. All images of pleasure or power are symbolically bathed in blood, striking a shadowy, three-dimensional vision of street life caked in the grit most mainstream "gangsters" wash away in the recording booth.
The lyrical authenticity and aural chilliness make for an incongruous pairing on paper, but the truculent behavior of Gza's characters fit this alien, emotionless din like a glove. His works of violence are money-motivated and impersonal, showing the detached nature of the drug game and its crippling effect on those trapped in its clutches. By removing the superhero bravado often attributed to "coke" rap, The Genius has made a work of gripping realism and profound morality.
Genius/GZA – Liquid Swords was ranked #16 on Matt Deapo's Hip Hop Top 50, a ranking of 50 of the best Hip Hop albums recorded between 1978 and 2006, based on this consideration and these rules.