Big Daddy Kane's voice is deep without being gruff. He's always in command of his prose, never stumbling over words or pausing for a deep breath. He's capable of being funny, suave and serious all in the same verse, never overstuffing his bars with an unnecessary syllable. His 1988 debut, Long Live The Kane, is a superb documentation of his ability as an MC.
Super-producer Marley Marl recognized Kane's speed and precision and matched it sonically. Whiplash James Brown samples, cymbal-heavy drum loops and lightning-fast turntable work compliment Kane at every turn. They even accompany him on the R&B lover man oddity, "The Day You're Mine," which feels out of place in '88, but would saturate BDK's later releases.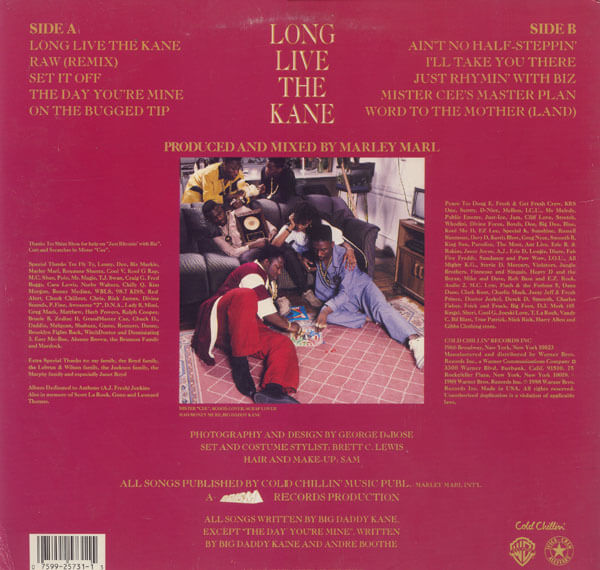 The pinnacle of this collaboration is "Ain't No Half Steppin'," a contender for the best single display of rhyming ever recorded. It's an endlessly quotable paean to Kane's ability to demolish the competition, layered over smooth piano and a Billy Squire drum beat. BDK effortlessly moves from slow, molasses-smooth vocals to a syncopated, choppy fast flow. Despite shifts in speed and tone, he always goes out of his way to annunciate, even noting that he speaks "clearly so you can understand."
Rappers understood all right. It's hard to pick out an important MC of the past 25 years who hasn't stolen a page from Kane's rhyme book, whether that be emulating his flow or heavily sampling his archetypal lyrics.
Big Daddy Kane's "Long Live The Kane" was ranked #49 on Matt Deapo's Hip Hop Top 50, a ranking of 50 of the best Hip Hop albums recorded between 1978 and 2006, based on this consideration and these rules.