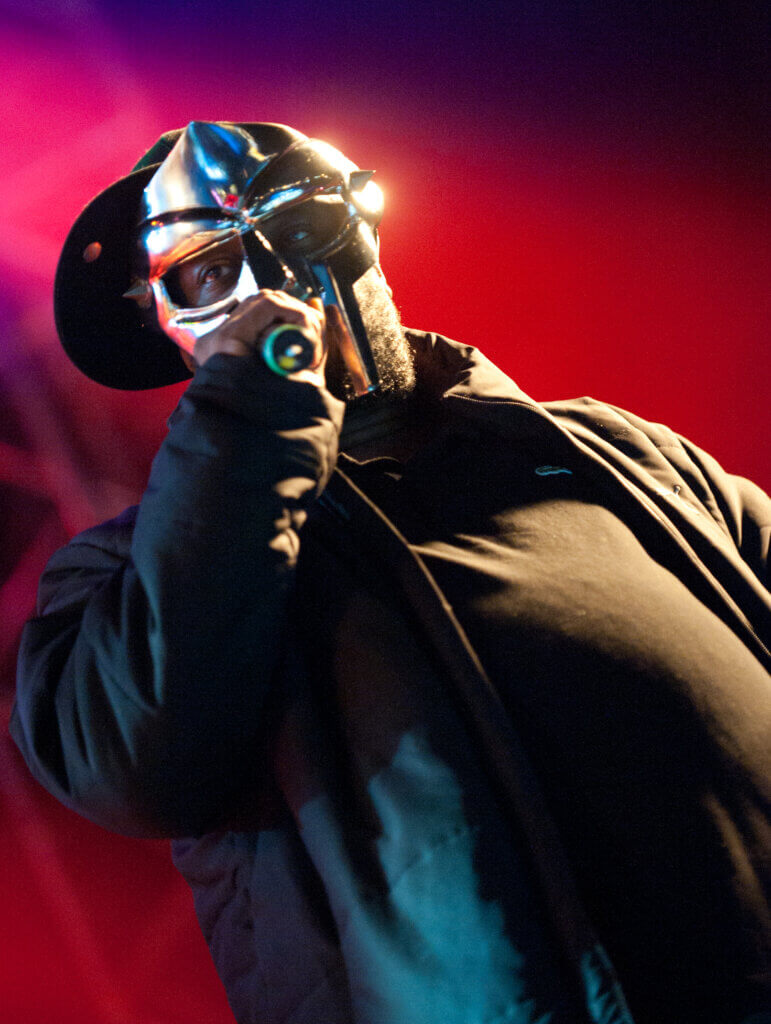 American rapper Daniel Dumile, best known by his stage name MF DOOM, died on October 31 at the age of 49. His death was announced on Instagram by his wife and label on December 31 of 2020.
Dumile was born in the British capital London and moved to the United States as a child. He started his career in the 1980s, making music under different stage names. Together with his brother Dingilizwe (Subroc), he formed the group KMD. After the death of his brother in 1993, Dumile stayed out of the spotlight for some time. In 1997 he took the stage name MF DOOM (Metal Face DOOM). Since then he refused to be photographed without a mask.
With albums like Operation: Doomsday (1999) and Madvillainy (2004) – HHGA's #1 album of the 2000s – he achieved great success, especially in the underground Hip Hop scene. In December of 2020, his last collaboration – with BADBADNOTGOOD – appeared.
Although DOOM died on October 31, his death was not announced until Thursday evening. Jasmine Dumile, the wife of the iconic rapper revealed the shocking news that her husband had died on MF DOOM's Instagram account. The cause of death was not stated.
The greatest husband, father, teacher, student, business partner, lover and friend I could ever ask for. Thank you for all the things you have shown, taught and given to me, our children and our family. Thank you for teaching me how to forgive beings and give another chance, not to be so quick to judge and write off. Thank you for showing how not to be afraid to love and be the best person I could ever be. My world will never be the same without you. Words will never express what you and Malachi mean to me, I love both and adore you always. May THE ALL continue to bless you, our family and the planet.
With heavy hearts, we share these words from MF DOOM's family.https://t.co/g9TPQCsB15 pic.twitter.com/HKWQW9aIM2

— DOOM (@MFDOOM) December 31, 2020
Soon after the news, the Hip Hop world took to Twitter, Facebook, and Instagram to remember ad honor MF DOOM. Here's a selection of what was posted on Twitter:
2020's last gut punch: Daniel Dumile bka MF DOOM dead at 49.

His wife just announced on IG that DOOM passed away on October 31st.https://t.co/gx0Q0Ula01

Remember: all caps when you spell the man's name #RIPMFDOOM pic.twitter.com/k94gWGeQF5

— Hip Hop Golden Age (@HipHopGoldenAge) December 31, 2020
I understand a great deal. But I am at a loss of spiritual understanding in this moment. Someone just stabbed all my chakras. I feel cheated and lied to. I feel selfish. It's not fair. I'm angry. Im hollering and I'm crying and I'm sorry for that. I'm so saddened. Condolences. pic.twitter.com/L0xobLZM9C

— PHAROAHE MONCH (@pharoahemonch) December 31, 2020
👊🏿🙏🏿 @MFDOOM #RestInBeatsMF @hiphopgods

— Chuck D (@MrChuckD) December 31, 2020
RIP to another Giant your favorite MC's MC .. MF DOOM!!
crushing news…

— QTip (@QtipTheAbstract) December 31, 2020
hip hop mourns you… #ripmfdoom 🙏🏾 #ALLCAPS https://t.co/GNLzvfVsww

— Masta Ace (@mastaace) January 1, 2021
Rest in Power Doom. pic.twitter.com/wej3Lvcysq

— Immortal Technique (@ImmortalTech) December 31, 2020
One of the greatest comebacks/second act stories in hip hop history. RIP to the villain MF DOOM.

— Phonte (@phontigallo) December 31, 2020
DANIEL DUMILE

MF DOOM FOREVER

— MASKMOSPHERE (@atmosphere) December 31, 2020
The rarest of talents are the ones impossible to duplicate. There will never be another MF DOOM.

RIP DOOM pic.twitter.com/tCGuKMwxqi

— L'Orange (@LOrangeMusic) December 31, 2020
MF DOOM FOREVER

— el-p (@therealelp) December 31, 2020
LONG LIVE MFDOOM 😢😢😢😢😢 #WESTSIDEDOOM pic.twitter.com/BPjN2GLgjO

— WESTSIDEGUNN (@WESTSIDEGUNN) December 31, 2020
May Allah be please w our Brother MF DOOM. 🤲🏿

— J A Y E L E C T R O N I C A (@JayElectronica) December 31, 2020
safe travels. one of the best EVER. master of elastic flows and word puzzles. "the rest is empty with no brain but the clever nerd/the best MC with no chain ya ever heard" … Inna lillahi wa inna ilayhi raji'un إِنَّا لِلَّٰهِ pic.twitter.com/JdebcZzwLc

— The Sicilian Shooter (Saifullah) (@vinnie_paz) January 1, 2021
safe travels villain

— Tyler, The Creator (@tylerthecreator) December 31, 2020
Rest In Peace to a true pioneer. i hate hearing this. RIP MF DOOM. I'm hurt rn.

— JPEGMAFIA (@darkskinmanson) December 31, 2020
LONG LIVE DOOM. MY FIRST MENTOR. ❤️♾. pic.twitter.com/k3X9KLr7C8

— KULT LIFE BISHY 🌎🇳🇬 (@BishopNehru) December 31, 2020
Your legend shines forever. RIp. https://t.co/70iZneaxwn

— Qurley? (@questlove) December 31, 2020
R.I.P. DOOM pic.twitter.com/zSv6Zv2Lu3

— REBEL INS (@INSpectahDECKWU) January 1, 2021
MF DOOM FOREVER. pic.twitter.com/Ra4XQQiyuH

— Eso of Czarface (@Czarface_Eso) January 1, 2021
R.I.P MF DOOM I had to do it again in all caps. #RIPMFDOOM pic.twitter.com/9xZ60bhyO7

— SHABAAM SAHDEEQ (@ShabaamSahdeeq) January 1, 2021
— Vince Staples (@vincestaples) December 31, 2020
The fact I'm NEVER going to hear an #MFDOOM beat again cuts me up as much, if not probably more, than any verse 💔😢 Producers know…#RIPMFDOOM

— Dr Configa (PhD) (@Configa) January 1, 2021
LONG LIVE MF DOOM

— Denzel Curry (@denzelcurry) December 31, 2020
RIP the big homie MF DOOM. Learned alot from the god. One of the reasons I never cared about a deal. Coachella 2005, doom was with us. It was the "small" stage with 10k ppl lol. Thanks for letting me bless "Bloody Chain" on your lp. Helped etch my spot in history #RIPMFDOOM

— Poison Pen (@PoisonPenBK) December 31, 2020
All u ever needed in hip hop was this record. Sorted. Done. Give it to the f****** aliens pic.twitter.com/knqTs1Q1HV

— FLYLO (@flyinglotus) December 31, 2020
Rock The Bells celebrates the life and legacy of Daniel Dumile aka the legendary MF DOOM. One of the most unique and endlessly fascinating artists in music, DOOM set a standard. Our thoughts are with his family and we mourn alongside fans everywhere.🙏🏾❤️ #MFDOOMForever #RIPMFDOOM pic.twitter.com/RRIrJy9vj1

— Rock The Bells (@RockTheBells) December 31, 2020