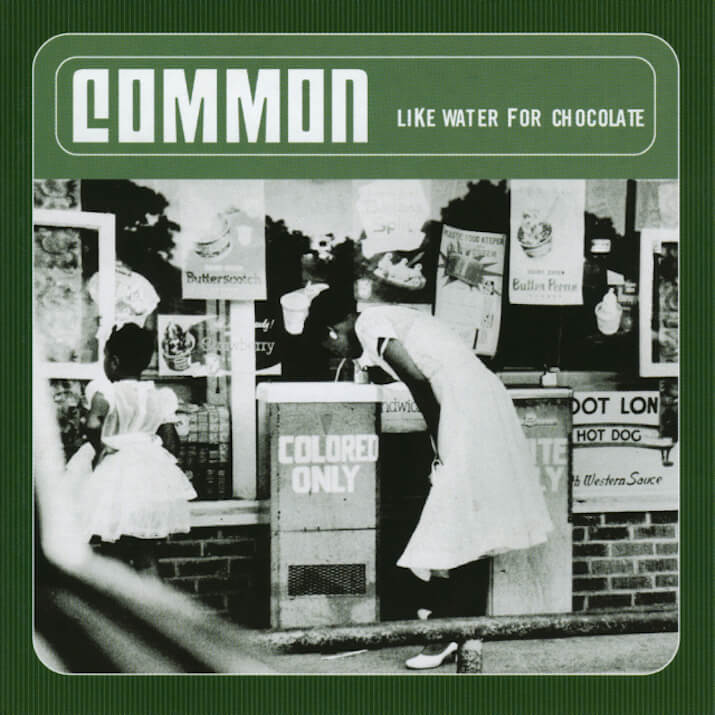 It's that time again. That time where we salute the twentieth anniversaries of certain albums that made tremendous marks within Hip Hop and still sustain and hold up after all these years. There were a number of albums that fit that mold and they will each be given a salute worthy of their greatness. We will start with an album that brought this particular emcee to a new level within mainstream Hip Hop. His '94 epic effort, Resurrection, was a stellar album that really showed the talent of this Chi-town legend. From there, he delivered One Day It'll All Make Sense, a very reflective and very underrated album that further showed his knack for battling, as well as storytelling and just overall excellent writing. He was definitely ready for the next level, and it came in force. This album became his most acclaimed album up to this point, it even brought him his first gold plaque. We salute Common and his stunning 2000 effort, Like Water For Chocolate.
Common always tends to start his albums off with excellent first singles that focus in on his superior emceeing abilities. With Resurrection, it was the title track, while with One Day It'll All Make Sense, it was the funky "Reminding Me (Of Self)". With LWFC, it was the incredible collab with then- relatively unknown R&B star Bilal, the Premo-powered "The 6th Sense". This thumping cut was conscious without having to be preachy, and immediately drew people in. However, it was the second single that proved to be the moment that catapulted his career. The Dilla-crafted "The Light" didn't just hit, it exploded. The exceptional love letter on wax to presumed then-girlfriend Erykah Badu was an incredible piece that sampled Bobby Caldwell's "Open Your Eyes" to perfection. This cut not only garnered him a whole new audience but gave him his first Grammy nomination along with even more respect within the Hip Hop community. The rest of the album was just as uplifting, positive, reflective, at times emotional, but definitely all Hip Hop. Cuts like "Heat", "Dooinit", and the Bilal/Jill Scott-assisted "Funky For You" are just that: funky. Instantly movable and able to put you in a good space quickly. Cuts like "Nag Ciampa", "A Song For Assata", "Geto Heaven" featuring D'Angelo, and "Payback Is A Grandmother" are soulful, afro-centric, and at times moving, exemplifying what Common bases himself on: community, family, spirituality, and the ability to be united against prejudice and bigotry through music.

While his previous albums were primarily handled production-wise by fellow Chicago native, No I.D., Like Water For Chocolate was handled by a collective known as The Soulquarians, which was comprised of producers and musicians such as Dilla, Quest-Love, D'Angelo, James Poyser, and Karreim Riggins. This album dabbled in live instrumentation more so than any type of sampling with the exception of some such as the aforementioned "The Light". Lyrically, this was Common at his most focused and most hungry since Resurrection. Without question, Like Water For Chocolate was his most cohesive and fluid album up till then, and generally is seen as his most soulful even to this day. We were even blessed with a remix to "Geto Heaven" with Macy Grey that was simply exceptional with different lyrics and a funky piano groove that easily rivaled the original.
Like Water For Chocolate, together with later albums like Finding Forever, Nobody's Smiling, The Dreamer, The Believer, his powerful 2017 offering Black America Again, and especially his 2005 masterpiece, BE, showed just how much of a legend he would become. His obsession with Hip Hop and culture continuously has brought out his best and passionate work and it was Like Water For Chocolate that woke up people who may have been sleeping on Lonnie Rashid Lynn before. With Like Water For Chocolate, his knack for consciousness and community was doubled down on more than ever before, and the album turned out to be a legit classic that spawned a star. Common and LWFC – we salute you!