(Republished from DefineARevolution.com, By @CherchezLaPorsh)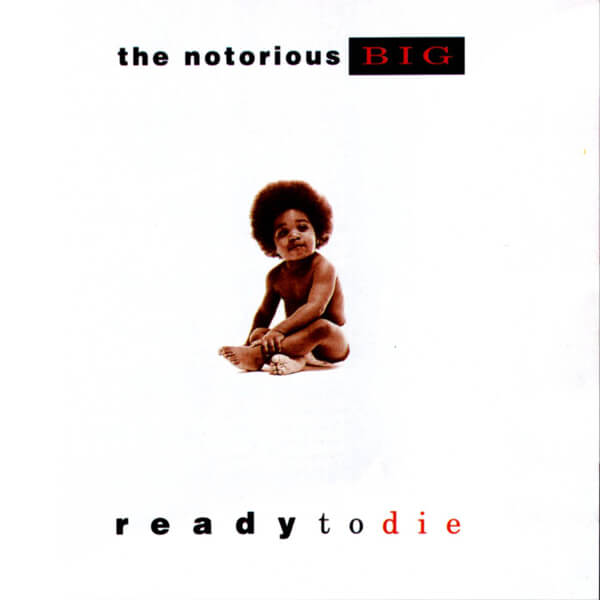 Tracklist The Notorious B.I.G. – Ready To Die
Intro
Things Done Changed
Gimme The Loot
Machine Gun Funk
Warning
Ready To Die
One More Chance
F*** Me (Interlude)
The What
Juicy
Everyday Struggle
Me & My B****
Big Poppa
Respect
Friend of Mine
Unbelievable
Suicidal Thoughts
For those of us who religiously bought and read The Source magazine back in the nineties, we will always remember the often forgotten but highly anticipated column "Unsigned Hype". In 1992, that column would introduce rap fans to a hidden gem who went by the name of Biggie Smalls (taken from a 1975 movie character). It was as a result of this column that Uptown Records caught wind of this rapper and set up a meeting and later Sean "Puff Daddy" Combs would sign Smalls to the label. Before anything would happen with Uptown though, Puffy would get fired from the label and went out on his own to create "Bad Boy Records". BIG would also leave Uptown and sign to the new label.
The following year in 1993, we would hear BIG as a guest appearance on a few tracks until his solo "Party And Bullshit" and of course the "Flava In Ya Ear" remix with LL and Busta. While BIG was still getting his feet wet in the industry, 1994 would change all of that. Not only would he release his debut "Ready To Die" but with it, he would change the entire New York rap scene. BIG's album had a perfect balance of easy to understand tales from the streets, smooth laid back bangers and a delivery and flow that was (and still is) unmatched in the industry.
Let's take a closer look at the album that made Biggie a legend. It is still ranked as one of the greatest albums in Hip Hop and the album that gave Bad Boy the notoriety it has today.  First, we'll look at production and then go through track by track with a rating and best verse/bars as well as album strengths, weaknesses, and the overall album rating. Let's get right into it.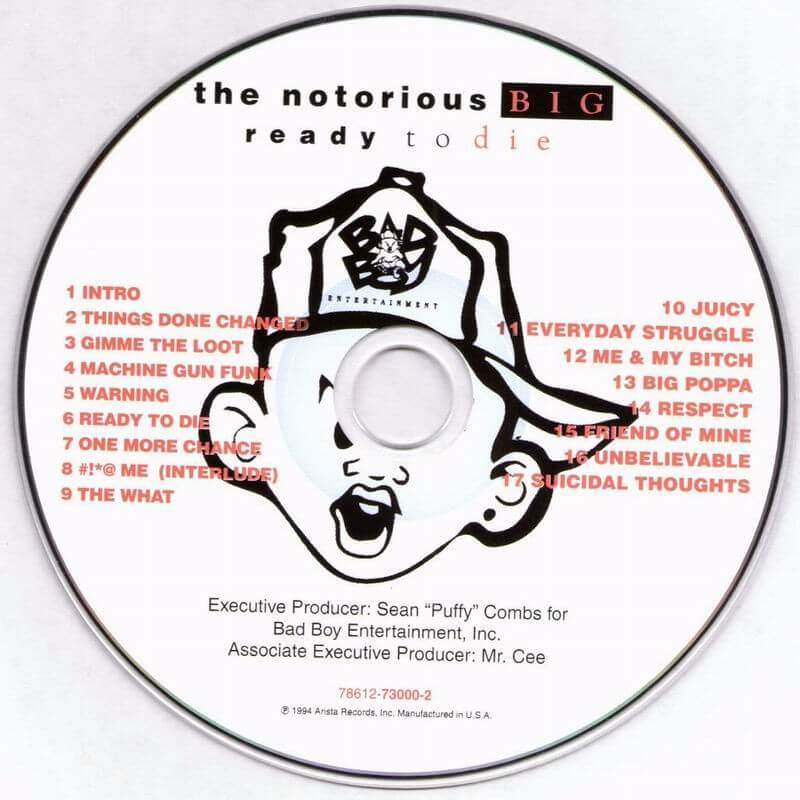 Production:
There are quite a few producers on this album, DJ Premier, Puffy, Easy Mo Bee, Poke, Bluez Brothers and a few more which means the sample usage is plenty. While each producer made sure to bring their own expertise and style, each one made sure to have BIG's rhymes and flow at the forefront, making his lyrics pop and making sure that track after track was memorable. They worked together to make this a perfect timeless album.
Track By Track/Best Bars:
Let's break down each track one by one and the best lyrics from each song.
*Intro
This is easily one of the greatest, most vivid introductions on any album and thus begins the imagery and storytelling. From his birth in the first verse to his incarceration in the last, each one takes us through a milestone in BIG's life accompanied with some great samples from Curtis Mayfield, Sugar Hill Gang and a few others. For an album titled "Ready To Die" this was a great way to start it off. 10/10
---
*Things Done Changed
I absolutely love the beat and sample choice on this track as it's great for BIG's high energy and fits so well with the content. He takes us through the evolution of the "street" lifestyle and how things have changed ("so step away with your fist fight ways"). The comparisons and metaphors are plenty and the imagery is appreciated. -10/10
Best Lines:
"If I wasn't in the rap game

I'd probably have a key knee deep in the crack game

Because the streets is a short stop

Either you're slingin crack rock or you got a wicked jumpshot

S***, it's hard being young from the slums"
---
*Gimme The Loot
If you ever doubted Biggie's brilliance, this should put all doubts aside. This is a back and forth between "two people" in an intricate plot to commit a robbery (which BIG was familiar with from his real life experiences). While the entire song is BIG rapping, he alters his voice some to give the impression of a secondary person, which works well. The entire track is laced with incredible wordplay and references that keep listeners engaged. 10/10
Best Lines:
"N****, you ain't got to explain s***
I've been robbing motherfuckers since the slave ships
with the same clip and the same four-five"
---
*Machine Gun Funk
Although this isn't my favorite song on the album, it is an outstanding example of BIG's flow. From the moment he drops the first verse all the way to the end, his rhyming is impeccable and the way he aligns the last word in each bar to the pronounced drum beat makes his lyrics pop. The sound effects, the chorus/hook makes this such a great listen. 9/10
Best Lines:
"I'm doin rhymes now, f*** the crimes now

Come on the ave, I'm real hard to find now

Cause I'm knee deep in the beats

In the Land Cruiser Jeep with the Mac-10 by the seats

For the jackers, the jealous a** crackers in the–*sirens*"
---
*Warning
Set up like "Gimme The Loot", this one is also done as a conversation, but a little more vivid and violent. Once again, this showcases BIG's storytelling so perfectly as he takes us through the knowledge of a plot to kill him. It starts at "5:46 in tha mornin" and ends with "hearing somebody comin'" and a couple gunshots. It's fast paced and short but to the point and its pronounced drum sounds as an accompaniment set a great stage for this type of story.  This is one of the highlights of the album and an instant favorite. 10/10
Best Lines:
"I f*** around and get hardcore

C4 to ya door no beef no more n****

Feel the rush, scandalous

The more weed smoke I puff the more dangerous

I dont give a f*** about you or your weak crew

What you gonna do when Big Poppa comes for you"
---
*Ready To Die
The title track and another display of BIG's "don't give a f***" attitude. This is the most emotion we've gotten up until now. The lyrics are angry, sad and (in hindsight) quite eerie. Although this is not one of my favorites, I do think this album needed a track with this type of emotion from BIG. He goes through everything he has done and that he's willing to do anything. The carefree ambition is ruthless and we see it here. 8.5/10
Best Lines:
"My s*** is deep, deeper than my grave G/

I'm ready to die and nobody can save me/

F*** the world, f*** my moms and my girl/

My life is played out like a jheri curl/

I'm ready to die"
---
*One More Chance
This is probably my second or third favorite song in all of Hip Hop so there's really nothing bad I can say about this. I absolutely love the voice message recordings approach in the intro, it was unlike anything at the time. While rappers have always talked about women, sex and partying, no one ever rapped it with this much poise and confidence even though the lyrics were incredibly vulgar at times. The simplicity in the background beat and chorus lets BIG's lyrics shine perfectly. This is a highlight on the album. 10/10
Best Lines:
"I love it when they call me Big Poppa

I only smoke blunts if they roll proper

Look, I gotcha caught up in the drunk flow

F*** tae kwon do, I tote da fo'-fo'

For n***** gettin mad cause they b**** chose me"
---
*F*** Me (Interlude)
This is exactly what you would expect from an interlude with this title. The placement is ideal considering we just heard a song about sex and women, but it's a little much and this not being on the tracklist wouldn't take away from the album so to me it's a bit extra and useless. 3/10
*The What (feat. Method Man)
The only track on the album that has a guest appearance and of course it's none other than Method Man. The Wu had just released 36 Chambers in 1993 and had played a vital part in New York's "gangster rap" emergence so BIG did himself a favor by featuring Meth. It's also no secret that a couple of the Wu members didn't like BIG much so this may have been a little "slap in the face" to them in that regard also. As for the song, it's phenomenal. Method Man's flow is just as smooth and buttery as Biggie's and the way these two hand off the verses to each other is seamless. 10/10
Best Lines:
"Biggie Smalls is the illest

Your style is played out, like Arnold and "What you talkin bout Willis?"

The thrill is gone, the black Frank White

Is here to excite

And throw d*** to dykes

Bitches I like em brainless

Guns I like em stainless steel"

"I'll be kickin, you son, you doin all the yappin

Actin as if it can't happen

You front and got me mad enough to touch somethin

Yo I'm from Shaolin, Island, and ain't afraid to bust somethin

So what cha want n****, ya punk n****"
---
*Juicy
This is the most upbeat and most empowering banger on the entire album and yet another story of BIG's life only this time it comes with a ton of positivity and empowerment. From the introduction/dedication to each one of the verses and the chorus, BIG tells of his "rags to riches" life. He celebrates his successes and allows listeners to celebrate with him. This is a highlight of the album and an instant classic. 10/10
Best Lines:
"You never thought that Hip Hop would take it this far

Now I'm in the limelight

'Cause I rhyme tight

Time to get paid

Blow up like the World Trade

Born sinner, the opposite of a winner

Remember when I used to eat sardines for dinner

Peace to Ron G, Brucey B, Kid Capri

Funkmaster Flex, Lovebug Starsky"
---
*Everyday Struggle
The only way to adequately describe this song is: underrated. It gets lost amongst the "headliners" but is a fantastic song. This is another story of the bleak and dark realities of a drug dealer (kingpin) and the lack of care for his life. The soft instrumental is a great juxtaposition to the grim and aggressive lyrics and imagery but the hook is what resonates with the audience. Although the track starts off slow, the tempo increases and it becomes a fast-paced song that keeps the listener engaged. This has more substance than others with similar content and is truly an underrated gem on this album. 10/10
Best Lines:
"I don't wanna live no mo'

Sometimes I hear death knocking at my front do'

I'm living everyday like a hustle

Another drug to juggle, another day another struggle"
---
*Me & My B****
If there was ever a Biggie song that was controversial, this is it. Some of the lines are a bit eyebrow raising but only for those who take it literally and miss the references. From the infamous "you look so good I'd suck on your daddy's d***", which is an exact quote from a Richard Pryor routine to the (semi) controversial "You talk slick, I beat you right" which (probably) means sex. There's many interpretations and many debates but what is true, this is as "lovey" and heartfelt as we are going to get from BIG. 7.5/10
Best Lines:
"But you was my b****, the one who'd never snitch (uhh)

Love me when I'm broke or when I'm filthy f***** rich

And I admit, when the time is right

The wine is right I treat you right"
---
*Big Poppa
Another one of my favorite songs in Hip Hop. The beat is pure genius and became synonymous with BIG. This song is the essence of BIG's demeanor: cool, calm, smooth and catchy. It's a flawless song and really speaks to his "player" persona. If BIG wasn't such a lyrical powerhouse with perfect flow, Puffy's adlibs might just annoy me but my focus is on the rapper and not the background attention seekers! 10/10
Best Lines:
"Now check it: I got more mack than Craig

And in the bed

Believe me

Sweetie, I got enough to feed the needy

No need to be greedy, I got mad friends with Benzes

C-notes by the layers

True f*****' players"
---
*Respect
A song unlike any other and very out of the box for a Biggie album. Diana King is the female vocal on this and brings some reggae infusion, which goes surprisingly well for this entire song. If you've ever heard Diana King before, she's got impressive vocal abilities that are smooth, balanced and very powerful so to hear her aggressive, choppy and raw vocal on this track speaks to her versatility and ability to match BIG's style and overall album "feel". This is another account of BIG's life and one with familiar imagery and metaphors (much like we've heard in previous tracks of the same nature), so nothing new in the content but the approach is different and makes for a great track. 8/10
Best Lines:
"As I open my eyes and realizin' I changed

Not the same deranged child stuck up in the game

And to my n***** livin' street life

Learn to treat life to the best

Put stress to rest"
---
*Friend Of Mine
The crude language in this song is at an all-time high, but so is the poetic devices and lyrical genius we expect from BIG. This is far from a favorite for me, but I do appreciate all the (intended) puns and rap techniques. With the reputation BIG had and the plethora of women around him, this type of song comes as no surprise and for that I appreciate it! 7.5/10
Best lines:
"I don't give a b**** enough to catch the bus

And when I see the semen I'm leavin'

Bitches be schemin'

I kid ya not

That's why I keep my windows locked and my glock cocked"
---
*Unbelievable
This is another song I love and the only song on the album produced by the legendary DJ Premier. The beat is a bit slower and uses a scratched sample of R.Kelly's "Your Body Is Callin" and of course they (Big and Premo) make it sound phenomenal. I love that this track is at the end as it's a great (almost) close to the album. This is straight enjoyment for any Hip Hop fan, as BIG spits with flawless precision and impressive charisma. 9/10
Best Lines:
"I said it, I meant it

Bite my tongue for no-one

Call me evil, or unbelievable"

 

"Dumb rappers need teachin

Lesson A – don't f*** with B-I, that's that

Oh I, thought he was wack

Oh come come now

Why y'all so dumb now

Hunt me or be hunted, I got three hundred and fifty-seven ways"
---
*Suicidal Thoughts
BIG closes out the album on an extremely somber and depressing note. The title is insight into what we're about to hear and it's exactly that, dark imagery, heavily death inspired and not an easy listen for any fan. The sound effects play a key role in creating a cinematic and haunting recreation of BIG committing suicide. The guilt, the sadness and the frustration is felt all around, and as much as I dislike the content and lyrics in this song, it served its purpose well and was the perfect close to an album titled "Ready To Die". 10/10
Best Lines:
"It don't make sense, goin' to heaven wit the goodie-goodies

Dressed in white, I like black Tims and black hoodies

God will probably have me on some real strict s***"
---
Album Strengths:
Since this is a nearly perfect album, the strengths are plentiful but what really made this a classic and catapulted the Notorious BIG to legendary status was that with this debut, he helped reinvent east coast gangster rap. Sure, talking about the streets, robberies, shootings, murders and the likes was done by several before him, but BIG did it with a rhythmic flow and storytelling ability that was unmatched. His delivery was always laced with the most intricate rhyming patterns in quick succession that made what he was saying easy to understand and incredibly engaging. While some rappers did this in a song or two, BIG did it every time he stepped into the studio or held a mic. The man was (and is) a rapping genius and although he only released one album while he was alive (officially), it was enough to showcase the talent and abilities needed to be regarded as a legend.
Album Weaknesses:
There are only two weaknesses that I can point out, and I will start with the first: the interlude was unnecessary and added nothing more. Sure, it serves as filler, but it was filler this album definitely didn't need. The second (which is no fault of the artist) is the heavy adlibs and annoying pest-like appearances of Puffy. In some cases, like on Suicidal Thoughts, it was necessary to the overall story, but I could have done with about 90% less from Puff and been perfectly content.
Wrap Up:
"Ready To Die" is one album (in a very short list) that the more you listen the more profound of an appreciation you will have for it. It's crafted in a way that each track is not only its own short story but also serves as single chapters in a 17 track "book" to make a bigger and more complete one. As he takes us through each downfall, success, milestone and hurdle, fans gain a deeper appreciation not only for the artist but for the craft itself. This album deserves the accolades it has gotten and it will continue to be an example of a perfect album from an undeniably gifted legend.
Overall Rating: 9.5/10
– Porsha