(Republished from DefineARevolution.com)
Tracklist The Fugees – The Score
Red Intro
How Many Mics
Ready Or Not
Zealots
The Beast
Fu-Gee-La
Family Business
Killing Me Softly
The Score
The Mask
Cowboys
No Woman, No Cry
Manifest/ Outro
Fu-Gee-La (Refugee Camp Remix)
Fu-Gee-La (Sly & Robbie Mix)
Mista Mista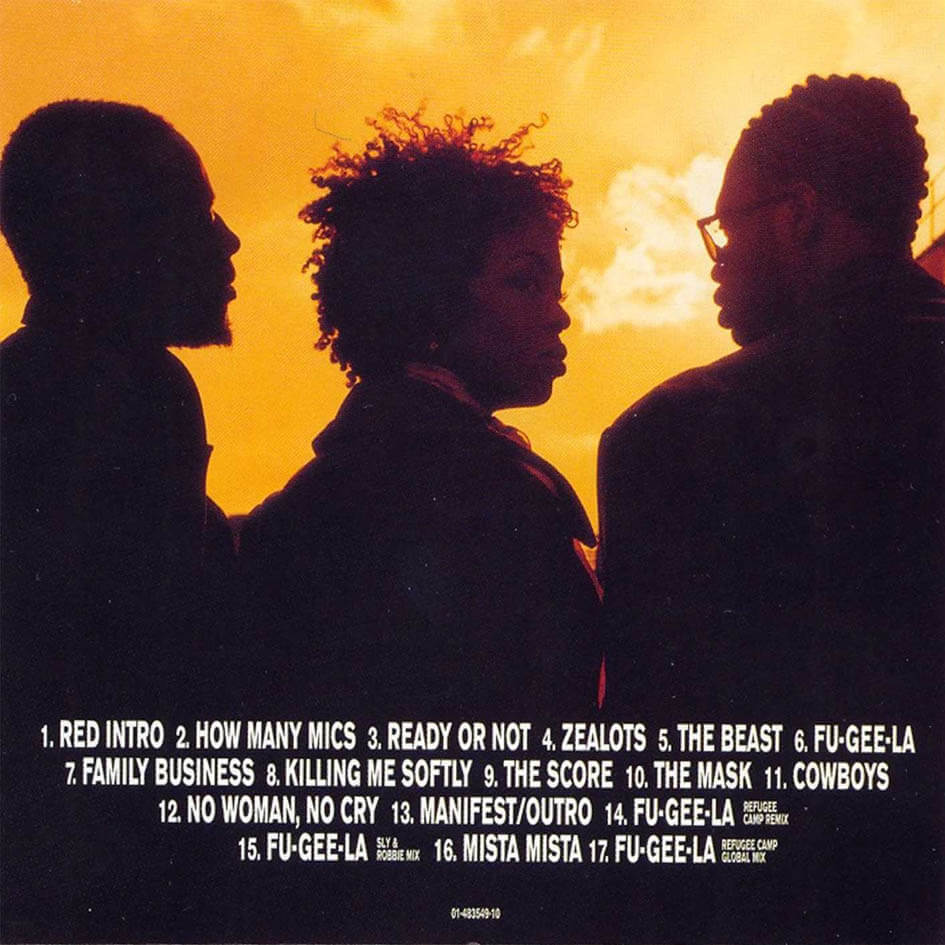 Now, when talking classic Hip Hop, one group that comes to mind is the Fugees. The New Jersey collective of Lauryn Hill, Pras, and Wyclef showcased their talents on their first album, but it would be their second release that truly set the tone for their legacy. The Score, released in 1996, remains one of the most critically acclaimed and loved albums of the mid-late 90s and is without a doubt, a classic. We gathered the team to discuss it today. Let's get into it.
@TheRealSchitty For some stuff musically, I was late to the game. I recognized songs I liked, but I often didn't know who sang them. In summer of 1996, I won something off the radio. I don't remember what the contest was, but here is what I do remember. The radio station was Hot 97.5 FM in Atlanta, Georgia, aside from whatever the initial prize was, there was a goody bag full of unreleased or independent albums and T-shirts. There was UGK's first cassette tape and a black Fugees T-shirt with the cover of  The Score on it. I didn't know what The Score was, but it was all made clear to me after catching a music video on 106 and Park. It was the Killing Me Softly video. A song I LOVED!
That's when I found out The Score was an album and the artists were The Fugees. Naturally, I started looking up more stuff from them. Napster was taking off at the time so finding more songs (and the album for that matter) was short work. I knew then that this album was something special. It's always cool to look back some 20 years later and see that it still holds the same weight it did way back then.
@_Oh_Bee "Oooh La La La, It's the way that we rock when we're doing our thang" When you hear that chorus, you know who's responsible. The Fugees were a different kind of group. They pulled you in with their unique rapping styles accompanied with a voice that haunts you. Wyclef Jean, Lauryn Hill, and Pras Michel made up this awesome supergroup. They combined soul, reggae and Hip Hop in a way that had not been done before.
When I think of them, I always think about their cover of Roberta Flack's "Killing Me Softly." They put a Hip Hop beat behind the classic and Wyclef added a "one time" that echoes through history.
Their second and last album, The Score, also included the single "Ready or Not." Just when I thought they couldn't grab my attention again, they did. Maybe it's the almost scary intro music or the lyrics. Whatever the case may be, it stands as one of my favorites.
@CherchezLaPorsh You can't deny that the Fugees produced great music. Though their presence as a group in Hip Hop was short lived and the rap community only got to hear 2 projects, we were graced with one of the best Hip Hop albums of all time in The Score.
To really understand the magnitude of greatness and caliber that Wyclef, Lauryn Hill and Pras were creating and delivering music at, let's look at what else was happening that same year. The Score album dropped in '96, and this was a phenomenal year for Hip Hop albums in general. Ghost, Pac, Outkast, Ras Kass, The Roots, Jeru, Hov, Tribe, etc. all released albums that year and those particular albums rank among the best of all time and sure enough the Fugees were right there cementing The Score as one also.
At the time, the group had dope chemistry, each of them had fantastic flow, the lyrics were ingenious and of course it translated to a socially conscious album. This particular album would establish Lauryn Hill as a top female MC and launch a very successful solo career for her in years to come. Wyclef would see a similar fate. With a very solid tracklist and very few skippable tracks if any, The Score would gain huge recognition and radio airplay with "Ready or Not" "Fugee-La", "Killing Me Softly", and "No Woman No Cry". I think these songs showcase the talent of each member and rank among my personal favorites. I don't know if any other group could have done justice to Bob Marley and Roberta Flack's original tracks or brought an element of blues in the same way.
"The Beast" touched on social injustices and brought them to the forefront, "Family Business" is another notable track because it was the first of its kind that addressed the specific problem of not being able to trace back family roots. What solidified Hill as a top MC and vocalist for me was her lyrics in "How Many Mics" and her vocals on the above-mentioned tracks. In my opinion, she carried the group and had Wyclef as her supporting cast and Pras as a complimentary component.
When I think back to the albums that dropped in the same year, the Fugees came with a different edge and angle. The fact that this album was a perfect mesh of raw rap and excellent R&B made it unique and fresh. I think the dedication and passion that went into creating this album is weaved into every single bar, word, beat and verse. That is what makes this album truly shine and what has forever solidified it in the all-time greatest albums list.
@TrueGodImmortal Now, for me, The Fugees were truly one of the best groups of the 90s outside of Outkast and Wu-Tang, of course. They were ranked in my top 3 groups during the 90s and this album is what truly cemented that for me. I remember hearing "How Many Mics" and thinking to myself "wow, this girl is talented" when Lauryn would come on rapping. I thought Wyclef was truly a dope addition to the group, but The Fugees was Lauryn's vehicle undoubtedly. She carried the album and the group without question and her talent is second to none. Her verse on "Zealots" is one of the best verses a female MC has ever spit period. It's that damn good.
All the singles from the album were monster hits and classic tracks, which is interesting in many ways because the songs utilized remakes or covers of already classic songs to appeal to the masses. It was a sound strategy and captured the fans' ears without a doubt. The album was extremely successful selling over 7 million records in the U.S. and the legacy of this album lives on forever.
What do you think of this album? Post your thoughts below in the comments section.
– DAR