(Republished from DefineARevolution.com, By @CherchezLaPorsh)
Tracklist
Intro
Respond/React
Section
Panic!!!
It Just Don't Stop
Episodes
Push Up Ya Lighter
What They Do
? vs Scratch
Concerto Of The Desperado
Clones
UNIverse At War
No Alibi
Dave Vs. US
No Great Pretender
The Hypnotic
Ital (The Universe Side)
One Shine
The Adventures Of Wonderland
Outro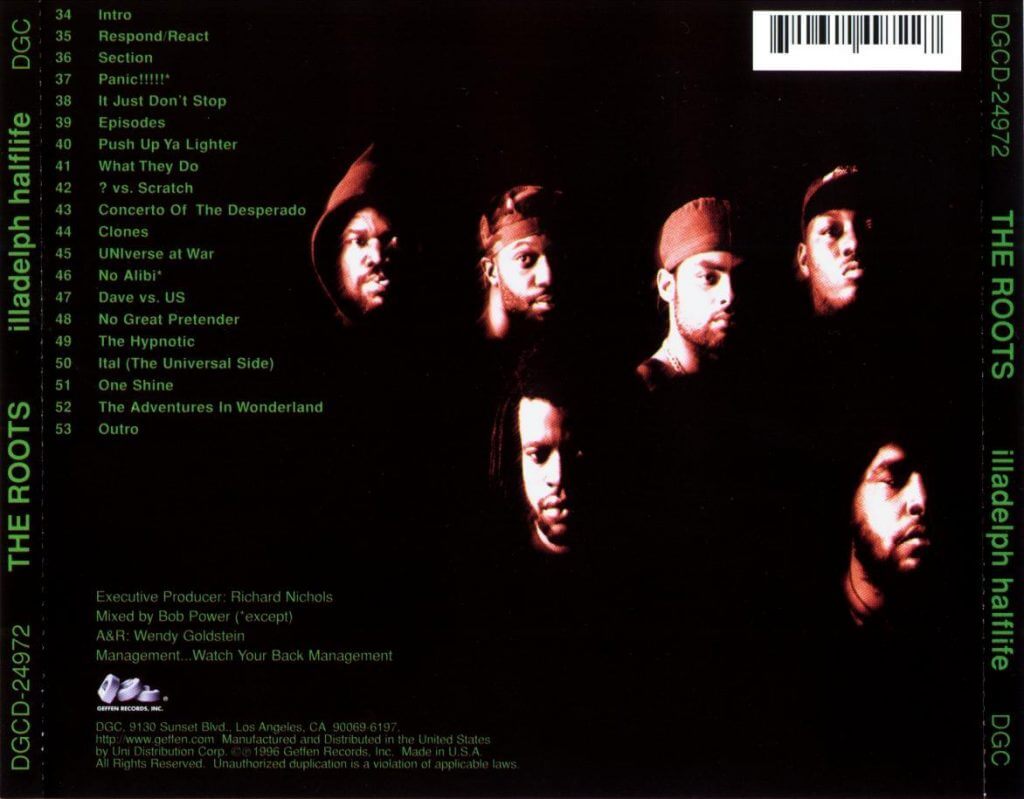 There was a group in Hip Hop that started with two friends in Philly and very quickly saw a whirlwind of additional members, replacements and resignations throughout the history. That group is The Roots. The founding members Black Thought (Tariq Trotter) and Questlove (Ahmir Thompson), who have remained the common thread since 1987, created a group unlike any that Hip Hop had seen before it. From their early years of spitting rhymes and vocals over a drum beat, they developed a vision that would be unique and truly eclectic. A vision that would prove to incorporate intelligent and conscious lyricism with the captivating sounds of live instrumentals and eventually adding an ever-familiar Hip Hop beatbox.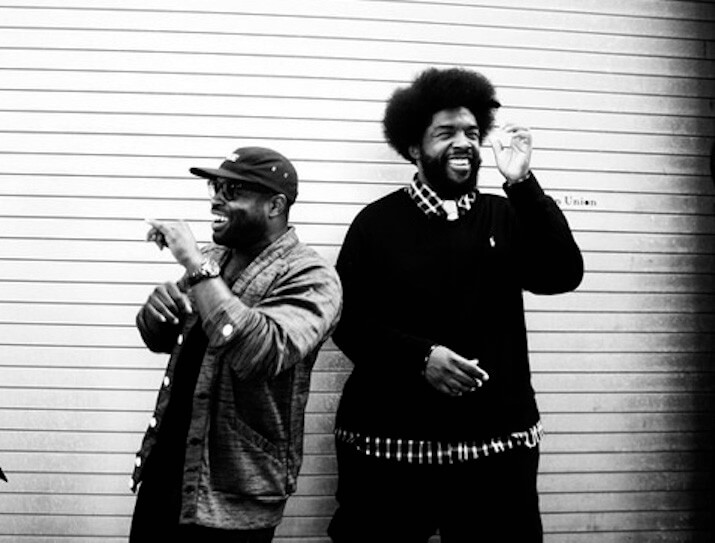 As I briefly mentioned, The Roots have had an interesting run with the group's name, membership and album releases since their debut in 1993, however that's understandable seeing as though a "rap group-live band" would forever have the challenge of keeping membership variation and stability consistent. By 1996, the members were Black Thought (MC), QuestLove (Drums and Production) and Malik B (MC) accompanied by Leonard Hubbard (Bass), Dice Raw (MC), Kamal Gray (Keyboard), Scott Storch (Keyboards), Rahzel (Beatboxer) and Scratch (Vocal scratcher and beatboxer). They would go on to release what rap fans would know as "Illadelph Halflife" on September 26th, 1996. It was an interesting time for the Hip Hop world since Pac had been killed just 3 weeks prior. We had taken a profound hit to the core and with this still so fresh, The Roots had a huge challenge ahead of them, as they had to appeal to a grieving and angered fan base while maintaining the momentum and expectations they had created with their 1995 heavily jazz infused release of "Do You Want More?!!!??". They had their work cut out for them and with that, let's look at some of the tracks that makes up the highly acclaimed "Illadelph Halflife".
The album starts off with an intro track, and while I usually spend some time talking about them, this one truly is a short and sweet introduction, dizzying to say the least and fleeting. By the time you grasp what is being said, it's gone and we get right into the great instrumentals and jazz infused beats signature to the group in "Respond/React". On the production side, we have Black Thought, Questlove and Kelo Williams (amongst others) and they create a beat that is phenomenal. The faint keyboard you hear come in and out softens the sound just enough while the steady drum creates a complimentary emphasis on the rhyming syllables. The entire thing works so well against the lyrics, which I can't say enough about. The intelligence and consciousness we want from the MC's is laced in each bar. The references are great (although cryptic to some degree) and the poetic devices are plentiful. Here's what I mean:
"It's jazz Hip Hop hangin in my head heavy

Malik said "Riq, you know the planet ain't ready

For the half

When we coming with the action pack"
"Fractional kids don't know the time for action

Styles got the rhythm that of an Anglo-Saxon

Round of applause then avalanche of clapping
I'm sure you picked up on the alliteration in the first bar, but Thought doesn't stop there. It's the second snippet that is so profound, as the use of "fractional" and the reference to "Anglo-Saxon rhythm" (or lack thereof) is great in this context. I also appreciate that the lyrics and energy of the song tie into the title. Malik B's verses are much the same and touches on some truths, take a look:
"Sometimes illicit or explicit with it and

From the deep

End where the hills are steep

Nobody cares to speak, a land where life is cheap

The street mentality, mixed with the intellect"
The Roots are known for their awareness and ability to articulate the realities they see around them and they do an exceptional job conveying it here. This track was a dope way to kick off this album.
I won't spend too much time on the second track "Section", although I have a profound appreciation for it. The way both Mailk B and Black Thought compliment each other leaves me at a loss for words. While Thought excels at rhyming (the first eight lines rhyme and flow so well, it can make anyone who recites it sound like a dope rapper) and layering meanings, Malik B excels at straightforward rawness in his lyrics. These two are an excellent duo and the instrumentals and beats from their "bandmates" work perfectly for them.
Next, we get Black Thought's exceptionally fast storytelling, which of course is fantastic and very reflective of the title. His vivid imagery and descriptive lyrics allows listeners to get the auditory experience. "Panic!!!!" is the harsh reality of street life and a great track to include in this album. It's short (just under a minute and a half) and in 1996 when gangster rap was at its peak, this track proved that even a heavily jazz driven group like The Roots had the variation that could appeal to fans who were looking for the "gangster street style" that was emerging from the West and East Coast. Here's a snippet:
"I tried to tell him to stop

Cuz yo, it's ghetto red hot

Similar to the blood now flooding his top

I take a step out the spot

To the point of attack

And see the shorty wop heart blast out his back"
As far as production, to keep the high energy and feeling of a "panic", Questlove's drumming works to intensify it, while all the other sounds are almost dizzying. I think this track was very well done and a great addition to the album.
Although I love the next three tracks, I'm going to skip over them and focus on the third single from the album "What They Do" featuring the soft and smooth vocals of Raphael Saadiq. No track featuring this man can be bad especially when you add the lyrics of Black Thought to it AND make it about the decline of the quality (and heart) in Hip Hop due to the commercial side and benefits of the industry. Many rappers have addressed this and each time there's new insight to be heard and that is exactly what we get here. Insight. A tremendous amount of it. The lyrics speak for themselves…
"The principles of true Hip Hop have been forsaken

It's all contractual and about money making

Pretend-to-be cats don't seem to know they limitation

Exact replication

And false representation

You wanna be a man, then stand your own

To MC requires skills, I demand some shown"

 

"Creator of original sounds to send to stores

You take home, to absorb

And sweat it out your pores

Now who can stop the music running through these veins

Infinitely go against the grain

That's why my motto's to.. (leads into the chorus)"
The song is great and beyond its years at the time of release. This is where The Roots' insight comes in:1996 was a great year, in fact the decade of the nineties was amazing for Hip Hop, so for groups and rappers to address this topic was almost out of place for the time, however incredibly fitting some years later and to this day. I would expect nothing less from Black Thought.
The very next track is another short one, but incredibly impressive nevertheless. "? Vs. Scratch (The Token DJ Cut)" is a minute and a half of pure unfiltered raw talent. For one, Scratch is doing this with nothing but his own vocal chords and two, this is so reminiscent of something Eric B would do on turntables, only there are no turntables here!! Scratch is mind-blowingly amazing and this track is just 100% pure talent appreciation.
Let's skip another couple tracks because I'm excited to talk about track twelve. If you ever wondered what would happen if you put two incredibly brilliant rappers together with differing flows and delivery, look no further than here. The Roots team up with Common in "U.N.I.Verse At War" and instantly we see the wordplay as Common drops the first line of the intro "Yeah, U.N.I.Verse at war/ U.N.I.Verse (When you and I verse)" and it continues. The verses are filled with double-entendres and references to the state of Hip Hop which we know is important to both MC's and if that wasn't enough, they make the transition from one verse to the next so smooth and coherent, you can't help but remain engaged the whole time. I wish I could quote the entire song but here are my favorite lines and references:
Common:
"Nor do I call every n**** my brother

Gotta have Black Thought, it's sorta B like Malik

So don't Question a Brother, to the Roots I get deep"
Black Thought:
"Then after me, I plan to leave behind, the legacy

Or history of the family, the fifth dynasty

For humanity, to bear witness to this

Del-val-syllable stylist"
Black Thought:
"I Used to Love but now she violated

Hip Hop holocaust and camps, old champs are concentrated

They outdated and incarcerated

Loved and appreciated

Hated and very debated

For every career created was eliminated

And that's the way the balance of yin and yang related"
That last quoted bit is genius on every level. He references Common's 1994 track "I Used To Love H.E.R" while breaking down (once again) the state of Hip Hop as they see it. Again, as much as I don't think it applied at the time, this track became timeless because 12 years later, it described everything perfectly. If you ever doubted how great Black Thought was (and still is), I imagine you'd reconsider. The guy is outstanding!
I'm going to skip "No Alibi" where we get Malik B spitting a whole lot of truth, as well as "Dave vs. US" and "No Great Pretender" where we hear Scratch and his brilliant beatboxing (again) and focus our attention to "The Hypnotic" featuring D'Angelo. Much like the track with Saadiq, this one is another that is such a treat for us R&B fans. This sounds fantastic and we have Questlove, Slim Kid3 and L.A Jay to thank for the production. The jazz element is prevalent and a fantastic compliment to D'Angelo's silky smooth vocals, which works as a great contrast to Black Thought's "rougher" sounding rapping. It goes without saying that the band-members are a vital component to the sound of this track. Everything about works and plays in to the "hypnotic" state of the song.
As we approach the end of the album we get another feature but this time it's Q-Tip from A Tribe Called Quest in "Ital (The Universal Side)". IMO there is no better feature on the album and that's not to take away from those we have already seen, but let me explain. It's the chemistry Q-Tip brings to any track he is rhyming on. Somehow he manages to make the verses seamless, the flow incredible and he can keep up with anyone he collaborates with. He did it in countless albums with Phife and partnering with Black Thought is no different. Another reason is, he suits the jazz feel of The Roots. Since ATCQ was much in the same vein, it's familiar and Q-Tip sounds just as confident and comfortable as he does with his own group. What the listeners get from this are amazing lyrics, a great hook, pleasant delivery and an overall engaging track with great production. Here are my favorite parts:\
Hook:
"Everybody reppin' from the Illadelph side

From the Illadelph side [from the Illadelph side]

To the New York side [to the New York side]

To the universal side [to the universal side]"
Q-Tip:
"I wanna be able to reach a MC

And reach a little child in the same degree

And my elders excel

I mean what the hell

We might as well bridge these gaps"
Black Thought:
"I got this Ital style up close and personal

The first I find to violate

I shall retaliate

With realism for they whole local to relate

We on point like decimal Abstract now"
I can't say enough about Q-Tip, the fact that he brings A Tribe Called Quest's philosophy of "bridging these gaps" to "Illadelph Halflife" would leave any Tribe fan in awe. Tip is always on point!
We are left with 2 remaining tracks "One Shine" and "The Adventures In Wonderland" as well as a short "outro". Both tracks have featured artists and those artists each bring a unique addition to the album. It's the last track though that piques my interest. Ursula Rucker, who appears on "The Adventures Of Wonderland" is impressive. We heard her on The Roots' 1995 album "Do You Want More?!!??!" and she's back with her incredibly engaging talents of spoken word. Accompanied by a soft and steady instrumental, her words are thought-provoking and said with attention to detail. The title is irony at its finest, the reference of "Wonderland" almost makes it seem positive, but there's nothing but a grim reality that is told with passion and energy that makes the listener feel her words. The track is incredible and a great way to end the album!
When The Roots created "Illadelph Halflife", they truly took the mechanics of Hip Hop and rap and effortlessly combined it with jazz and a whole lot of soul. From production to instrumentals to lyrics, The Roots left no stone unturned and gave us a twenty track masterpiece of every musical and poetic art form by showcasing talents of their members. At a time when morale was low and emotions were running high, The Roots managed to bring a much-needed balance through their experiences, insights, and wisdom.
– Porsha