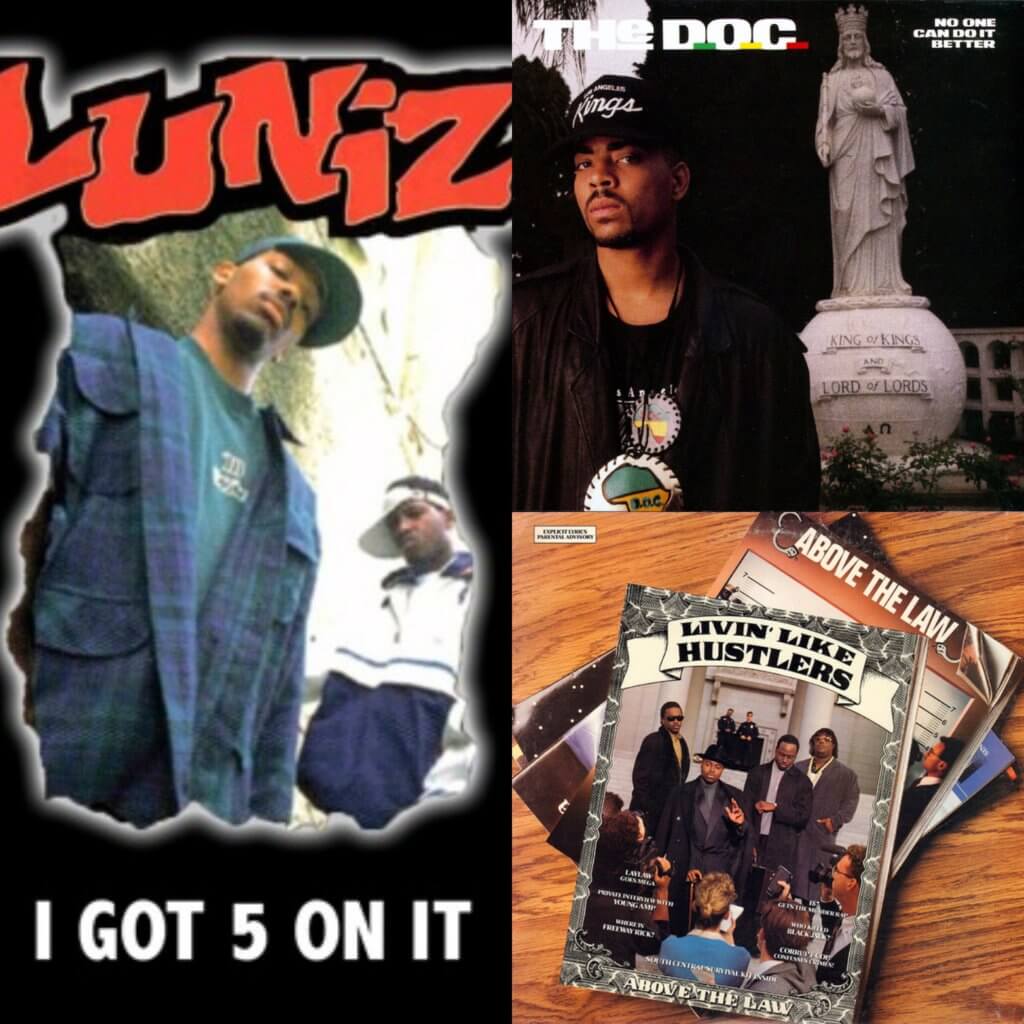 I Got 5 On It (Remix)
featuring Dru Down, Numskull, Richie Rich, E-40, Yukmouth, Shock G, and Spice 1
vs.
The Grand Finale & The Last Song
featuring Ice Cube, MC Ren, Eazy E, the D.O.C., KMG, Dr. Dre, and Cold 187um
Welcome back to the Battle of the Posse Cuts! This week, we are swinging it out to the West Coast.
Keep in mind that these subjective battles follow three rules: competing songs – 1. must feature at least three different MCs; 2. cannot be from the same crew; and 3. will be of a similar region.
Also keep in mind that the battle is scored like a relay. Yet, today's battle has a unique wrinkle because of the number of MCs on the I Got 5 On It remix, I added two Ruthless Records posse tracks together to sort of balance out the number of MCs. To that effect, I will only use one verse from Ren and Eazy although they are on both Ruthless tracks.
The scoring is:
0 – Maybe y'all should have just sang the hook instead of this verse;

1 – Okay, we hear you;

2 – Whoa, that was nice!; and

3 – DAAANNNNGGG, I'll be repeating those bars all day!
Verse One: Dru Down vs. Ice Cube
Right out the box this is almost unfair. Dru Down embodies some serious Bay Area pride and speaking bad against him doesn't gain me anything. Ice Cube has become an icon. But before he was an icon, he was on The Grand Finale and he was just a year or two from being regular ole O'Shea. It isn't far-fetched to say that the 1995 release of I Got 5 On It remix also catches Dru during his rise as a rapper. So there we go, apples to apples.
For the uninitiated, Dru Down and pimping are damn near synonymous. Which is apparent when he opens with:
"You say you got 5 on my tender, you can bend her over the table

But be sure that you bring my stallion back to my stable"
If you are unclear with pimp-speak, Dru is informing us that if your money is right, then your sexual needs can be addressed by one of his employees, however there is a time limit on your escapade. Yeah, that's putting it nicely and glossing over all kind patriarchy and objectification. Yet, this exercise is a study of lyrics and Dru wants you to know he is a pimp. One of his biggest hits is Pimp of the Year. See a pattern?
There are some Ice Cube-ologist who swear by the gospel of Cube. No doubt without him, N.W.A. would have been a group of cussing dudes with great beats. This verse captures that fire that made Cube stand out:
"Picture a n***a that's raw

Amplify his a** and what you see is what's saw"
It was difficult to separate those opening lines from the verse because it all flows so well together. These bars represent the n****a they love to hate when his hunger was potent, like when he spit:
"Because I'm gone, you think I left you all

But I stay in yo' a** like cholesterol"
Dru Down – 1  Ice Cube – 3
I Got 5 On It (remix) – 1  Ruthless Record compilation – 3
Verse Two: Numskull vs. KM.G
For this part of the battle, we are using KM.G's verse from The Last Song to match-up against Numskull's verse on the remix. Quick context, KM.G was a member of Above the Law, a group on Ruthless Records during Ruthless' best years. While N.W.A. got all the attention, I enjoyed Above the Law's Livin' Like Hustlers album wwwwaaaayyyy more than I enjoyed Straight Outta Compton. Honestly, those groups flow with different vibes.
Speaking of flow, KMG was the smooth flower of Above the Law which fits this track as it is smoother that The Grand Finale, which is more adrenalin-inducing.
"I'm ghetto raised to amaze the crowd, it's quite simple

KM.G has degrees from Uni of South Central

I'm a graduate, and it's all legit

From the pimpin' and ballin' and all that good s***"
Numskull is one of The Luniz and this is a remix of his song – look, I'm not a rapper, but I'll be damned if somebody else gonna outshine me on my track. I'm assuming Numskull felt the same way because he did not re-spit his bars from the original but came with new heat:
"'Cause see, a n***a perpin' broke'll smoke your spliff all day

Go home and buy big drinky with his briddy then parlay

I got 5 on the Hennessy, Seagram's, or 40's

'Cause "This is How We Do It" like Montell Jordan

I'm from the Oakland City, Frank Nitti is a goner

Num' blowing it up like Oklahoma"
Both dudes rep their city. Both dudes state what they are about. Both verses fit the overall vibe of the song. Fitting and complimentary, but not outstanding – draw.
Numskull – 1  KM.G – 1
I Got 5 On It (remix) – 2  Ruthless Record compilation – 4
Verse Three: Richie Rich vs. MC Ren
It doesn't matter which song we pull Ren's verse from, he shines either way. Listening to them for this piece reminds me that though he was overshadowed by Cube, Ren was a talented MC. Almost like Charles Oakley, he is not a perennial all-star but you definitely want him on your team. Ren brought it on The Grand Finale when he spits:
"Giving him pain 'cause I'm urgent

Rearrange their muthafuckin' face like a surgeon

It ain't no excuse for the torture delivering

Don't say you're not scared, yo, I can tell 'cause you're shivering"
Richie Rich seems like your one homeboy that when he is with the team, the night is going to much more fun. Being the cool cat that everyone respects is not the same as being an MC. Though technically, Ren had more bars to show his stuff, if we match Richie Rich's eight bars with Ren's first eight – Ren's lyrics are still more outstanding than:
"Put your feev' with my fin, best believe we'll bend

More corners than you thought 'til something right is bought

More z-zags? Believe that: tokin!

Where you from? Oakland! Smokin'"
Richie Rich – 1  MC Ren – 2
I Got 5 On It (remix) – 3  Ruthless Record compilation – 6
Verse Four: E-40 vs. Dr. Dre
Just when it seems the Bay is getting left behind, we can count on E-40 to bring some heat. E-40's unpredictable flow and wordplay will always make him stand out – always. I mean, this is a cat who is "hipper than a hippopotamus" and I don't think you can get hipper than that. However, given the number of MCs on the track, the brothers from The Bay — "man we gotta get it together!" — alright, pardon that shout out from Mac Mall. What I was going to say is that the verses on the remix are shorter than the Ruthless verses and that has to count for something. Now we got Dr. Dre going head-to-head with E-40?
"E-40, why you treat me so bad?" 40 makes it happen

Fosgate slappin' and revenue grows

From just a little bit of lightweight flamboastin'

Potent fumes, lingering mighty clouds and Northern Lights"
Reprinting 40's lyrics does not do him justice because his delivery distinguishes him. The fact that he starts singing in the manner of Club Nouveau's Why You Treat Me So Bad, the song that was sampled, is indicative of E-40's unusual, witty style.
Dr. Dre's The Last Song verse is typical Dre. He does not sound comfortable on the mic. He sounds like your cousin Junior saying his Easter Speech back in the day.
"Now I'm a swinger, I'm not a motherfuckin' singer

But I bring a, melody that always seems to ring a

Bell as well, let's make it so you can tell

Yo, it's comin' from Compton where the ballers dwell"
Dre always talking about ringing some bells. Perhaps subconsciously he is expressing his desire to get back behind the mixing board where his light shines the most brilliantly. But this is an MC battle and when we pit E-40 against Dr. Dre we get:
E-40 – 2  Dr. Dre – 1
I Got 5 On It (remix) – 5  Ruthless Record compilation – 7
Verse Five: Yukmouth vs. Eazy- E
Like Numskull, Yukmouth is half of The Luniz and while we got Bay Area legends on the track, Yuk still gotta represent. He does:
"Me and E-40 to the head, comin' fed plus, you let the lead bust

Ready to do a murda, mayne; perved off the Hurricane"
Forget what you heard from Terrance Howard, when you hear a cat say, "mayne" – that cat is from The Bay. Between "mayne" and "Hurricane" – a shout out to my favorite track by The Click (E-40, D-Shot, Suga- T and B-Legit), Yukmouth is repping Oakland hard.
Whereas Eazy E's Grand Finale verse is the strongest of the two Ruthless songs, you and I know he probably did not write the lyrics. In both songs, he strays toward his sexual appetite, which while knowing the manner in which he died seemed a bit unsettling. Nevertheless, Eazy E sounds well-coached by Ice Cube when he said:
"They made it Eazy for me to come off like the enforcer

Mass murderin' muthafuckas in a course of

An everyday situation where I would stalk by

F*** a car, I do a motherfuckin' walk-by

Eazy-E and the D.O. to the C. and

Run house and yo there'll be no disagreeing

'Cause if there is some, you feeling staticky

Then I'm arrested (For what?) assault and battery"
Not even Ice Cube's or The D.O.C.'s ghostwriting can offset Eazy's whiny little brother flow. But these are some of Eazy's best-delivered bars and Yukmouth was hamstrung by the short verse and that gives Ruthless the edge at this stage.
Yukmouth – 1  Eazy E – 2
I Got 5 On It (remix) – 6  Ruthless Record compilation – 9
Verse Six: Shock G/Humpty Hump vs. Cold 187um
Sometimes in the NBA, a nearly-unbeatable team can be susceptible to a lesser team because of the match-ups. Just like few believed the Golden State Warriors could lose to the Toronto Raptors, when I started this piece, I thought it would be a cakewalk for The Bay. But these match-ups gives The Bay another competition that they cannot take for granted. Can the remix comeback against Ruthless like the Warriors came back on the Clippers? Let's see.
Maneuvering between the Shock G & Humpty Hump alter-egos is genius. But I imagine that fans got caught up in the festiveness that is Humpty Hump and missed out on the MC that is Shock G. However, the whole undertone of the remix is we are anteing up our meager earnings toward a little something to get things going and Shock G maintains the vibe:
"Yeah, it's been a while since I've hollered from the town

Mess around and heard Yuk' and Num', said I gotta be down

'Cause new styles is going down—look around you

Tunes from the Lunz spreading round and round you"
On the other hand, Cold 187um balances out KM.G within Above the Law and is the anchor leg on The Last Song.
"You need a n***a like me to get the s*** goin'

187 has got the ultimate flowin'

Now it's time, for me to go off like a maniac

Run up for cover cause I'm on the attiznack

An untouchable player rolled up into one mind

87 reasons why fools stayin' in line."
This is getting out of hand. What started as an exercise in nostalgia is turning into something else. Listening to these two verses in competition feels like Kevin Durant snapping his Achille's. However, Cold 187um just represented, he did not deliver a knockout punch and even though they/he had limited bars, Shock's flow and Humpty's persona add flavor to the remix.
Shock G & Humpty Hump- 2  Cold 187um – 2
I Got 5 On It (remix) – 8  Ruthless Record compilation – 11
Verse Seven: Spice 1 vs. The D.O.C.
Just be forthright, I'm a Spice 1 fan with his 187, He Wrote and Amerikkka's Nightmare, being some of my favorite West Coast albums. Like every MC on the remix, Spice maintained the vibe in his own unique way.
"Rolling up cannabis sativa, hitting the Mary Jane

Smoking the 5 before it's 12 o'clock, sipping on Hurricane

Ready to smoke on the indo

Rolling up my window, finna to go to the land."
Yet, even as a Spice fan, it would out of line for me to even imply that he is a lyricist on par with The D.O.C. What if The D.O.C. had never been in that accident and evolved as an artist? My two cents into that realm of speculation is that he would be been a more distinct bridge between the macho-gangsta rhyme style commonly associated with LA rappers to the more lyrically potent (think: Ras Kass). Dude was hella (Bay Area slang for "very") nice with it.
"But I was smart, the D.O. to the C. knowin' the formula

It's rough, I mean it's funky enough for me

And you can have a listen, helpin' and some dissin'

D-O-N-T M-O-V-E yo without permission

From the D.O. to the C., I'm just better than

The normal man and I'll be damned if a sucker can

Ever compete with the elite, much less speak

It's like dancing with two left feet

Never smile when the Doc is in the room

Or I'mma send ya a** right to the Temple of Doom"
If Spice and The D.O.C. were doing head-to-head freestyle battle rapping, I believe Spice would have done better than this verse. But as it is comparing these songs, we end up with:
Spice 1 – 1  The D.O.C. – 3
I Got 5 On It (remix) – 9  Ruthless Record compilation – 14
When I started I went with the first posse cuts from Cali that came to mind – but man, this was a blow-out! It doesn't represent The Bay correctly. I Got 5 On It remix is designed for thumping your trunk, cooling with your peoples, or getting a little feel good going at the party. The Grand Finale and The Last Song are more bravado battle raps which unfairly tilted the contest toward LA. Not to say those tracks aren't dope, they are classics; but the next contest between The Bay and LA will have songs a little more evenly matched.