Terrence Thornton, better known by his stage name Pusha T, initially gained major recognition as one-half of Clipse, alongside his brother Gene "No Malice" Thornton, with whom he founded Re-Up Records. In September 2010, Thornton announced his signing to Kanye West's GOOD Music imprint, under the aegis of Def Jam Recordings. In March 2011, he released his first solo project, a mixtape titled Fear of God. Thornton released his debut solo album My Name Is My Name, in October 2013. In November 2015, Kanye West appointed Pusha T to take over his role as president of GOOD Music.
Pusha T was born Terrence Thornton on May 13, 1977, in The Bronx borough of New York City. Thornton and his family soon relocated to Norfolk, Virginia, where he and his brother, Gene 'No Malice' Thornton, grew up. In 1992, Terrence and his brother Gene formed the duo Clipse. With help from American record producer and fellow Virginian Pharrell Williams, the duo eventually signed to Elektra Records in 1997 and released Exclusive Audio Footage, their only album under that label. Of the two brothers, Terrence was more open to features, appearing on Kelis' 1999 single "Good Stuff" and Nivea's 2001 single "Run Away (I Wanna Be with U)", respectively. In 2004, he and his brother launched their record label imprint, Re-Up Records and formed hip hop group Re-Up Gang, along with fellow rappers Ab-Liva and Sandman. In 2006, they released their third studio album and their most commercial album, Hell Hath No Fury, which was praised by critics. After one more album as the Clipse in 2009, both No Malice and Pusha T announced that they were taking time off from the duo to focus on their own respective solo projects.
Following his signing to GOOD Music in September 2010, Thornton was featured on a number of fellow label mates' projects such as Kanye West's My Beautiful Dark Twisted Fantasy appearing on his hit "Runaway" and premiering the song with him at the 2010 MTV Video Music Awards on September 12, 2010. He was also featured on several tracks from West's GOOD Fridays series and made other appearances on Swizz Beatz's Monster Mondays series, Lloyd Banks' H.F.M. 2 (Hunger for More 2) and tabi Bonney's Fresh, respectively. On the week of December 16, 2010, Thornton signed exclusively with NUE Agency. On February 11, 2011, Funkmaster Flex debuted Thornton's first solo offering on New York City's Hot 97. The track, titled "My God", was produced by Hit-Boy and was generally well received by the public. Soon after, the song leaked onto the internet, however was not officially released through iTunes and Amazon until August 24, 2011.
On March 21, 2011, Thornton released his first solo project, a mixtape titled Fear of God, which included "My God" and featured freestyles and other original songs. Soon after he began working on his solo debut EP Fear of God II: Let Us Pray, which initially included four songs from the mixtape and five new songs. On August 31, 2011, it was announced Thornton signed a solo record deal with Def Jam. In addition, it was revealed he added four more songs to the EP making it 12 tracks rather than just the nine tracks that were previously announced.
The first single from Fear of God II: Let Us Pray was leaked onto the Internet on July 8, 2011. The song, titled "Trouble on My Mind", features Odd Future frontman, Tyler, The Creator. The EP's second single, "Amen" was released September 13, 2011. The song, originally meant for Young Jeezy, was produced by Shawty Redd and features verses from Kanye West and Young Jeezy respectively. After the EP's release on November 8, the project debuted at number 66 on the Billboard 200 with 8,900 copies sold in its first week released. It also entered at number ten on Billboard's R&B/Hip Hop Albums, at number eight on Billboard's Top Rap Albums, and at number 25 on its Digital Albums chart.
In 2011, Thornton appeared on the second season of the HBO series How to Make It in America. He played the role of a henchman for Urban Caribbean League. Soon after the release of his EP, Pusha T started working on solo debut studio album, which would be executive produced by Kanye West. Thornton has stated that after his solo album and the Re-Up Gang mixtape, Long Live the Cane, he and his brother No Malice, would reunite and release another album.
On October 19, 2011, Kanye West announced via Twitter plans for a Spring 2012 GOOD Music album release. On April 6, 2012, "Mercy", the lead single from the GOOD Music compilation album Cruel Summer was released. The song, produced by newly signed in-house producer Lifted, features Pusha T along with Kanye West, Big Sean and southern rapper 2 Chainz. On May 24, 2012, Pusha T released a song titled "Exodus 23:1" featuring The-Dream. It is speculated that the song is a diss track aimed at Young Money rappers Drake and Lil Wayne. This resulted in a diss-song by Lil Wayne, to which Thornton did not respond, but called "horrible" in an interview. He was then featured alongside West on the third single for Cruel Summer – "New God Flow". In October 2012, Pusha T made an appearance on the soundtrack to the film The Man with the Iron Fists on a track titled "Tick Tock" alongside fellow American rappers Raekwon, Joell Ortiz and Danny Brown.
On October 8, 2012, Thornton released "Pain" featuring southern rapper Future, the first single from his debut album. That same day Spin magazine reported that Pusha T's debut album had been pushed back until 2013. While performing in Vancouver, Canada, it was reported that Pusha T announced he would be releasing a mixtape entitled Wrath of Cain preceding the release of his debut studio album. Later in November, Thornton announced the title of his debut studio album to be, My Name Is My Name. On December 5, 2012 Thornton released "Blocka" the first offering from his Wrath of Caine mixtape. The song features Travis Scott and Popcaan.  The mixtape was released on January 28, 2013 along with his album coming at the end of the first quarter of 2013.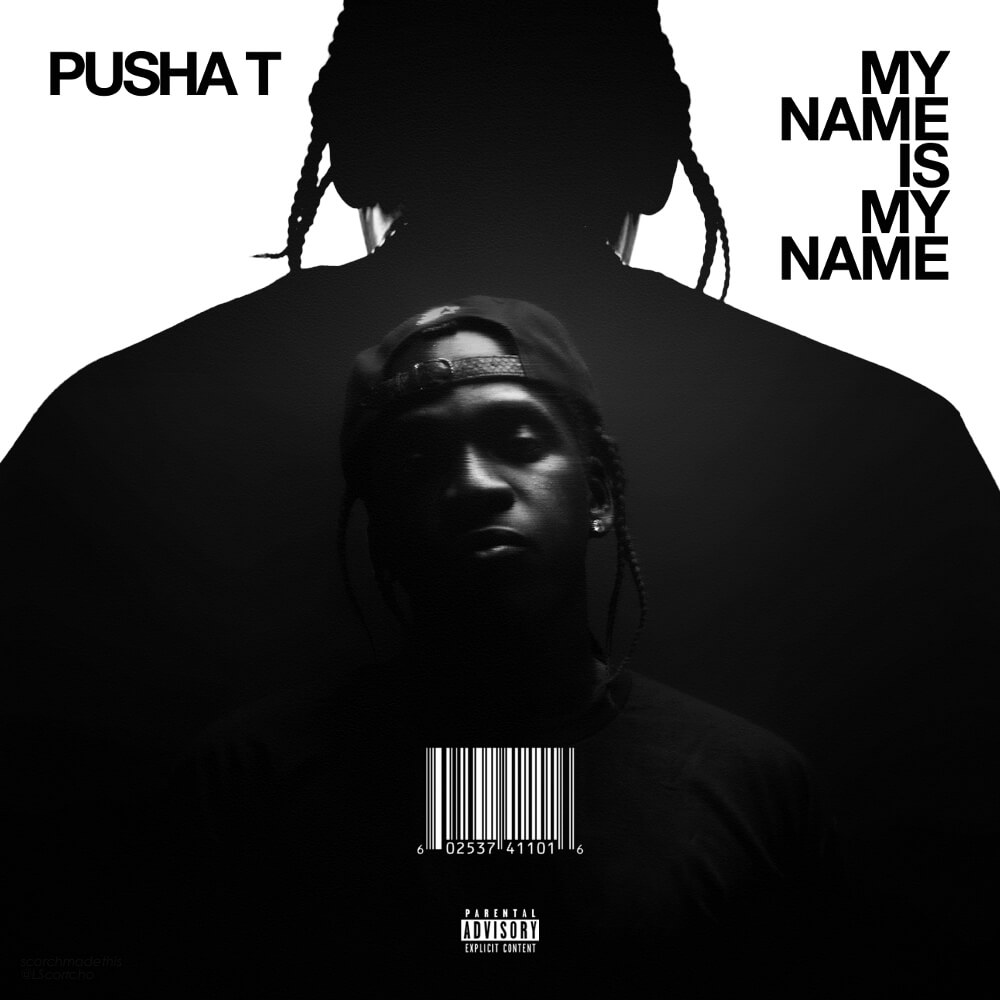 My Name is My Name was scheduled to be released on July 16, 2013, but was pushed back to October 2013. It received universal acclaim from critics. My Name Is My Name debuted at number four on the US Billboard 200, selling 74,000 copies in its first week of release. The album includes production from Kanye West, The Neptunes, The-Dream, Just Blaze, No I.D., Nottz, Don Cannon and Swizz Beatz, among others. In an April 2013 interview with AskMen, Thornton revealed that shortly after his debut album is released, he would finish working on his second album, titled King Push.
In a July 2014 interview with XXL, when asked about his plans for his next album, King Push, Thornton said: "This next album is like a heavy proclamation to me. I told people last year I had the 'Album Of the Year'. And I felt that I did. I really feel that King Push has to live up to that same Hip Hop expectation… My goal is always to have 'Hip Hop Album Of the Year'." On November 19, 2014, Thornton released a single titled "Lunch Money", produced by Kanye West.
On November 12, 2015, Thornton released a single titled "Untouchable", produced by Timbaland. On November 23, 2015, It was then announced that Pusha T would release a new album Darkest Before Dawn before the aforementioned King Push album. It was released on December 18, 2015 and has been described as "a prelude" to the King Push album. According to BLKDMNDS, Darkest Before Dawn has hit over 17 million streams in its first week.