Felipe Andres Coronel (born February 19, 1978), better known by the stage name Immortal Technique, is an American rapper and urban activist. Most of his lyrics focus on controversial issues in global politics. The views expressed in his lyrics are largely commentary on issues such as class struggle, socialism, poverty, religion, government, imperialism and institutional racism.
Immortal Technique has voiced a desire to retain control over his production, and has stated in his music that record companies, not artists themselves, profit the most from mass production and marketing of music. He claimed in an interview to have sold close to a combined total of 200,000 copies of his first three official releases.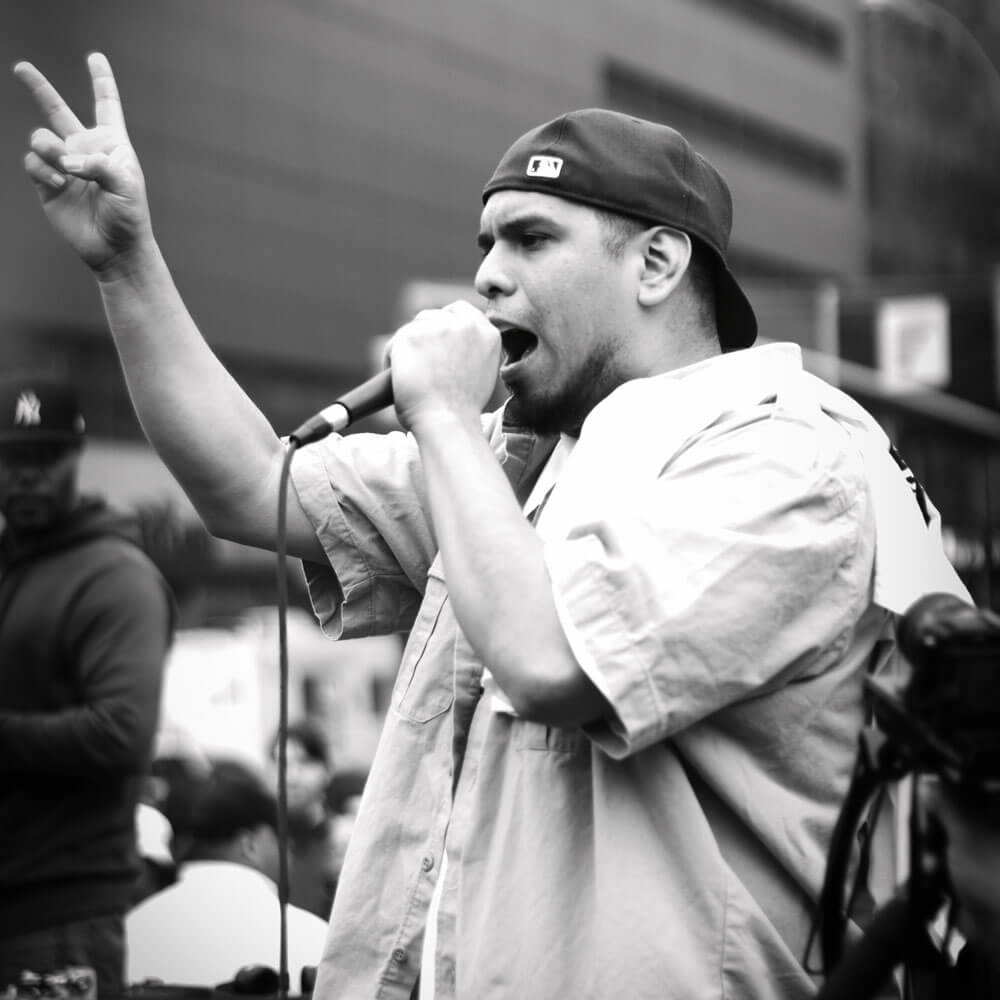 Immortal Technique is African Peruvian and was born in a military hospital in Lima. His family emigrated to Harlem, New York in 1980. During his teenage years, he was arrested multiple times due in part to what he has said was "selfish and childish" behavior. He attended Hunter College High School on the Upper East Side of Manhattan. Shortly after enrolling in Pennsylvania State University, he was arrested and charged with assault-related offenses due to his involvement in an altercation between fellow students, the charges stemming from this incident led to him being incarcerated for a year.
After being paroled, he took political science classes at Baruch College in New York City for two semesters at the behest of his father, who allowed Coronel to live with him on the condition that he goes to school. Honing his rapping skills in jail, and unable to find decent wage-paying employment after his release, he began selling his music on the streets of New York and battling with MCs. This, coupled with his victories in numerous freestyle rap competitions of the New York underground Hip Hop scene such as Rocksteady Anniversary and Braggin Rites, led to his reputation as a ferocious Battle MC.
In 2001, Immortal Technique released his first album Revolutionary Vol. 1 without the help of a record label or distribution, instead using money earned from his rap battle triumphs. Revolutionary Vol. 1 contained the underground classic Dance With The Devil. In November 2002, he was listed by The Source in its "Unsigned Hype" column, highlighting artists that are not signed to a record label. The following year, in September 2003, he received the coveted "Hip Hop Quotable" in The Source for a song entitled "Industrial Revolution" from his second album. Immortal Technique is the only rapper in history to have a "Hip Hop Quotable" while being unsigned.
He released his second album Revolutionary Vol. 2 in 2003. In 2004, Viper Records and, in 2005, Babygrande Records re-released Immortal Technique's debut, Revolutionary Vol. 1, to make it available to a wider audience. "Point of No Return" from Revolutionary Vol 2 was used as the entrance theme for Rashad Evans during the UFC 88 Main Event between Chuck Liddell and Rashad Evans.
Between 2005 and 2007 Immortal Technique began working on The Middle Passage and The 3rd World, the two albums that would serve a follow up to Revolutionary Vol. 2 and complete the series. He was also featured on several movie soundtracks and video game soundtracks, all the while touring relentlessly. In October 2011, Immortal Technique released The Martyr, a free compilation album of previously unreleased material and new tracks.
Official site: Immortal Technique