Curtis James Jackson III (born July 6, 1975), better known by his stage name 50 Cent, is an American rapper, singer, entrepreneur, investor and actor from New York City. Born in the South Jamaica neighborhood of the borough of Queens, Jackson began selling drugs at age twelve during the 1980s crack epidemic. Although he left drug-dealing to pursue a musical career, he was struck by nine bullets in a 2000 shooting. After Jackson released the compilation album Guess Who's Back? in 2002, he was discovered by Eminem and signed by Shady Records, Aftermath Entertainment and Interscope Records.
With the aid of Eminem and Dr. Dre (who produced his first major-label album, Get Rich or Die Tryin'), Jackson became one of the world's best-selling rappers and rose to prominence with East Coast hip hop group G-Unit. In 2003 he founded G-Unit Records, signing his G-Unit associates Young Buck, Lloyd Banks and Tony Yayo. Jackson had similar commercial and critical success with his second album, The Massacre, which was released in 2005. He released his fifth studio album, Animal Ambition, in 2014 and is working on his sixth studio album: Street King Immortal, scheduled for release in 2016.
During his career Jackson has sold over 30 million albums worldwide and won several awards, including a Grammy Award, thirteen Billboard Music Awards, six World Music Awards, three American Music Awards and four BET Awards. He has pursued an acting career, appearing in the semi-autobiographical film Get Rich or Die Tryin' (2005), the Iraq War film Home of the Brave (2006) and Righteous Kill (2008).
Jackson was born and raised in the South Jamaica neighborhood of Queens, New York City. He was raised by his mother, Sabrina, who gave birth to him when she was fifteen. A cocaine dealer, Sabrina raised Jackson until she was murdered when Jackson was eight. She lost consciousness after an unknown assailant drugged her drink; the assailant then turned on the gas and closed the windows of her apartment. After his mother's death, Jackson moved into his grandparents' house with his eight aunts and uncles. The rapper recalled, "My grandmother told me, 'Your mother's not coming home. She's not gonna come back to pick you up. You're gonna stay with us now.' That's when I started adjusting to the streets a little bit."
He began boxing at about age 11, and when he was 14 a neighbor opened a boxing gym for local youth. "When I wasn't killing time in school, I was sparring in the gym or selling crack on the strip," Jackson remembered. During the mid-1980s, he competed in the Junior Olympics: "I was competitive in the ring and Hip Hop is competitive too … I think rappers condition themselves like boxers, so they all kind of feel like they're the champ." At age 12, Jackson began dealing narcotics when his grandparents thought he was in after-school programs and brought guns and drug money to school. In the tenth grade, he was caught by metal detectors at Andrew Jackson High School: "I was embarrassed that I got arrested like that … After I got arrested I stopped hiding it. I was telling my grandmother [openly], 'I sell drugs.'"
On June 29, 1994, Jackson was arrested for selling four vials of cocaine to an undercover police officer. He was arrested again three weeks later, when police searched his home and found heroin, ten ounces of crack cocaine and a starting pistol. Although Jackson was sentenced to three to nine years in prison, he served six months in a boot camp and earned his GED. He has said that he did not use cocaine himself. Jackson adopted the nickname "50 Cent" as a metaphor for change. The name was inspired by Kelvin Martin, a 1980s Brooklyn robber known as "50 Cent"; Jackson chose it "because it says everything I want it to say. I'm the same kind of person 50 Cent was. I provide for myself by any means."
Jackson began rapping in a friend's basement, where he used turntables to record over instrumentals. In 1996 a friend introduced him to Jam Master Jay of Run-DMC, who was establishing Jam Master Jay Records. Jay taught him how to count bars, write choruses, structure songs and make records. Jackson's first appearance was on "React" with Onyx, for their 1998 album Shut 'Em Down. He credited Jam Master Jay for improving his ability to write hooks,  and Jay produced Jackson's first (unreleased) album. In 1999, after Jackson left Jam Master Jay, the platinum-selling producers Trackmasters signed him to Columbia Records. They sent him to an upstate New York studio, where he produced thirty-six songs in two weeks; eighteen were included on his 2000 album, Power of the Dollar. Jackson founded Hollow Point Entertainment with former G-Unit member Bang 'Em Smurf.
Jackson's popularity began to grow after the successful, controversial underground single "How to Rob", which he wrote in a half-hour car ride to a studio. The track comically describes how he would rob famous artists. Jackson explained the song's rationale: "There's a hundred artists on that label, you gotta separate yourself from that group and make yourself relevant". Rappers Jay-Z, Kurupt, Sticky Fingaz, Big Pun, DMX, Wyclef Jean and the Wu-Tang Clan responded to the track, and Nas invited Jackson to join him on his Nastradamus tour.  Although "How to Rob" was intended to be released with "Thug Love" (with Destiny's Child), two days before he was scheduled to film the "Thug Love" music video Jackson was shot and hospitalized.
On April 24, 2000, Jackson was attacked by a gunman (alleged to be Darryl "Hommo" Baum) outside his grandmother's former home in South Jamaica. After getting into a friend's car, he was asked to return to the house to get some jewelry; his son was in the house, and his grandmother was in the front yard.  After Jackson returned to the back seat of the car, another car pulled up nearby; an assailant walked up and fired nine shots at close range with a 9mm handgun. Jackson was shot in the hand, arm, hip, both legs, chest and left cheek. His facial wound resulted in a swollen tongue, the loss of a wisdom tooth and a slightly slurred voice; his friend was wounded in the hand. They were driven to a hospital, where Jackson spent thirteen days. Baum, Mike Tyson's close friend and bodyguard, was killed three weeks later.
Jackson recalled the shooting: "It happens so fast that you don't even get a chance to shoot back …. I was scared the whole time … I was looking in the rear-view mirror like, 'Oh s***, somebody shot me in the face! It burns, burns, burns.'" In his autobiography, From Pieces to Weight: Once upon a Time in Southside Queens, he wrote: "After I got shot nine times at close range and didn't die, I started to think that I must have a purpose in life … How much more damage could that shell have done? Give me an inch in this direction or that one, and I'm gone". After using a walker for six weeks, Jackson was fully recovered after five months. When he left the hospital he stayed in the Poconos with his girlfriend and son, and his workout regime helped him develop a muscular physique.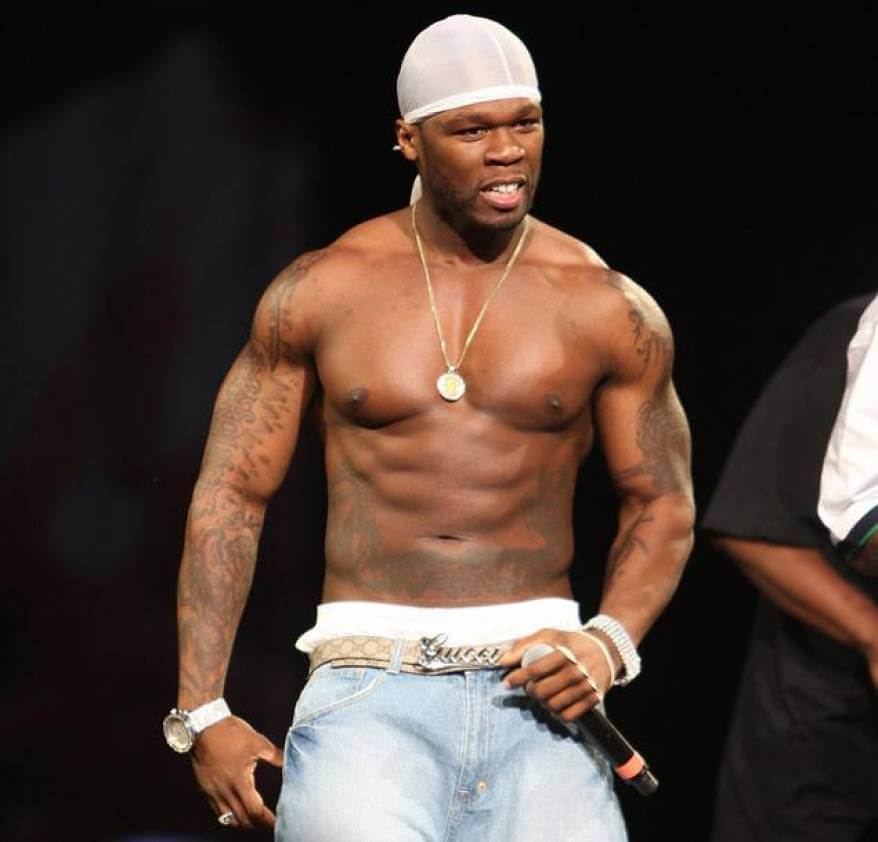 In the hospital Jackson signed a publishing deal with Columbia Records before he was dropped from the label and blacklisted by the recording industry because of his song, "Ghetto Qu'ran". Unable to work in a U.S. studio, he went to Canada. With business partner Sha Money XL, Jackson recorded over thirty songs for mixtapes to build a reputation. In a HitQuarters interview, Marc Labelle of Shady Records A&R said that Jackson used the mixtape circuit to his advantage: "He took all the hottest beats from every artist and flipped them with better hooks. They then got into all the markets on the mixtapes and all the mixtape DJs were messing with them." Jackson's popularity increased, and in 2002 he released the mixtape Guess Who's Back?. He then released 50 Cent Is the Future backed by G-Unit, a mixtape revisiting material by Jay-Z and Raphael Saadiq.
In 2002 Eminem heard Jackson's Guess Who's Back? CD, received from Jackson's attorney (who was working with Eminem's manager, Paul Rosenberg). Impressed, Eminem invited Jackson to fly to Los Angeles and introduced him to Dr. Dre. After signing a $1 million record deal, Jackson released No Mercy, No Fear. The mixtape featured one new track, "Wanksta", which appeared on Eminem's 8 Mile soundtrack. Jackson was also signed by Chris Lighty's Violator Management and Sha Money XL's Money Management Group.
Jackson released his debut album, Get Rich or Die Tryin' (described by AllMusic as "probably the most hyped debut album by a rap artist in about a decade"), in February 2003. Rolling Stone noted its "dark synth grooves, buzzy keyboards and a persistently funky bounce", with Jackson complementing the production in "an unflappable, laid-back flow". It debuted at number one on the Billboard 200, selling 872,000 copies in its first four days. The lead single, "In da Club" (noted by The Source for its "blaring horns, funky organs, guitar riffs and sparse hand claps"), set a Billboard record as the most listened-to song in radio history within a week.
Interscope gave Jackson his own label, G-Unit Records, in 2003. He signed Lloyd Banks, Tony Yayo and Young Buck as members of G-Unit, and The Game was later signed in a joint venture with Dr. Dre's Aftermath Entertainment. In March 2005 Jackson's second commercial album, The Massacre, sold 1.14 million copies in its first four days (the highest in an abbreviated sales cycle and was number one on the Billboard 200 for six weeks. He was the first solo artist with three singles in the Billboard top five in the same week with "Candy Shop", "Disco Inferno" and "How We Do". According to Rolling Stone, "50's secret weapon is his singing voice – the deceptively amateur-sounding tenor croon that he deploys on almost every chorus".
After The Game's departure Jackson signed Olivia and rap veterans Mobb Deep to G-Unit Records, with Spider Loc, M.O.P., 40 Glocc and Young Hot Rod later joining the label.  Jackson expressed an interest in working with rappers other than G-Unit, such as Lil' Scrappy of BME, LL Cool J of Def Jam, Mase of Bad Boy and Freeway of Roc-A-Fella, and recorded with several.
In September 2007 Jackson released his third album, Curtis, which was inspired by his life before Get Rich or Die Tryin'. It debuted at number two on the Billboard 200, selling 691,000 copies during its first week (behind Kanye West's Graduation, released the same day). On the September 10, 2008 episode of Total Request Live Jackson said his fourth studio album, Before I Self Destruct, would be "done and released in November". He released "Ok, You're Right", produced by Dr. Dre for Before I Self Destruct, on May 18, 2009 and was scheduled to appear in a fall 2009 episode of VH1's Behind the Music. On September 3, 2009 Jackson posted a video for the Soundkillers' Phoenix-produced track, "Flight 187", introducing his mixtape and book (The 50th Law). The song, with lyrics inspiring speculation about tension between Jackson and Jay Z, was a bonus track on the iTunes version of Before I Self Destruct.
In a Contactmusic.com interview Jackson said he was working on a Eurodance album, Black Magic, inspired by European nightclubs: "First they played Hip Hop which suddenly changed to uptempo songs, known as Eurodance". He later said he had changed his next album to The Return of the Heartless Monster after writing different material when he returned home from the Invitation Tour in 2010, shelving Black Magic. On September 3 Jackson supported Eminem on his and Jay-Z's The Home & Home Tour, performing "Crack A Bottle" with Eminem and Dr. Dre amid rumors of tension between Jackson and Dre.
He "recorded 20 songs to a whole different album concept" before putting them aside, wanting his new album to have the "aggression" of Get Rich or Die Tryin'. Jackson tweeted that the album was "80 percent done" and fans could expect it in the summer of 2011. It was ultimately delayed a year due to disagreements with Interscope Records, with Jackson saying that he would release it in November 2011 with a different title than Black Magic. Eminem would appear on the album, and Jackson said he was working with new producers such as Boi-1da and Alex da Kid. Cardiak, who produced Lloyd Banks' "Start It Up", confirmed that he produced a song for the upcoming album.
Jackson released a song, "Outlaw", from his fifth album on the Internet on June 16, 2011. The single, produced by Cardiak, was released on iTunes on July 19 (although Jackson tweeted that it was not the album's first single). The rapper planned to write a semi-autobiographical young-adult novel about bullying, different from his previous books which focused on his life and the rules of power. According to the book's publisher, the first-person novel (about a 13-year-old schoolyard bully "who finds redemption as he faces what he's done") was scheduled for publication in January 2012.
In a series of tweets Jackson explained that the delay of his fifth album was due to disagreements with Interscope Records, later suggesting that it would be released in November 2011 with his headphone line (SMS by 50). He speculated to MTV News about not renewing his five-album contract with Interscope: "I don't know … It will all be clear in the negotiations following me turning this actual album in. And, of course, the performance and how they actually treat the work will determine whether you still want to stay in that position or not."
On June 20, 2011, Jackson announced the release of Before I Self Destruct II after his fifth album. Although he planned to shoot a music video for the fifth album's lead single, "I'm On It", on June 26 the video was never filmed. Jackson told Shade45, "I did four songs in Detroit with Eminem. I did two with Just Blaze, a Boi-1da joint, and I did something with Alex da Kid. We made two that are definite singles and the other two are the kinds of records that we been making, more aimed at my core audience, more aggressive, more of a different kind of energy to it." He released "Street King Energy Track #7" in September 2011 to promote Street King, his charity-based energy drink. An announcement that Jackson was shooting a music video for "Girls Go Wild", the fifth-album lead single featuring Jeremih, was made on September 28, 2011.
In January 2014 Jackson said he planned to release Animal Ambition in the first quarter of the year, followed by Street King Immortal. On February 20 he left Shady Records, Aftermath Entertainment and Interscope, signing with Caroline Records and Capitol Records. According to Jackson, although he owed Interscope another album he was released from his contract because of his friendship with Eminem and Dr. Dre: "I'm a special case and situation. It's also because of the leverage of having the strong relationships with Eminem and Dr. Dre. They don't want me to be uncomfortable. They value our friendship to the point that they would never want [to jeopardize] it over that little bit of money." That day, he announced that Animal Ambition would be released on June 3 and released its first track.
The song, "Funeral", was released with a video on Forbes.com. Produced by Jake One, it is a continuation of "50 Bars" from a previous album; two more tracks were scheduled for release on March 18. At South by Southwest in Austin, Texas, Jackson performed "Hold On" from the new album. That song and "Don't Worry 'Bout It" were released with accompanying videos on March 18. According to Jackson, prosperity would be a theme of the album: "This project, I had to search for a concept, a really good concept, in my perspective, and that was prosperity. I outlined all the things that would be a part of prosperity, positive and negative [for Animal Ambition]."
On May 14, 2015, 50 Cent revealed in an interview that the first single from Street King Immortal, would be previewed memorial day weekend and would likely be released in June. 50 Cent, released "Get Low" on May 20, 2015, as the lead single from his sixth studio album, Street King Immortal – pushed back into a 2016 release.