If you were a fan of Hip Hop music from 1988-1995, you watched the number one rated series on MTV; Yo! MTV Raps. Yo! single-handedly took Hip Hop from the East Coast and West Coast, and made them meet in the middle of the country. After Run DMC hosted the debut episode, Fab 5 Freddy took the reins and, every Saturday, brought Hip Hop to America. Just over 6 months later, Yo! had gotten so big that the network needed it to be on more than just Saturdays. They brought in Dr. Dre (with an accent on the "e") and Ed Lover (and later, Dr. Dre's former Original Concept band mate, T-Money) to host weekday episodes of the show, titled "Yo! MTV Raps Today". Now that everyone is caught up on the Yo! past, let's talk about the Yo! present.
June 1, 2018 at the Barclays Center in Brooklyn, New York was the next step in not only Yo! history, but Hip Hop history. The 30th Anniversary Experience was taking place, and I was making the trip North from my home in Southern Virginia. This was something that I was NOT going to miss. I got on the road at 7am and headed toward the home of Def Rugs to meet up with my man, DJ, producer, carpet artist, and Hip Hop fanatic, Fox. Around 2pm, I arrived at the door of Rug E. Fresh (Fox) and it was on. He showed me the Yo! MTV Raps rug that he made for the event, I got a tour of the Def Rugs shop, we grabbed a slice, and got on the road to Brooklyn.
Five o'clock we found a spot to park, grabbed the Yo! rug and walked a few blocks to the Barclays Center. As we came up on the entrance, we found that the doors were not open yet, so we looked around to see what we could see. Just then, coming out of the door to use his phone is none other than Fab 5 Freddy. Okay, that is a very cool start to the evening. I snap a photo of Fab 5, but don't stop him because he seems to be on a mission. I turn around and lean against the wall, waiting for 6pm (my check in time) to come around. Standing next to me is the legendary Ernie Paniccioli. I turn to him, introduce myself and shake his hand, and tell him what an honor it is to meet him. He asks me if I am going in, I tell him I need to wait until 6pm for media access. And the greatest Hip Hop photographer of all time tells me, "make sure you take some good pictures." And then, like Keyser Soze, he was gone.
The time was six o'clock on the Swatch watch…..okay, you can finish the rest in your head (or out loud). Fox took his rug and went inside to start getting it autographed. When you are the most famous Hip Hop rug creator in all the World, you get to go in and get your rug autographed. I waited on line with the other "press" representatives for our 6pm entry. This is about the time that a guy stuck his head out of the door, like he was guarding the Emerald City, and said "6:30" and closed the door. People started complaining, but where does that get you? That's right…..nowhere. Around 6:35 the doors opened and the press members were let in the door to pick up their/our passes. Some people were given green wrist bands, some red, and others were given an envelope with a ticket inside.
Mr. Throwback Thursday was granted a single ticket (which turned out to be third row, about 25 feet from the stage) to observe and review the show verbally on our podcast, and in writing for Fresh Radio. I take my seat, and two guys in the row behind me were talking about how they weren't allowed to bring their professional cameras with them, and how they were at least closer than the Getty Images guys (who were behind the sound board). I took a picture of the stage from my point of view and immediately posted it on Instagram, letting my friends and followers know that I was in the house. What happened next took me from journalistic mode, on a Japanese Bullet Train straight into fan mode. To protect the innocent workers at the Barclays Center, I will not reveal HOW what happened next happened, only that it did.
As I walk into the dressing/locker room and look around, I see Greg Nice, Smooth B, Kurtis Blow, Positive K, and Dres from Black Sheep. I had to stop and take in this moment with my man Fox, as I took a picture of him getting his rug signed by Grand Puba (who had just walked in). Edo G walked over and said hey to Fox, and Fox introduced us. This was the first of many such occurrences this evening. I shook Edo G's hand, and told him I looked forward to his performance. I then spoke to Smooth B and Greg Nice (separately) and asked them a few questions for the podcast. They were there for the original Yo! MTV Raps run, and they were here tonight. Smooth B remembered being a guest on Mr. Throwback Thursday and gave me a big bear hug. As I began talking to Greg Nice, Special Ed took the stage. Everyone gathered around the TV set in the locker room and watched Ed perform.
When walking up on your Hip Hop idols, it is difficult to just say hi. Luckily for me, I have been in a fantasy football league for 4 years where the legendary Kurtis Blow is my commissioner. How that came to be is its own story, and one for another time. So I walked up to Kurtis Blow and introduced myself, mentioning that we play fantasy football together. He asked my team name and then complimented me on my play, telling me to have a seat. We sat and talked about the podcast, the Yo! event, Hip Hop in general. While we were talking, Onyx hit the stage and the crowd went wild as they performed Slam.
I left the dressing room and moved down the line to the next room. This is where I met one of the men that was on the first Hip Hop cassette I ever purchased; Kangol Kid from UTFO. This was a moment where 7th grade me gave 46 year old me a high five. During the next blur of time, Pharcyde, Young Black Teenagers, Das EFX, and Flavor Flav all took the stage. To see YBT on stage together again was an incredible moment. Now, if we can just get them to drop that unreleased 3rd album, all will be right in the world. Anyway, who else wants to come up and talk to Kangol (and is a friend of the show)? The Hip Hop icon Grandmaster Caz. I tell him who I am, shake his hand, get a picture, and thank him for all that he has done for the culture. You should always let the pioneers and legends know how much they have done, the rappers of today don't do it.
I now find myself in EPMD's dressing room (obviously based on Erick Sermon being a guest on our show and NOT because he is a partner in Def Rugs). While hanging out in there I got to see Dres, Nice and Smooth, DJ Scratch and DJ Skribble, Kurtis Blow and Kool Moe Dee perform. Walking out of EPMD's room, a mass of people come down the hallway, towering above them all is the Teacha, KRS One. You would have thought it was a President, the way he was being guarded (not Agent Orange, a REAL President). We continue walking, and pass by Kenny Parker (his other brother, ICU is much darker) and almost run into the mountain of a man that is Charlie Mack. All along the way, Fox is getting signatures on the Yo! rug, and I am taking pictures.
We move along further down the line and end up in the "interview room". This is the equivalent of the "red carpet" area of an award show. As we look around, I see many of the people who were standing behind me in the press line earlier. I now see their cameras and microphones with logos that say TMZ, Vibe, MTV, and other nationally recognized media outlets. What we find out about this room is that when the artists come off stage, they come here to do press. What do I see? Russell Peters with the MTV microphone schooling the masses about how Das EFX changed Hip Hop with their iggedy sewer style. Okay, I know he produced Hip Hop Evolution, but I didn't know he was such a head. Big ups to Russell Peters, I had to talk to this guy. Once again, introducing myself and explaining about our show, he says that sounds like a show he should be doing. I agreed, we exchange information, and hopefully he will be a future guest.
Flavor Flav was next down the aisle, and I had wanted to talk to this guy for YEARS. We get the signature for the rug and I am about to say hi, when I am blocked by a large man in sunglasses. Now, when I say blocked, I mean there was a personal connection happening and I was not going to be the asshole to interrupt it. That large man with the sunglasses was no other than Terminator X. From the look of the reunion, it had been a long time coming.
K Solo, Edo G, Large Professor, Double X Posse, Fu Schnickens, Beatnuts, Positive K, MC Lyte, and Brand Nubian all smashed the stage over the next 30 minutes or so. K Solo being on stage again was something I had waited for, but didn't know that I needed so badly. While my Chip Fu was a little rusty, the speed and delivery were on point. I got quite a few looks when I broke into "True Fu-Schnick" at the same time Chip did. To see Lyte and Positive K on stage together performing "I'm Not Havin' It" was one of my personal highlight performances of the night. Not just because they are both friends of the show, but because that same rapport that they had back in the late 80s was still there tonight. It was like two old friends got together after a long time apart, but nothing had changed. Just like Terminator X and Flavor Flav, earlier.
As Doug E Fresh took the stage, I was taken on a whirlwind ride that I could never have expected. Fox, Erick Sermon, Parrish Smith, family and management, and yours truly were taken to a special bar/lounge area to sit and wait. "Wait for what", you ask? Wait to be escorted to the stage, behind the giant video screens. At this moment, as I walk past Special Ed and Kool Moe Dee, to stand backstage with EPMD, my mind is racing. How in the hell did I get here? At this point, I realize just how efficient this concert is running. I have been to a ton of classic Hip Hop festival type shows, and there is always a DJ to fill the gaps while one artist leaves the stage, and the other one finds his way up there. This is sometimes as long as 20 or 30 minutes. Last night, I saw first-hand, how it SHOULD work. As Doug E Fresh finished his beat box solo (with harmonica), he left the stage (slapping me five on his way through) and Ed Lover, Dr. Dre, and T-Money introduced EPMD. All of a sudden, I am standing on stage in front of thousands of fans, while one of my all-time favorite groups tears the house down.
When we all leave the stage, I see the Juice Crew is up next. I know this because I walk past MC Shan, Marley Marl Craig G, Kool G Rap, Roxanne Shante, and Big Daddy Kane (and fellow Freshian DJ Skaz Digga). As I'm walking down the stairs, I reach out and shake Kane's hand and tell him to have a great show. He says, "thanks, brother." and flashes that Big Daddy smile. Each Juice Crew member took the stage and did their own songs as we watched from the backstage area. This is where I got to congratulate Special Ed on a great performance. Also, hey, look, that's Dave Navarro. Never expected to see him here! Anyway….as the Juice Crew leaves the stage, Eric B and Rakim (yes, together again) stepped on. I have seen Rakim perform many times over the past 30 years, this is the first time I have seen him with Eric B. It is a moment I will never forget.
Not many people can say what I am about to say. I got to see "The Bridge" performed live, and 20 minutes later, I got to see "The Bridge is Over" performed live! KRS One and Fat Joe took the stage together and shut the place down. As I am standing on the side of the stage watching KRS, Kool Moe Dee is next to me saying, "this is the greatest night ever." Not only was I in full on fan mode, but so were the artists. This is not something you think of as a fan, that the artists are just as big a fan as you are…..or bigger. Then, out of nowhere, the voice that all New York Hip Hop fans (and BDP fans) know better than their own, "Yeaaaaaaaaaaaaaah." Uncle Red, the Koolest of the Kool, DJ Red Alert hit the mic, then ran off stage. I had just seen Red in Norfolk, VA a couple weeks before. I caught him coming off stage and he came over and gave me a big hug, and told me how legendary this night was. While I trust the word of Red Alert, this was one of those things that no one needed to tell me.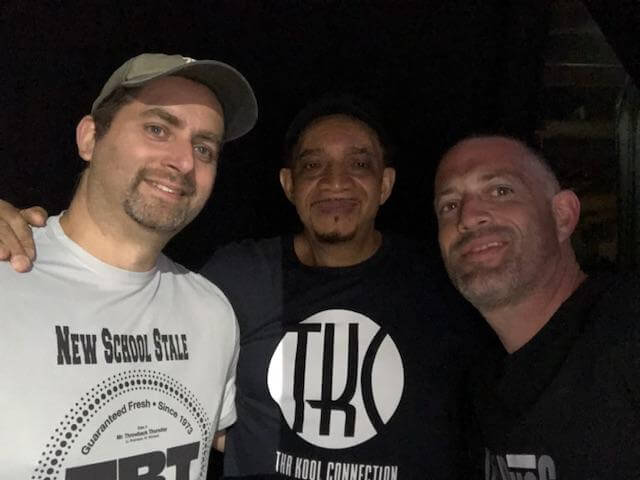 A few quick passes through the dressing room areas got the final few signatures on Fox's Def Rug to complete the evening. We were told that the rug isn't official until Ed Lover signed it (as Ed Lover was signing it). Bonus feature, we ran into Diamond D and Bumpy Knuckles (not together) on the way out of the building. I am pretty sure that every Hip Hop personality that was in the Barclay Center that night has their signature on that Yo! rug. So we headed out, jumped in the car and headed back to Def Rugs HQ. Two thirty in the morning, we were in the door and crashed out. Seven thirty that same morning I was on the road back to Virginia.
I heard that there is potential of Yo! making a return to MTV. I heard that there is potential of this concert going on tour. If either of these things happen, make sure you support it. Hip Hop, as a community, needs to support its history. We need to keep it alive. I believe that if you don't sing songs every so often, they will disappear and be forgotten. To keep our Hip Hop alive, we need to sing the songs, play the records, go to the shows, do whatever it is that we can. If we don't go to the shows, the shows will stop happening, and none of us want that. In closing, thank you to Viacom, MTV, and everyone involved in not only putting on this show, but allowing me to be a part of history.
Keep it classic everyone, and always remember…new school stale, old school fresh.