Nas: Illmatic (Deluxe Edition) | Black Vinyl Re-Issue | Vinyl LP Record
In 1994, Hip Hop was going through an at-times painful growth spurt. Since N.W.A.'s and Ice-T's ascent in the late '80s, the rap game was no longer owned by the East Coast. After the worldwide popularity of Dr. Dre's The Chronic in 1992, things were looking even worse for Hip Hop's hometown. The East Coast / West Coast feud that would later indirectly claim the lives of Biggie and Pac was still in its infancy, but New York needed a shot in the arm.
The hype behind young Queensbridge native Nasir "Nas" Jones had been in full swing months before his smash debut album Illmatic, thanks to Columbia Records' promo machine. From his earliest appearance on Main Source's "Live at the BBQ," to his own accomplished debut "Half Time" (as Nasty Nas, on the Zebrahead soundtrack in late 1992), it was clear that this kid was something special. In fact, the pressure on him must have been overwhelming at times. April 19, 1994 couldn't have come soon enough.
And as soon as the first lines of "N.Y. State of Mind" kick in, bolstered by perhaps DJ Premier's darkest beat of all time, the entire East Coast breathed a collective sigh of relief. God's Son had arrived. Backed by an absolute all-star cast of New York's top-shelf producers – Premier, Pete Rock, Large Professor, Q-Tip and a youngster named L.E.S. – the album never lets up. Serious to a fault, and lyrically dense to an extent that has possibly never been matched, the 20-year old Nas stood on the shoulders of his predecessors and proudly proclaimed, "Don't f*** with the East… we are BACK."
Illmatic was actually a slow-burn, which might surprise fans that have come to its genius more recently. Despite an unheard-of "5 Mics" in The Source – despite an unwritten rule of never awarding classic status to debuts – it didn't go gold until early 1996, and didn't hit platinum status until late 2001. But when you dive deeper that shouldn't be a shock: like Black Moon and Wu-Tang's debuts, it was a dark, hard record, made for heads in New York, not teeny-boppers in Des Moines. There were no dance beats, no crossover love songs. Just boom-bap and rhymes, skills and heart.
Also available:
Nas: Illmatic | CD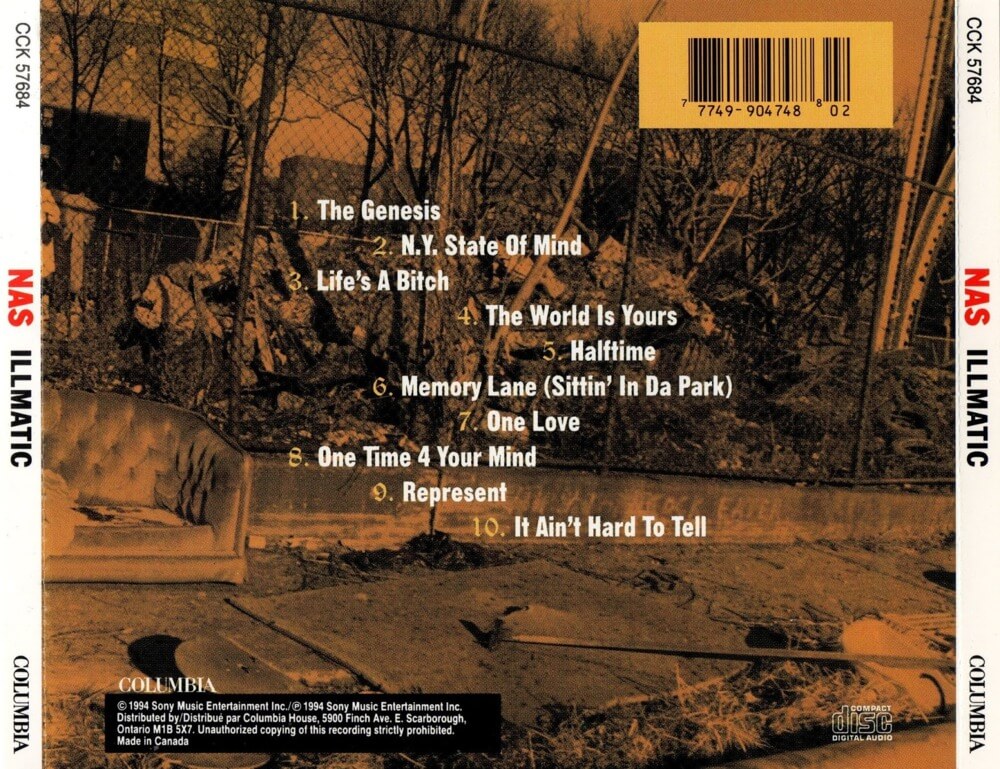 And:
Nas: Illmatic XX (Anniversary Edition) | CD [2CD]
Illmatic XX is a 2 disc, 20th anniversary special edition featuring new artwork, a 24 page booklet with new liner notes by Sacha Jenkins, artist tributes with rare & previously unseen photos. Disc 1, the original debut album, has been remastered from the original source tapes and disc 2 features 10 rare remixes, demos & freestyles from the era.
With the release of Illmatic, in 1994 Nas quickly established himself as a Hip Hop icon and has become one of the hottest artists on the music scene today. The landmark album has been lauded by critics as one of the most exemplary Hip Hop recordings of all time. Illmatic contributed to the revival of the New York City rap scene and has been consistently ranked near the top of many "best album" lists. Today, the collection remains one of the most widely celebrated and influential albums in history with Rolling Stone proclaiming, "a portrait of an artist as a hood, loner, tortured soul, juvenile delinquent, and fledgling social critic… [the album] still stands as one of rap's crowning achievements." NPR Music called the collection "[a] masterwork of story-telling, lyricism and beat-making," while upon the album s release, The Village Voice gave Nas the title of, "one of the most important writers of the 20th century."
"With Illmatic, I didn't think about it. I just did it. I believe everybody has good instincts. Now I m a man from that past and I'm supremely grateful. There's a Nigerian proverb 'What is past is prologue'. I'm here today because of Illmatic." – Nas
Plus:
Nas: Time Is Illmatic | DVD
Twenty years after the release of Nas's groundbreaking debut album 'Illmatic,' NAS: TIME IS ILLMATIC takes us into the heart of his creative process. Returning to his childhood home in Queensbridge, Nas shares stories of his upbringing, his influences – from the music of his jazz musician father Olu Dara to the burgeoning hip-hop scene in New York City – and the obstacles he faced before his major label signing at age 20. Featuring interviews with his 'Illmatic' producers (Large Professor, Pete Rock, Q-Tip, L.E.S., and DJ Premier) and musical peers (including Pharrell Williams and Alicia Keys), NAS: TIME IS ILLMATIC is a thrilling account of Nas's evolution from a young street poet to a visionary MC.