With a new year comes a new series here on HHGA. This series is focusing on the most underrated/underappreciated albums of the decade, per year. Now that it's 2018, we're inching closer and closer to the end of the 2010s. Make no mistake about it, this decade has been one of the most musically rich periods in Hip Hop ever.
Landmarks like To Pimp A Butterfly, Laila's Wisdom, Black America Again, all three Run The Jewels releases, and My Beautiful Dark Twisted Fantasy changed the scope of how far Hip Hop can go. Socially, musically, and spiritually, these albums and more refined the art of the game as we know it today.
What about other albums that weren't as universally recognized or acclaimed? This is where we come in. Let's get into the most underrated albums of 2010.
20. Gangrene - Gutter Water
Production: artist. It's well known that The Alchemist is one of Hip Hop's most incredible producers for over two decades now. Along with being such a highly regarded producer, he's also a part-time emcee, and not a bad one either. He's joined by Madlib's younger brother, Oh No (who himself is a very decent emcee/producer) to become Gangrene.
Their debut album, Gutter Water, was grimy yet comical, dirty yet mischievous, and it struck on all chords. Although it wasn't a terrible lyrical album, the production on the project was the story, as Al crafted some of his best work – while Oh No started to come into his own to hang with Alan The Chemist.
19. yU - Before Taxes
Production: artist, Oddisee, Kev Brown, others. Diamond District member, yU, is arguably the most sharp lyrically of the trio consisting of him, Oddisee, and Upton XO. He displays this great talent on Before Taxes with precision and confidence. Throughout the album, yU is on point over some excellent production and a concept that basically has him displaying how much more fun and important Hip Hop was before it became such a commercially-driven business. Honest, personal, and provoking, yU dropped an album worthy of more attention than it received.
18. Freddie Gibbs - Str8 Killa
Production: Beatnick, K-Salaam, Kno, others. One of the first real times we got exposed to Gangsta Gibbs was his EP entitled Str8 Killa. The Gary, IN native brought that realness over menacing production and was a raw as one could perceive. Although many believe it was Cold Day In Hell that was his true door opener, he cracked the door open with this one.
17. 7L & Esoteric - 1212
Production: artist, Statik Selektah, DC The Midi Alien. Boston's 7L & Esoteric are considered among the most respected in underground Hip Hop. They had a fairly consistent discography up to 2010, with albums like The Soul Purpose and A New Dope that were acclaimed for tight boom-bap production and hitting lyrics from Esoteric.
With 1212, they continued with the knocking sounds they had been known for, plus we got a tease of things to come with a Czarface cut, "12th Chamber". One of these duo's best efforts.
16. Black Milk - Album Of The Year
Production: artist. Curtis "Black Milk" Cross was deemed as the next to uphold the torch Dilla left behind in the D. He did a very valiant job in attempting to do so, as he became among the most revered emcee/producers to come from the motor city. His album Album Of The Year was more of the same incredible production (mostly live instrumentation) that we already knew from him.
15. Homeboy Sandman - The Good Sun
Production: 2 Hungry Bros, Ski, Psycho Les, Core Rhythm, others. Queens emcee Homeboy Sandman is a very well-rounded lyricist. He has a complex and vast array of styles and can adapt to seemingly anything. An under-the-radar emcee since his emergence in '07, HS has always needed that bigger platform to display his tremendous talents.
On The Good Sun, the teacher-turned-emcee comes correct with multi-syllabic layers and flows that are often repeat-worthy. He's also a great conceptual writer, as evidenced with cuts like the homeless-ode "Angels With Dirty Faces" and "Mean Mug", an ode to fake thuggery. One of his best efforts to date, Sandman started to really find his own route as an emcee on this one.
14. DJ Muggs & Ill Bill - Heavy Metal Kings
Production: DJ Muggs. Non-Phixion member Ill Bill is known for his in-your-face, aggressive delivery and his knack for writing rhymes centered around apocalyptic themes and anti-government rhetoric. He collabs with legendary Cypress Hill producer, DJ Muggs for Heavy Metal Kings. Dark and intense, Bill pulls no punches with the listener and sounds like he needs to do a lot more projects with Muggs, as this project was head to toe DOPE.
13. Kno - Death Is Silent
Production: artist. If there was a list of highly talented, yet underrated, producers in Hip Hop, Cunninlynguists' Kno must be near the top. Just as much known for spitting as he is constructing dark and melodic beats, Kno steps from the shadow of his group mates Deacon and Natti to create Death Is Silent. Beautifully orchestrated, Kno's debut solo effort is something that elevated Kno's ability to create cinematic soundscapes. A mesmerizing album, this is one that must be felt as much as heard.
12. PackFM - I Fuckin' Hate Rappers
Production: Marco Polo, Kno, J-Zone, Domingo, Tonedeff. Brooklyn emcee PackFM was very jaded with Hip Hop. He started to hate the very thing he had loved, and this was apparent on I Fuckin' Hate Rappers. Conceptually based off his own personal feelings about the state and climate of the culture at the time, the Cunninlynguists-assisted emcee made his own feelings known throughout very humorous skits and pretty dope cuts that explained how much he was just over it all. After a few listens, you might find you're not too far from his viewpoint yourself.
11. Big K.R.I.T. - K.R.I.T. Wuz Here
Production: artist. By the time 2010 hit, Mississippi's own Big K.R.I.T. was already on mixtape number six, and boy was it impressive. K.R.I.T. Wuz Here became his signature project for some years to come, as it set the bar for all future releases. Southern bumpers like "Country Shit" and "Gumpshun" exemplify his love of the 808 bump with all the flavor of sugar rich Kool-Aid in the summertime, and cuts like "They Got Us" and "Children Of The World" showed how much of a soulful writer he was as well. Fantastic mixtape and fantastic artist, K.R.I.T. was on to something big.
10. Skyzoo & !llmind - Live From The Tape Deck
Production: !llmind. One of the most consistent and skilled lyricists of the decade has been Skyzoo. We had seen his unbelievable potential with his albums Could 9: The 3 Day Theory and The Salvation before, but with this collabo album with Grammy Award winning producer !llmind Live From The Tape Deck, he elevated his game even more.
A concept meant for the listener to not fast forward through the album and to really listen throughout, this was album was just that: a stellar play-through. There was no filler whatsoever on this project. From the densely layered "Langston's Pen" to the thumping 808s of "Speakers On Blast", this album serves as one of Sky's top efforts.
9. The Left - Gas Mask
Production: Apollo Brown. Detroit fixtures Journalist 103 and producer extraordinaire Apollo Brown put a hard one down as The Left with Gas Mask. This is just straight ol' school boom-bap Hip Hop, no more, no less. Journalist more than holds his own with guests such as Finale, Guilty Simpson, Hasaan Mackey, and the legendary Kool G. Rap. This is first time we really see the talents of Brown, while now he is among the sought after beatmakers in the game. If you want a no-mask approach to Hip Hop, peep this one out. No disappointments will be given.
8. Celph Titled & Buckwild - Nineteen Ninety-Now
Production: Buckwild. If you're familiar with practically any type of NY Hip Hop throughout the nineties and early thousands especially, you most definitely are familiar with Buckwild. The legendary D.I.T.C. producer responsible for cuts like Black Rob's "Whoa", O.C.'s "Time's Up", Biggie's "I Got A Story To Tell", and Mic Geronimo's "Masta I.C." teamed up with Army Of The Pharoahs/Demigodz member Celph Titled to construct Nineteen Ninety Now.
This album is clearly a salute and throwback to arguably the most poppin' decade ever in Hip Hop, this album provides a warm feeling album to those that miss that old NYC nineties sound. Buck went ten toes deep in this production, and Celph's husky baritone voice does damage to the mic on this incredible release.
7. DJ Premier - Get Used To Us
Production: artist. One of the game's most revered producers of all-time is the one and only DJ Premier. In 2010, he and his label Year Round Records dropped a thunderous compilation, Get Used To Us, which had the legendary producer showing his stripes once again. He cleverly showcases established talent such as longtime west coast vet MC Eiht, QB massacist Blaq Poet, KRS-One and Bumpy Knuckles, as well as up-and-coming talent such as Nick Javis (where you at Nick?), Young Maylay, and Khaleel equally. Throw in other emcees such as Saigon, Papoose, Royce 5'9″, and Joell Ortiz, and you have an explosion.
6. Freeway & Jake One - The Stimulus Package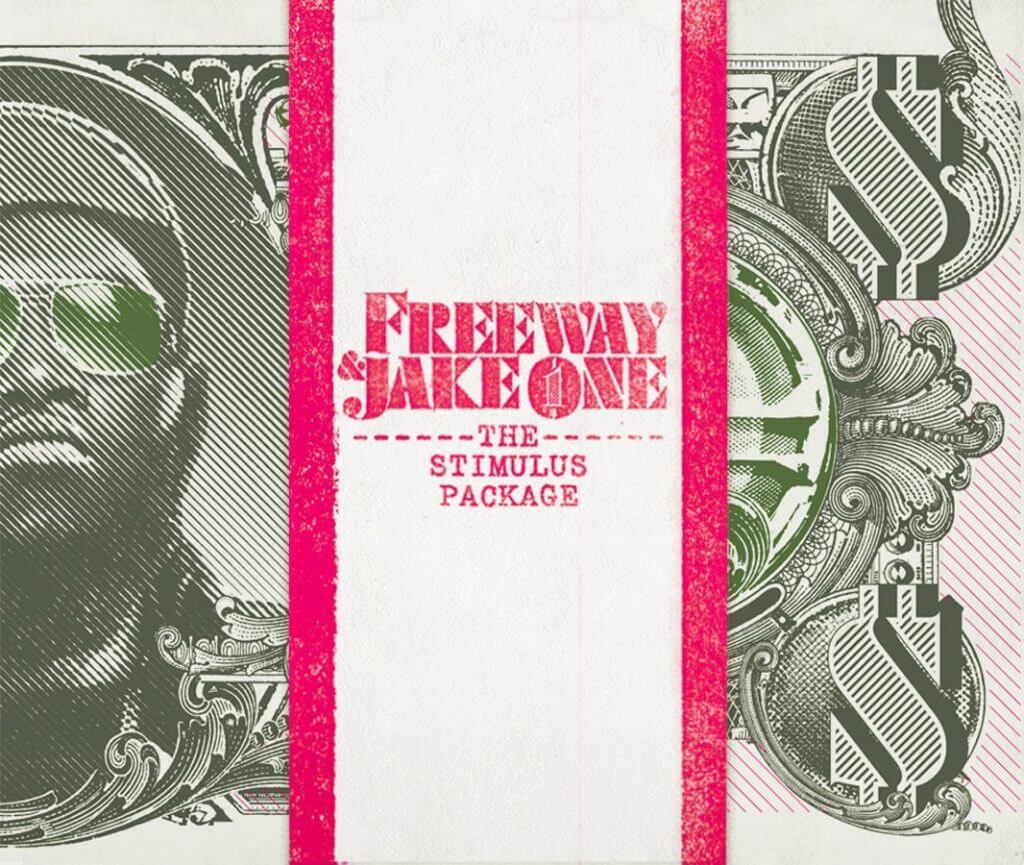 Production: Jake One. Former Roc-A-Fella soldier and State Property rhyme animal Freeway had enjoyed lots of success with his platinum debut effort, Philadelphia Freeway, and his almost equally dope follow-ups Free At Last and Philadelphia Freeway 2. He went a slightly different route when he collaborated with ultra talented Seattle-based beatmaker Jake One to deliver The Stimulus Package. The producer known for making fire for the likes of Mobb Deep, 50 Cent, Evidence, De La Soul, MF DOOM, and Scarface went on a killing spree with the beats on this album. With Free delivering his profound bars, this was a winning duo in 2010. Front to back,The Stimulus Package was a knocker.
5. Bun B - Trill O.G.
Production: Boi-1nda, DJ Premier, Drumma Boy, Steve Below, J.U.S.T.I.C.E. League, others. When we think of Hip Hop's legendary trilogies, we think of back-to-back albums by A Tribe Called Quest, De La Soul, Mobb Deep, EPMD, Kendrick Lamar, Outkast, and a few others. You can most definitely add Bernard "Bun B" Freeman to that list. His Trill series was just marvelous. Considering the circumstances each album was recorded under with partner-in-rhyme Pimp C's incarceration and later death, this series was a definite challenge.
Bun B finished the trilogy with the most overall complete of them all, Trill O.G. The five-mic certified album by The Source Magazine was indeed a hallmark moment in the career of Bun. With the veteran spitting game and street tales while at times reminiscing over his late dear friend, Bun crafted one of the best albums chances are you have slept on.
4. Rakaa Iriscience - Crown Of Thorns
Production: Evidence, Exile, The Alchemist, El-P, !llmind, DJ Babu, Oh No, DJ Honda, others. While we are very familiar with Evidence and DJ Babu of Dilated Peoples, many aren't that acquainted with the other emcee of the group, Rakaa Iriscience. This son of a preacher man dropped his debut, Crown Of Thorns, to let us in more to his world, and are we ever glad he did. Besides the fact that this was one of the most well-produced albums of the entire year, this was also honest, poignant, and intelligent – to make people remember him as not just that "other emcee".
3. Reflection Eternal - Revolutions Per Minute (R.P.M.)
Production: Hi-Tek. In '98, Talib Kweli and Cincinnati producer Hi-Tek constructed one of Hip Hop's true golden albums with Train Of Thought, an album that is still revered to this day as a classic. Over a decade later, they come back together for Revolutions Per Minute, and it was definitely worth the wait.
Picking up where Train Of Thought left off to a degree, we once again get soulful, intelligent, poignant rhymes over melodic, thumping production from my man Hi-Tek. We truly hope we don't have to wait another decade for a third album, but this one by itself is another chapter in two already fantastic careers.
2. Nas & Damien Marley - Distant Relatives
Production: Damian Marley, Stephan Marley. In the entire legendary discography of the modern day god emcee Nas, a lot of people overlook this extraordinary effort with Damian Marley, Distant Relatives. Over mesmerizing production by two of the Marley brothers, including Damian himself, their lyrics and rhymes about freedom, family, and spirituality provide a blend of cultures and unite them to let us all know we all are one at the end of the day. These brothas created an album that should be valued as a timeless, epic album that sadly more people weren't able to digest fully.
1. Roc Marciano - Marcberg
Production: artist. In 2010 Roc Marciano silently became the face of gritty and grimy Hip Hop from NYC with his power-packed debut, Marcberg. The former U.N. and Flipmode Squad member put his ski mask on, put his revolver in his pants, and was ready to wyle out at a moment's notice on this album, with insane knockers like "Panic", "Snow", and "Ridin' Around". This was quintessential east coast Hip Hop at its most rugged, and Marciano was the kingpin.
Honorable Mentions
Brotha Lynch Hung – Dinner & A Movie
Raekwon, Method Man, & Ghostface Killah – Wu-Massacre
Devin The Dude – Suite #420
Rick Ross – Teflon Don
Slum Village – Villa Manifesto
Lloyd Banks – The Hunger For More 2
Guilty Simpson & Madlib – OJ Simpson
Oddisee – Traveling Man
Murs & 9th Wonder – Fornever
Vinnie Paz – Season Of The Assassin
Without question, 2010 was an absolutely great year in Hip Hop. What a way to start the decade of the 2010s. While Kanye's MBDTF was clearly the most revered album of the year and one of the biggest hallmark moments in Hip Hop altogether, this list showed that there quite a number of others that gave West a run for his money.