5. DJ Signify - Of Cities (2009)
I have the sneaking suspicion that this album flew under the radar for many a backpacker head. Released early in 2009, it felt somewhat out of time or, rather, that it landed in the wrong time. It was a much more lyricist-focused phase in Hip Hop, which had less interest or sample royalty in the account to unleash the DJ (read also: Turntablist). Who blame folks? I certainly understand not having $500,000 sitting around to pay for a miniscule sample of The Turtles. The album features two tracks with bars put down by Aesop Rock with a seeming maritime-themed interconnecting thread. They were, afterall, titled "Low Tide" and "Sink or Swim." On the first Aes track, he delivers some hype bars over a beat at higher bpm than the norm for the time and on "Sink or Swim," he proves he still has Boom Bap leanings from his younger days when he was cutting his teeth on Blockhead beats.
Overall, I can get that some of you readers might question its inclusion on the list. It does not forwardly feature the wrist-twisting scratching and turntable acrobatics the word 'turntablist' might conjure for some. It's there, though; mixed subtly in the sonic layers. I also love that Signify was still clearly using an SP-303 Dr. Sample to meld some of his samples. Lastly, the drum programming is exquisite. If you need immediate proof of that, listen to "The Gods Get Dirty."
4. DJ Spooky - Songs of A Dead Dreamer (1996)
DJ Spooky That Subliminal Kid was on some otherworldly, austere-ass shit back in the mid 90's. Again, much like the Signify album preceding it on the list, it doesn't bring to mind The Scratch Pickles or X-Ecutioners. In fact, you really had to see him play these tracks live to understand the in-the-moment creational style that qualifies it. Maybe it was the 104° fever I had that night (waiting for Kool Keith to come onstage after Spooky's phenomenal set, no less), but he was temporarily a god up there. He was refashioning "Galactic Funk (Tau Ceti Mix)" live on one sampler, three turntables, and an upright bass. It seemed almost effortless as he launched us into a trance. Plus, I love how at the break, he just tosses in a slightly pitched up sample of The Politicians "Funky Toes." So damn groovy. From there on, the album continues a tightly woven narrative arc with a superb blend of Dub, HipHop, and Science Fiction.
It is a singular trip of an album and I don't recall ever listening to select tracks. It always had to be the full album, which meant I needed a fresh bong rip and 74 minutes of free time.
3. Presage - Outer Perimeter (1998)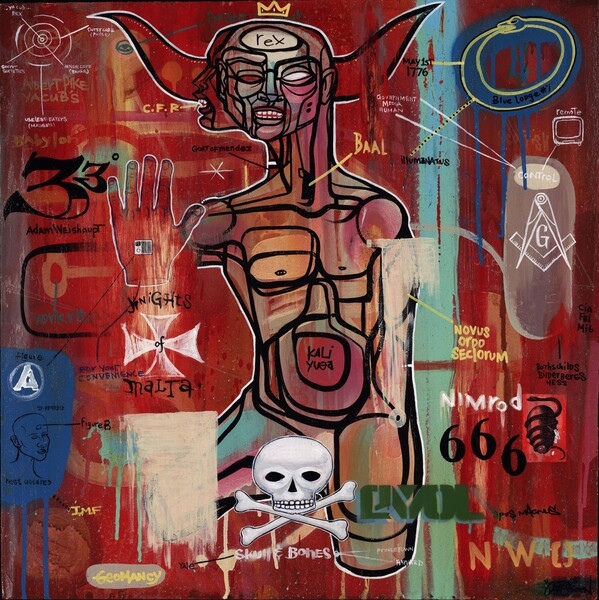 A second appearance by members of the 1200 Hobos crew? Preposterous, you say. Go listen to this album! An entire album where Dose One only talks his way through his style ancestral to Mumble Rap on one track and then is all about the Illuminati?!? Hells yeah, man. It's interesting that while released in 1998, at the height of the Anticon underground popularity wave, that this album remained so far out of the spotlight. Mr. Dibbs and Jel handle the production skills with acuity and aplomb.
They employ tons of snare roll-filled breakbeats and a metric ton of dug for and found samples of various people talking about conspiracy theories, the "wonders" of capitalism, and the entire span of the Illuminati's origins, influences, and dark plans for world domination. Another quality that Dibbs and Jel pepper into the mix is to somehow keep it light; there's a humor to it, as if taking its subject matter seriously while simultaneously chuckling at it. It was historically relevant, as well, coming out about 18 months before the WTO Protests in Seattle. The world took a stand against the World and kinda got squashed, so maybe the Illuminati really is in control?
2. DJ Shadow - Endtroducing (1996)
While I'm slotting this masterpiece at number two, it may be the great grandfather of the modern iteration of the genre. One of the biggest victories of Shadow's magnum opus is how completely it broke down walls between different fans of music. People who didn't really care for Hip Hop were drawn in by Endtroducing's brilliant pastiche. The source material was culled from such a broad palette that it appealed to so many different sets of ears. It also didn't hurt that it adhered to a concept album format that has attracted listeners from far and ranging tastes.
Even until this day I am still amazed by Shadow's ability to garner such commercial success with an album that has numerous tracks that run over seven minutes long. He was somehow able to tap into a longer narrative style of instrumental Hip Hop that couldn't put people to sleep with 30ml of Thorazine. And talk about a real crate-digger, that Murray Roman sample gets people chasing all over the internet for an Elliott Gould monologue about parking tickets that doesn't exist (at least Gould never delivered it in this dimension). To finish it all off, DJ Shadow wraps the album with "What Does Your Soul Look Like Part 1," which sounds like a true departure. A casting off into the ether. What an album and one that has superior longevity.
1. DJ Vadim - USSR: Life From the Other Side (1999)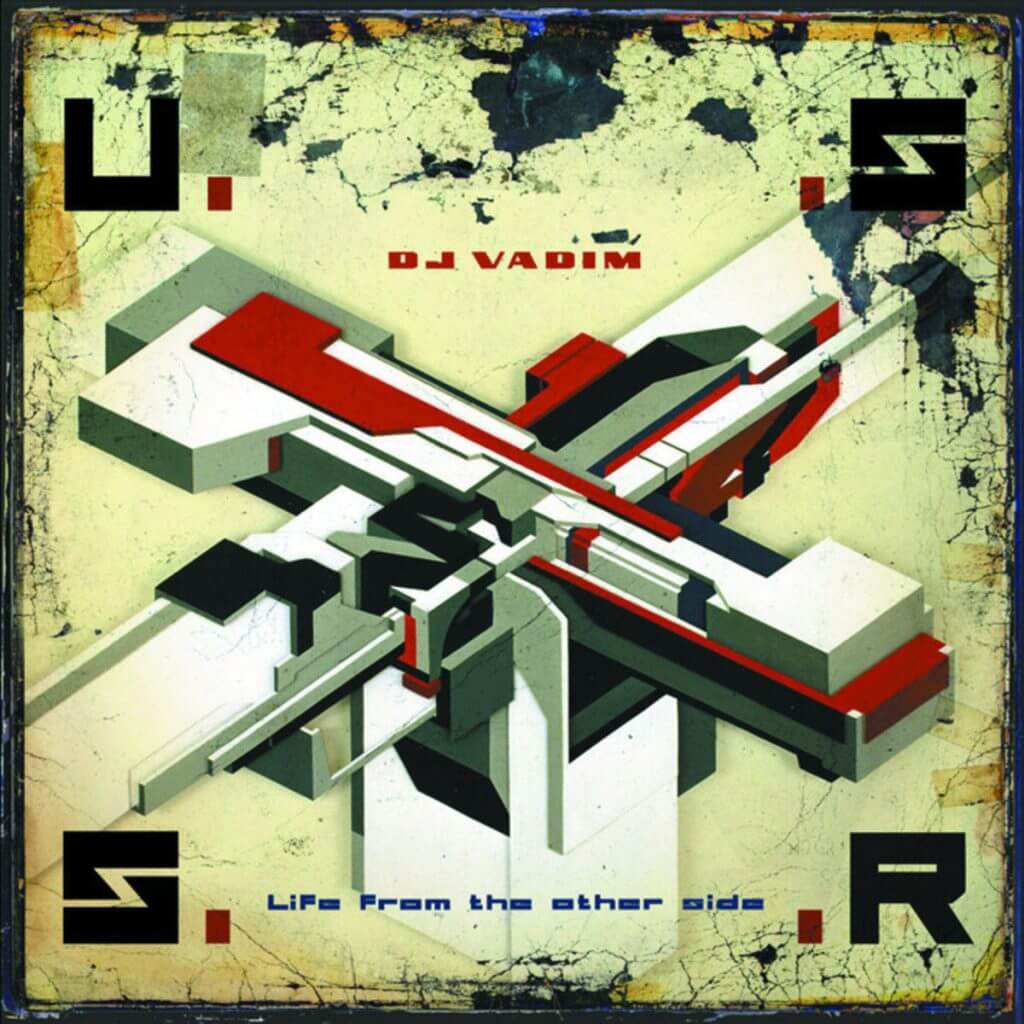 This album is crazy stupid. It has Vadim's singular production style; one that creaks, pops, cracks, and fizzles all while making your head nod with sheer Hip Hop joy. Then you have an insane lineup of MC's. El-P? Yeah, he's on there with his old Indelible MC's buddy BMS, who still rocks a mic as hard as anybody in the business. The Swollen Members deliver one of the hardest cuts ever. The world was introduced to slam poet extraordinaire Sarah Jones, who smashes the patriarchy harder than a pro wrestler. And the list goes on. Lastly, you have the precise turntable skills of Vadim's entire Scratch Perverts crew. They blend competition style turntablism with a more art-inflected bent. It's a simple miracle, in retrospect, that Vadim got all these people together when he was still relatively unknown. There's a quote from Lenin on the back cover art that might best sum up the approach to the creation and enjoyment of this album. "I don't know how radical you are or how radical I am. I am certainly not radical enough; that is, one must always try to be as radical as reality itself."
Always keep pushing the boundaries, keep making weird sounds, keep reaching out for that ounce of pleasure you can receive from a beautifully crafted beat. Not only topping this little [subjective] list, but I'd say this is also the greatest Hip Hop album Ninja Tune has ever put out.