In a year where overrated rap albums like 50 Cent's The Massacre and Lil Wayne's Tha Carter II sold millions of copies, the records listed here went largely unnoticed in the mainstream. Some of the albums on this list were completely slept on, some received enough critical acclaim upon their release or later on, but commercially they all performed disappointingly – in that regard these albums were underappreciated and in need of a mention here.
Of course 2005 also gave us a number of really good Hip Hop albums that did enjoy mainstream success – first and foremost Common's magnum opus BE, as well as albums like Kanye West's Late Registration The Game's The Documentary, Bun B's Trill and Beanie Sigel's The B. Coming – but most of the best Hip Hop of 2005 was ignored by the mainstream media outlets and therefore by the general public as well. This list serves as a reminder of the fact that even after Hip Hop's Golden Age there has always been plenty of excellent Hip Hop around, you just had to know where to find it.
So here goes, in no particular order – 18 + 1 of the best but underappreciated Hip Hop albums released in 2005.
And: scroll all the way down for HHGA's Top 40 Hip Hop Albums Of 2005.
Edan - Beauty & The Beat
Beauty and the Beat is the second studio album by Maryland emcee Edan. The album features guest appearances from Insight, Percee P, Mr. Lif, and Dagha – so you know superior lyrical content is pretty much a guarantee.
Dope tracks aplenty: "Fumbling Over Words That Rhyme" is a great sounding history lesson and one of the standouts, as is "Torture Chamber" which features the unbeatable Percee P. Each song transitions seamlessly to the next which makes this as consistent a listen as one could wish for.
The only complaint may be that the album is too short at just 34 minutes – but with 13 tracks it feels like a full album nevertheless. Edan evidently doesn't need much time to get his point across, so why take more?
Beauty & The Beat is a critically acclaimed, but sadly forgotten album – easily one of the best of the year though. Lyrically inventive and musically creative and diverse – this is one to keep on rotation.
Ohmega Watts - The Find
What an excellent album! Perfectly encapturing the 90's boom bap vibe, sonically paying homage to sounds of the likes of Pete Rock, DJ Premier, Diamond D, Q-Tip, Large Pro and other NYC mid-nineties production giants – but also capturing the vibe of west coast groups like The Pharcyde and Souls Of Mischief – Ohmega Watts simultaneously succeeds to give his beats and rhymes his own authentic and contemporary feel.
The self-explanatory "Where It All Started", the old-fashioned-feeling "Full Swing" and cuts like "Saturday Night Live", "Treatment", and "Mind Power" are just some of the highlights, but the whole album slams.
Filled with jazzy and soulful beats, great sampling and lyrics worth listening to, The Find simply is an amazing debut and an all-around brilliant album.
One Be Lo - S.O.N.O.G.R.A.M.
One of the best albums on this list, and that's saying something. One Be Lo is best known for being half of Binary Star, under which name he and his Binary Star partner Senim Silla dropped the underground gem Masters Of The Universe in 2000. He has released a bunch of excellent solo albums as well, and this one just may be the best of them all.
S.O.N.O.G.R.A.M. stands for Sounds Of Nashid Originate Good Rhymes And Music, a title true to the content of the album: more than twenty tracks and pretty much all worthwhile, with One Be Lo cleverly and skillfully exploring a wide variety of topics over consistently superior musical backdrops. Pure and uncut Hip Hop by a true emcee. Masterfull.
Blueprint - 1988
Not counting his work as part of Soul Position this may be Blueprint's best-known album. Not as widely known as it should be, but most real heads will own or will at least know 1988. The short intro sets the tone for the album nicely: a mash-up of Stetsasonic's "Stet Troop '88" and KRS-One's "Fresh For 88" statement. This intro is followed by a short track incorporating a classic Run-DMC beat, before the third track titled "1988" kicks in with some old-fashioned scratching and a great old-school battle rap attitude to it. After that, there are a whole lot more stand-out tracks, like "Tramp", "Trouble On My Mind", "Fresh" and "Liberated" – but the whole album is great, it's the overall cohesiveness of this project that makes it the essential release that it is.
To simply call this album a throwback would be wrong, it's more layered than that. Some tracks may have that retro feel, and even if Blueprint manages to invoke a great golden age atmosphere, he simultaneously brings more modern vibes to the table. 1988 is one of the crown jewels in Blueprint's discography, one of the better Hip Hop albums released in 2005, and a definite must-have for any self-respecting Hip Hop fan.
Pumpkinhead - Orange Moon Over Brooklyn
Orange Moon Over Brooklyn is the second studio album from the late Brooklyn emcee Pumpkinhead (1975 – 2015). Before the released of Orange Moon Over Brooklyn, he was featured as a guest on albums from underground greats like Immortal Technique and Jean Grae – not bad associations when it comes to gaining Hip Hop credibility.
While his 2001 debut The Old Testament was OK, it was his sophomore album that really showed his skills as a talented lyricist with a  distinctive and dope flow. What also helps is the work on the boards by Marco Polo, who truly is one of the best producers around. The album starts out great with the melodic "Authentic" (actually the second track) and doesn't let up.
Lyrics worth listening to over excellent musical backdrops – Pumpkinhead's Orange Moon Over Brooklyn is a underrated album that you have to check out if you haven't before.
Danger Doom - The Mouse And The Mask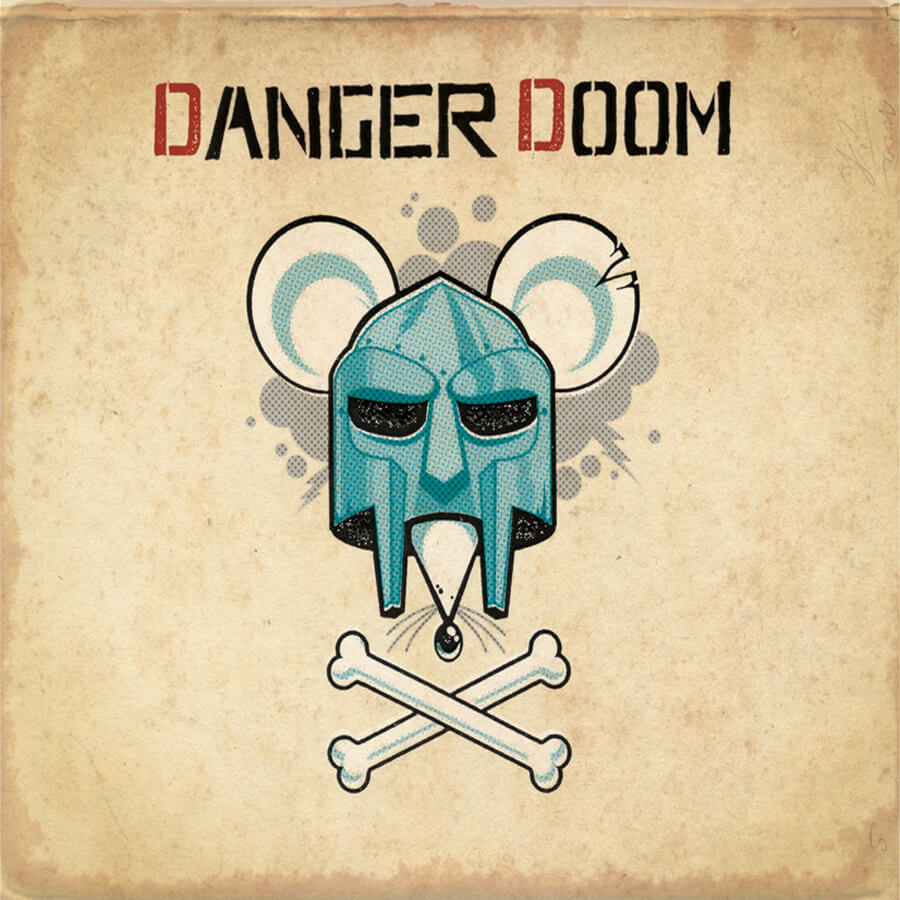 A year after Madvillainy, the masterpiece collaboration with Madlib, underground hero MF DOOM dropped another gem on us in the form of The Mouse And The Mask, this time together with left-field producer Danger Mouse (best known for mashing The Beatles' The White Album and Jay-Z's The Black Album into The Grey Album).
MF DOOM is lyrically as strong as ever, mixing up his trademark abstract imagery with his usual intricate self-aggrandizing, this time all the way through sprinkled with cartoon references – all of it strengthened by Danger Mouse's soundscapes which definitely add to the thematic feel of the album.
Ghostface Killah, Cee-Lo Green and Talib Kweli drop by for guest verses, with especially Ghostface stealing the show on "The Mask" (will we ever see that DOOMSTARKS album…?) Other highlights are "Sofa King", "Old School" (with Talib Kweli) and the stab at former friend MF Grimm, "El Chupa Nibre".
The overabundance of skits may hinder a truly enjoyable listening experience, but the music and especially DOOM's rhymes here are excellent.
Cage - Hell's Winter
Not an easy or comfortable listen, as per usual with Cage – the Orange County rapper who never shied away from talking about his troubled past and his personal demons. Compared to other Cage releases, Hell's Winter is less demented but even more personal – even if some of the stories Cage relates are hard to stomach, especially with the knowledge that at least some of these stories he tells are based on real events and personal experiences.
With his move to Definitive Jux, superior production values under the supervision of DefJux head-honcho El-P are guaranteed. El-P, Blockhead, Camu Tao, DJ Shadow and RJD2 each bless Cage with musical backdrops, for him to bare his mind and soul.
Sonically superior and lyrically intense – Hell's Winter is Cage's magnum opus and one of the many jewels in the DefJux crown.
Quasimoto - The Further Adventures of Lord Quas
For listeners with an acquired taste – like with much of Madlib's work The Further Adventures of Lord Quas will not be for everyone. It's hard to argue that Madlib is a production genius though, never afraid to experiment, and this an another Madlib masterpiece.
The production on this album is different and quality-wise way above most of the generic Hip Hop that's been released this year. Madlib's alter-ego Quasimoto (whose voice is Madlib's own voice sped-up) is a funny character whose stories result in a very well executed concept album. For those who have somehow ignored this album up til now: open up your mind and try The Further Adventures of Lord Quas on for size:
Felt - Felt 2: A Tribute to Lisa Bonet
When Atmosphere's Slug and Los Angeles underground phenomenon Murs combine forces the result has to be something special, right? Right! As established already with their first collaboration Felt: A Tribute to Christina Ricci Slug and Murs prove once again they have great synergy. "Dirty Girl", "Early Morning Tony" (with all its references to eighties classics), "Marvin Gaye" and especially "Breaker Down Like A Shotgun" are easy favorites but Felt 2: A Tribute to Lisa Bonet is consistent throughout, no skips necessary.
Sean Price - Monkey Barz
Monkey Barz is the solo debut studio album by Sean Price of Heltah Skeltah and Boot Camp Clik fame. The album was the first release from Duck Down Records 2005 "Triple Threat Campaign", followed by Buckshot & 9th Wonder's Chemistry, and Smif-N-Wessun's Smif 'N' Wessun: Reloaded. – which were also dope albums that deserve a mention here. Monkey Barz arguably was the best of the three though, and a bonafide underground Hip Hop classic.
Obvious highlights are the singles "Peep My Words", "Onionhead", "Heartburn", "Boom Bye Yeah", "Monkey Barz" and "Slapboxing", but the whole albums slams – raw, underground Hip Hop from start to finish by one of the most authentic figures Hip Hop has ever known. R.I.P. Sean P.
Sage Francis - A Healthy Distrust
A Healthy Distrust is the second album from Providence, Rhode Island's indie rapper Sage Francis. After his critically acclaimed first solo album Personal Journals (2002), with A Healthy Distrust he proved that the level of quality he set with his debut wasn't a one-off. Quality production, wordplay, and lyrical content combine into a not-run-of-the-mill album that deserves an attentive listen.
Zion I - True & Livin'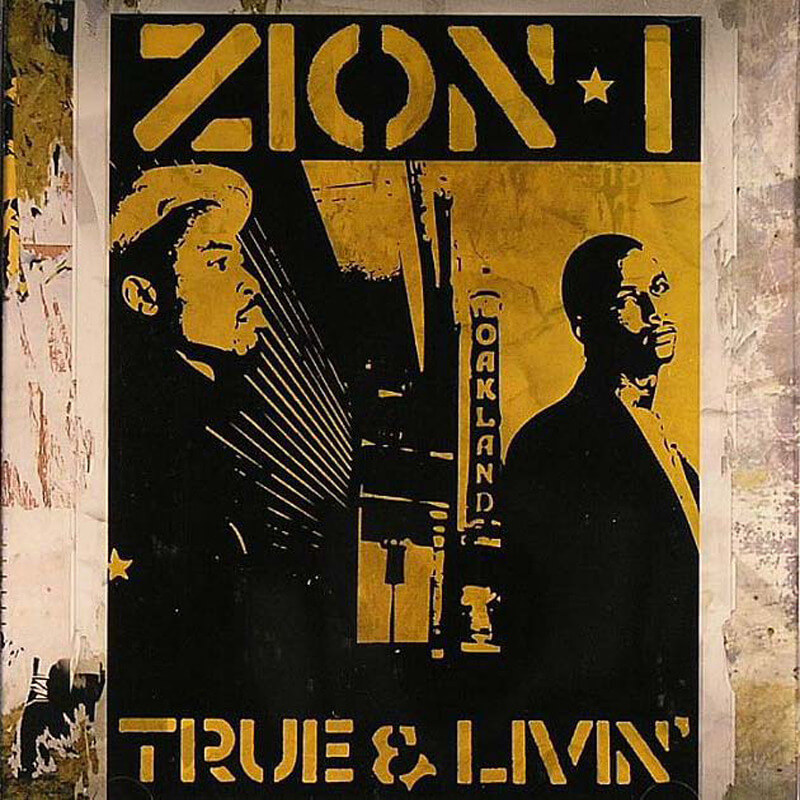 True & Livin is the third album from Oakland's duo Zion I, the first album on their own label LiveUp Records. Zion and Amp Live expand their creative and experimental sounds on the album, featuring a wide range of musical styles, laced with intelligent, socially conscious lyrics.
Amp Live's head nodding beats are laced with jazzy and elegant musical backdrops, and Zion's thoughtful and expressive lyrics complement the soundscapes beautifully. Guests like Talib Kweli, Aesop Rock, Del Tha Funkee Homosapien and Gift of Gab only add to the quality of the album.
The singles "Soo Tall", the Talib Kweli featuring "Temperature" and especially the excellent "Bird's Eye View" are immediate standouts, and cuts like the abstract "Poems 4 Post Modern Decay" (with Aesop Rock), "The Bay", "Stranger In My Home" (with Gift Of Gab) and the jazzy "Doin' My Thang" also bang – but there are no weak tracks on this album.
True & Livin' flew way under the radar in 2005 – if you missed it somehow it definitely deserves your attention.
Lone Catalysts - Good Music
Columbus native J. Rawls made a name for himself in the late 1990s as the producer of the songs "Yo, Yeah" and "Brown Skin Lady" which were stand-out tracks on Mos Def and Talib Kweli's classic Black Star album. Most people slept on Lone Catalysts, the duo he formed with Pittsburgh rapper J. Sands. Lone Catalysts dropped some really dope projects after the turn of the millennium. Good Music is their third album, and arguably their best. Consistent from beginning to end, this is a smooth and soulful album and a 2005 essential for sure.
The Circle Of Tyrants - The Circle Of Tyrants
Usually bracketed in the 'death-rap / horrorcore' section of Hip Hop, artists like Necro and his brother Ill Bill have definitely created a niche for themselves, but it is also a niche that regretfully prevents them exposure to a larger audience. For The Circle Of Tyrants album, Necro and Ill Bill teamed up with Goretex en Mr.Hyde to produce a project that's actually dope as hell (pun intended).
"South Of Heaven", "The Four Horsemen", Carnivores", "Tyrannical" and "The Black Wings Of Apocalypse" are highlights, but there are more. Necro's and Ill Bill's" love for Metal shows in "Necrotura" en "The Ultimate Revenge", tracks that will not be to everybody's taste, but these two cuts are exceptions and not enough to let the album down.
As can be expected the subject matter is not very varied – violence, blood, death, and sex – but it is done with some humor and creativity, and all emcees (except Mr. Hyde perhaps) have skills on the mic too. All in all, a perfectly enjoyable album (if you can stomach the subject matter) and you could do worse than check it out:
Atmosphere - You Can't Imagine How Much Fun We're Having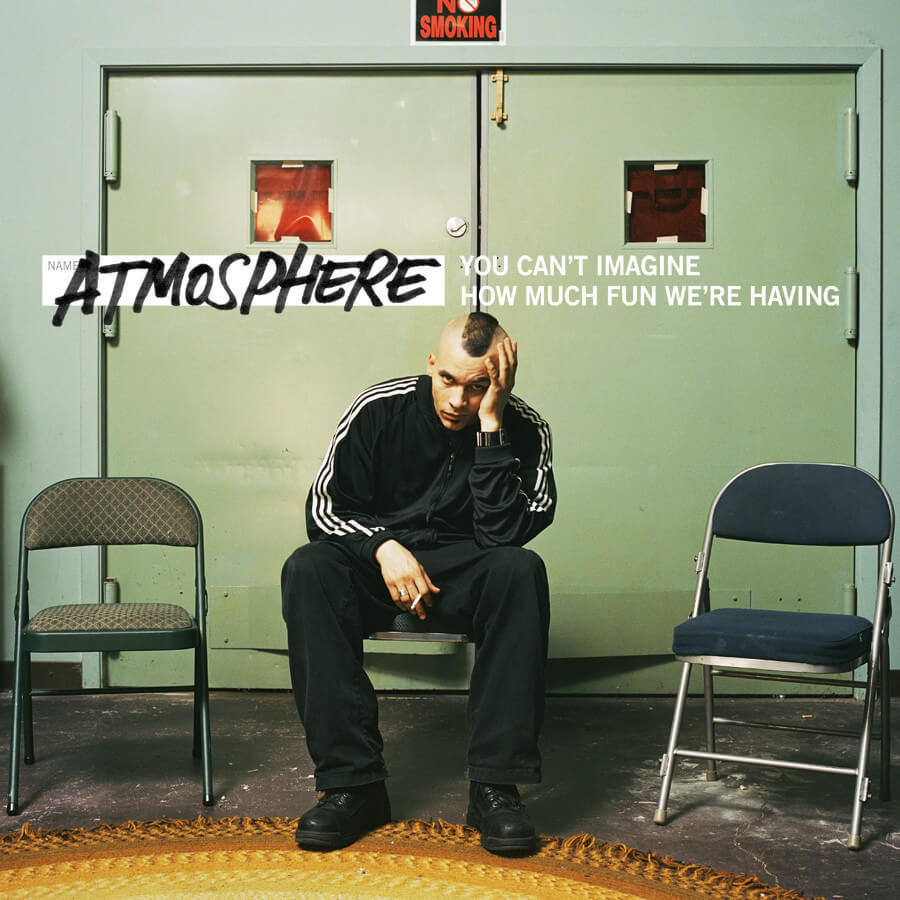 Ever since Rhymesayers Entertainment was founded in 1995 as an independent record label they have been consistently dropping high-quality Hip Hop from a wide roster of talent. Obviously, Rhymesayers co-founders Sean Daley (Slug) and Anthony Davis (Ant) are one of the label's flagship acts, releasing music as Atmosphere since 1999. You Can't Imagine How Much Fun We're Having, is their fifth album, a release as beautifully crafted and put together as any other album in that entire decade – Ant has rarely been better behind the boards, and Slug is just fantastic on the mic.
Dope beats and intelligent rhymes all the way through, stand-out tracks like "Say Hey There", the fascinating "Pour Me Another" and the touching standout "Little Man" help to make this album their absolute magnum opus and one of 2005's best releases.
J-Live - The Hear After
After two near-perfect albums – The Best Part (2001) and All Of The Above (2002) – anticipation among those who actually picked up on those two masterpieces was high: would J-Live be able to do drop another gem? The Hear After arguably falls a little short of its two predecessors, but it still is a solid 4-star effort nonetheless.
J-Live's flow is dope, his lyrics are intelligent and positive, and the beats are more than fine overall. If all the beats on this album had been on par with J-Live's lyrical performance it would have a been a three-in-a-row classic run. As it is, The Hear After still is one of 2005's better albums – authentic Hip Hop by one of the game's biggest unsung emcees.
Reef The Lost Cauze - Feast Or Famine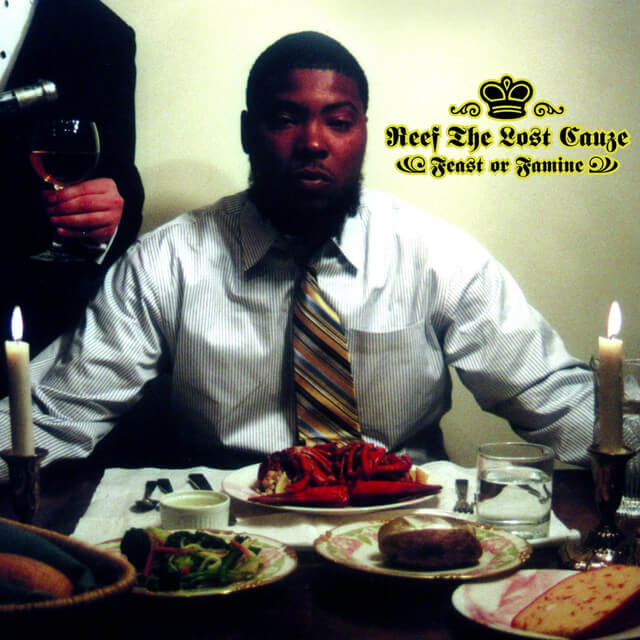 Reef The Lost Cauze is a well-respected Philly rapper who became well known on the underground circuit in the late 1990s and more so in the early 2000s, making his mark by winning many battle competitions, proving himself to be a true emcee. He released a number of solo albums, and he is also part of JuJu Mob & supergroup Army of the Pharaohs.
Feast or Famine is his third solo studio album, which gained positive critical acclaim, but not a lot of sales. Not every battle/freestyle rapper is able to successfully flex his skills on wax too, but Reef sure is. Hardcore, funny, smart – Reef's lyrical content is varied and his mic skills are never in doubt. Standout tracks are "Humble Beginnings", "Sound Of Philadelphia", "Coltrane", "Commander In Chief" and "Look At The Sun", but the whole albums works. Don't sleep on Reef The Lost Cauze.
Little Brother - The Minstrel Show (2005)
After their incredible debut The Listening, 9th Wonder, Phonte, and Big Pooh dropped another near-flawless album on us with The Minstrel Show. Probably the best-known album on this list – and before its release highly anticipated by Hip Hop connoisseurs because of the excellence of The Listening – but it only sold a few copies when compared to the biggest sellers of the year, so even if the album is not underrated in terms of acclaim, it certainly is underrated when commercial success is the measuring stick.
The Minstrel Show is just another one of those albums that received widespread critical acclaim, but no radio play – as it was not about guns, money, and bitches but rather about intelligence and upliftment. Clever rhymes, dope beats, and HEART, this is Hip Hop as it is supposed to be.
Bonus Mention: Jazz Addixx - Oxygen
Last but not least: Jazz Addixxx's Oxygen is a top 10 album of 2005. Rhymes, beats, scratches – everything is on point. The Jazz Addixx duo gives us a perfect blend of Jazz and Hip Hop with this smooth album. Oxygen feels like a trip back to Hip Hop's Golden Age that will keep your head nodding with nostalgia. Smooth and thought-provoking lyrics by Jazz Addixx's emcee M.U.D.D, stylish cuts by DJ Ragz and dope jazzy musical backdrops – this album is pure gold.
If you have never dug this deep and never peeped this album you are in for a treat – add this one to your library and it will become a favorite quickly:
Top 40 Hip Hop Albums 2005
Common – BE
Little Brother – The Minstrel Show
Ohmega Watts – The Find
Kanye West – Late Registration
Atmosphere – You Can't Imagine How Much Fun We're Having
Zion I – True & Livin'
Beanie Sigel – The B. Coming
Danger Doom – The Mouse And The Mask
The Game – The Documentary
Jazz Addixx – Oxygen
One Be Lo – S.O.N.O.G.R.A.M.
Sean Price – Monkey Barz
Bun B – Trill
Quasimoto – The Further Adventures of Lord Quas
Blueprint – 1988
Pumpkinhead – Orange Moon Over Brooklyn
Edan – Beauty & The Beat
Felt – Felt 2: A Tribute to Lisa Bonet
Cage – Hell's Winter
Lone Catalysts – Good Music
Geto Boys – The Foundation
O.C. – Starchild
Reef The Lost Cauze – Feast Or Famine
Cormega – The Testament
J-Live – The Hear After
Sage Francis – A Healthy Distrust
The Circle Of Tyrants – The Circle Of Tyrants
Slum Village – Slum Village
Black Market Militia – Black Market Militia
Tragedy Khadafi – Thug Matrix
9th Wonder & Buckshot – Chemistry
Supastition – Chain Letters
Rapper Big Pooh – Sleepers
DJ Muggs vs. GZA – Grandmasters
I Self Devine – Self Destruction
The Perceptionists – Black Dialogue
Chief Kamachi & The Juju Mob – Black Candles
Living Legends – Classic
Lyrics Born – Same Shit, Different Day
Proof – Searching For Jerry Garcia