2003 was the year of 50 Cent's Get Rich Or Die Tryin'. A landmark album when it comes to sales figures, popularity and impact – and not a bad album at all, with a couple of great songs and tight production throughout. But was Get Rich Or Die Tryin' among the best albums of 2003? Not if you ask HHGA. While 50 Cent's classic sophomore album does make our Top 40 Hip Hop Albums Of 2003 (scroll down to see at which spot it lands), we feel there were a lot of albums better in 2003.
Also: forget Lil Jon and the rest of the crunk legions who received too much of the spotlight this particular year – 2003 had plenty of excellent real Hip Hop to offer, even if you wouldn't know it if mainstream popularity and commercial success were your only references.
Readers of articles like this one will know better of course, but maybe even YOU will be surprised by some of the titles mentioned here (in no particular order). Check out our list with 18 of the most under-appreciated albums of 2003, and let us know what you think. Let's go!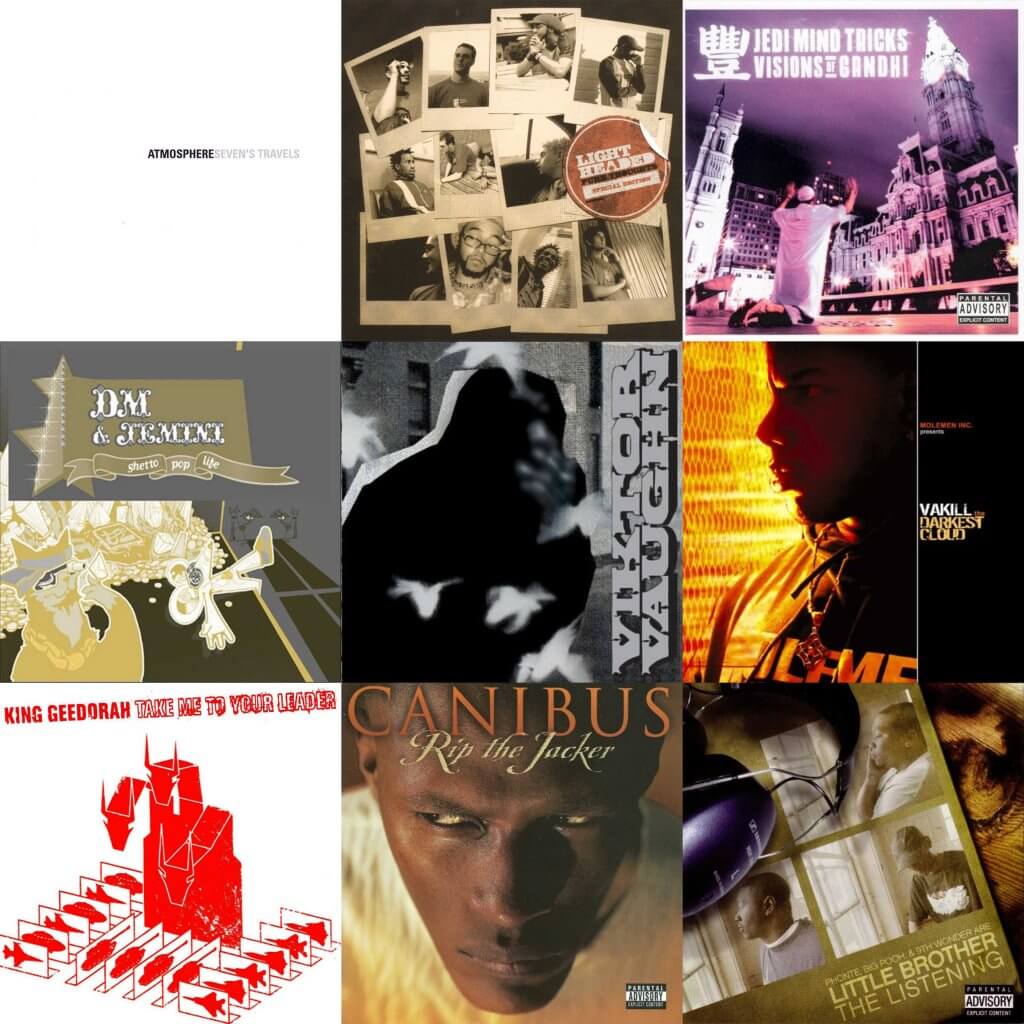 Brother Ali - Shadows On The Sun
Brother Ali is one of the heavy-hitters of the fantastic Rhymesayers label. All of his albums are great, but Shadows Of The Sun arguably is his very best. Over some of the most engaging Ant production ever heard, Ali paints honest, poignant, and compelling pictures all over the album.
While every track is exceptional in its own right, perhaps it's the painfully open "Forest Whitiker" – where Ali bravely points out all his physical imperfections while embracing them at the same time – showing the importance of self-love in one of the most empowering cuts ever.
With Shadows Of The Sun Brother Ali delivered a landmark album – one of the best Hip Hop albums of the entire decade.
Jaylib - Champion Sound
Champion Sound can be seen as sort of a prelude to 2004's Madvillainy – one of the most-lauded underground Hip Hop albums of all-time. Both are products of two brilliant producers joining forces, in case of Madvillainy a collaboration between MF DOOM and Madlib, for Champion Sound Madlib teamed up with the late great J Dilla.
On Champion Sound, the two each produced half of the tracks and they rapped over the beats the other one provided, with tracks sequenced alternatingly. Guests like Percee P and Guilty Simpson add some extra flavor, but Madlib and Dilla hold their own on the mic – even if it's clear enough they are both producers first and rappers second. You don't listen to Champion Sound for the rhyming anyway, it's all about the beats – and the beats are mostly great, just as can be expected from two of the most creative producers in the game ever.
Soul Position - 8 Million Stories
Soul Position is the unsung Blueprint's collaboration with fellow Columbus, Ohio DJ/producer RJD2. It was their first full album together (after an EP in 2002), released on Rhymesayers Entertainment. 8 Million Stories probably is the best-known and best-received Soul Position release, with dope RJD2 soundscapes and varied and clever rhymes by Blueprint. Still, it never received the wider acclaim it deserved. Never too late to check it out though:
Soul Supreme - The Saturday Nite Agenda
Swedish producer Soul Supreme made a little name for himself with his production debut on KRS One's "Profits Vs Prophets". In 2003 he dropped this album – completely slept-on, but dope as hell nonetheless. Twelve flawlessly produced smooth-as-silk boom bap tracks, with the right emcees to add their rhymes to Soul Supreme's beats. Heavyweights like KRS One, Big Daddy Kane, A.G., Pete Rock, and O.C. make appearances, as well as emcees like Rasco, Planet Asia, and Reks. Top-tier emcees, dope beats – pure Hip Hop.
CunninLynguists - Southernunderground
SouthernUnderground is the second album from CunninLynguists, the trio hailing from Lexington, Kentucky and Atlanta, Georgia – consisting of Deacon the Villain, Natti, and DJ/vocalist Kno. For SouthernUnderground the trio employed Mr. SOS to accompany on vocals for much of the album.
SouthernUnderground may be best known for its single "Seasons" – which features Masta Ace – a classic cut that details that history of Hip Hop comparing different eras to seasons of a year. Other stand-outs include "Old School", "Dying Nation," "War," and "Appreciation," (about 9/11), and especially "Falling Down" – a creative musical masterpiece by Kno. Kno definitely is the key to CunninLynguists' creative success, his work on the boards is all-around awesome, and with SouthernUnderground he delivers one of the best-produced albums of the year.
Even if SouthernUnderground was generally critically acclaimed it was commercially not nearly as successful as it should have been, making it one of 2003's under-appreciated masterpieces.
Non Prophets - Hope
Sandwiched between two excellent solo-albums – Personal Journals (2002) and Healthy Distrust (2005) – Providence, Rhode Island emcee Sage Francis dropped Hope, under the name Non-Prophets, a collaboration between himself and producer Joe Beats. Joe Beats handles all production duties on Hope, which adds to the strength of the album – ensuring a musically cohesive and consistently dope sound throughout. Sage Francis' lyrics are somewhat lighter on Hope than on most of his solo-albums, less deep and less personal, but still as intelligent and thought-provoking as always.
Hope is one of this year's best albums and an all-time underground classic.
Immortal Technique - Revolutionary Vol. 2
Revolutionary Vol. 2 is a follow-up to Immortal Technique's debut album, Revolutionary Vol. 1, which is just as excellent and important. Issues discussed on the album include poverty, drug trade, slave labor, censorship, corporate control over the media (including Hip Hop), 9/11, racism, the prison industrial complex, and class struggle.
There are a couple of albums on this list where the production is more important than the rhymes accompanying the beats, on Revolutionary Vol. 2 it's the other way around. This is all about the lyrical content, an album to sit down and LISTEN to. That's not to say there's anything wrong with the beats – most are produced by South Paw and serve Immortal Technique's verbal assaults perfectly.
This is Hip Hop for thinking people – you don't even have to agree with everything Immortal Technique says, but you have to listen to him, so you can think for yourself and make up your own mind.
Louis Logic - Sin-A-Matic
Sin-A-Matic is the debut solo-album from Brooklyn emcee Louis Logic, who is also known as being (a former) Demigodz member and half of the duo Odd Couple (with Jay Love). Demigodz emcees Celph Titled and Apathy show up on a couple of tracks on Sin-A-Matic, "Diablos" with Celph Titled being a stand-out: a battle type track with an animated Louis and Celph ripping the beat to pieces, with dope wordplay and punchlines.
On the whole album, Louis Logic's style is rather comical, his lyrics funny and sometimes shockingly offensive at the same time. Content-wise comparisons with Eminem are inevitable, but Louis Logic definitely is his own man – his flows are nice, his lyrics are on point, and the beats, handled mostly by J.J. Brown, are great as well. Sin-A-Matic is a more than fine album you should check out if never did before.
Insight - The Maysun Project
Boston's Insight is one of the most slept-on artists of the 2000s. The Maysun Project follows the excellent Updated Software 2.0. of the year previous, and even though it's definitely different, it's quite good as well. For The Maysun Project Insight injected more consciousness in his lyrics, making this more of a political album than its predecessor was. His beats kick ass and his lyrics are worth listening to – don't sleep on Insight and check out this album (and his 2002 and 2004 releases while you're at it).
Atmosphere - Seven's Travels
Seven's Travels is under-appreciated by critics and fans alike. Just because Atmosphere dropped so many quality albums that some of them are even better than this one, doesn't mean Seven's Travels is a bad album. In fact, Seven's Travels is a very good album. Ant's production is money in the bank here (even if he gave his very best beats to Brother Ali this year) – he is a true master with the beats, snares, kicks, and loops.
Lyrically Slug is on point too, especially on classic Atmosphere cuts like "Trying To Find A Balance", "Birds Sing Why The Caged I Know", "Lifter Puller", "Always Coming Back Home To You", "Los Angeles" and "In My Continental". It can be argued the tracklist could have been a bit tighter – at 70 minutes Seven's Travels is a long listen – but a few filler tracks do not diminish this album. No reason not to pick up Seven's Travels.
Lightheaded - Pure Thoughts
Lightheaded dropped a real fine album with Pure Thoughts. Dope rhymes, beats, and cuts – this is an album that will be a joy to all those nostalgic for the golden days of Hip Hop. Reminiscent of Jurassic 5 in fun, energy and throwback flows – Lightheaded (consisting of Ohmega Watts, Othello, Braille, and Muneshine) created a refreshing, goodnatured, super smooth listening experience for those who appreciate real Hip Hop. Sadly overlooked in 2003, so we are happy we can point those who missed out on it in the right direction:
Jedi Mind Tricks - Visions Of Gandhi
This is an album that has always polarized opinions, especially among first hour Jedi Mind Trick fans. The long and short of it is: some hate Visions Of Gandhi, some love it. Critics say that after Jus Allah left JMT the group lost most of its intelligence and that Stoupe's production has become too polished and more inconsistent, getting carried away at times with Latin-flavored and other sounds that don't really fit Vinnie Paz's rugged and rough style of rhyming. It is also said that Vinnie Paz's lyrics have become harder to stomach – less conscious, more repetitive and more intended to shock (his homophobic attitude does get tyring and only serves to make himself look kind of dumb). Even if there's some truth to all of the critical statements aimed at this album, we still feel Visions Of Gandhi is a dope album, especially when it is not compared to other JMT albums, but judged by itself.
As polished as they may be, Stoupe's soundscapes are mostly thumpingly excellent. Also, there are a lot of guest rappers who add real value to the album, there are no more than two tracks on which Vinnie Paz handles the mic duties on his own – and with enlisting names like Tragedy Khadafi, Kool G Rap, Canibus, Ras Kass, and Percee P you know top-quality emceeing is pretty much a guarantee. Especially Ras Kass (on "Rise Of The Machines") and Percee P (on "Walk With Me") kill it, proving as they always do that they are two of the best emcees of all time.
Just forget about whatever you expected or wanted and drop all comparisons, and you will see Visions Of Gandhi s a more than fine JMT album.
Danger Mouse & Jemini - Ghetto Pop Life
Ghetto Pop Life is a collaborative album by Danger Mouse & Jemini, with guest appearances from Tha Alkaholiks, J-Zone, Prince Po, and The Pharcyde. This is one of the sleeper-classics of 2003, mainly because of the atmospheric and layered soundscapes Danger Mouse provides. Jemini holds his own on the mic, but this is a producer's album to its core. The album has a throwback vibe to it but has its feet planted firmly in the 2000s at the same time, so it should appeal to old and new heads alike. It's hard to imagine anybody not liking Ghetto Pop Life.
Viktor Vaughn - Vaudeville Villain
MF DOOM is a genius. 2003 saw two releases from the man, under two new aliases. Where the King Geedorah album had its focus on the soundscapes – which at times overpowered the lyrics by mostly guest emcees – Vaudeville Villain focuses more on DOOM's lyrics. For production duties, DOOM enlisted Sound-Ink record label members Heat Sensor, King Honey, and Max Bill, with the exception of "Saliva", which was produced by RJD2.
Nothing wrong with the musical backdrops by the way – a lot of dirty, dusty drums and snares, just as can be expected on an MF DOOM record – but the lyrics steal the show here. The album is filled with crazy creative imagery, humor and dope punchlines, DOOM once again proves lyrically he is in a lane of his own.
The opening track "Vaudeville Villain" starts off the album brilliantly, and the quality doesn't let up all the way through. More accessible than King Geedorah's Take Me To Your Leader, Vaudeville Villain is one of 2003's very best albums.
Vakill - The Darkest Cloud
The Darkest Cloud is the long-awaited debut full-length album by Chicago emcee Vakill, known through his association with Chicago Hip Hop collective The Molemen, arguably attracting most attention with 1996's "Keep The Fame", a collaboration with top-tier emcee Percee P and a young Rhymefest.
The Darkest Cloud was released eight years after Vakill's 1995 debut EP Who's Afraid? Few people outside Chicago picked up on this album – and that's a shame because this is a quality album without a doubt. Great beats and lyrics – what more should a Hip Hop album offer? Vakill is dope emcee with a solid and original flow, able to drop witty punchlines and to create vivid imagery. "The Darkest Cloud", the album's opening and title track is a stand-out – it leads the listener into an album that is consistent all the way through.
King Geedorah - Take Me To Your Leader
MF DOOM dropped two understated masterpieces in 2003. Vaudeville Villain (as Viktor Vaughn) is one, this one is the other. For Take Me To Your Leader DOOM adopts the persona of King Geedorah – a three-headed lizard observing earth from outer space, and commenting on some of earth's problems.
Where Vaudeville Villain had its focus more on the lyrics, this album is all about the musical backdrops. DOOM's and especially his guests' lyrics are worth listening to (DOOM only raps on two tracks, focusing his energy almost exclusively on his work on the boards) but it may take multiple listens to decipher everything and take all in – partly because of the clever complexity of most rhymes and partly because they are sometimes hidden behind a wall of lo-fi sound: dusty beats laced with obscure samples – DOOM digs deep to come up with the craziest soundscapes.
Take Me To Your Leader is not for those who like formulaic mainstream rap, but it is a treasure for those who dig creativity. Along with Doomsday, Vaudeville Villain, Mm… Food, The Mouse & The Mask, and Madvillainy, Take Me To Your Leader is one of MF DOOM's absolutely best albums, at least if you ask HHGA.
Canibus - Rip The Jacker
Nobody ever disputed Canibus' superior lyrical skills. The fact he made a bunch of not-so-good albums had more to do with subpar production than his work on the mic. On Rip The Jacker, his fifth studio album, everything finally comes together for Canibus – resulting in what arguably is his best album.
Production is done completely by Jedi Mind Tricks' production genius Stoupe The Enemy Of Mankind, ensuring a totally cohesive sound throughout the whole album. The intricate soundscapes laid down by Stoupe mesh well with Canibus' complex and sharp rhymes. "Indibisible", "Showtime At The Gallow", "Genabis", "Levitibus", "No Return" and the 8-minute epic "Poet Laurette II" (in which Canibus spits 200 bars over 3 different beats) are standouts, but all eleven tracks on this album are fire. Forget 50 Cent, this is one of the best albums of 2003.
Little Brother - The Listening
One of the most celebrated indie Hip Hop releases of the early 2000s, The Listening by North Carolina crew Little Brother is an album that should have a place in the record collection of any self-respecting fan of true Hip Hop.
The Listening is near-flawless, perfectly encapturing the spirit and vibes of classic early & mid 90's Hip Hop, similar to the soulful sounds of De La Soul, ATCQ, The Fugees and The Roots, but unique enough to stand on its own. "For You", "Whatever You Say", "The Way You Do It", "Away From Me", "The Listening" are just a few of the excellent tracks on this album, all featuring clever rhymes by Little Brothers' emcees Phonte and Big Pooh and exceptional production by 9th Wonder.
Even though The Listening was much-lauded by critics and those who know what's up, it was shamefully under-appreciated by the wider audiences. If YOU missed out this album on for some reason, it's never too late to pick it up.
Bonus Mention: Dizzee Rascal - Boy In Da Corner
Maybe this album should not be included on a list with under-appreciated albums, because professional critics almost universally heaped the highest praise on this album, the debut of British rapper Dizzee Rascal. About 300.000 copies of Boy In Da Corner were sold worldwide, but only 50.000 of them in the USA – so it remains somewhat under-appreciated by American audiences.
With strong influences of typical British musical styles like grime, garage, techno, and dancehall, this album sounds absolutely different from the usual Hip Hop fare. It also sounded way ahead of its time when it came out – still sounds ahead of its time today. Dizzee Rascal's achievement is all the more impressive knowing he was not even 18 years old when he wrote most of this album. Boy In Da Corner is filled with sharp, sometimes witty, sometimes grim commentaries on modern life from the perspective of a troubled inner-city youth, delivered in Dizzee's claustrophobic and disturbed style over stripped-down beats and bouncing baselines.
"Fix Up, Look Sharp" with its pounding drumbeat is the song that comes closest to the sounds 'traditional' Hip Hip and one of our favorite tracks on Boy In Da Corner. Other highlights include "I Luv U" (a breath-taking synopsis of teenage pregnancies), "Jezebel" (an anti-single motherhood tale) and "Brand New Day" – but the whole album is special.
Boy In Da Corner proves that creative audacity and raw authenticity can go a long way. Sonically and lyrically dense, dark and discomforting, this album will definitely not be for everyone, but those who are up for an incidental change of menu or those who are feeling musically adventurous could do worse than to dip into Dizzee Rascal's East-London genre-bending take on Hip Hop.
Top 40 Hip Hop Albums Of 2003
Brother Ali – Shadows On The Sun
Little Brother – The Listening
Viktor Vaughn – Vaudeville Villain
Canibus – Rip The Jacker
Jay Z – The Black Album
Immortal Technique – Revolutionary Vol. 2
Non Prophets – Hope
50 Cent – Get Rich Or Die Tryin'
CunninLynguists – Southernunderground
Louis Logic – Sin-A-Matic
King Geedorah – Take Me To Your Leader
OutKast – Speakerboxxx / The Love Below
Jaylib – Champion Sound
Lightheaded – Pure Thoughts
KRS-One – Kristyles
Gang Starr – The Ownerz
Danger Mouse & Jemini – Ghetto Pop Life
Nappy Roots – Wooden Leather
Soul Position – 8 Million Stories
Jedi Mind Tricks – Visions Of Gandhi
Vakill – The Darkest Cloud
Insight – The Maysun Project
Soul Supreme – The Saturday Nite Agenda
Atmosphere – Seven's Travels
Cyne – Time Being
Murs – The End Of The Beginning
Ugly Duckling – Taste The Secret
Aesop Rock – Bazooka Tooth
Zion I – Deep Water Slang V2.0
Jeru The Damaja – Divine Design
Paris – Sonic Jihad
Hieroglyphics – Full Circle
Freeway – Philadelphia Freeway
Akrobatik – Balance
Diverse – One A.M.
Pase Rock – Bullshit As Usual
Andre Nickatina – Conversation With A Devil
Ludacris – Chicken-n-Beer
Shabazz The Disciple – The Book Of Shabazz
Sole – Selling Live Water