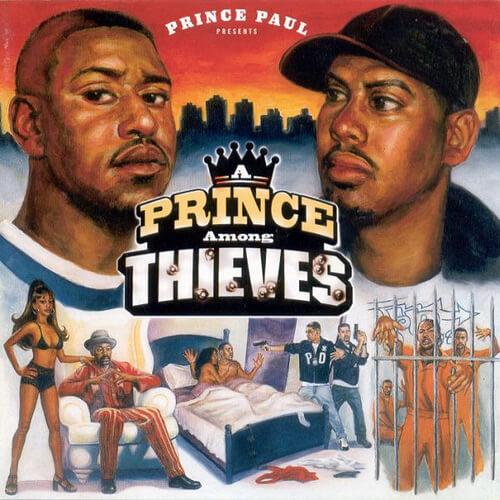 As the unofficial fourth member of De La Soul, production wizard and pioneering sampler Prince Paul invented the Hip Hop sketch, cracking wise in carefully placed 20-second blasts of childish glee. Paul and De La's skits were delightful confections, fitting perfectly between songs and rarely overstaying their welcome. Sadly, their passion for play acting would inspire every half-wit to fill their lackluster LP with lame boasts and absurd sexual escapades.
Despite the over-saturation of rap record fluff, Paul would try to reinvigorate the concept with a 70-minute skit about an up-and-coming MC who enters the world of crime in order to finance his demo. It's a brilliant story that holds a mirror up to the current state of Hip Hop, impolitely skewering late 90's clichés.
Leading the ensemble cast is Breezly Brewin', a deft vocalist and likeable narrator capable of showing a range of emotions while effortlessly rolling out the lyrical tongue twisters. His counterpart, Big Sha, takes on a grimier, baritone flow, which allows for two distinct opposing viewpoints. Guest appearances range from the bizarre (Kool Keith) to the menacing (Everlast), with each reflecting a specific Hip Hop persona amplified to a point between sincerity and parody. It's no small feat that Paul's sonic composition also delicately walks this line.
At its most serious, the production takes on a cinematic air of suspense, layered with strings, subtle guitar loops and heavy-duty bass, particularly effective on "Other Line" and the bitingly ironic title track. Yet, a certain playful whimsy permeates "Steady Slobbin'," which repurposes Ice Cube's ode to gang violence as a snickering dirty joke, basking in its own degeneracy. These moments of levity make a potentially self-indulgent project feel complex and imperative.
Ultimately, A Prince Among Thieves is both loving tribute and discerning satire, so spirited in its execution and earnest in its delivery that one can forget every bloated concept album released before it. Its enthusiasm and narrative drive are infectious, particularly due to the collage of quirky, danceable beats that have cemented Prince Paul as one of contemporary music's finest producers.
Prince Paul – A Prince Among Thieves was ranked #42 on Matt Deapo's Hip Hop Top 50, a ranking of 50 of the best Hip Hop albums recorded between 1978 and 2006, based on this consideration and these rules.