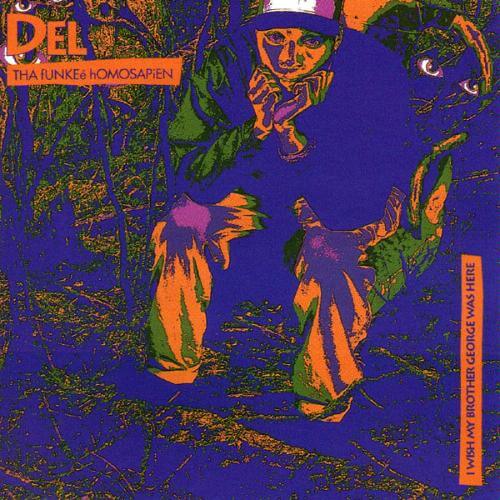 Teren Delvon Jones defies categorization.
He's not a gangster rapper, despite his zip code and family ties. He's too contrary and antagonistic to fit in with the Native Tongues Posse. His affection for George Clinton makes for a**-shaking grooves, but don't dare ask him to dance. He'll point fingers at mainstream, derivative rappers ("Crumbsnatchers"), but will never revert to violence or jealousy. If only one thing is certain on I Wish My Brother George Was Here, it's that Del the Funky Homosapien is completely content being himself.
Despite barely being out of high school, Del's storytelling flows organically, stressing his passion for authenticity and capacity for internal rhyme and playful alliteration. Words roll off of his tongue in an eloquent, nonchalant Californian sway, with punchlines delivered through delicate shifts in vocal tone.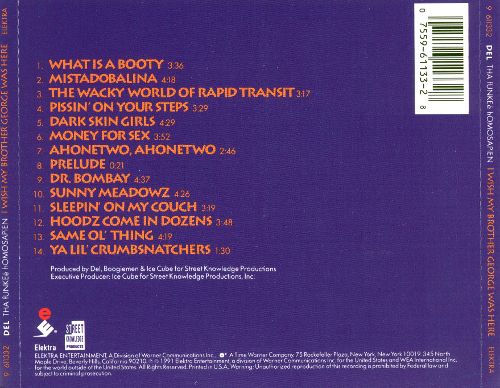 Much like his cousin and production partner, Ice Cube, Del is a laconic orator, explicating complex ideas in an economical fashion. He's even capable of allowing counterpoints to his more controversial opinions, particularly on "Dark Skin Girls," where he chides light-skinned women for their superficiality, despite Cube's call for impartiality.
That isn't the only moment Ice Cube makes his opinion heard. With the help of DJ Pooh, he immerses every track in subwoofer-destroying bass, synthed-out organ and flirtatious female choruses, birthing a sound that wasn't chic in 1991, but would become the establishment by 1993. The result is a pacifist's G-funk album, free of the hedonistically violent dialogue that would eventually swallow up the sub-genre.
"Sunny Meadows" is the antithesis of G-funk to come, providing Del with a base of smoked-out saxophone and gently-strummed guitar to wax poetic about while scrawling in his notebook at the park and languishing for a more pastoral life. His thoughtful discourse seems better suited for the genre than most of those who followed, but we can't expect them to have such a singular vision. His is a stridently particular viewpoint that can't be strapped down to a genre, crowd or status quo.
Del The Funky Homosapien – I Wish My Brother George Was Here was ranked #40 on Matt Deapo's Hip Hop Top 50, a ranking of 50 of the best Hip Hop albums recorded between 1978 and 2006, based on this consideration and these rules.