Reintroducing themselves as both adept instrumentalists and resident Californians, the Beastie Boys saw their third LP as an opportunity for spiritual and musical growth, pairing a new-found compassion with an ever-evolving nostalgia for forgotten soundscapes. Assembling a cohesive work with the flow and texture of a time-worn mixtape, the band manages to function at their most ferocious and thoughtful, utilizing this oxymoron of emotion as a vehicle for excursions through the outer reaches of their record collections. Funneling through funk, punk and bedroom electronics with the demure posture of the most seasoned session musicians, Check Your Head goes for broke, refusing to be anything but an honest representation of metropolitan musical culture and a desperate attempt to widen Hip Hop's sphere of influence.
Building steam from a vocal bond so fluid that it rarely seems like the work of three individuals, Check Your Head finds the trio's verbal skills matching their bravado, confidently alternating between pensive think-pieces and confident dust-ups, both of equal resonance. Stressing diversity, while actively provoking enemies and the closed-minded masses, the Boys' sharp tonal shift would seem contrary in comparison to previous works, but the addition of message-oriented material hasn't detracted from the infectious in-joking, which is at its liveliest and most inspired. Snacking is still the Boys' muse, generating rambunctious patter about cucumbers submerged in hot sauce, the Frugal Gourmet and Shasta, but gone is the party-boy entitlement, replaced with a certain working-class resolve, evident in their desire to take on multiple musical roles, as well as a genuine sense of gratitude (see similarly titled track).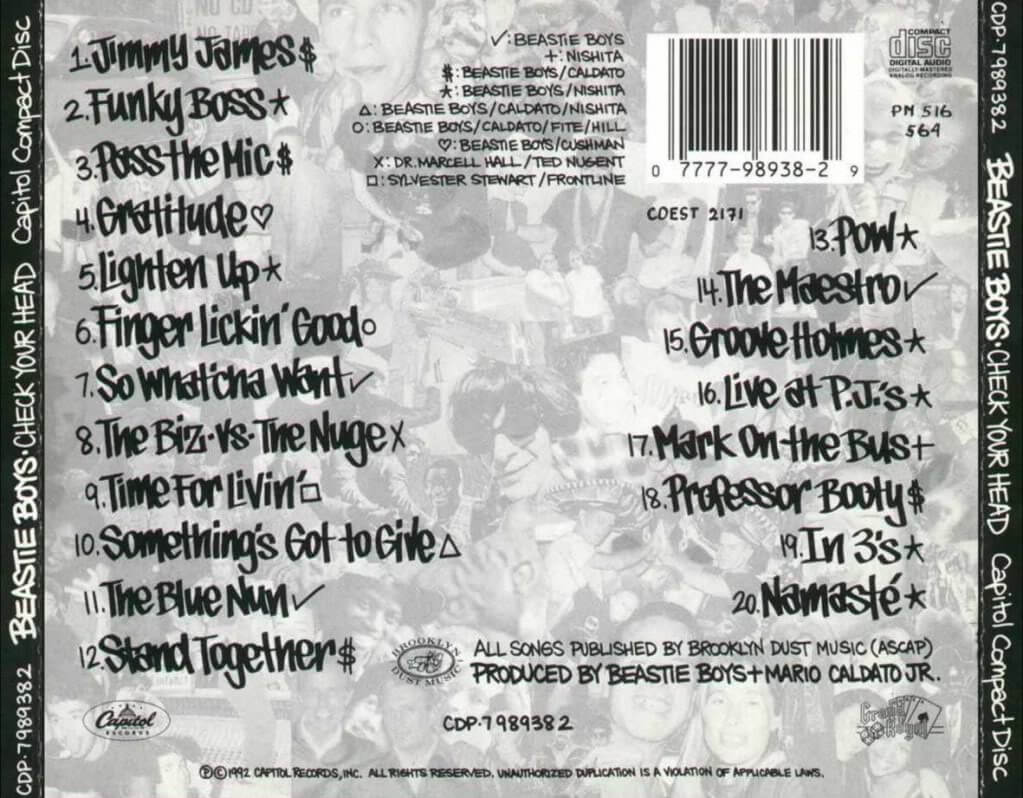 The damaged, low-fidelity production, provided by Mario Caldato Jr., also carries this industrious dedication, cobbled together from disjointed bits of Money Mark's jaunty organ, down-tuned bass guitar and delicately-palmed percussion. Instrumental tracks bring to mind the Latin-tinged, blunted grooves of War and Santana at their most somber and sedate, contented to dish out positive vibes over feverish guitar strum and a bottomless cup of fuzzy distortion. Parallels are drawn between polar opposites, most notably on "Time for Livin','" which couples Sly Stone and mosh-pit-worthy hardcore breakdown, bringing an almost religious fervor to The Family Stone's message of selfless charity. These digressions give the project a sprawl that would be ungainly if it weren't so intimate, a quality that seems to stem directly from the core five-man team that created the lion's share of the album's melodies.
The chief statement on this adventurous undertaking, "Pass the Mic," is also the composition most willing to take a detour, moving from Eastern psych drone to pummeling guitar riff to messy, drum-laden bricolage. Turning the figurative references to urban life into the literal, background cacophony mirrors the grinding pummel of public transportation, even closing on a heavily distorted bass riff that squeals like a tire scraped over gravely asphalt. Think of sample building from your own feedback as a less-litigious form of recycling*, though the vocal flurry is even tidier, taking on a tightly-coiled tension, flitting back and forth between pithy rage and sentimental call-and-response.
Equal parts sunny and cerebral, Check Your Head takes on an Autumnal feel, developing concepts previously in chrysalis into the leitmotif that would epitomize the Beastie Boys at the end of their 31 years as a team. Brave enough to apologize for past indiscretions and faithful enough to believe that audiences were willing to mature alongside them, the Boys proved that Hip Hop wasn't a cul-de-sac but a clean slate, as welcoming of confusion and angularity as it was confidence and precision.
*They were still unsuccessfully sued for not paying licensing fees for the use of James Newton's "Choir."
Beastie Boys – Check Your Head was ranked #14 on Matt Deapo's Hip Hop Top 50, a ranking of 50 of the best Hip Hop albums recorded between 1978 and 2006, based on this consideration and these rules.