This salute goes to an artist that has transcended Hip Hop to become one of the world's most financially lucrative acts around. With his net worth alone at close to a billion dollars, this man was already going in the direction to take over the world once this album hit. He had previously had lots of acclaim with his legendary debut, Reasonable Doubt, and then followed it up with a highly commercially sounding, In My Lifetime Vol. 1. He already clearly was one of the best in the business, but he was aiming for the title of World Champion. With this album, he inched one step closer to that title and distinction. Backed with one of the dopest singles ever heard in rap, period, this album would go on to sell nearly five million units, and solidify him as an official worldwide star. This is our salute to Jay-Z and his third album, Vol. 2…Hard Knock Life.
Jay was already a rapidly rising star in Hip Hop, with his platinum albums of Reasonable Doubt, In My Lifetime Vol. 1, and the gold success of the Streets Is Watching soundtrack. Jay had been on the cusp of worldwide stardom going into '98, and all he needed was that one grand slam hit and knock it out the park. Enter the AMAZING cut "Hard Knock Life", an ode to growing up in the streets of Marcy Projects, Brooklyn over a highly infectious Annie-sample thanks to producer 45 King (same guy responsible for Eminem's legendary single "Stan"). Once we peeped this fire, we had a feeling his forthcoming album, Vol. 2…Hard Knock Life, would be a burner, and boy was it ever.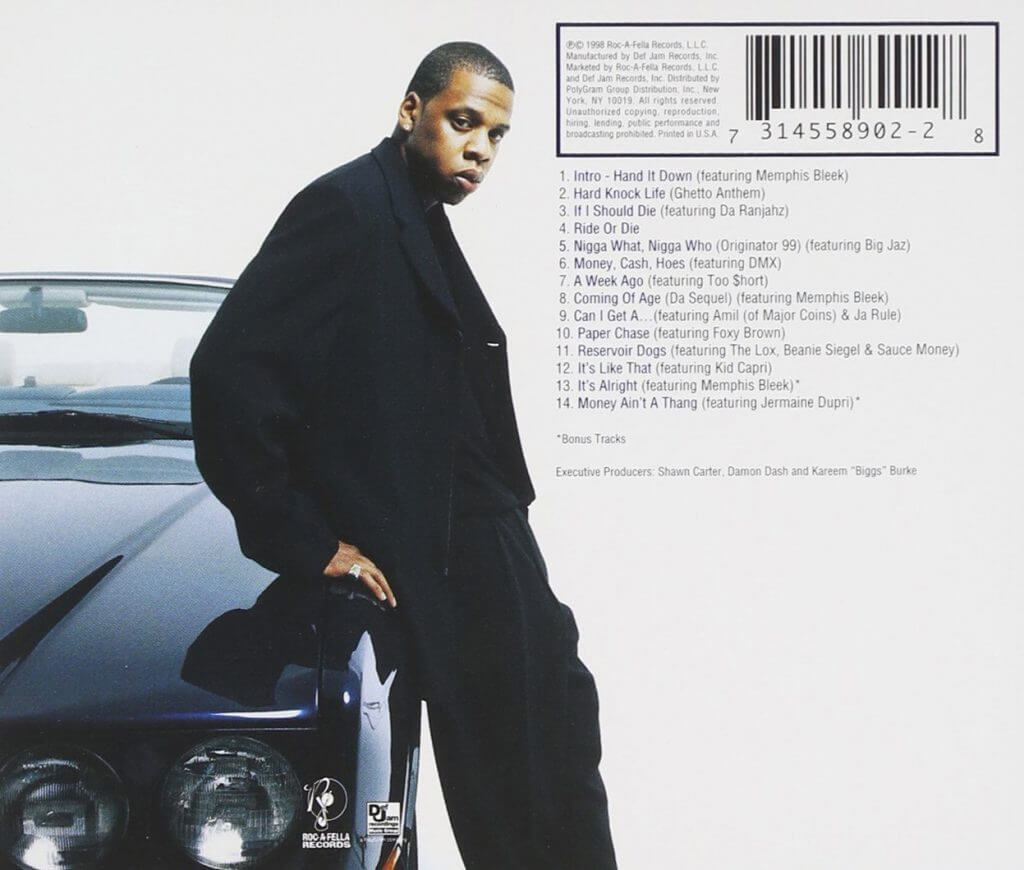 Every cut was a bonafide smash, the album had something for literally everybody. From the double-time frenzied reunion with his one time mentor/friend Jaz-O "N**** What, N**** Who" to the speaker blazing collab with DMX "Money, Cash, Hoes" and the classic bouncing battle-of-the-sexes "Can I Get A…" with (at the time) new artists, Ja-Rule and Amil, virtually every cut could knock on Hip Hop radio. Still keeping a street element with cuts like the posse-induced "Reservoir Dogs" and "If I Should Die", we saw the transition of Jay-Z to Jigga in full form. He was brash, cocky, the epitome of swag, but still hood to his heart, and it showed all over this tremendous release.
This album ended up becoming his biggest selling and most commercially successful album, selling in excess of five and a half million units. With those figures, Shawn Carter had officially arrived. At a time where artists such as Lauryn Hill, Outkast, DMX, and even rival Nas were completely running things, Jay emphatically etched his name among the giants of Hip Hop, and never looked back since. Subsequent albums such as Vol. 3…Life & Times of S. Carter, The Black Album, American Gangster, his most recent monumental release 4:44. and the classic Blueprint all demonstrated his ability to get on top, and for the most part, stay on top. While there are those that will argue about his one dimensional content (that was completely erased on 4:44), one can never argue that Jay isn't among the greatest to ever touch the mic, commercially and critically.
With Vol. 2…Hard Knock Life, Jay showed that not only did he belong at the big boy's table, he was gonna get the big piece of chicken. Happy twentieth anniversary to this breakout album.