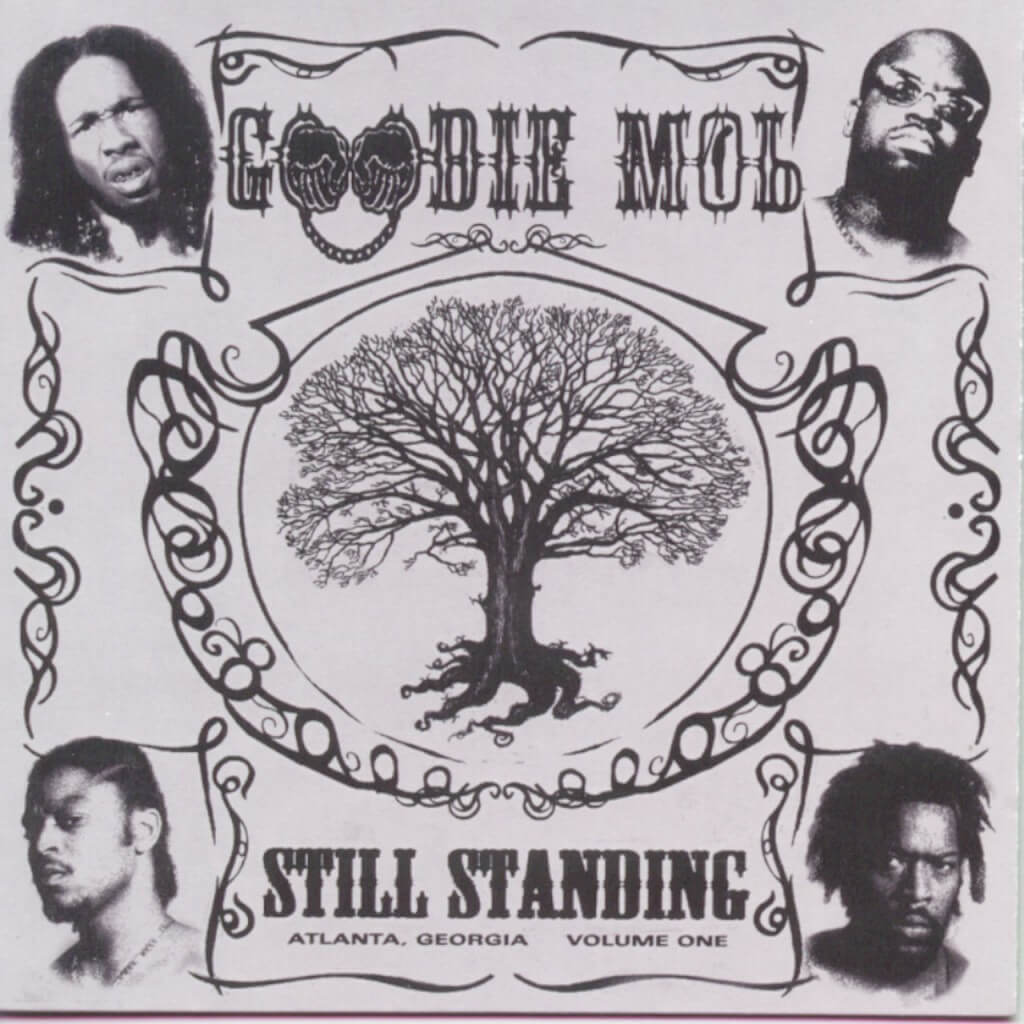 This salute goes to a very influential group, that helped bring the south to prominence in the late nineties. Delivering one of the game's best offerings of the decade with Soul Food, they not only wanted to keep providing what brought them to the dance to begin with, they wanted to expand their sound to show that you can't really contain them in one box. These Dungeon Family members are considered innovators of the soulful sound of southern Hip Hop, and with this album they solidified their stance as legends. This is our salute to Goodie Mob's second album, Still Standing.
It was very hard to deny the impact Outkast was having in Hip Hop in the mid-nineties. With their eponymous debut Southernplayalisticadillacmuzik breaking through glass ceilings, and their follow-up ATLiens reaching even bigger heights, their Dungeon Family counterparts were four Atlanta boys that were even more in your face than Big Boi and Dre were. Goode Mob's T-Mo, Khujo, Big Gipp, and Cee-Lo represented well on Southernplayalisticadillacmuzik, but now the eyes were on them to deliver an album of their own, and what an effort it was. Their '95 debut, Soul Food, was amazing. One of the best debuts of the decade which helped to further redefine southern Hip Hop left off by the likes of UGK, Eightball & MJG, Geto Boys, and Three 6 Mafia. The lead-off single, the cautious "Cell Therapy", served as an ominous introduction to these cats, that showed there was more to them than blunts, seeking phat asses, and hustling. They were street reporters and hood prophets. Guys that were bringing social commentary and soulful lyrics that made you really feel them. Soul Food turned out to be an unforgettable album that many have said is even better than Southernplayalistic… While that's up for debate, what isn't is the influence and impact that album had upon their careers and the game in general. The question was soon asked, "How do you follow-up an epic release like this?" They answered that question three years later.
Clearly, Outkast was KILLING the game for the south, and when they released their awe-inspiring third album Aquemini, once again eyes were fixed upon the quartet to bring their own version of southern soul. When we heard "They Don't Dance No Mo", an ode to how much society had changed from having fun to people or kids taking themselves so seriously, we knew Goodie Mob were back and ready to go. What followed was Gipp's solo cut with Big Boi, "Black Ice", and we knew Still Standing was going to be another masterful gem from these four. What we didn't expect is how much they altered their sound. Using more live instrumentation and incorporating more elements, especially on "Just About Over" – some tracks had to grow on people, but their message of straightening up the hood and keeping Black folk "woke" if you will, this album still stood firm in substance.
Once again, Cee-Lo was the clear star of this group, stealing the show on cuts like "Just About Over", "Gutta Butta", "The Experience", and the title track, but that takes not one thing away from T-Mo, Gipp, and Khujo, as they all hold their own throughout the album as well. Perhaps the most standout cut was the wonderful ode to the Black woman, "Beautiful Skin". The guys were basically saying for Black women to love themselves and respect themselves for they were queens, and it resonated very well with the ladies. This song, more than any other cut here, is infused with love and admiration – one could say this was their version on this album of Soul Food's highly touching ode to their mothers "Guess Who".
Soaked in Blues, Soul, Rock, and definitely Gospel roots, Still Standing is an affirmation of the importance of this group. They were a group with the foresight of legends like Curtis Mayfield, Isaac Hayes, and Marvin Gaye – only as four young southern emcees trying to educate and make a difference. If Outkast was like Tribe, this act was definitely De La Soul, and their approach was considered substance in a game of style. After the group disbanded shortly behind their highly disappointing follow-up World Party, Cee-Lo made it really big and became a multi-platinum artist (both solo and with Danger Mouse as Gnarls Barkley). The remaining members put out One Monkey Don't Stop No Show and, although promising, clearly missed the dazzle of Cee-Lo Green. They reunited in '16 for Age Against the Machine and it showed glimpses of Goodie Mob of old, but it was missing the unadulterated soul of their first two superb efforts.
Goodie Mob showed with Still Standing that, even with switching up some of their sound, their message remained true and unrelenting. This was a damn impressive follow-up to Soul Food and it completely denounced any sophomore slump talks. To Still Standing – we salute Goodie Mob for twenty years of excellence!