This is another twentieth-anniversary salute to another riveting album in the history of Hip Hop. Latino emcees are well known and well respected throughout Hip Hop. Acts like Termanology, Joell Ortiz, and Immortal Technique are some of the most incredibly talented emcees walking the earth today. In the late 1990's, there was one microphone powerhouse who was setting a new standard and raising a new bar for Latinos in the game. From the moment we heard this guy, we knew this was legend s*** in the making. Once his debut album hit, there was absolutely no doubt about the fact that he was a bonafide star and would be among the legends of Hip Hop eventually. Unfortunately, he never lived long enough to enjoy the fruits of his labor coming of the enormous impact of his influential debut. We salute the late, great Big Pun and his classic debut, Capital Punishment.
First heard on mentor and great friend Fat Joe's impressive sophomore album, Jealous Ones Envy, the young man known as Big Punisher single-handedly stole the show on the cut "Watch Out". From there, he made more noise on the vicious Soul In The Hole soundtrack on the track "You Ain't A Killa" and he appeared on The Beatnuts' "Off The Books" alongside close friend Cuban Link. It wasn't long before we all wanted to know more about this super impressive lyrical destroyer. Once we got a taste of his first single, the O-Jays sampled "I'm Not A Playa", we knew we were in for it, as the song was an instant club smash. He raised the stakes even more with the highly successful and classic remix to it featuring Grammy Award nominee, R&B singer Joe (which became renamed "Still Not A Playa"). From there, the anticipation was through the roof and he finally dropped his much-awaited debut album, Capital Punishment.
This album literally had it all. Aside from his lyrical marvels, the production was knocking and infectious all throughout the album. The album followed the formula of success which was a healthy balance of rugged, street tracks for the fellas ("Triboro Trilogy", "Beware", Capital Punishment") and something for the ladies (the aforementioned "I'm Not A Playa", "Still Not A Playa", "Punish Me"), as well as just straight club-nourishing hits ("You Came Up", "Caribbean Connection"). This album had something for everyone, and it one thousand percent worked. However, it was on the track "Twinz (Deep Cover '98)" with Fat Joe that we really caught the insanity of his lyrical talents with his now iconic bar "Dead in the middle Italy/little did we know that we riddled two middlemen who didn't do diddly". JE-SUS!!!!  You really could've stopped the track right there, as this would be among the rewound lines ever. The rest of the cut was very dope and hopefully made the founders of that cut, Dre & Snoop, very proud (must have because Snoop, himself, made a brief cameo in the video).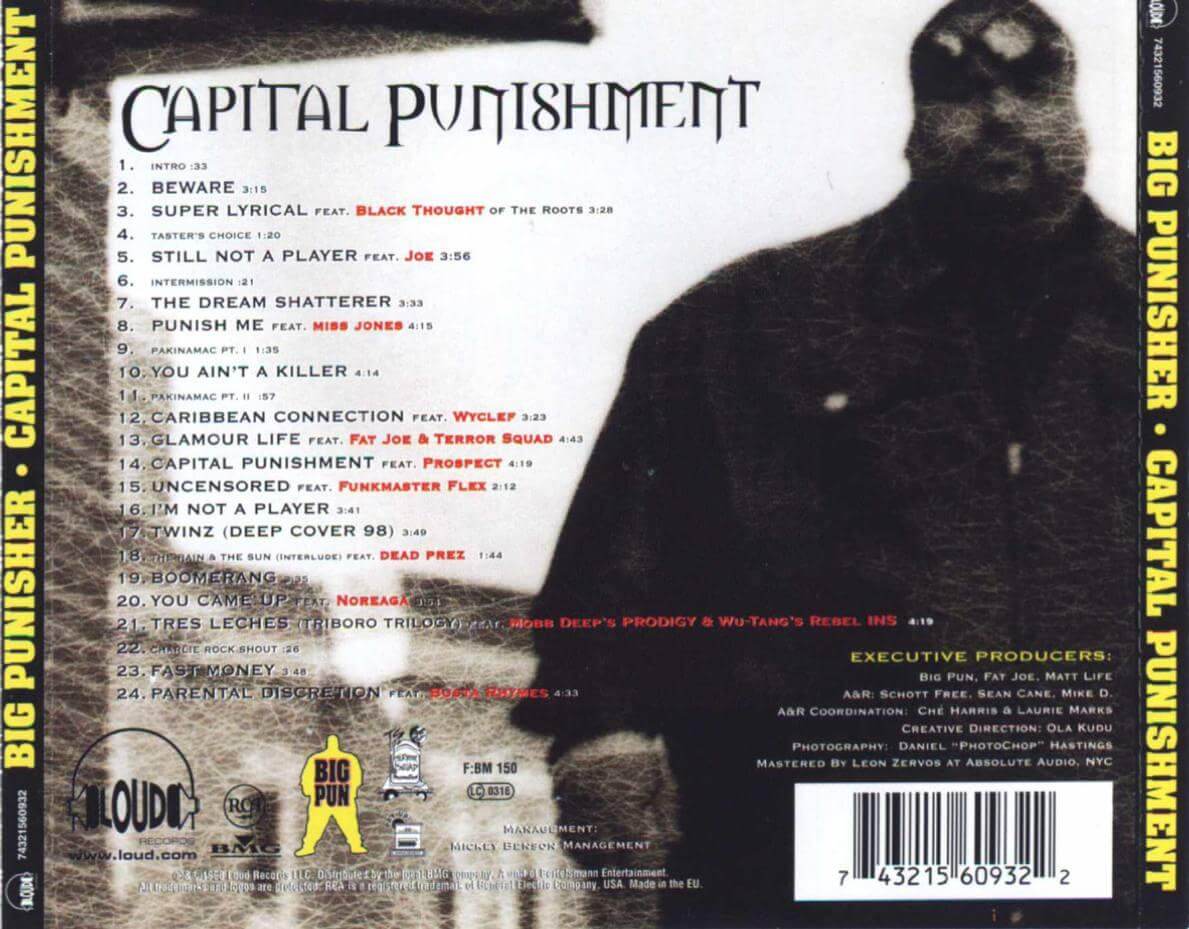 This was undoubtedly Pun's time to shine. His star power was growing immensely and, with the backing of a power-punching album, he was destined for the gold medal. Tragically, Pun was also dealing with morbid obesity, with his weight totaling in at reportedly over six hundred pounds. He passed as a result of a heart attack due to his weight issues at not even the age of thirty, and with his passing we lost one of Hip Hop most incredible rising talents.
Compared to Biggie Smalls in many ways, Pun was easily among the most legit emcees we had heard for that generation. Alongside the rest of the Terror Squad (Cuban Link, Fat Joe, Armageddon, Shorty Prospect, Triple Seis, and Tony Sunshine), Pun was always getting represented correctly.  This album showed that Latinos in Hip Hop could do damage, as Capital Punishment made history becoming the first Hip Hop album by a Latino artist to go Platinum.  Big Pun left behind another album's worth of material in the form of his posthumous second effort, Yeeeah Baby!. A good attempt at recreating the magic of his stellar debut, but without Pun around to promote it, although acclaimed, it lost its sizzle a little. Later releases like the Endangered Species compilation album and his appearances on Terror Squad's blazing self-titled debut album solidified how much of a force Pun had been bound to become.
With Capital Punishment, Chris Rios proved that his superstar appeal was rolling and rolling hard. He inspired all future Latino emcees including his son, the equally incredible Chris Rivers, to show their asses on the mic. Pun was nobody to play with, both on and off the mic. His controversial lifestyle reflected his aura at times reportedly, but regardless of how he was away from the booth, Pun was a machine in it. This effort was practically flawless and we were honored to get introduced to someone who so forcefully impacted Hip Hop in such a short time. Although we can't really put him as an all-time great based upon a couple of studio albums, had he been alive and put out more material, the argument is astoundingly clear that he would've been on his way.
Rest in peace Pun, as we salute Capital Punishment!