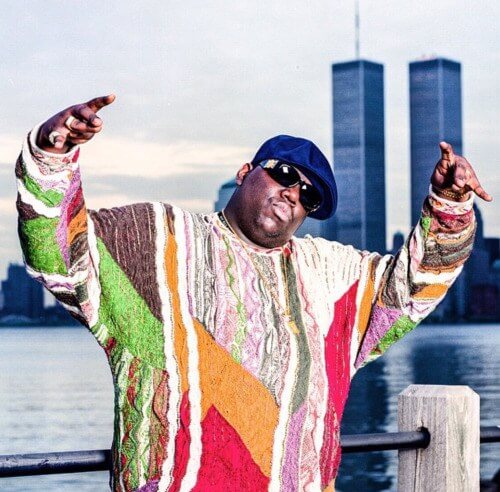 When the conversation of the greatest rappers of all time comes up, those crazy people that believe The Notorious B.I.G. should not be at or even near the top of the list point to the fact that he only released two albums in his lifetime.
That is a small sample size, not only in comparison to his contemporaries that survived and have gone on to release music for twenty years – Nas, Jay-Z – but also the man with whom he will be inexorably linked forever – 2Pac – who recorded at a furious pace, leaving behind vaults full of finished (though not always great) material.
However, this narrative ignores the fact that B.I.G. actually recorded much more in his lifetime than most people realize. It's not like he took years off between studio sessions. Instead, he contributed to soundtracks, compilations, remixes, and helped to develop his own crew – Junior M.A.F.I.A. – as well as oversaw most of the production of the debut album of the man that was at once his boss, his right-hand man, and his protégé – Puff Daddy.
So, here is an incomplete yet still thorough collection of some of the notorious one's best work that did not appear on any of his four albums (including the two released posthumously). I also left off tracks from Puff Daddy's No Way Out and Junior M.A.F.I.A.'s Conspiracy because he pops up multiple times on those discs.
SOUNDTRACKS
"Party and Bullshit" off the Who's the Man? soundtrack (1993)
"Can't You See" (featuring Total) off the New Jersey Drive, vol. 1 soundtrack (1995)
"Me and My B****" [Live in Philly] off The Show soundtrack (1995)
"Da B Side" (featuring Da Brat & Jermaine Dupri) off the Bad Boys soundtrack (1995)
"The Points" (featuring Coolio, Doodlebug, Big Mike, Buckshot, Redman, Ill Al Skratch, Busta Rhymes, Menace Clan, Jamal & Bone Thugs-N-Harmony) off the Panther soundtrack (1995)
"Runnin' From tha Police" (featuring 2Pac, Dramacydal, Stretch & Buju Banton) off the One Million Strong soundtrack (1995)
"Runnin' [Dyin' to Live]" (featuring 2Pac) off the Tupac: Resurrection soundtrack (2003)
COMPILATIONS
"Stop the Breaks" (featuring Raekwon, KRS-One, Killa Sin & O.C.) off Ron G's It's On! Part 2 mixtape (1994)
"Notorious B.I.G. & Da LOX Freestyle" (featuring The LOX) off Funkmaster Flex's The Mix Tape, Vol. II (1997)
"Live Freestyle" (featuring 2Pac) off Funkmaster Flex & Big Kap's The Tunnel (1993 – recorded; 1999 – released)
"16 Bars" off Rawkus Records' Lyricist Lounge 2 (2000)
"The Wickedest" off Funkmaster Flex's The Mix Tape, Vol. IV (1994 – recorded; 2000 – released)

AS FEATURED ARTIST
"Dolly My Baby [Extended Bad Boy Remix]" off Supercat's "Dolly My Baby" single (1993)
"A Buncha N*****" off Heavy D's Blue Funk (1993)
"Real Love [Bad Boy Remix]" off Mary J. Blige's What's the 411 Remix (1993)
"Flava in Ya Ear [Remix]" off Craig Mack's "Flava in Ya Ear" (1994)
"This Time Around" off Michael Jackson's HIStory: Past, Present and Future, Book I (1995)
"All Men Are Dogs [Nine Dog MC's Mix]" off Bandit's "All Men Are Dogs" single (1995)
"Cunt Renaissance" off R.A. The Rugged Man's Legendary Classics Volume 1 (1995 – recorded; 2009 – released)
"Only You [Bad Boy Remix]" off 112′s 112 (1996)
"You Can't Stop the Reign" off Shaquille O'Neal's You Can't Stop the Reign (1996)
"Bust a Nut" off Luke's Uncle Luke (1996)
"Gettin' Money [The Get Money Remix]" off Junior M.A.F.I.A.'s "Get Money" single (1996)
"Brooklyn's Finest" off Jay-Z's Reasonable Doubt (1996)
"Keep Your Hands High" off Tracey Lee's Many Facez (1997)
RANDOMS AND UNRELEASED
Live Freestyle at 17 Years Old (circa 1989)
"House of Pain" [Original] (featuring 2Pac & Stretch) (1993)
"Just Playing [Dreams]" (1993)
"Think Big" (featuring Pudgee Tha Phat Bastard & Lord Tariq) (1994)
"Real N*****" Freestyle (1995)
St. Ides Commercial (1995)
Pepsi Commercial (1995)
"You'll See" (featuring The LOX) (1996)
"Queen B****" [Reference Track for Lil' Kim] (1996)
"Modern Day Gangstas" (featuring Busta Rhymes & Labba) (1996)
It's always sad when a twenty-four-year-old is killed, particularly one that was simply riding in a car after leaving a party, but regarding Christopher Wallace it is even more tragic because his style was still evolving and it would have been fascinating to watch him navigate the changing climate of Hip Hop (one that he had a major hand in changing). Would he have left Bad Boy? Could he have stayed away from recording and just develop young talent, as he claimed was his ultimate goal? Would the NYC renaissance of young emcees from '98 – Nature, Noreaga, Big Pun, DMX, etc. – even happened if B.I.G. were still the king? What would Biggie have sounded like in 2000s? Would Jay and Nas have battled for a throne that was still occupied?
These questions will never be answered and we're only left with what he blessed us with before moving on.
Originally published on ChristopherPierznik.com.
Christopher Pierznik is the author of seven books, all of which can be purchased in Paperback, Kindle. He has written for a variety of other sites and works in finance. You can like his Facebook page here and follow him on Twitter here.