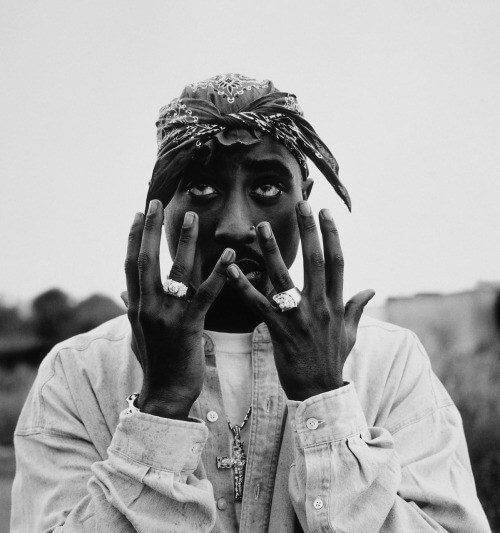 Of all the things one can say about 2Pac, both positive and negative, something that no one can deny is that he was probably the most prolific mainstream rap star in history.
He was always writing and recording, even while filming a movie. For all of the drama that surrounded his life and all of the situations in which he found himself, he lived in the studio.
And that presents a dilemma. Because 'Pac provided so much material, it has been reused and recycled countless times and in countless ways in the 20 years (!) since his death. Every verse 'Pac spit has been used at least once, usually two or three times so a list such as this can be not only endless and repetitive, but also diluted by weak versions of songs released earlier. To combat that, I tried to my best to only showcase original songs (except for one blend that is absolutely stellar and one update ("Life's So Hard") that I believe is far superior than the original), many of which were repackaged on later posthumous albums or used him as a feature on albums by artists that were toddlers when he was killed. There were hundreds upon of hundreds to choose from, so I chose the ones that I believe best represented his music and his life while he was still breathing.
So enjoy the best non-album tracks from Makaveli.
Soundtracks
"Runnin' From tha Police" (featuring The Notorious B.I.G., Dramacydal, Stretch & Buju Banton) off the One Million Strong soundtrack (1995)
"My Block" off The Show soundtrack (1995)
"High 'Til I Die" off the Sunset Park soundtrack (1996)
"Made N*****" (featuring Outlawz) off the Supercop soundtrack (1996) [Re-released on the Gang Related soundtrack in 1997]
"Wanted Dead or Alive" (featuring Snoop Doggy Dogg) off the Gridlock'd soundtrack (1997)
"Life's So Hard" off the Gang Related soundtrack (1997)
"Runnin' [Dyin' to Live]" (featuring The Notorious B.I.G.) off the Tupac: Resurrection soundtrack (2003)
Compilations
"Live Freestyle" (featuring The Notorious B.I.G.) off Funkmaster Flex & Big Kap's The Tunnel(1993 – recorded; 1999 – released)
"Who Do U Believe In?" (featuring Yaki Khadafi) off Chronic 2000
"Thug Nature" (featuring J. Valentine) off Too Gangsta for Radio (2000)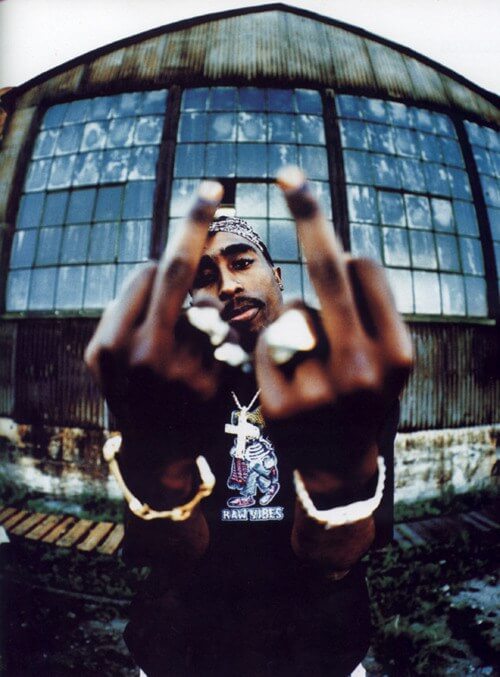 As Featured Artist
"#1 with a Bullet" off Raw Fusion's Live from the Styleetron (1991)
"Call It What U Want" off Above the Law's Black Mafia Life (1992)
"Gotta Get Mine" off MC Breed's The New Breed (1993)
"Jealous Got Me Strapped" off Spice 1′s AmeriKKKa's Nightmare
"Dusted 'N' Disgusted" off E-40′s In a Major Way (1995)
"Million Dollar Spot" off E-40′s Tha Hall of Game (1996)
"Big Bad Lady" off The Lady of Rage's Necessary Roughness (1997)
"Playaz Dedication" off Rappin' 4-Tay's 4 tha Hard Way (1997)

"Thug Luv" off Bone Thugs-N-Harmony's The Art of War (1997)
"Smile" off Scarface's The Untouchable (1997)
"Initiated" off Daz Dillinger's Retaliation, Revenge and Get Back (1998)
"Homies & Thuggs" off Scarface's My Homies (1998)
Randoms and Unreleased
Yo! MTV Raps appearance (1991)
"House of Pain" [Original] (featuring The Notorious B.I.G. & Stretch) (1993)
"Out on Bail" [Original] (1994)
"Pain" [Original] (featuring Stretch) (1994)
"NY '87" (featuring Tha Dogg Pound, DJ Quik & Threat) (1995)
"This Life I Lead" (featuring Tha Dogg Pound, Nuttso & Gonzoe) (1996)
"Drunk Freestyle" (1996)
"If There's a Cure" (featuring Snoop Doggy Dogg ) (1996)
"Ghetto Fabulous" [Blend] (featuring Ras Kass, Dr. Dre & Mack 10) (1998)
Originally published on ChristopherPierznik.com.
Christopher Pierznik is the author of seven books, all of which can be purchased in Paperback, Kindle. He has written for a variety of other sites and works in finance. You can like his Facebook page here and follow him on Twitter here.