(Republished from DefineARevolution.com, By @CherchezLaPorsh)
Tracklist Public Enemy – It Takes A Nation of Millions To Hold Us Back
Countdown to Armageddon
Bring the Noise
Don't Believe The Hype
Cold Lampin With Flavor
Terminator X To The Edge Of Panic
Mind Terrorist
Louder Than A Bomb
Caught, Can We Get A Witness
Show Em Whatcha Got
She Watch Channel Zero!?
Night of the Living Baseheads
Black Steel In the Hour of Chaos
Security of The First World
Rebel Without A Pause
Prophets Of Rage
Party For Your Right To Fight
We tend to forget what the world was like back in the 80's, as things have advanced so much since then in some ways. The general public has become much more tolerant and accepting of certain subject matter, people are a bit more open-minded now, very few topics are taboo and freedom of speech is exercised daily with almost zero filter, and that's not what the norm really was 20+ years ago… AT ALL. It wasn't done to challenge governments (least not in Hip Hop yet), media or the "norm" or do anything that would create a stir in society, but Hip Hop did what it does best and became that platform for artists. At the time, there were a few duos and artists who rapped at an elevated level and shed light on issues that were developing or had been happening, but NONE would be quite like Public Enemy. Chuck D, Professor Griff, Flavor Flav and Terminator X would come together to form one of the most impactful, socially aware and conscious rap groups at the time (and in hindsight of all time). They became synonymous with "greatness" and "remarkable" and they definitely were.
What epitomizes this and truly cemented their rank as one of the greatest groups (if not THE greatest) of all time is their second album "It Takes A Nation Of Millions To Hold Us Back" and the title leaves me at a loss for words and with good reason. This album has been recognized and praised in every possible way, ranked as one of  the greatest albums of all time by Rolling Stone and Time, given 5 stars in every reputable review site, certified platinum status and transcended genres and had the attention of legends like Kurt Cobain. This album is powerful, its message is clear, its brilliance is legendary and its status a classic. All 16 tracks mesh together perfectly to deliver this, but we'll just take a look at the key tracks responsible for taking the Hip Hop nation by storm.
Let's start with the first track and second single, released 7 months before the album: "Bring The Noise". Chuck D was one of 3 writers on this one and the lyrics reflect exactly what the intended message was. The empowerment of African Americans and introducing the injustices at the time. Produced by The Bomb Squad, we hear the familiar and distinctive scratching, which was a Hip Hop staple in the 80's over dope samples, as we've got snippets from a Malcolm X speech, James Brown and the Commodores, so this was destined to be great, but the best thing about this song is the lyrics easily. Let's take a look at Chuck D and Flava Flav going back and forth:
Flavor Flav:
"Hey yo, Chuck, they're sayin' we too black, man

Yo, I don't understand what they're saying

But little do they know they can get a smack for that, man"
Chuck D:
"Listen for lessons I'm saying inside music, that the critics are all blasting me for

They'll never care for the brothers and sisters, now across the country has us up for the war"
So there we have the "foundation" and immediately after we have the empowerment part, in one line delivered by Chuck with "We got to demonstrate… they're gonna have to wait 'til we get it right…".  The empowerment doesn't stop there, verse after verse in this song is laced with encouragement and upliftment. It is right here that the accuracy is felt, it would take a nation of millions to hold them back!
I'm one song in and I can already appreciate the ingenuity of Public Enemy's track titles, each one is a perfect prelude to the content and each builds on the other to bring the album's concept together in such a cohesive way.
Now that they've managed to create a buzz and stir the pot, the album hits us with the second song "Don't Believe The Hype" and Flavor Flav had a hand in writing this one so it's got flow variation. Once again, an abundance of perfect samples, dope upbeat sounds, and Chuck D as the lead with the rest of the crew providing ad-libs is so unifying and as I mentioned, provides variation, and of course what they do best is lyrics.
What I do need to mention is Public Enemy, at the time of this album, was getting a lot of (in my opinion misplaced) negative attention alluding to the fact that they were heavily racist against white people and THIS is the track that addresses it and all the media focus around that issue. My favorite part would be the lyrics and (slight) wordplay they used to "clap back"
"Turn up the radio

They claim that I'm a criminal

By now I wonder how"
"I'm not a hooligan, I rock the party and clear all the madness

I'm not a racist, preach to teach to all, cause some, they never had this

Number one

Not born to run"
"Don't believe the hype – its a sequel

As an equal, can I get this through to you

My 98's boomin' with a trunk of funk

All the jealous punks can't stop the dunk"

"Some media is the whack

You believe it's true, it blows me through the roof

Suckers, liars get me a shovel

Some writers I know are damn devils

For them I say don't believe the hype"
And it continues, but you get the point. They put it on wax, blatantly and clearly. Imagine the impact this had, as P.E were pioneers in this approach. If you don't believe how imperative the concept of this album was, think of it like this, this track would go on to inspire groups to release songs like "F*** Tha Police" and other songs directed as the authorities and we all know how groundbreaking that was.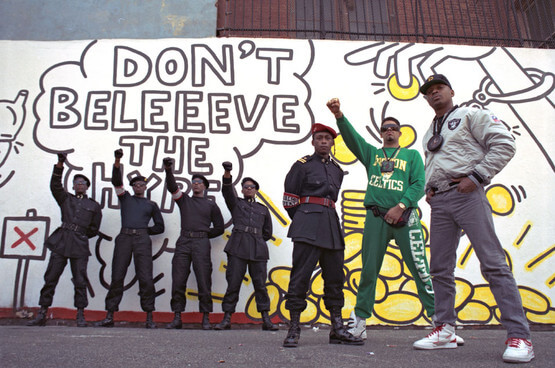 Here's the thing that sort of makes me laugh about this album, we've got 2 tracks of in-depth, empowering, uplifting and encouraging lyrics against signature 80's sounds and then you get to the third one, with Flavor Flav and his random, "way out of left field", massive clock wearing antics manifests itself right here on "Cold Lampin' with Flavor". What we know about Public Enemy, whether from their previous album or interviews, is this dude needs to have his time in the spotlight. Flav wrote this track and executed it in his own style and flow. Do I love this track? No, not at all. I can do without it, but what I will say is I like the production here. The Bomb Squad on ANY track is dope and I love them on this one.
Thank God for Terminator X bringing us back in after the randomness we would have just heard. I've been looking forward to this next song "Terminator X To The Edge Of Panic" and here's why… the beat is absolutely amazing!! Super high energy, with dope samples and the ability to hype you up and when you add in the lyrics, it's exactly in line with message of the album. Empowering African Americans and highlighting those who create injustices, and the geniuses that Public Enemy are, they manage to do this perfectly, as you can see for yourself:
"…who gives a f*** about what they like

Right the power is bold

The rhymes politically cold…"
and then my personal favorite line….
"…Tired, wired of his own race playing him close

Understand his type of music kills the plan of the klan…"
Once again, to blatantly call out the KKK was a bold move in the eighties, let alone taking jabs at the cops and everything else all in one song was unheard of. They absolutely kill it with this one.
The next track is The 80's Hip Hop album staple, a quick minute that should really be called an interlude but gets classified as a track because… well that's just how it went! Essentially this is the DJ's time to shine. There's nothing but scratching and beats against the ever so popular repetition of "Take that" and "Yeah boy", but as I've said before these are always needed and always appreciated.
Next up we've got "Louder Than A Bomb" and sure enough after that little interlude, it is exactly what the listeners need to remind us of Public Enemy's purpose. They get back at it with dope track titles, the great beats we love, and they kill it with samples. It seems like everyone is sampled on this track, as we've got Run-DMC, Beastie Boys, Kool & The Gang and a few others. Everything about this one is fantastic.
Lets skip a couple tracks, about 3/4 of the way through the album to "Night Of The Living Baseheads", the fourth single off this album and probably my favorite. I love the play on words with the track title (I'm so impressed with the way these guys used words), since this is essentially highlighting the crack/drug problem rampant in that decade, so the "zombie" reference is clever. Chuck D has mastered what "rapping" is. He is incredibly rhythmic and a good storyteller, and if you have any doubts, listen to this track. The subject matter here is pretty heavy, it's where the upliftment comes in and he makes this a "banger"…incredible. I don't know how he did it, but this is the song that tugs the heartstrings a little and definitely creates an awareness. Even if you can't necessarily relate, you still feel the struggle. Two lines in and the message is clear…
"But lets define the term called dope, and you think it means funky now, no, here is a true tale

Of the ones that deal are the ones that fail"
This song is laced with reality which is negative but some positivity as well. Lines like "The problem is this – we gotta fix it" do convey a tiny bit of hope. The wordplay here is intense as the use of "baseheads" is in reference to coke users, and on the surface this is a great story, what is hidden some, is a profound message. I love everything about this.
Lets skip the following track and take a look at "Rebel Without A Pause", and oddly enough, this is one of the last tracks on the album, but it was the first single released months prior. Once again, the track placement piques my interest. The song has everything I would expect from the caliber at which Public Enemy was at. It is a reference to the movie "Rebel Without A Cause", dealing with the moral decline of adolescents, so it fit what PE was trying to convey. Let's talk about the sounds though, as this one has an ear piercing, repetitive whistling sound that is almost distracting, but just as you're about to get annoyed with it there's this AMAZING and much needed break and suddenly we have Terminator X on the tables to give us that amazing scratching. The lyrics are great, of course, as Chuck D has such great flow and his delivery is flawless. The track with the most abrasive beats are the ones that are such an easy listen. I don't know how they managed this, but the production, beats, flow… everything about this track is truly perfect.
About the track placement, the content in the song right before it would give us a clear indication as to why "Rebel Without A Pause" is perfectly placed, and I'll leave it at that, so you can listen for yourself. Brilliant!!
We are left with only two tracks, "Prophets of Rage" and "Party For Your Right To Fight" and of course both songs are fantastic, but the latter would be the best to close out with. This has an entirely different mix of beats. The samples here are from Beastie Boys (obviously), Jackson 5, Sly and The Family Stone, Bob Marley, James Brown, and of course Malcolm X. Every single sample ties in the concept, but the samples do most of the "talking". We get snippets of Malcolm X's speech, which are always encouraging, we get the high energy of Beastie Boys, we get Bob Marley and his prideful "Get up, Stand up" and they could not have ended this album any better.
Although throughout the years,  Public Enemy saw some membership changes, an immense amount of critiquing,  and media coverage on the message that was being conveyed, I love that they were never discouraged. With this album came a focus and a goal, to bring awareness to social issues, injustices, cultural appreciation and the empowerment of African Americans in a society that is determined to hinder their success and growth, and with this album they truly created something that is timeless, and messages that are incredibly valid 28 years later.
This was a profound piece of work, and I had no idea that my favorite 90's rappers would be influenced so heavily by the foundation and groundwork these guys laid. At a time when very few if any were speaking about it, Chuck D, Flavor Flav, Prof. Griff and Terminator X were. Whether you're a fan of Public Enemy or not, these guys are a HUGE reason that Hip Hop has been able to prosper as much as it has, and they will forever be the first rap group that truly transcended their genre. Truly gems in every sense of the word.
– Porsha