(Republished from DefineARevolution.com, By @CherchezLaPorsh)
Tracklist Busta Rhymes – When Disaster Strikes
Intro
The Whole World Lookin At Me
Survival Hungry
When Disaster Strikes
So Hardcore
Get High Tonight
Turn It Up
Put Your Hands Where My Eyes Could See
It's All Good
There's Not A Problem My Squad Can't Fix
We Could Take It Outside
Rhymes Galore
Things We Be Doing For Money (Part 1)
Things We Doing For Money (Part 2)
One
Dangerous
The Body Rock
Get Off My Block
Outro (Preparation For The Final World Front)
In the entirety of Hip Hop, I can only think of two rappers who have come in with a style and delivery that is so unique and so different that it becomes their identifying feature. One is ODB of Wu-Tang and the second is Busta Rhymes.
For those of us who remember Leaders Of The New School, we are familiar with his rap technique and for those who missed him while in the group, they probably heard his solo debut in 1996. That would be one of the highlights of the year, not only because he featured almost everyone on it, but because Busta on his own is incredible. He brings an energy, a rhythm and a flow that is unlike anyone else and if that wasn't enough, he makes sure that track after track is enjoyable and a fun listen.
Following his debut, Busta kept busy in the studio and created yet another masterpiece and my favorite in his catalog. 1997 would give us his sophomore project "When Disaster Strikes…" The tracklist is lengthy however, sitting at nineteen tracks, but Busta includes some dope featured artists and keeps a nice variation for the listeners, he keeps the same familiar bizarre rhythm we loved from his debut but adds another layer to the overall feel of the album. Let's take a closer look at some of the tracks that make up one of my favorite albums of the nineties.
Let me start with the album art; did I mention Busta was a bit eccentric and weird? Well the album art would support that claim. His face really says it all and gives a visual to go along with it. Busta's intros are always a bit over the top and this one is no different. He shed light on the "disaster striking" theme he was going for. Here's the clever thing about this set up, if you remember the outro on Busta's debut album, it was called "The End Of The World" so it's incredibly fitting that about two lines into the intro we hear this:
"With approximately two and a half years before the year two thousand. Repeatedly it has been reported that there will be a time soon approaching. That major disaster will be striking, all levels of existence."
The play on words is pretty great too with all the "end of the world" stuff surrounding the new millennium, but here it's more about Busta Rhymes taking over the industry (so to speak). Needless to say, I love the way he connects the previous album AND makes his (industry) presence known. This was a great way to start off the album.
The next track is "The Whole World Lookin' At Me" which I really enjoy. Although it wasn't a released single, it was received very well by fans. We have DJ Scratch, who we know from EPMD and many other notable artists and groups here on production. The guy is great and he makes this beat reflective of the theme. It's dark, its got a faster tempo and the consistent drum keeps the beat steady while Busta comes in with his choppy delivery and unpredictable flow. The juxtaposition is on point and allows the listener to focus solely on the rapping. On the lyrical side, Busta stays on topic. He uses a great deal of imagery which keeps in line with the intro we just heard. Here's what I mean:
"The whole world lookin' at me

Uh, my interruption cause a major concussion

Dome piece swollen son you need a cup of Bufferin"

 

"Follow my instruction

Bounce back my repercussion

Cause mass destruction

F*** around strain ya til ya plan malfunction"
"The whole world lookin' at me

Uh, I'm bout to cause chaos steady bustin ya bra's

Which to witch craft, my chemistry, what your séance"
As much as I like the lyrics, it's the chorus that gets me. He's almost singing it in a monotonous calm way that is so opposite of how he's rapping but the adlibs and creepy "ah ha ha ah ha's" throughout the track gives us the spastic Busta we know and love.
I'll skip the next one and move on to the title track "When Disaster Strikes". Now there is a whole lot happening on this track. On the production side, we have Scratch again, who has singlehandedly mimicked what a "disaster striking" would sound like from an array of percussion instruments to a whirlwind of background vocals and Busta's non-stop adlibs, and this track truly is the epitome of disaster but in a good way. I don't listen to Busta Rhymes for depth or insight or even wordplay, but what I do love is the way he can make words fit in the beat pattern, look at the first verse for example:
"On and on, return from the future like a –

Cen-tu-ri-on, oh all my af-fi-li-ots 

Let's stack another mil-li-on, while you learn on how the words go

To my m************ song, watch me puts it on, it

Keeps you open all day long, the way we f*** s*** up

You thinkin', "Something must be wrong!"
Very few rappers can make "centurion", "affiliates" and "million" rhyme in that order! Busta's weird style helps him out a lot here and it works. It almost doesn't matter what he's talking about, we just love hearing how "off the wall" this guy can be. This is the best portrayal of that and such an enjoyable listen.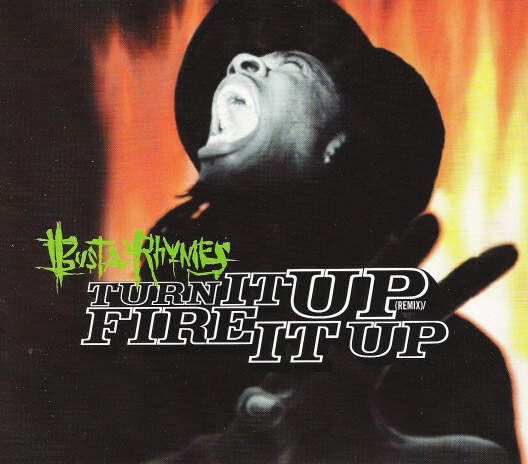 While "So Hardcore" and "Get High Tonight" are also good listens and are incredible on production and sample use, I'm going to skip them and focus on "Turn It Up", which was the third single released from this album (in 1998). Busta himself is to thank for production and the use of the Al Green sample of "Love And Happiness" and it's perfect in every way. In fact, I would say the beat on this track is the best on the entire album. Busta's lyrics are great too, as he's much less crazy, a lot more controlled and he raps faster.
We still hear emphasis on random words but that's his personality through and through so it's incredibly appreciated. As for lyrics, it's the token "ode to female" track, and as explicit and forward as the words are, the delivery is what makes it impressive. We almost miss the fact that he says "Yo baby girl take off your thong/Let me put it in your spirit like the holy Quran/Sweet like honey chicken Dijon movin along" (that line always makes me laugh…Chicken Dijon?!? Really!?! Haha!).
Now the next track is another fun one and one of my favorite songs of all time. "Put Your Hands Where My Eyes Can See" was the first single released off the album and an instant favorite. It has an incredible beat, fantastic flow and has such a fun feeling. There were a few people on the production side and with the help of a sample from Seals & Croft, they produced a masterpiece. What we see here, for the first time is the layers I had mentioned previously, as it doesn't give me the feeling of a disaster at all, in fact it's so mellow and calm compared to what we've heard up until this point. Busta is still Busta but in a less boisterous way and that is appreciated just as much. As much as I love the entire song it's the first verse and hook I love most. I love the constant use of "yo" at the end of each bar and I think the way the beat amplifies and feeds into the hook is perfect. Also, this was the track that coined the term "Buckwildin" which is (once again) "so Busta".
I'm gonna skip a couple more tracks which takes us into the second half of the album and where the majority of the featured artists are heard. Track 11 is "We Could Take It Outside" and it is where we see Flipmode Squad (a group founded and spearheaded by the rapper and known now as "The Conglomerate"). Rampage, Spliff Star, Baby Sham, Serious, Rah Digga, Lord Have Mercy join Busta in this posse cut that really is just dope all around. They each deliver their verse and of course sound great together, Busta's adlibs are on point and since their styles are so different the variation is pretty dope (Serious sounds a lot like a higher pitched ODB which is interesting to say the least) but each verse has some fun bars. Here take a look at a few:
Rampage:
"Yo, you feel it in the heart when we took you to the park

Midnight after dark, I'm the raider of the lost ark"
Serious:
"Wise, sword shift and I spit on flies

Killing all the tips from studio spies

Head to bed, beddie bye, beddie bye"
Spliff Star:
"In the worst way, the only way you can stop me

Is c*** your Glock and shot me

Drop me, pop me, make sure you that you got me

Cause anyhow I live I'm comin back for you papi"
Baby Sham:
"Now I'm forcing you to drink this Sham's potion

Show me were loaded

The desert eagle hear it cockin'

Lovin my doggies

While we shinin' continue flossin"
Rah Digga:
"F*** steppin on toes I crush the whole shoe

Pronto like Cru till I'm Triumphant like Wu

The s*** you talkin crazy like n***** turnin in their hand guns

I be burnin MC's like Betty's grandson"
Busta Rhymes:
"The rulership dynasty of Flipmode finally come forth

Exports and imports hittin you with flavors of all sorts

My squad comin through, chop off your ear"
Rah Digga's references are dope (the Wu is mentioned) and Busta's verse is my favorite. This is a dope posse cut and a fun addition to the album.
We'll skip "Rhymes Galore" and highlight "Things We Be Doing For Money" (Part 1 & 2) and although each part is its own track, they really should be talked about together. This is essentially a story of the streets with guns, murder, drugs and of course the squad. Part one of this song is primarily Busta and on Part 2 he is joined with Rampage, Anthony Hamilton and The Chosen Generation. What I love about this song is, it's like a Busta Rhymes version of Nas' "One Mic" (one could say this inspired Nas years later). We get sound effects of sirens, gunshots, smashed glass, fighting and everything else we would need to make this story come to life audibly. I also appreciate how part one ends and part 2 starts. Like he's going to tell the story again. Here's what I mean:
End of part 1:
"This n**** tried to grab the gat, you know I started clapping

Bet y'all n***** wanna know how the rest of the story happened"
Part 2:
"……Nuff said, beeper goes off

Five hundred, it's Busta Bust

In God We Trust

Another one bites the dust"

 

"Hey Ramp, f*** that!

I was 'bout to see this cat

Some n***** pulled up in a black suburban jumped out the back

Tried to put it on me while we fighting over the gat

The way them n***** tried to play me son, them n***** is wack"
And it continues. The beat is steady and mellow (very Mobb Deep like), but there is enough going on in the background that anything more from the beat would be a little too much. This was a good way to bring the "disaster" theme back.
Track fifteen, titled "One" is interesting, as Busta is accompanied by Erykah Badu, which is a bit surprising. Badu is the polar opposite of Busta Rhymes in every way to me. She has such a calm and soothing voice while Busta is well…crazy! But it works! She smooths out Busta's crazy and together they add another layer. A Hip Hop/neo-soul one. The message here is dope too as they build on the title; it's self-explanatory and works well. Here they are:
Hook (Busta):
"Just one – opportunity to handle our biz

Just one – mindstate so we can equally live

Just one – you know we only have one life to live

Just one – come together as one"
Chorus (Erykah Badu):
"As one – one family

As one – one little kiss now

As one – one entirety

As one – and let us all uplift now

(talk to me baby)"
As we approach the end, we get to the second single and another instant favorite as track 16 gives us "Dangerous". Much like "Put Your Hands…", this one is another fun and upbeat track. The beat, the lyrics, the flow are all fun and while the lyrics are crazy, Busta remains quite mellow. He kills every verse and the hook is incredibly catchy and so fun to sing along to.
"This is serious

We can make you delirious

You should have a healthy fear of us

Cause to much of us is dangerous

So dangerous, we dangerous

My Flipmode squad is dangerous

So dangerous we dangerous

My whole entire unit is dangerous"
His rhyme pattern is dope and he maintains that throughout. This track is yet another highlight of the album.
We are left with two final tracks, "The Body Rock" featuring Rampage, Puffy and Mase and "Get Off My Block", which is followed by an outro titled "Preparation For The Final World Front", all of which are good additions. However, the outro leaves us with "All my motherfuckers stay tuned for the next Flipmode explosion, until the next time" while still giving the impression that the "end of the world" and "disaster striking" is himself and Flipmode musically. I appreciated this angle but it is widely thought that Busta Rhymes had a fixation and paranoia on the end of the world happening in the year 2000. His follow-up albums would follow the same notion thus affirming the assumptions.
Overall "When Disaster Strikes…" (IMO) is a solid album. With such a extensive tracklist, it won't be perfect, but there are enough songs that carry the album to "classic" status. Busta Rhymes was at the top of his game in the nineties and while his debut was a good introduction to him as a solo artist, "When Disaster Strikes…" was a perfect representation of his acclaim to fame.
– Porsha