Melissa Arnette "Missy" Elliott (born July 1, 1971) is an American singer, songwriter, rapper and record producer. Her first major success came as a songwriter with childhood friend and producer Timbaland on projects for Aaliyah, 702, Total, and SWV. As a record producer and songwriter, she has worked with Mariah Carey, Whitney Houston, Janet Jackson, Christina Aguilera, and Beyoncé as well as contemporary artists Keyshia Cole, Tamia, Monica and Ciara.
In the late 1990s, Elliott expanded her career as a solo artist and rapper, eventually winning five Grammy Awards and selling over 30 million records in the United States. Elliott is the only female rapper to have six albums certified platinum by the RIAA, including one double platinum for her 2002 album Under Construction. Elliott is also known for a series of hits and diverse music videos, including "The Rain (Supa Dupa Fly)", "Hot Boyz", "Get Ur Freak On", "Work It", and the Grammy award-winning video for "Lose Control."
Melissa Arnette Elliott was born on July 1, 1971, in Portsmouth, Virginia. She is the only child of mother Patricia, a power-company dispatcher, and father Ronnie, a U.S. Marine.
In the early 1990s Elliott formed an all female R&B group, called Fayze (later renamed Sista), with friends La'Shawn Shellman, Chonita Coleman, and Radiah Scott. She recruited her neighborhood friend Timothy Mosley as the group's producer and began making demo tracks, among them included the promo "First Move".  In 1991, Fayze caught the attention of Jodeci member and producer DeVante Swing by performing Jodeci songs a cappella for him backstage after one of his group's concerts. In short order, Fayze moved to New York City and signed to Elektra Records through DeVante's Swing Mob imprint, also renaming the group Sista. Sista debut song was titled "Brand New" released in 1993. Elliott took Mosley – whom DeVante re-christened Timbaland –  and their friend Melvin "Magoo" Barcliff along with her.
All 20-plus members of the Swing Mob — among them future stars such as Ginuwine, Playa, and Tweet –  lived in a single two-story house in New York and were often at work on material both for Jodeci and their own projects. While Elliott wrote and rapped on Raven-Symoné's 1993 debut single, "That's What Little Girls Are Made Of", she also contributed songwriting duties, credited and uncredited, to the final two Jodeci albums Diary of a Mad Band and The Show, the After Party, the Hotel (1995). Timbaland and DeVante jointly produced a Sista album, entitled 4 All the Sistas Around da World and completed in 1994. Though videos were released for the original and remix versions of the single "Brand New", the album was shelved and never released. One of the group's tracks, "It's Alright" featuring Craig Mack, did however make the cut on the soundtrack of the 1995 motion picture Dangerous Minds. But by the end of 1995, Swing Mob had folded and many of its members dispersed; Elliott, Timbaland, Magoo, Ginuwine, and Playa remained together and collaborated on each other's records for the rest of the decade.
After leaving Swing Mob, Elliott and Timbaland worked together as a songwriting/production team, crafting tracks for acts including SWV and 702, but the most notable of them was Aaliyah. The pair wrote and produced nine tracks for Aaliyah's second album, One in a Million (1996), among them the hit singles "If Your Girl Only Knew", "One in a Million", "Hot Like Fire", and "4 Page Letter". Elliott contributed background vocals and/or guest raps to nearly all of the tracks on which she and Timbaland worked. One in a Million went double-platinum and made stars out of the production duo. Elliott and Timbaland continued to work together for other artists, later creating hits for artists such as Total ("What About Us?", 1997), Nicole Wray ("Make It Hot", 1998), and Destiny's Child ("Get on the Bus", 1998), as well as one final hit for Aaliyah, "I Care 4 U" before her death in 2001.
Elliott began her career as a featured vocalist rapping on Sean "Puffy" Combs's Bad Boy remixes to Gina Thompson's "The Things That You Do", (which had a video featuring cameo appearances by Notorious B.I.G and Puff Daddy), MC Lyte's 1996 hit single Cold Rock a Party (backup vocals by Gina Thompson), and New Edition's 1996 single "You Don't Have to Worry". Combs had hoped to sign Elliott to his Bad Boy record label. In addition Elliott written the bulk of Total's second and final album Kima, Keisha, and Pam and Nicole Wray's debut Make It Hot (both released in 1998).
Also that year Elliott appeared on the Men of Vizion's remix of "Do Thangz" which was produced by Rodney Jerkins (coincidentally the producer of the original version of "The Things That You Do"). She instead signed a deal with East West Records, a division of Elektra Entertainment Group at that time, in 1996 to create her own imprint, The Goldmind Inc., for which she would record as a solo artist. Timbaland was again recruited as her production partner, a role he would hold on most of Elliott's solo releases. Missy also appeared in LSG's song "All the Time" with Gerald Levert, Keith Sweat, Johnny Gill, Faith Evans, and Coko in 1997 on Levert Sweat Gill classic album. The same year, she rapped in "Keys To My House" with old friends group LeVert. In the center of a busy period making guest appearances and writing for other artists, Elliott's debut album, Supa Dupa Fly, was released in mid-1997; the success of its lead single "The Rain" led the album to be certified platinum.
The success was also a result of the music videos of her single releases which had been directed by Harold "Hype" Williams, who created many groundbreaking hip hop videos at the time. The album was also nominated for Best Rap Album at the 1998 Grammy Awards, but lost to Puff Daddy's No Way Out. The year also saw Elliott perform live at the MTV Video Music Awards show on a remix to Lil' Kim's "Ladies Night" with fellow rappers Da Brat, Angie Martinez and TLC-rapper Left Eye. In 1998, Elliott continued her successful career in the background as a producer and writer on Total's single "Trippin'", as well as working with several others in the hip-hop and R&B communities. Elliott co-wrote and co-produced two tracks on Whitney Houston's 1998 album My Love Is Your Love, providing vocal cameos for "In My Business" and "Oh Yes". The same year, Elliott also produced and made a guest appearance on Spice Girl Melanie Brown's debut solo single, "I Want You Back", which topped the UK Singles Chart.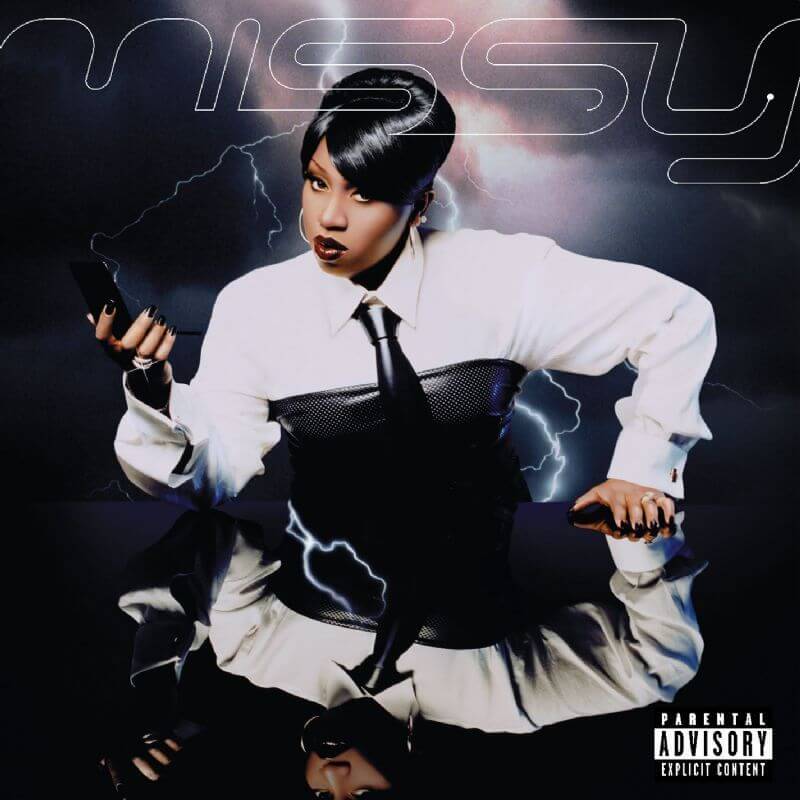 Although a much darker album than her debut, Elliott's second album was just as successful as the first, selling 1.5 million copiesin the US and 3 million copies worldwide. She remarked, "I can't even explain the pressure. The last album took me a week to record. This one took almost two months…I couldn't rush it the second time because people expect more." Da Real World (1999) included the singles "All n My Grill", a collaboration with Nicole Wray and Big Boi (from OutKast), a remix to "Hot Boyz" and "She's a B****". Also in 1999, Elliott was featured, alongside Da Brat, on the official remix to a Mariah Carey single "Heartbreaker".
Missy Elliott next released Miss E… So Addictive in 2001. The album spawned the massive pop and urban hits "One Minute Man", featuring Ludacris and Trina, and "Get Ur Freak On", as well as the international club hit "4 My People" and the less commercially successful single "Take Away". The double music video for "Take Away/4 My People" was released in the fall of 2001, shortly after the 9-11 terrorist attacks and the death of Elliott's friend Aaliyah in August. The "Take Away" video contained images of and words about Aaliyah, and the slow ballad acted as a tribute to her memory. The remainder of the video was the more upbeat "4 My People", contained scenes of people dancing happily in front of American flags and Elliott dressed in red, white and blue. Though "Take Away" was not a success on radio, "4 My People" went on to become an American and European club hit due to a popular remix by house music duo Basement Jaxx in 2002.
Tweet's appearance on Elliott's "Take Away" as well as her cameo at Elliott's house on MTV Cribs helped to create a buzz about the new R&B singer. Tweet's own debut single, "Oops (Oh My)", was co-written by Elliott and released through Goldmind in February 2002. The single was a top ten hit, thanks partially to Elliott's songwriting and guest rap, and to Timbaland's unusual production on the track. Elliott co-produced the Christina Aguilera, Lil' Kim, Mýa and Pink cover of "Lady Marmalade" for the Moulin Rouge! Music from Baz Luhrmann's Film album, which went to number one on the Billboard Hot 100 in 2001.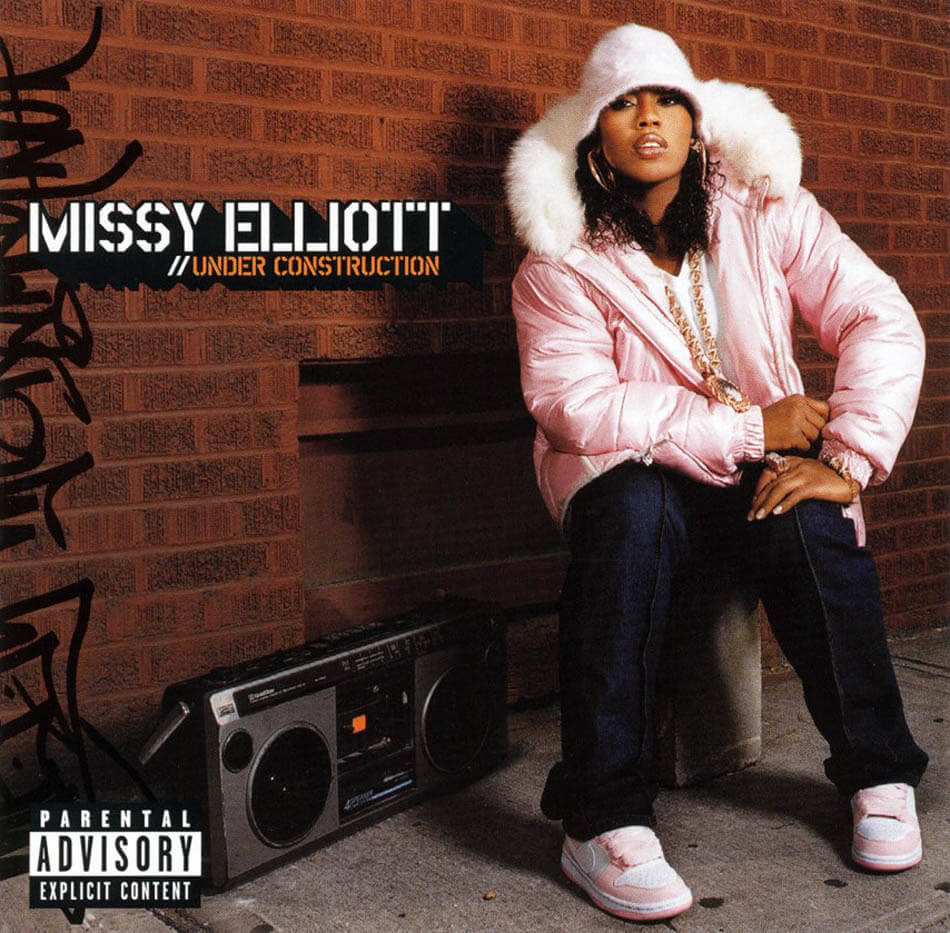 For her next outing, Elliott and Timbaland focused on an old school sound, utilizing many old school rap and funk samples, such as Run–D.M.C.'s "Peter Piper" and Frankie Smith's "Double Dutch Bus." Elliott's fourth album, 2002's Under Construction is known as the best selling female rap album with 2.1 million copies sold in the United States.  In 2002, Elliott won a Grammy Award for Best Rap Solo Performance for "Get Ur Freak On". In 2003, Under Construction received Grammy nominations for Best Rap Album and Album of the Year. The New York Times called Under Construction "this year's best hip-hop album." Elliott released two singles off of Under Construction. The lead single, "Work It" reached #2 on Billboard‍ '​s Hot 100 chart and won the "Video of the Year" award at MTV's Video Music Awards. The second single, "Gossip Folks" featuring Ludacris, became a Top 10 hit on Billboard‍ '​s Hot 100 chart, was one of the most-played music videos on MTV, MTV2, MTV Jams, and BET in 2003 and was embraced by the dance community, as well as the mainstream, due to a Fatboy Slim remix. A third single was never released, though a video was shot for "Back In The Day" featuring Jay-Z and Elliott was set to release the sexual-themed, "P***ycat", as the album's final single with a remixed version featuring Janet Jackson. Although not released as single and with no video, "Pussycat" peaked at number 77 on the Billboard Hot 100.
In between albums, Elliott produced the "American Dream Remix" (featuring Tweet's additional vocals) of Madonna's single "American Life," was featured rapper on Timbaland & Magoo's long-awaited return single, "Cop That S***", and produced "Fighting Temptation" (featuring herself, Beyoncé, Free and MC Lyte) for the soundtrack to the Cuba Gooding, Jr. and Beyoncé Knowles movie of the same name. The track reached #1 in Japan but failed to chart in the U.S. Hot 100. Elliott was also featured on Wyclef Jean's "Party to Damascus" and Ghostface Killah's "Tush" singles, the latter of which became a minor 2004 dance hit, and had a pivotal role in the film Honey. Gap approached Elliott later in the year to co-star in a commercial with Madonna, which received much media attention. Elliott furthered her relationship with Madonna by performing the controversial 2003 MTV Video Music Awards show opening alongside Madonna, Britney Spears and Christina Aguilera.
A year after Elliott's most successful album to date was released, Elliott felt pressured by her label to release another album, hoping to capitalize on her recent success. Elliott's singles, "Pass That Dutch" and "I'm Really Hot", from her fifth album, This Is Not a Test! (released November 2003), both rose the urban charts. However, both were not as successful at pop radio in comparison to many of her previous efforts. This Is Not A Test sold 690,000 copies in the United States and has been certified Platinum by the Recording Industry Association of America (RIAA). Elliott has since stated "This Is Not A Test! came out extremely too quickly for me. I didn't want it to come out when it did." In 2004, Elliott was featured on Ciara's hit single "1, 2 Step", with her verse interpolating Teena Marie's single, "Square Biz". Elliott premiered her own reality show on the UPN Network, The Road to Stardom with Missy Elliott in 2005, though it was not renewed for a second season.
Elliott wanted to "give people the unexpected" by utilizing producers other than Timbaland and a "more to the center" sound not as far left as her other music. Her sixth solo album, The Cookbook was released in July 2005, debuted at number two on the U.S. charts and was certified Gold by the Recording Industry Association of America, (RIAA), selling 645,000 copies in the United States. Elliott's work during The Cookbook era was heavily recognized. Elliott received 5 Grammy nominations in 2005, including one for Best Rap Album for The Cookbook. The album's first single, "Lose Control," won a Grammy for Best Short Form Video and was nominated for Best Rap Song. "Lose Control" also garnered Elliott six 2005 MTV VMA award nominations (winning Best Dance Video and Best Hip-Hop Video). Elliott won Best Female Hip Hop Artist at the 2005 American Music Awards, and was nominated for Best International Female Artist at the 2006 BRIT Awards.
"Lose Control" featuring Ciara and Fatman Scoop, became a Top 5 hit in the early summer (peaking at number three on the Billboard Hot 100). The second single, Teary Eyed, did not chart, although the video charted on MTV's TRL for a few weeks, and BET's 106 & Park for a few days. The third single, We Run This, was released with heavy airplay on VH1, MTV, and BET. It served as the lead single for the soundtrack to the gymnastics-themed film Stick It. The song was also nominated for a Grammy Award in the Best Rap Solo Performance category in 2006. Respect M.E., Elliott's first greatest hits album, was released outside the United States and Canada on September 4, 2006, only in South Africa, Australia, Europe, Japan, and Brazil. The collection became her second top ten album in the UK and her highest charting album to date, peaking at number seven there.
Elliott was an honoree of the 2007 VH1 Hip Hop Honors. In honor of her career, many artists performed some of her biggest hits. Timbaland and Tweet performed "The Rain (Supa Dupa Fly)", Eve and Keyshia Cole performed "Hot Boyz" and "Work It", Fatman Scoop and Ciara performed "Lose Control", and Nelly Furtado performed "Get Ur Freak On (The Remix)." Since 2007, Elliott's seventh studio album has had several different forms with extensive delays. In 2007, she worked with Timbaland, Swizz Beatz, Danja, T-Pain and DJ Toomp and planned to release an album at the beginning of 2008.
In January 2008, "Ching-a-Ling" was released as the lead single for the Step Up 2: The Streets soundtrack, which also featured "Shake Your Pom Pom" produced by Timbaland. While Elliott did also release the song "Best, Best" in 2008, she renamed the album from FANomenal to its current tentative title to Block Party in 2008. She later decided against Block Party and four years later, in 2012, Elliott released two Timbaland-produced singles ("9th Inning" and "Triple Threat") exclusively to iTunes. Though the songs managed to chart on Billboard Hot Digital Songs in an interview with Yahoo's The Yo Show, Missy talked about her hiatus from making records: "Your brain needs time to refresh! Things happen in your life where you can then write something else instead of the same three topics. Like, how many times we gonna talk about the club? I gotta feel like what I'm giving the fans is 100 percent and that it's game-changing. I don't just throw out microwave records."
In between the recording of her seventh album, Missy Elliott found success behind the scenes. Elliott's writing and production helped her reach #1 on Billboard‍ '​s Hot R&B/Hip-Hop Songs with Keyshia Cole's "Let It Go" (2007), Jazmine Sullivan's "Need U Bad" (2008), and Monica's "Everything to Me" (2010). Since 2008, songs written and/or produced by Elliott for Fantasia ("Free Yourself"), Jennifer Hudson ("I'm His Only Woman"), Monica ("Everything to Me"), Keyshia Cole ("Let It Go"), and Jazmine Sullivan ("Need U Bad" and "Holding You Down (Goin' in Circles)") have all received Grammy nominations. Both Fantasia's "Free Yourself" (2005) and Sullivan's "Holding You Down (Goin' In Circles)" reached #3 on Billboard‍ '​s Hot R&B/Hip-Hop Songs.
In the summer of 2010, Elliott embarked on a 2 part tour with stops in Europe, Asia, Africa and Australia, while she also performed at VH1's "Hip Hop Honors: The Dirty South" in a tribute to Timbaland, performing "Get Ur Freak On" and "Work It". In 2011 and 2012, Elliott made guest appearances on "All Night Long" by Demi Lovato, "Nobody's Perfect" by J. Cole, the remix of "Why Stop Now" by Busta Rhymes with Chris Brown and Lil Wayne, and a remix of Katy Perry's "Last Friday Night (T.G.I.F.)" that helped catapult "T.G.I.F." to #1 on the Billboard Hot 100. She also produced Monica's singles "Anything (To Find You)" and "Until It's Gone".
Throughout 2013, Missy Elliott was featured on Eve's album cut "Wanna Be," as well as international artists' singles, Little Mix's "How Ya Doin'?" and "NiLiria" with K-pop musician G-Dragon, which was named by Complex magazine as one of the "50 Best Songs of 2013". Elliott also contributed to her protégée Sharaya J's two releases, "Banji" and "Smash Up The Place/Snatch Yo Wigs". In December 2013, Elliott received a Grammy nomination with Fantasia and Kelly Rowland for their song "Without Me".  As early as July 2013, Missy Elliott and Timbaland held recording sessions for Kat Dahlia's debut, My Garden (2015). In August 2013, R&B singer Faith Evans revealed that Missy Elliott would be featured on her sixth studio album, tentatively titled Incomparable. In March 2014, Evans revealed one of the tracks was named "I Deserve It", featuring Missy and her protégée Sharaya J, in which Evans cited it as a "banger" and "feel good" record. Evans also revealed that in total Elliott contributed three tracks to her album. On July 7, 2014, fellow R&B singer Monica confirmed that Elliott would be a feature on her upcoming eighth studio album. On July 29, 2014, a snippet of a Missy Elliott–produced song, nicknamed "I Love Him", premiered on Monica's official Instagram account.
In 2015, Missy Elliott performed at the Super Bowl XLIX halftime show with Katy Perry. Elliott performed a medley of "Get Ur Freak On", "Work It", and "Lose Control".  The performance was well-received and boosted digital sales of Elliott's work that week, with a twenty-five-fold increase in album sales (to 2,000 units) and a ten-fold increase in sales of the three songs she performed (to 71,000 units) compared to the week before. It also became the most watched Super Bowl halftime show in NFL history, receiving 118.5 million viewers in the United States. On February 3, 2015, it was confirmed that Elliott would be a feature on the upcoming remix to Diplo and Skrillex's "Take Ü There". On February 11, Elliott revealed in an interview to Billboard that she was recording her seventh studio album with Timbaland. On April 2, 2015, Pharrell Williams confirmed that he was working on Elliott's comeback album during an episode of The Tonight Show with Jimmy Fallon.
On October 8, The celebrity gossip and entertainment website TMZ posted amateur video of Elliott filming her new music video with a camera crew in an unspecified alley in Los Angeles. Elliott could be seen wearing a disco ball style track suit with the initials "WTF" on the front of the jacket. On October 26, Elliott announced via her Twitter account that a snippet of her new song "WTF" feat Pharrell Williams would be teased during ESPN Monday Night Football halftime show. The snippet aired revealed the released date of "WTF" as November 13th. (Wikipedia)
Official site: Missy Elliott