The most complete portrait of the Detroit Hip Hop scene ever? With 56 featured Detroit artists (with Eminem being the most notable absentee), it will be hard to argue against that claim. Sincerely, Detroit is Apollo Brown's tribute to his hometown and a love letter to the culture. From different eras and different walks of life, veterans and newcomers alike lend their styles and deliveries to this 21 track album. Featuring artists like Royce Da 5'9", Black Milk, Trick Trick, Elzhi, Slum Village, Guilty Simpson, One Be Lo, Bronze Nazareth, Kuniva, Clear Soul Forces, Boog Brown and many, many more, Sincerely, Detroit is a nearly comprehensive look at the styles and flavors of Detroit.
In this day and age of short hype-circles and short attention spans Sincerely, Detroit is a project with extraordinary substance – and not just because it runs for 78 minutes. Where lots of artists are content with dropping a bunch of 25-minute projects each year to stay in the public for as much time as possible, Apollo Brown goes the other way: taking the time to craft a work of quality that really resonates and that will undoubtedly prove to have longevity: Sincerely, Detroit will not fall victim to those short hype circles – you just wait and see.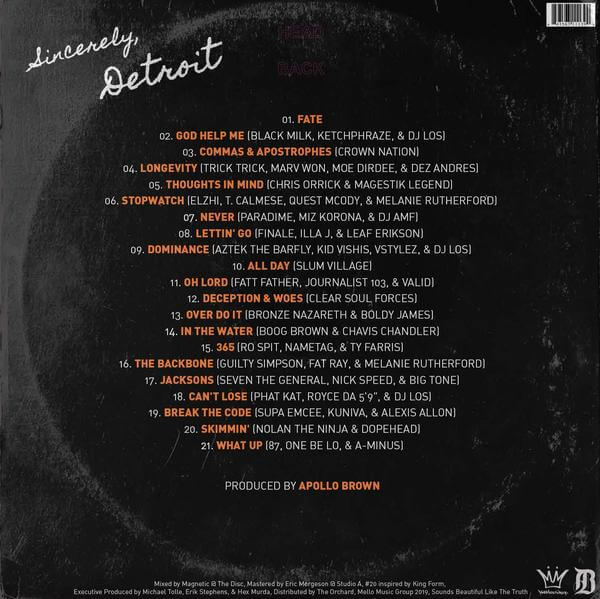 Sincerely, Detroit has 21 tracks – 20 full songs and an intro – and each and every track is beautifully put together, showing and proving that Apollo Brown is a master at his craft. His ear for detail is evident, and you can sense the passion and love that went into the creation of this album. In the same week Kanye West drops a 27-minute project that fails on all fronts (with botched vocals and with instrumentals sounding rushed, and badly mixed and mastered), Apollo Brown shows how it's done. 78 minutes is not too long if every single song is exquisitely executed. Apollo Brown's smooth boom-bap is the common thread that holds this album together and from the host of featured artists nobody disappoints – who shines most will likely be dependent on the personal preference of the listener. Among our favorite tracks are "God Help Me", "Dominance" and "Can't Lose" – not coincidently tracks on which DJ Los adds extra flavor with some dope turntable work – but there are no filler tracks on this gem of an album.
Apollo Brown has been one of Hip Hop's most consistent producers for over a decade now and with this project, he firmly solidifies his status as one of the game's top dogs. Sincerely, Detroit is 2019's best album so far and no doubt it will eventually rank among the decade's best too.