(Republished from 'THIS MIGHT NOT WORK' The Art Adventures and Endeavors of Andrew J. Katz)
9.27.16 – Washington, DC – The Howard Theatre
Ok, so, I went out on a school night.  For those of you that want to know why that needs to be stated – I'm a middle school art teacher. When I have one of my art missions on a weeknight, it ups the ante a little bit, and it makes the next day an exhausting challenge. It would be so easy to stay home, rest up, and conserve my energy for my classes. Instead, I take advantage of the opportunity to hear and see live music from the legends of Hip Hop.
This time around it was Pete Rock and CL Smooth performing together at the Howard Theatre in Washington D.C. Expecting to connect with some friends before the show, I went down to U Street a bit early to enjoy the beautiful weather. I went to Som Records to check out some vinyl, swung by Busboys & Poets to pick up a book, and found myself walking towards the Robeson Mural (1351 U Street, Washington, DC). It has become my routine to stop by the mural before each show at The Howard.
Seeing the 'Big Paul' Robeson mural fills me with a great sense of accomplishment and pride. I was fortunate to be part of an ambitious artistic collaboration. As a result, this enormous wall was transformed. It continues to celebrate the contributions, music, and activism of Mr. Robeson. I'll likely post something more detailed about this at a later date. Suffice it to say, I walk away from this spot with a spring in my step. I hope it's there for a long time.
Next stop was The Howard, itself. I wanted to do a 'walk-by', just in case I could meet either Pete Rock or CL Smooth before the show. I walked under the beautiful marquee, and around the corner, when I spotted CL Smooth trying to get someone to let him in the side door. I took a wide berth around him and noticed Pete Rock coming out the other side door. They were there, but for some reason, I decided to wait until I was inside to approach them. I thought it would be a little rude to rush up to them on the street.
Eventually, after a pretty long wait inside, my patience was rewarded. I went behind the scenes, just before they took the stage. The dressing room was crowded with friends, family, and other acts. They called me in, and I introduced myself to Pete. We had met before, but it was in a giant bunch of people, so I decided it would be best to start from scratch. He graciously shook my hand, and I turned to get the new drawing out. When he saw it, his whole demeanor changed, and he happily recounted that he had posted the image on Instagram that very morning. He said "I was wondering who made this! It's YOU!".  "Yes", I said.  "Would you mind signing the original piece and, maybe, add some lyrics to it?" He took my prepared lyrics sheet out of my hand and began to write! While he chose the shorter line of the two I had picked, I was extremely grateful for his willingness to tag his lines from 'The Creator' on my drawing.
"Tell Her To Hold 'Cause I'm Kickin' Rhymes to the Rhythm" – Pete Rock – The Creator
I also asked him if he'd tag the ever-evolving watercolor portrait I rendered of James Dewitt Yancey – J Dilla. He quietly agreed, and found a small spot on which to add his legendary name.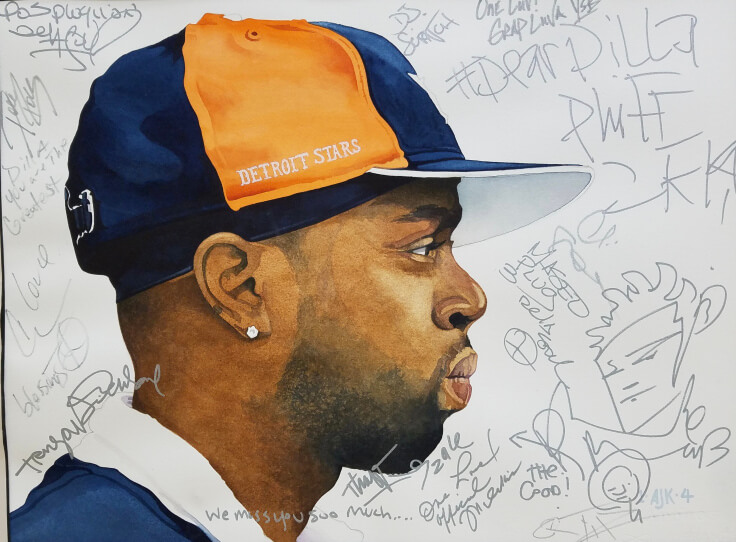 This piece has been signed by quite a few of Dilla's contemporaries:  Posdnous, Dave, and Maseo (from De La Soul), Phife, Q-Tip, Ali Shaeed Muhammad (from A Tribe Called Quest), Ma Dukes (JD's Mother), Pharaoh Monch, Questlove, Black Thought, Common, Pete Rock, Grap Luva, and DJ Scratch.
I will continue to bring this original artwork to live shows, where I know his peers and fans will want to pay tribute. Check out the J Dilla Foundation to explore other ways we can continue to celebrate his life and musical contributions.
I moved toward the back of the room where I found CL Smooth. This is where I need help in understanding what happened: I introduced myself to him with a handshake and a wide smile. I was really glad to meet him, after spending so much time on his portrait and listening to his music. He took the drawing out of my hands, and said "what do you want me to do?". I said "I'd love for you to sign it, and write some lyrics on it". He said, "No! I'll sign it, but I'm not writing any lyrics on it. If I did that, that would make it mine." I said, "Actually, I do look at these as collaborations, I…"  "Nah, I'll sign it, but I'm not writing anything on it". "OK, how about a picture with the drawing?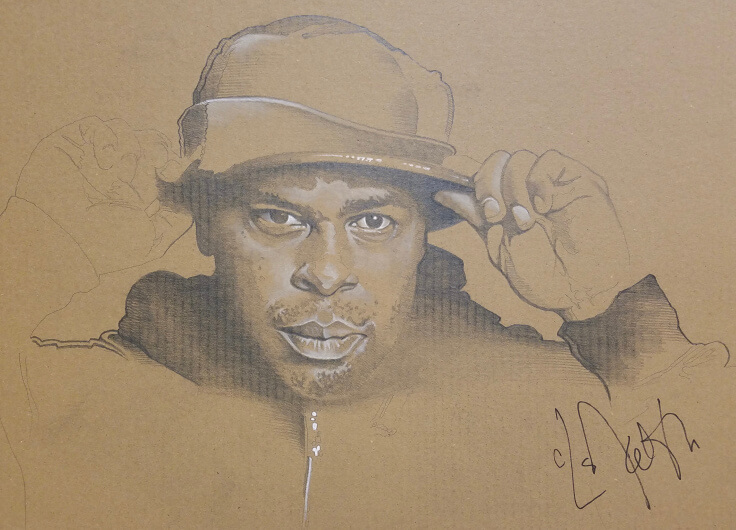 He said, "Sure", which surprised me.  He joked around about wanting a big painting for his big house – "Big s***, for big walls". Someone in the room antagonistically asked me, "How are you connected to Hip Hop?", I said, "I love it. I'm a fan. I started a collection to show my love of this music". With that, I pulled out the J Dilla painting. I asked CL Smooth "Would you add your name to this painting?". He said "No way! Better get that out of here, before I take it!" I said, "Really, you don't want to add you name on here?" He said, "Man, I'm telling you, if you don't take that out of here, I'm going to take it!". As I write this, I still have no idea how he meant this statement. Was he telling me that he liked the work? If so, why wouldn't he sign it? If he wanted me to leave, then why sign anything? I'm still really confused by the whole interaction. Obviously, I was thrilled to meet both of these Hip Hop icons, but this was a head-scratcher.
I went back out to the floor, and soon after, the show started. Pete Rock and CL Smooth put on a great performance.  It was a great night.
Looking back on those moments with CL Smooth, I still wonder what he was feeling. His approach was gruff and surly, but I detected a note of humor behind it. Is it possible that I completely misread the situation? Of course, it's possible. That being said, I'd love some clarification. It was a bit strange. I'm still happy that I went. Thanks, Pete! Thanks, Corey!
Mission: Accomplished! – AJK