Let's say there is a tree. It's young, but it's the largest and sturdiest tree imaginable. Its roots — which are more impenetrable than Fort Knox — have three primary foundations: soul, funk and jazz. Inspired by these roots, Cindy Campbell and Kool Herc planted the tree in 1973. Perhaps the most marvelous aspect of the tree is that it bears tremendous fruits. Year in and year out, fruits new and old, small and big, ripe and rotten, sweet and sour, juicy and dry inhabit its four branches: "Emcee," "DJ," "B-Boy/Girl" and "Graff." Some seasons, it will bear little to no fruit. Other seasons, it's so full of fruit you'da thought it sprouted on a different planet. The tree is so vast that some fruits are veiled beneath leaves until they grow bigger. The most perplexing and exquisite fruit to inhabit the tree in recent memory is named Anderson .Paak.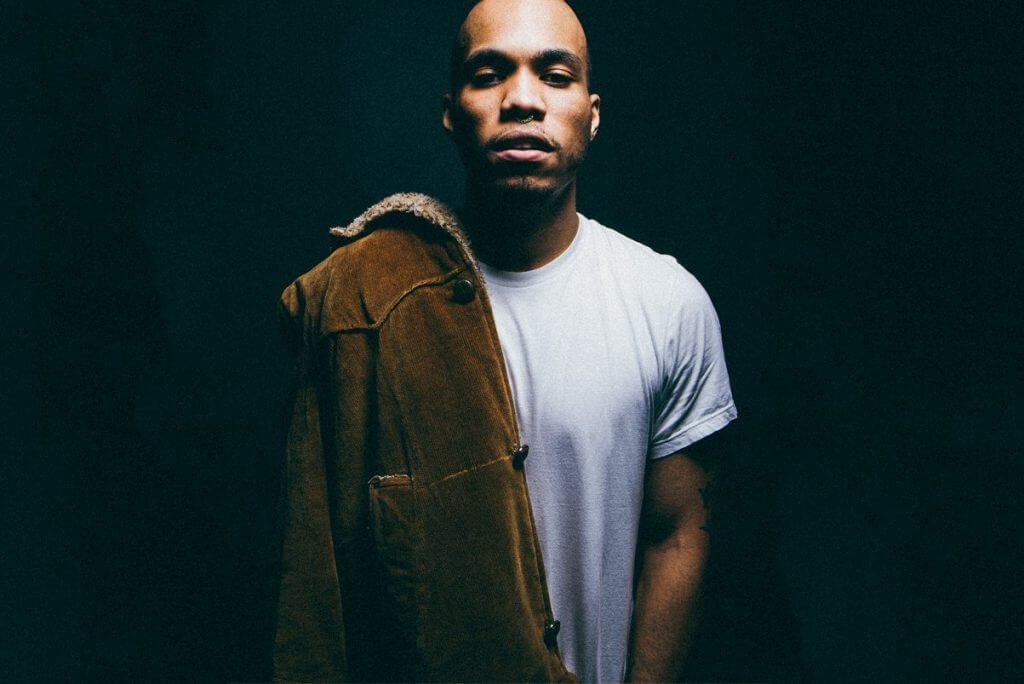 I think I first heard Anderson .Paak last August, through his feature on "Animals" from Dr. Dre's Compton album. Actually, I definitely heard Anderson .Paak for the first time on "Animals." It's the third-to-last track on the album, but when I saw that it was co-produced by DJ Premier, I bumped it immediately, compromising my will to always (at least try to) play albums in-order on the first listen. I defied a cardinal rule of mine, but happened to strike the Contemporary California Gold Rush.
As I pressed play, I noticed he was the only artist featured on the track. A little disappointed, I thought, "why did Dre not hire an established, high-caliber MC to shred this Preemo beat?" 10 seconds later — unlike my groundless initial judgment — I had an authorized thought: "who is this guy?" After hearing the full song, I changed that question to "what is this guy?"
Fast-forward to the release of his Malibu album. After emphatically lanky-arm-flailing (my variation of dancing) to it for hours on end — my restless college roommates developing exponential concern on the subject of my sanity — my man asks, "yo, what genre is Anderson .Paak?" In response — unabashedly allowing my voice to crack — I shouted over the music "DUDE I DON'T EVEN KNOW!" I concluded that he is so versatile it's impossible to place a genre-label on him; instead of asking "what is this guy" like before, I'm asking "WHAT IS THIS GUY?"
I don't know how to start talking about the album, but one aspect of .Paak that quickly entranced me is his voice fluctuation. On the opening track, "The Bird" (produced by .Paak, himself), the way he says the word "honeycomb" [1] exemplifies his soul emanating and purely flowing through the soundscape. It serves as the organic access code to facilitate .Paak's soulful side to flourish throughout the rest of the album. Furthermore, this track ends somewhat abruptly, as if to notify listeners not to get too comfortable because of what layers await.
.Paak ascertains pivotal qualities of a prolific emcee, corroborating his preposterously diverse range of styles and sounds. On the Madlib-produced and BJ the Chicago Kid-featuring (I know, it's unfair) joint "The Waters," .Paak drives the thick-a**-neck-snap-inducing-beat through valleys and up mountains in unprecedented ways. The first verse displays his unorthodox flows on the subject of his family and the struggles of trying to come up through music. After an opulent hook from BJ, .Paak switches it up on the second verse; he meanders between attacking the track and swimming beneath it, further personifying his versatility.
The subsequent track is the 9th Wonder & Callum Connor-produced "The Season / Carry Me." It strikes deep in the soul the moment the beat drops; it has that indescribable "it-factor" that immediately engulfs the listener. Similar to your first time hearing the drums come in on "Respiration" by Black Star. And when .Paak's voice enters, there is an instantaneous magnetization to his omnipotent energy. And on the second part of the track, "Carry Me," .Paak displays even more of his conspicuous dexterity. Considering that the first half of the track showcases .Paak's most gripping energy on the entire album, you'd think that the second half would try and match it. Wrong — well, he comes out the gate pretty strong, but as the song progresses, he meanders between a pain-laden voice and perhaps the most laid back, in-the-pocket delivery that's available on the album. Did I mention that style is impeccable as well? His capabilities are endless.
Something else that invigorates me is his ability to let beats build — an underappreciated skill, especially in Hip Hop. On "Room in Here," he starts out with a low-key "baby there's room in here / just enough for two in here" and then the beat momentarily cuts out, providing him an opportunity to accentuate his beautifully layered vocals. The beat comes back in and he capitalizes, juxtaposing his radiant energy with smooth, jazzy production; he exhibits the same technique of vocal progression on "Silicon Valley." It's a track that may seem corny to some, but seeks to consider something (literally) deeper — how imperative it is to consider the essence beneath exterior surfaces.
I love the progression of the instrumentals; I love how he takes advantage of this. I love the features he assembled; I love the tracks he chose them for. I love the tracks he produced/co-produced ("The Bird," "Put Me Thru," "Parking Lot," "Celebrate"); I am hungry for a self-produced LP. I love the way he performs (saw him in Portland this past April); his vibes are nothing but positive and adrenaline-filled. I love the way he Carry's himself; I wanna kick it with him. I love his videos, I love his scattered musical influences, I love his album covers—
I don't love the fact that people are still sleeping. Wake up. The Anderson .Paak fruit, if you will, is boundless, divine and powerful. His underlying message is a trinity of pillars: staying true to his roots, breaking barriers and evolving unceasingly. He is perfecting the invaluable synergy of conveying deep concepts through accessible methodologies. He has developed a symbiosis of heterogeneous talent, genuinity and valiance — a trifecta which I believe to be sparse in contemporary Hip Hop. Thus, what a gift he is to Hip Hop. What a gift to music. What a gift to art.
I'm unclear on whether to pronounce it "Pac" or "Pack." What is certain, however, is .Paak has an astronomically high ceiling; I'm eternally willing to travel to space with him to see what he's cooking up there.
Some excerpts that didn't make it into the body of work:
—"Heart Don't Stand a Chance," in the background it sounds like Yoshi dying in Super Smash Bros. I bet Jonwayne loved it [2].
— "The Waters," referencing his band (who are immaculate live performers) The Free Nationals, he drops the bar: "Free 'Nats' 'til they pass out obituaries,". Before I knew of their existence, I thought he was saying "Free Nash 'til they PASS out obituaries." I was super stoked about a potential Steve Nash reference. I'm a geek.
— He has 83 teeth [3].
—"Parking Lot" shamelessly, for inexplicable reason(s), takes me back to middle school, rocking double Nike socks and shopping for Jordan's at the mall.
—9th Wonder sampled Hiatus Kaiyote on "Without You" [4]. Now I want lots of .Paak/Kaiyote collabs.