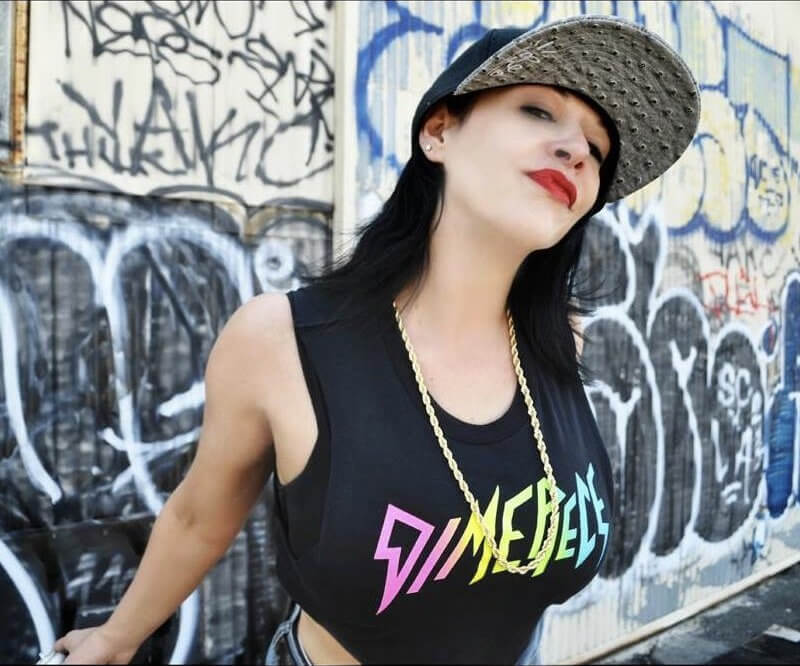 DJ Beanz is originally from the North Shore of Massachusetts. Back in Boston, she had immersed herself in Hip Hop from an early age, studying greats such as Grand Master Flash, Roc Raida, Qbert, and Tony Touch to name a few. Turning down a position as a New England Patriots Cheerleader at the age of 19, Beanz jumped on the opportunity to relocate to Florida for a job promoting shows. She took the opportunity during her free time with DJ peers to "mess around" on the turntables and essentially teach herself how to DJ. She would get her chance when, as she puts it, she "was thrown out there in front of a crowd where no one was dancing."  Well, they weren't dancing, but by the time she looked up as her set was ending, everyone was on their feet moving and she knew she'd found her calling.
Fast-forward 3-4 years later Beanz moved to the DC/MD/VA area (better known now as "The DMV") where she was given her name "DJ Beanz" spawning from her nicknames "Boston" & "Beantown". Hanging around in some of the lounges and open mics allowed her to hone her craft and also meet some of the regional celebrities of the underground. Since then DJ Beanz has been doing shows and tours (including The Smokers Club Tour with Method Man, Redman, and B-Real) with independent and major artists nationwide. She is an active tour, radio, club, mixtape DJ/Host and former Executive Program Director at (one of the top-rated 24-hour Hip Hop Internet stations in the world), Swurv Radio.
As her mixtape catalog continues to expand, Beanz has released a variety of mixtapes that have been flooding the internet and streets from the States to overseas. DJ Beanz has become one of the world's top-ranked mixtape DJs. You can also check out her mix show on the Native Rhymes station on DashRadio.com every Friday (5-7 pm PST) and mixtape series "Reigning Real". All of her mixtapes are available for free preview and download on her website www.DJBeanz.com.
Deadly Venoms is DJ Beanz's official debut album. To take care of the vocals she recruited a host of today's finest underground emcees, like Hus Kingpin, SmooVth, Ty Farris, Termanology, Bubu The Prince, Eto, Hex Luthor, Rim, Eddie Kaine, Jai Black, Bub Rock, M80, and Solomon Childs – even Wu-Tang Clan's RZA make an appearance. Wu-Tang inspiration can be felt throughout the whole album, most obvious in the first song "Snow Cream" which uses the C.R.E.A.M. instrumental, but a Wu-Tang vibe is tangible on the rest of Deadly Venoms too – from the samples, the street rhymes, and the gritty beats, to the album title and the cover art. Deadly Venoms is a great album, a must-listen for those who think beats and bars matter.
Tracklist:
If They're Bad, You Must Kill Them
Snow Cream feat. Hus Kingpin
The Town feat. SmooVth
Shower In The Slumbs feat. Ty Farris
The Remedy feat. Termanology
Negocios feat. Bubu The Prince, Eto & Hex Luthor
Strapped feat. Rim & Eddie Kaine
Ace feat. Jai Black
Influential feat. Bub Rock
Scratch & Sniff feat. Eto
Money Miz Biz
Newports feat. SmooVth
3 Degrees feat. M80, RZA & Solomon Childs
DM Dilemma
36 Shots Of Venom feat. Bubu The Prince, Ty Farris & Eto