Bone Thugs-n-Harmony's E.1999 Eternal is the second album from the group released in the summer of 1995. After the success of their first EP that dropped a year prior, this second effort was far more than surprisingly good but went on to become phenomenally great selling more than 10 million copies worldwide. The feel of this project can be simply described as dark yet melodic smooth, as most of the tracks have a laid back tone with soft piano riffs and heavenly bell chimes coupled with violent subject matter.
At the time gangsta rap was on America's playlist and in everyone's stereo, then Bone quietly crept up on us to confidently, without boasting or bragging, to show us how it's done. We all know the success of "Crossroads" with the heavy radio rotation and grammy's, but the vision of the album can be shown by highlighting a few notable tracks.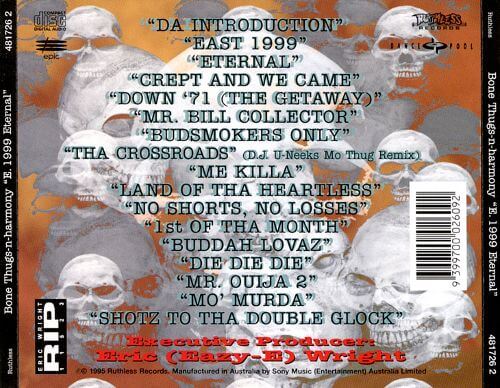 Land of the Heartless:
"A n**** that always has my city wit me, now who was that n**** they put in that plastic, a n**** that thought he could bang, that n**** slipped that n**** blasted, a man from the land never ran I stand wit deadly men, if ya come a little bit closer I can turn you into sand"
Out on the West Coast where gangstas are known for having 'heart', Krayzie Bone made the message pretty clear: these Cleveland thugs have none. This is a strong track and stands out amongst the others, not only as a good listen but with a sense of an overall bottom-line of the album's direction. Definitely a lot of replay value.
Crept and We Came:
As Layzie Bone states "For the love of money f*** tha fame, we peep game, we crept and we came", they set out to do exactly what they did, and have the platinum plaques, Grammys, and Hip Hop respect to back it up. This song is easy to listen to as it features all five members. To smoke to or ride to or just chill and listen this is a personal favorite with an addictive melodic hook that will have you humming it to yourself at times when you least expect it.
Shots 2 tha Double Glock:
Certainly a hardcore listen reserved for the last track on the album so if you didn't hear one word up until then, understand that this song is home for Bone. Everything said throughout the album is reiterated on this one track, they take no shorts no losses and it's the murda game they've mastered with grace. The feel is gritty, thugged out, and no-nonsense as the instrumental alone can kick your a**. Plus the lyrics are not for the faint of heart as Flesh boldly says,
"N**** don't test nuts, yo luck's f***** you feeling tha wrath of tha boneyard, thuggin' off with the graveyard shift we comin' up on yo hoe card, b****"
Me Killa:
An interlude a capella with a stern point, Me Killa. This is a notable message as Hip Hop albums usually provide comic relief or break from the monotony of coming across as hardcore thugs through the entire album. Bone Thugs is one of those groups that are not afraid to display that they live this life, even in their downtime.
1995 was a year in Hip Hop with many great albums and this is easily one of them. Eternal cemented Bone as some of the top tier thugs in mid 90's gangsta rap and over 20 years later is probably one of the best images of the genre that continually gets better the more you listen to it. Simply put, damn good record.