Black Moon (backronymed as Brothers who Lyrically Act and Combine Kickin Music Out On Nations) debuted in 1992, with the release of the single "Who Got Da Props?". The song became an underground phenomenon, and charted on the Billboard Hot 100. With the help of DJ Chuck Chillout, the group landed a record deal with Nervous Records and released its debut album, Enta da Stage, in late 1993. The album included "Who Got Da Props?" as well as the singles "Son Get Wrec", "How Many MC's…", "Buck 'Em Down", and another Hot 100 Hit, "I Got Cha Opin (Remix)". Enta da Stage went on to sell over 350,000 copies in the U.S. and is now regarded as an underground Hip Hop classic.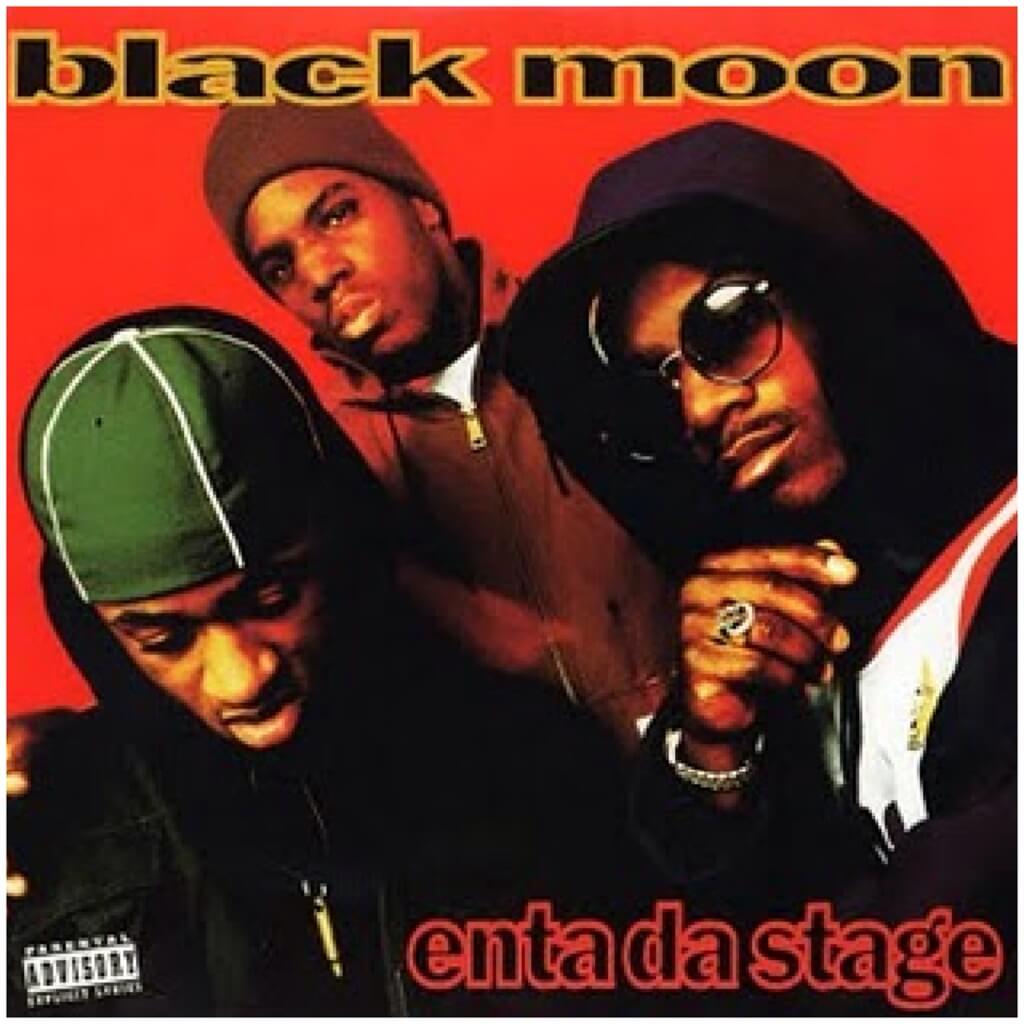 Following the album's release, the group temporarily broke up. During the group's hiatus, DJ Evil Dee continued his production career with Da Beatminerz, and Buckshot headed out and formed his own group called the Boot Camp Clik, featuring fellow Brooklyn locals Smif-n-Wessun, Heltah Skeltah and O.G.C.. Following the releases of the debuts of Smif-n-Wessun (Dah Shinin'), Heltah Skeltah (Nocturnal), andO.G.C. (Da Storm), Black Moon reunited on Duck Down Records. In late 1996, Nervous Records released a Black Moon compilation album titled Diggin' In Dah Vaults, which featured a number of remixes and b-side tracks. After the group's split with Nervous Records, Black Moon became entangled in a legal battle over the licensing rights of their group name, which lasted for a number of years. The case was finally settled in 1998, and the group was able to license its name through Nervous.
In 1999, the group released its long awaited second album War Zone. The album saw a change in the group's musical style, with a more mature Buckshot showing off a calmer, more serious lyrical delivery,and the noticeably more vocal 5 ft.making appearances with M.O.P ("Annihilation") and Heather B ("For All Y'all"), and also featured a new lo-fi production sound from Da Beatminerz. The album's singles "Two Turntables & a Mike" and "This is What it Sounds Like (Worldwind)" made small impact, and the group wasn't able to properly capitalize on its hype. Despite the somewhat disappointing sales, the album received good reviews. 1999 also saw the solo debut album from Buckshot, titled The BDI Thug, which was seen as a major disappointment. The album was met with very mediocre reviews and little sales. Black Moon was largely missing from the Hip Hop scene between 2000 and 2001.
Black Moon returned in 2003 for the release of its third album Total Eclipse, which featured the underground hit "Stay Real" and "Pressure is Tight", as well as two music videos, shot for the singles "Stay Real" and "This Goes Out to You". The album, like the group's previous efforts, received good reviews, but it wasn't able to reach outside the underground Hip Hop audience. DJ Evil Dee continued production work with Da Beatminerz, and Buckshot continued to work with the Boot Camp Clik while 5ft is working on a solo project. In 2005, Buckshot released a collaboration album with producer 9th Wonder titled Chemistry. In 2006, DJ Evil Dee and his brother Mr. Walt released a mixtape titled Alter the Chemistry, which paired Buckshot's vocals from the Chemistry album with classic Black Moon beats.
In 2007, 5 ft recorded the song "BK All Day" with Boot Camp Clik, for the BCC album of the same year, Casualties of War. In 2008, Buckshot released with 9th Wonder their second collaboration album titled The Formula.
5 ft is working in his solo album debut. He was featured on General Steel's solo album of the Group Smif-n-Wessun on Duckdown records, "Welcome To Bucktown", on the song "Made me do it". 5 ft is featured on the new compilation CD called Moment of Clarity, which was Released August 2009 on Coalmine Records, Produced by Grant Parks. His song is "The God in You". It was recently confirmed by the group in 2011 that it started recording its fourth album together called Dark Side of the Moon and to be fully produced again by Da Beatminerz, with possible new members to its production team. (Wikipedia)