I'm a die-hard Wu-head. Ever since I was around 14 or 15, I've been down with Wu (Can I get a Suuuuuu?). Going from 36 to Return to 36 to Swords to Linx to Iron Man. Since then GZA and Ghost have battled for my top Wu spot. It was neck and neck between them for some time but yo, when I heard this joint? Ghost blacked the F*** out on this s***, he took the crown and ran off with it. The tracks on here are insane, back to back to back to back highlights. STANK FACE CENTRAL. Mean production, full of f****** bangers with Ghost packing duffle bags of BARS. This is the one and only: Pretty Toney, Ghost-deini, Iron Man, GFK, Tony Starks, Starkey Love, Wallybee Champ. It's Dennis m************ Coles. So Ladies and gentlemen, please rise and remove your caps as we pledge allegiance to Hip Hop with one of the best rap albums ever: Supreme Clientele. F*** a sophomore slump. WU-TANG IS FOREVER.
Legend has it that the glorious Wu emerged from the slums of Shaolin in the year 1993 CE. They left nothing but blasted mics and mangled emcees in their wake as their numbers doubled day after day. Soon all five boroughs bowed down to the unstoppable force of the Wu-Tang Clan. Comprised of 9 members: RZA, GZA, Ol' Dirty Bastard (RIP), Inspectah Deck, Raekwon, Method Man, U-God, Masta Killa and the man of the hour Ghostface Killah (Cappadonna will never be true Wu to me). Now all fables aside, Wu took over the globe after 36 Chambers released. It was a seismic shift in Hip Hop and heightened the appeal of gritty, rugged and raw rap that remained for the entirety of the 90s. Following Chambers was what RZA referred to as the "Five Year Plan". The plan goes as such: The group releases their debut (Enter the 36 Chambers), followed by solo releases from 5 major group members all entirely produced by RZA (ODB – Return to 36 Chambers, Method Man – Tical, Raekwon – Only Built 4 Cuban Linx, GZA – Liquid Swords, Ghostface Killah – Ironman). Other members' releases were either lost in an infamous flood or not intended for the plan to begin with, then finally the group releases their second album (Wu-Tang Forever) which finally completes the plan allowing the members to do and wish as they please. Regardless of what you think of RZA, you can't deny two things:
He's a f****** genius for being able to see this plan to fruition. 
He is one of the best producers the art-form has ever seen.
He masterminded the entirety of the Wu foundation and not only do these 8 men beside him owe their livelihoods and legacies to him but so doesn't every single emcee that was inspired by Wu. It's pretty remarkable and I can sing his praises all day but this is about Ghostface so now we're going to switch gears and talk about the making of Clientele and trust me – this s*** gets crazy.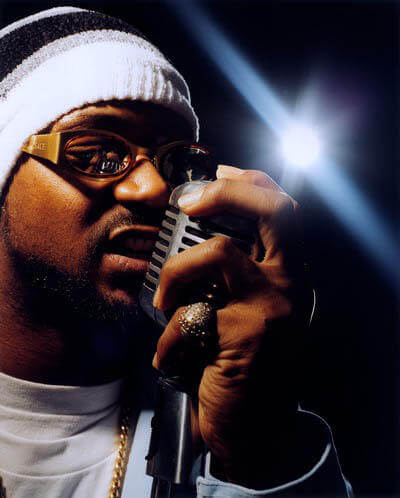 Rewind to '97, post-Forever. Ghostface is in Africa veiled in a dashiki. With an afro and full beard rehabbing nearly fatal diabetes. Fearing death, he travels to Benin to be treated in a remote village. The village has no running water and the people who live there sleep in mud huts. Ghost is seemingly light-years away from the Killah Hill projects. From the self-imposed exile though, comes newfound lyricism. These days in Africa birthed Nutmeg, the opening track on Clientele, and more than likely saved his life and Wu's legacy. Flash-forward to '98, Ghost begins his 6-month sentence in Rikers Island for an incident in 1995 at New York's Palladium nightclub. After surviving both near death in Africa and hellish imprisonment in Rikers, Good 'ol Starksy molds his magnum opus alongside RZA for its release in 2000. The whole time with a pending gun charge over his head. Lemme say it again, Dennis m************ Coles. 
Scorsese and Tarantino couldn't write up a better f****** script. There's no denying that Ghost lives what he raps and he means everything he says. The man broke Mase's jaw over as he put it "some bulls***". The authenticity of the rhymes make the off-kilter flows and comedic lines sound surreal when surrounded by verses riddled with addiction, death, and crime. Both the tracks themselves as well as the stories that made them make this album almost erupt with character. Plus Ghost did what several other members didn't choose to do – allow RZA to head the ship. Many of the sophomore albums from other members aren't even close to this album's quality, and that's in major part thanks to the work of RZA. His production on this album (and almost every other album he's ever worked on) is a masterclass on beat-making. While Ghostface's verses are a masterclass on putting in work no matter what. Ghost brushed off some of the biggest hardships anyone can imagine and made arguably the best album of the 2000s. S*** like that makes me love this album even more, and every new piece of the story that gets unearthed just makes the next spin that much better. Before you have even read the review you know this album is the truth. Soooo it's only right that you sing this with me, WUUUUU TAAANNGG CLAAAN, WU TANG CLAN AND IRONNN MAAAAAAN. LEAD US TO THE PROMISED LAAAANNDDD…….
INTRO
Normally, an intro that isn't just straight bars is problematic and bogs down an album but I actually love the intro for this record. Ghostface uses his Marvel-inspired aliases (Ironman and Tony Stark) to build a loose narrative for his use of the character during his sophomore release and it's a nice touch. It's fun, it's light and best of all it's short and sweet. I get some real DOOM/Madlib vibes from this intro too, and with those two being some of my favorites at their respective crafts, a comparison never hurts.
NUTMEG (WITH RZA)
YOU SEE WHAT I MEAN? YOU M************ CRYBABIES! F***! This track is just classic from front to back. The Holman sample is godly. Ghost TORE THIS S*** DOWN. I hope RZA scratched the serial off his mic. Seriously though, Ghost opened this album with a track that can only be described as timeless. I just wish that RZA didn't rhyme "menstruate" with f****** "hyperventilate" but the world's an imperfect place. Still dropping the whole first verse out of respect. 
Scientific, my hand kissed it

Robotic, let's think optimistic

You probably missed it, watch me Dolly D*** it

Scotty Wotty copped it to me, big microphone hippie

Hit Poughkeepsie, crispy chicken, verbs, throw up a stone, Richie

Chop the O, sprinkle a little snow inside a Optimo

Swing the John McEnroe, rap rock n roll

Ty-D-Bol, gun-ho pro, Starsky with the gumsole

Hit the rum slow, parole kids, live Rapunzel

But Ton' Stizzy really high, the vivid laser eye guy

Jump in the Harley ride, Clarks, I freak a lemon pie

I'm bout it, bout it, Lord forgive me, Ms. Sally shouted

Tracy got shot in the face, my house was overcrowded

You fake cats done heard it first

On how I sh*tted on your turf that time, Cuban Link verse yo

Check out the rap kingpin, summertime, fine jewelry dripping

Face to the box, I seen your ear twitching

As soon as I drove off, Cap' came to me with 3 sawed-offs

Give on to Rae, let's season they broth

Lightning rod fever heaters, knock-kneed a Sheeba for hiva

Diva got rocked from the receiver bleeder

Portfolio, looking fancy in the pantry

My man got bigger dimes son, your sh** is scampi

Base that, throw what's in your mouth don't waste that

See Ghost lamping in the throne with King Tut hat

Straight off
ONE (WITH T.M.F.)
Yoooooo that man Juju is a bad muhf***a. This beat just f****** KNOCKS. Playing this in a car with the volume cranked is a must. Ghost flows on this beat like butter on a slicked plate. Effortlessly he dismantles this whole track. In the 2000s, I'd easily take Ghost over every other emcee because he was in a zone that was untouchable. Probably only GZA could son him back then. The T.M.F. hook on this joint comes off as some weird-a** call for unapologetic sexual assault so that's the one real blemish on this whole track. If they sliced that and just kept "Devil planted fear inside the black babies…" then the song would be spotless. But T.M.F. had to f*** that all up. 
SATURDAY NITE
Just in case anybody forgot that Ghostie could spit a f****** NASTY story track here you are. On one faithful Saturday night, Ghost gets pressed by the Feds and details the whole thing in this minute-long track. Big ups to 6 July on the beat. The child in me wonders who's pick up when I dial 1-900-RAEKWON. 
GHOST DEINI (WITH SUPERB)
HOW THE F*** WAS YALL N—-S THINKIN? YOU THINK I FELL OF THE LEDGE? THE LEGENDARY GHOST DEINI MIGHT BE DEAD? NEVER! IMPOSSIBLE! Yeah, he never fell off, so shut the f*** up and pay attention to greatness. (I'm refusing to speak on Superb because he has passed and his actions when he was alive sicken me. So we'll ignore his decent verse)
APOLLO KIDS (WITH RAEKWON)
The second single off of Clientele sees RAGU  (literally no…….never again) Raekwon and Ghost join forces over a thumping Haas G instrumental. The whole track gives off major Linx/Ironman vibes as those two albums essentially functioned as duo projects. They play so well off of each other that it's surprising when they don't demolish a track together. Ghost's slur in the first verse feels as abrupt and unpleasant as possible. That's probably the only problem with Ghost that I have is just how alarmingly homophobic he is. His new track "Conditioning" drops the 6 letters in a year when Brockhampton is one of the biggest rap groups out. It's just unnecessary and I don't get why people in Ghost's camp keep letting him say that s***.
THE GRAIN (WITH RZA)
RZA produces this beat with two samples from Rufus Thomas. Making a funky and urgent beat with Thomas grunting throughout the track. Ghost's verse is his abstract, stream of conscious lyricism complete with the signature flow whereas RZA raps about the police and true hip hop. Making the hook a shot at rappers who try the break the rigid rules that govern the genre. The ending is tasteless but it makes me smirk a little.
BUCK 50 (WITH CAPPADONNA, METHOD MAN, AND REDMAN)
The album's first posse cut has strong verses from both Mef and Red (Cappa is also here). Red's "your weed got more seeds than ODB" line is f****** hilarious. Ghost's verse has some of my favorite Quotables on the album:
Check out the grays on the side of my waves

I grew those on Rikers Island

Stressed out, balled up in the cage

Ghetto fabulous, Tone Atlas

Zulu Nation in the 80s in front of Macy

I start my own chapters
The beat is bombastic and is definitely the craziest one on the tracklist so far. It really sets the tone for the kind of rhymes that are going to be laid down on this track. Between this, Made, and Wu Banga, I'l always choose Banga as the best group track on here but this track isn't anywhere near disappointing.
MIGHTY HEALTHY
Quite possibly the HARDEST single ever. Part of me just wants to type both verses in all caps and leave it at that. Mathematics deserves a medal for this beat honestly. Ghostface goes Super Saiyan on this track and makes one of the best Hip Hop tracks of all time. The only blemish I can find in this whole track, is "men marrying men, eww they got the urge". Like cmon son, why is that s*** even necessary? Other than a random line of homophobia, this track is murderous. I will add that the samples at the beginning and end of the track reference Ghost killing lyrically which is why it says "For every blow, depends on breath control". Rapping needs breath control to actually spit your f****** bars, and each "blow" is another punchline. Anyways yeah, I thought it was a cool spin to turn a sample about literal killings into one that is about Ghost being a killer on wax. 
WOODROW THE BASEHEAD – SKIT
Ghost refuses to sell Woodrow crack. The end. SKIIIIIIP
STAY TRUE
The most lowkey track on the tracklist. More stream of conscious bars from Ghost, he kills everything he touches. Also, 60 Second Assassin decides to "sing" a chorus at the end that's just kind of there. I'm indifferent to it, but the song would all benefit from not hearing him crooning about the "crack game" and how "rough the streets are". Only Ghost can sing on here okay? Okay.
WE MADE IT (WITH SUPERB, CHIP BANKS, AND HELL RAZAH)
Ghost ECLIPSES these 3 on this track. I wish it was a solo joint with Ghost doing 2-3 verses on this 6 July beat. The other verses aren't awful but certainly aren't great. Beat wasted on mediocre rappers.
STROKE OF DEATH (WITH SOLOMON CHILDS AND RZA)
I have absolutely NO IDEA how RZA flowed on this f****** beat with no problem. I remember my jaw literally dropping when I first heard his verse. This beat is insane, padded cell s***. Even Solomon impressed me with how well he did over this beat but he's not RZA, not even in the same galaxy as him. RZA's performance even blew Ghost's out of the water, which is really only one of the two times that I can say anybody bodied Ghost on this whole album. The technical ability that RZA flexed with that verse is just madness. 
IRON'S THEME – INTERMISSION
Some of you old a** motherf****** need to lighten up. I see so much hate over this little interlude. I love it so damn much. It shows that Ghost doesn't take himself too seriously and it shows that Ghost was enjoying himself when he was making this album. So why can't yall just shut the f*** up and sing it with him?
MALCOLM
This battles with Mighty Healthy for my favorite track on this album. The beat was already banging but for Choo to throw a Malcolm X sample on this s*** had me all in. The second verse on this track is where Ghost details the punch heard around the world. The story telling abilities of the Wallybee Champ are on full display here and some of the imagery is spit-take worthy. F****** underrated classic.
WHO WOULD YOU F*** – SKIT
Ghost and the gang debate which women they would f***. The end. SKIIIIPP
CHILD'S PLAY
A pretty great storytelling track where Pretty Toney details one of his childhood crushes. He rhymes circles around his peers, he sings like he's on Soul Train and he drops another 6 letter. I just find it hilarious that this man would go home and hump his bed, and was bold enough to say it and ask us if we knew what he meant. I really don't Ghost but…….tight track.
CHERCHEZ LA GHOST (WITH U-GOD AND MADAM MAJESTIC)
The last single released for Clientele that blew the f*** up in the club scene. It peaked on 98 on the 100 and 3 on Hot Rap Singles but that don't mean s*** because nationwide this song was running rampant. The whole track's hype and appeal come from the interpolated "Cherchez La Femme" lines sung by Majestic. Both Ghost's and U-God's verses are alright at best. They aren't lyrically impressive or particularly memorable on their own merit. The track is an attempt at a radio hit that didn't pan out as well as Ghost hoped. I'll still dance to this s*** though, but we'll keep that between us.
WU BANGA 101 (WITH GZA, RAEKWON, CAPPADONNA, AND MASTA KILLA)
So GZA's just gonna murder this whole closing track and nobody's gonna say s***? So f****** cold. Honestly, everybody else pales in comparison to GZA on this track, and anybody who says otherwise is lying to themselves. Ghost may be my favorite Wu member but GZA will still murk any Wu member with a 16. F*** that, he could do it will an 8 bar. Ghost's pastor tale 10 bar verse is such a disappointing cop-out from the main attraction after the guest verse bodied the whole track off the get-go. His second verse fairs better than the first but still nothing is topping GZA's bars on here. Nobody's verse is terrible but when GZA is on a track it's pretty hard to outshine him. Top 5 DOA. Please @ me for any smoke.
CLYDE SMITH – SKIT
Rae didn't like "How to Rob". The end. You already know what to do.
IRON'S THEME – CONCLUSION 
…..AND WE WILL BUILD UPON THIS LAAAANND. UNTIL WE FREE ALL BLACK MAAAANN. IRON MAAAANNNNNN……
FINAL THOUGHTS
There's 4 words that I can think of that summarize this entire album and they were even said by GFK himself: "Scream on it Ghost". That line from One is indicative of the entire project, Ghost eviscerates every beat he touches on this album. From his flow to his one of a kind cadence, to his rhyme schemes, everything is immaculate. Ghostface has so much personality and charisma on every track that even if all the featured artists were absent, it would still be an attention-grabbing record. Ghost mastered his stream of conscious lyricism here to pure perfection and concocted some of the most classic verses Hip Hop has to offer along the way. From Nutmeg to One to Mighty Healthy, Ghost consistently brings you quality verses without losing any steam. There's a reason why Ghost has such an illustrious and legendary career, the natural ability that Ghost has for rapping becomes jaw-dropping at times. A marriage with some utterly insane production makes the whole thing that much sweeter. Ghostface delivered an album that cats in his own crew can't even touch, even nearly 20 years removed from its release. That fact in itself proves the kind of stamp this album has on the genre. Supreme Clientele is the best Wu-Tang album released after Wu-Tang Forever. No one else's solo releases come close, and the following group projects don't either. It is a record that will stand the test of time as one of the most special moments that Hip Hop has ever had. 
SPIN IT OR BIN IT?
You should honestly just buy 50 copies of this album and pass them on the street like candy. I'm dead serious. Spin this s*** till your battery is fried.