Kool Keith has forever been an enigma. Always out of the mainstream spotlight, his signature style is a stream-of-consciousness lyrical flow and complex vocals – two skills that earn him a perennial nod from the underground Hip Hop community. The average Kool Keith album is peppered with bizarre, disjointed, even delusional or disassociated themes, concepts, and references. Nearly all of his albums incorporate a satirical dislike for more commercialized strains of Hip Hop, as well as major record labels.
One can endlessly argue Kool Keith styles, flows and lyrics. What can't be argued is Kool Keith's versatility and longevity. And although quality control has never been his main concern, among his almost endless stream of albums, EPs, bootlegs, and collaborations there are more top quality albums than most artists produce in their whole career.
On this list, you will find ten of Kool Keith's very best albums. Are your favorites listed here? Share YOUR opinion in the comments!
10. Kool Keith - Diesel Truckers (2004)
"Diesel trucks with big engines, Caterpillar motors / Y'all move over, we honkin the horns behind your Escalade" (Diesel Truckin')
Diesel Truckers may not be the best Kool Keith – Kutmasta Kurt collaboration, but it is a dope album nonetheless. Kutmasta Kurt's instrumentals on tracks like "The Orchestrators", "Takin'It Back",  "Diesel Truckin'", "The Legendary", "Can I Buy You Drink?" "I Drop Money" and "Serve Em A Sentence" will satisfy all those who crave fat old-school flavored beats and cuts. Lyrically, Kool Keith serves up a perfect distillation of nearly all of his styles and crazy thought-processes, to ensure an all around interesting listen.
Some people slammed this album for lacking the innovation and cohesiveness of some of Kool Keith's earlier work, but taken at face value Diesel Truckers simply is a great album, providing an hour of some good old head-nodding Hip Hop.
9. Kool Keith - Dr. Dooom 2 (2008)
"Your chance to talk the same stuff is irrelevant to me / You're a glorified peasant to me / Your chick has the face of the gorilla / Of course she can bring a present to me" (Do Not Disturb)
Kool Keith has always needed someone to bounce his energy of off for his projects to be really dope. Such a partnership would mean teaming up with another emcee or like in this case with a producer. Longtime collaborator and producer of the first Dr. Dooom album, Kutmasta Kurt is back once again to provide some excellent boom bap beats for Kool Keith – who is using the Dr Dooom moniker again this time – to shine on.
Sure, this album is not as good as Dr. Dooom's first outing First Come First Served, but together with Diesel Truckers it easily is one of Keith's best albums since the turn of the millennium. Kool Keith's rapping is better and more inspired here as it had been in a while and most of his lyrics are as insane and bizarre as usual.
"Step-N-Fetchers", "The God Of Rap", "Surgery" and "Do Not Disturb" are stand-out tracks, but there's more than enough to enjoy on Dr. Dooom 2.
8. Kool Keith - Black Elvis / Lost In Space (1999)
"Supergalactic lover / Comin from the projects on the hill / Supergalactic lover / In my monkey-green ragtop Seville…" 
Kool Keith's second 1999 album. This is one of his most easily accessible albums and that may be the reason it misses a bit of the spark that raises albums like Keith's other 1999 album First Come First Served and earlier efforts like Sex Style and Dr Octagonecologyst to a somewhat higher level.
But Black Elvis / Lost in Space is a dope album anyway, as always filled with weird choruses, Kool Keith's oddball lyrics and unique blend of humor (just listen to that intro – "That's right tomorrow I plan to boo your shows at the Apollo" – and try not to smile).
7. Masters Of Illusion presented by KutMasta Kurt (2000)
"Yo, I see rap now, it's all scam and marketing / Promotion budget, you frontin', you drive a bucket" (Step Up)
Kutmasta Kurt arguably is the only beatmaker that has ever fully understood Keith's style and who was able to provide him with the most suitable framework for his lyrical expressions on multiple projects. Besides Sex Style and First Come First Served, Masters Of Illusion has to be their best collaboration.
On this album, Kool Keith is paired up with Bay Area rapper Motion Man. Both emcees spit great rhymes over Kutmasta Kurt's stellar old school-style production. As always Kurt provides beautiful boom bap beats complemented with some real scratching & cutting.
Plenty of excellent cuts on this one, but you have to check out "The Bay-Bronx Bridge" – a perfect throwback old-school flavored Ultramagnetic track.
Make no mistake – this is a GREAT, 100% Hip Hop album.
6. Ultramagnetic MCs - The Four Horsemen (1993)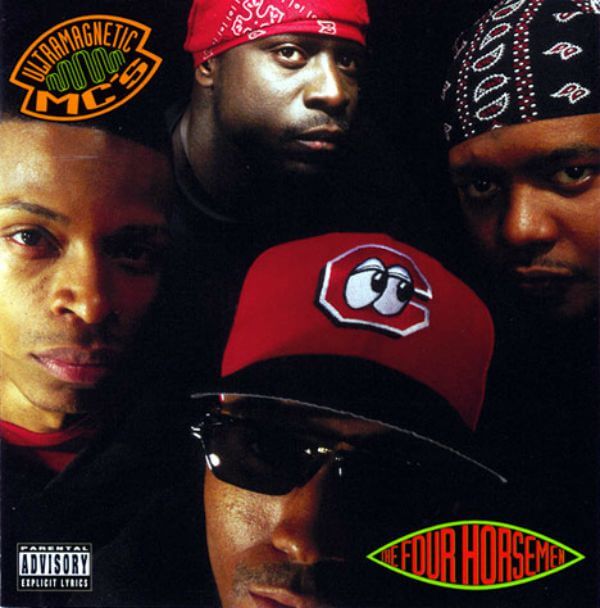 "They never understood, many people were so slow / My funky type of rhyme, and my style is psycho / Complex wrecks wrecks, my style go X X / I move around off beat, creatin' more styles / Showin' white boys, other kids my black styles" (Raise It Up)
After the classic debut album Critical Beatdown (1988), Kool Keith as part of the Ultramagnetic MCs dropped the somewhat disappointing sophomore album Funk Your Head Up in 1992. The group came back strong with this third album, however. Ced Gee and especially Kool Keith are in top-form, and the production is tight. Underrated as hell, this is a fantastic album.
5. Kool Keith - Sex Style (1997)
"I heard you quit rap, your wife went back to porno flicks / You turned drag queen, a call girl doin tricks / Nighttime prostitute kid, I'mma take your loot / I heard you queer now like Boy George, blowin flutes / With high heels, you stole your mom's birth control pills / You on some new stuff, I heard about that sex change / You got a vagina, your grandmother think it's strange…" (Keep It Real… Represent)
After the brilliant Dr Octagonecologyst from the year previous, Kool Keith (with the help of Kutmasta Kurt on the boards) returns with Sex Style, presenting some awesomely ridiculous "pornocore".
Any other rapper (with the possible exception of MF DOOM) would sound really really stupid – it's only Kool Keith who can get away with doing an album like this and come out on top.
4. Ultra - Big Time (1996)
"She said, "I think you're stupid," I said, "You're big and fat – I'mma have to diss you, and step up in that rectum crack" (Fat Lady)
Basically a Kool Keith solo album, with some help from rugged- and-rough Ultramagnetic affiliate Tim Dog. Kool Keith's trademark weirdness (and asscrack obsession) is in full effect here, bizarre lyrics galore. The dark and sometimes crazy beats suit the lyrics perfectly. This is another madly underrated Kool Keith album.
3. Dr Dooom - First Come, First Served (1999)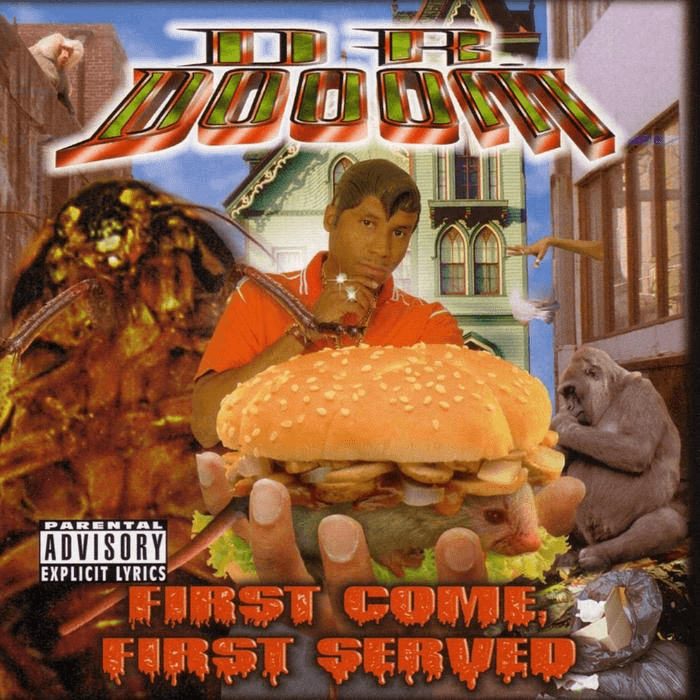 Rappers actin hard, nervous in the dressin room / With a security guard / Groupies standin round with they fuckin face frowned / Lookin like fuckin Homey the Clown / Put that Spring Water down man, you ain't sweatin / You motherfuckers did a ten minute weak show and you jettin / Your fans are mad – your performance was garbage bag / Look at these videotapes / Walkin  back and forth grabbin your nuts like the Planet of the Apes / Supervise it, criticize it, y'all don't realize it / Where the real guys at" (No Chorus)
If you only have three Kool Keith albums in your collection, First Come First Served has to be one of them – this is without a doubt one of Kool Keith's very best albums.
The album begins with Kool Keith's new alter-ego Dr. Dooom killing the Dr. Octagon persona. Dr. Dooom can be seen as representing the Dr. Octagon horror elements while Black Elvis (also released in 1999) was handling sci-fi duties.
With the ever-excellent Kutmasta Kurt on the boards, Kool Keith is in top form here: flow and delivery are on point and the lyrics are wonderfully and characteristically bizarre. Gotta love that No Limit parody cover too.
2. Ultramagnetic MCs - Critical Beatdown (1988)
"I'm back, back to smack attack / Those who wack and lack my experience / On the microphone holding my own ground / Dominating forces / Change the sources, punks take losses / Enough cause it's me on the mic / Feeding on words, smart like a nerd / Haven't you heard this change of rhyme…" (Ease Back)
A toss up for the number 1 spot, this is a classic album that has stood the test of time – Kool Keith's unique style & lyrics, his synergy with Ced Gee, and the excellent overall production ensure this is a project to be savored forever. Highly original & innovative and very consistent – no weak tracks here.
Critically acclaimed, but at the same time slept on and somehow underappreciated – Critical Beatdown is and will always be an absolute Hip Hop classic.
1. Dr. Octagon - Dr. Octagonocologyst (1996)
"First patient, pull out the skull, remove the cancer / Breaking his back, chisel necks for the answer / Supersonic bionic robot voodoo power / Equator ex my chance to flex skills on Ampex" (Earth People)
Kool Keith's very best album. In a catalog as deep and diverse as Kool Keith's is, it may be hard to choose – but Dr. Octagonecologyst has to be considered his magnum opus.
Dr. Octagonecologyst introduces the character of Dr. Octagon, a homicidal, hypersexual, extraterrestrial, time-traveling gynecologist and surgeon. Dr. Octagon's history is detailed throughout the album's songs, skits, and samples.
The concept works, the album flows perfectly and the production by Dan The Automater is absolutely phenomenal – innovative, eery, spaced-out: the instrumentals provide the perfect backdrop for Kool Keith's trademark bizarre lyrics.
Dr. Octagonecologyst provided a new benchmark in pushing the limits of Hip Hop and has rarely been surpassed since its release in 1996. A masterwork, that sounds as fresh today as it did on the day it was released.
Honorable Mentions
Ultramagnetic MCs – Funk Your Head Up (1992)
The Cenobites – The Cenobites LP (1994)
Analog Brothers – Pimp To Eat (2000)
Kool Keith – Matthew (2000)
Project Polaroid (2006)
Kool Keith – Sex Style Unreleased Archives (2007)
Time? Astonishing! (with L'Orange) (2015)
Kool Keith – Feature Magnetic (2016)