And they say you can't go home again. Following 2011's Cole World: The Sideline Story and 2013's Born Sinner, Jermaine Lamarr Cole, aka Roc Nation rapper J. Cole, has returned to his childhood home in Fayetteville, North Carolina on his new, third album: 2014 Forest Hills Drive.
Released December 9, 2014 Forest Hills Drive is a concept record about how a boy discovered his purpose, written from the perspective of a superstar rapper questioning the facets of fame. It is a meditation on the value of love relative to worldly success. And it is an extraordinary work from an artist who continues to grow and create.   The narrative is a tale of Cole's and also serves as a series of metaphors that complete a story of passion, growth, and ultimately reflection.  It's an album to ingest as a whole with the sum of its parts creating the full tale.
Known for his reflective lyricism, J. Cole attributes his musical identity to the house where, crucially, he had his first 'own bedroom'. "Having my own room allowed me turn into who I am. I enjoy privacy, I enjoy being by myself. That came from having my own room. Having my own room allowed me to shape myself."
For J. Cole the young teenager, having his own bedroom was a sign of progress. When it comes to signifiers of success as an adult, Cole's are impressive. He signed to Roc Nation before turning 25. His sophomore album Born Sinner outsold Kanye West's Yeezus. This year his acclaimed peer Kendrick Lamar professed deep admiration for J. Cole's lyricism. Then Jay-Z draped Cole with his chain in during a Master Square Garden concert on Cole's 29th birthday.
Cole debuted in 2007 with his mixtape The Come Up. He followed this with a second mixtape The Warm Up (2009), and shined on "A Star Is Born" from Jay-Z's album The Blueprint 3. A fervent fan base – of boys and girls, men and women – were with him. It's for them that Cole has since 2013 conducted an annual tour called "Dollar And A Dream" where fans willing paying one buck are treated to tracks from his early work. That's payback.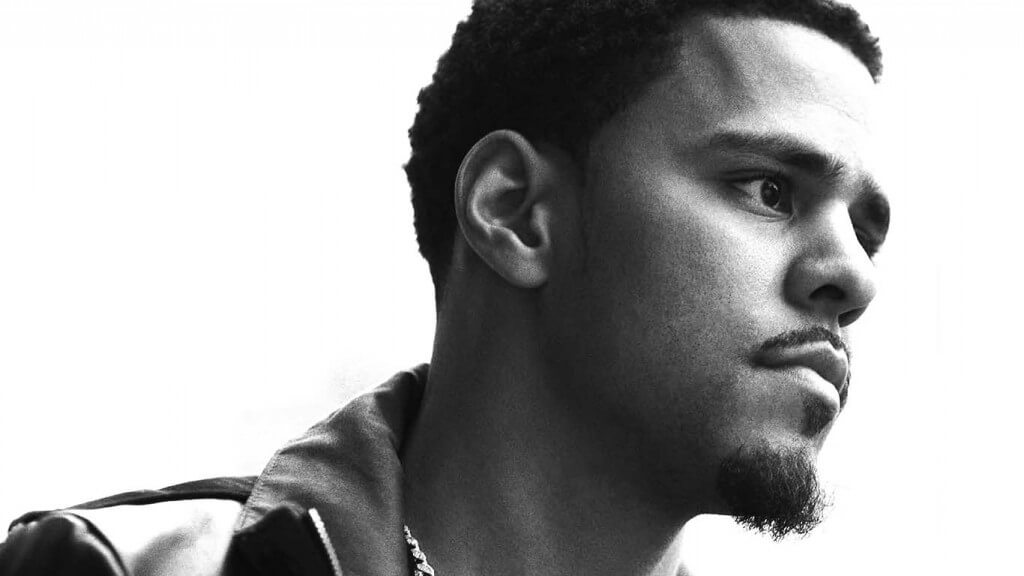 Born to an African-American father in the military and a white mother, Cole's nuanced notions of race – and his fearlessness when speaking out on the topic – imbue 2014 Forest Hills Drive. It was while finishing the album that the situation in Ferguson reached a boiling point. J. Cole wrote and recorded and released the "Be Free", a soul cry wherein the rapper sang his heart out: "Ain't no gun they make that can kill my soul."
"Be Free" is a powerful reaction to a f*****-up situation. The song is not on Cole's new album. The album has no built-up single, no pre-release teaser. 2014 Forest Hills Drive will, inevitably, be analyzed to every last verb and snare. But the music speaks for itself.
2014 Forest Hills Drive does more than immortalizes an address in Fayetteville, North Carolina. It speaks to a progression in a young life emotionally and also from a socio-economic vantage point.  From an all black trailer park in cramped quarters to a two-story house on a tree lined street with a carport and bedrooms for each family member.  As the years and jobs of his mother improved so did the living situations and therefore the openness to get creative.  With the new private bedroom coupled with a growing interest in rap music fueled by one summer-long visit by a cousin from down south who ushered in No Limit style hip hop the seeds of the future rapper were there.
The songs create a narrative and the mood varies from song to song.  He wants success ("Fire Squad"), he sees growth ("A Tale Of 2 Citiez"), gets deep on storytelling ("'03 Adolescence", "Wet Dreamz"), hits bumps (""G.O.M.D.," "No Role Modelz") and comes full circle to what it all means to him and the notion of love ("Apparently," "Love Yourz").
The act of writing rhymes transformed Cole's perceptions of the potential of words. By 1998 he heard Canibus and Eminem, and fell in thrall to the MCs slant-rhymes, enjambment, and multi-layered metaphors. "It was interesting to me because I knew you had to be smart to rap like that, to put together words like that. Then I got into Pun and Big L, lyricists, these guys with punch lines and flows. Then I'd hear Nas differently, like oh this is why this is amazing! It opened my whole world. I was never the same."
A subsequent article in the school newspaper about a local hip-hop group called Bomb Shelter inspired Cole to go check them out at a skating rink. That night, when the invitation to come on stage was extended to anyone in the crowd who wanted to rhyme, Cole got in line. "I was so nervous, had to face my fear. All these other dudes 20-plus years old were up there rapping. When it came my turn I spit one of the best verses I had. I could see the expression in everyone's face like, damn this kid is crazy!" After invitation to visit Bomb Shelter in their studio, Cole peeped producer Nervous Wreck's set-up – and realized it was possible to make his own beats himself.
"I used to ask my mom every day to take me by McFadden Music," says Cole, grinning like a kid in a candy store. "She'd let me be in there for 20 or 30 minutes. They had drum machines. There was one red machine, the Roland ASR X-Pro. It was mad expensive, like $1600, $1700, so she put it on a layaway plan. After that everything changed. Everyday I spent on that beat machine. I became immersed. Made my first song with that beat machine when I was 15. All this stuff took place in the house at 2014 Forest Hills Drive."
For J. Cole, success has brought the chance to address and redress the past. This year, he bought his childhood home at 2014 Forest Hills Drive in Fayetteville. He invited fans to the crib to debut the album of the same name. But the experience of "going home" went deeper than he was prepared for. "My mom doesn't want or need the house now," explains Cole, adding that when they returned to the house together, "she was crying. There were tough memories for her there. Here's a house that represents a dream that she tried to make work, having a husband and a family and a house to grow old together in. I had to sit back and think about the way she must have been feeling."
Empathetic lyricism and true soul music remains the molten core of Cole's work. (His new label Dreamville – its first two artists are Bas and Cozz – exemplifies that aesthetic. Get ready, 2015!) In the moment though, it's Cole's ability to reflect upon a situation, to not be afraid to look back in order to progress, that takes the form of one striking couplet on the new album: "The good news is, n****, you came a long way / The bad news is, n****, you went the wrong way." Yet for J. Cole and his fans, resolution lies just around the corner.